The power of seeing something enticing and delicious.  Such is the case with creating this recipe, which is super easy.  My girlfriend, Helena, whose website is Saucy Girls Kitchen shared her caramelized onions~~well, my mouth started watering! I mean I love onions and looking at those tender strands a light mahogany brown in the skillet gave me the idea for this soup using leeks and red onions.
It's always enchanting how we move from 'puzzle gut'~~or not knowing what we want to eat~~to knowing precisely, and his can come simply from a picture or a few words that kindle the imagination!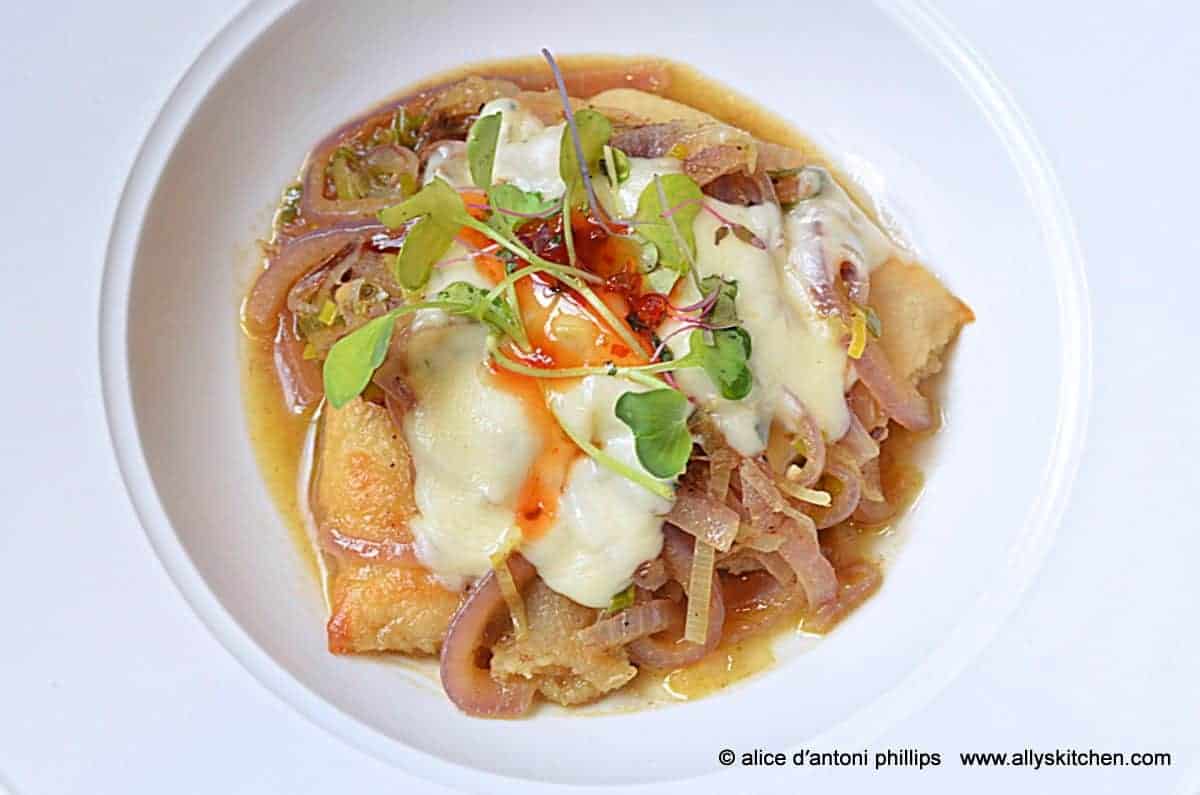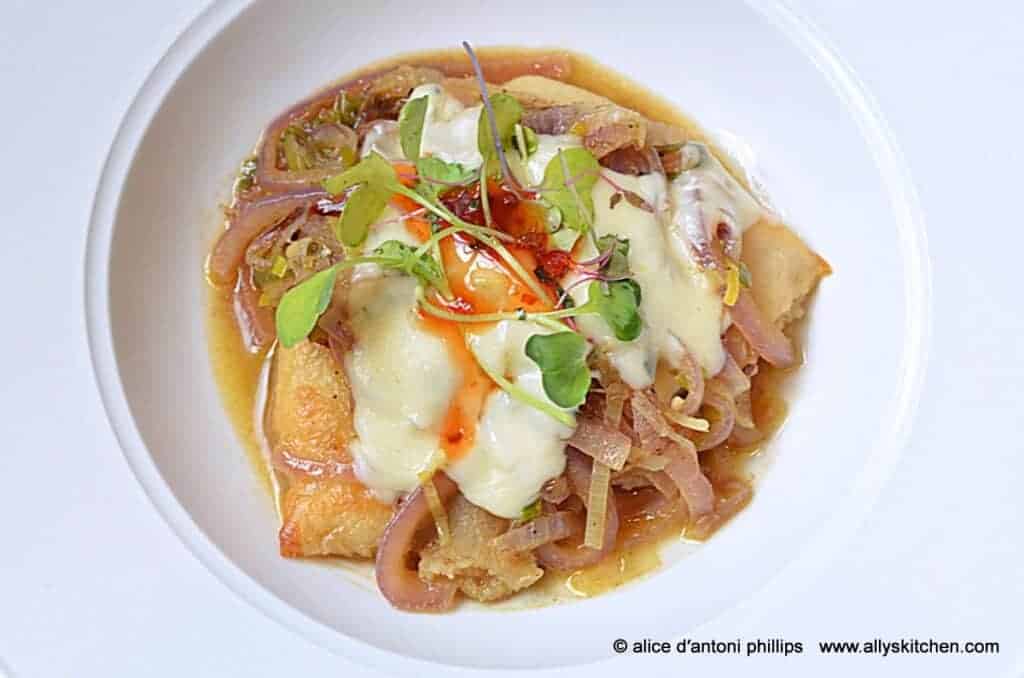 Serves:  4-6
What you need:
4 tbl butter
3 cups thinly sliced leeks with some of the green part
3 cups thinly sliced red onions (cut onion in half and make half moon slices)
1 tbl minced garlic
2 tbl all-purpose flour
6 cups beef broth
1/4 cup Worcestershire
1 tsp sea salt
1 tsp coarse ground pepper
2 cups shredded cheese (can be your fave–fontina, pepperjack, white cheddar, etc.)
Flat Bread (or a piece of artisan bread)
Garnish Options~~
Sweet Chili Sauce
Microgreens
Bleu Cheese
Gorgonzola Cheese
Croutons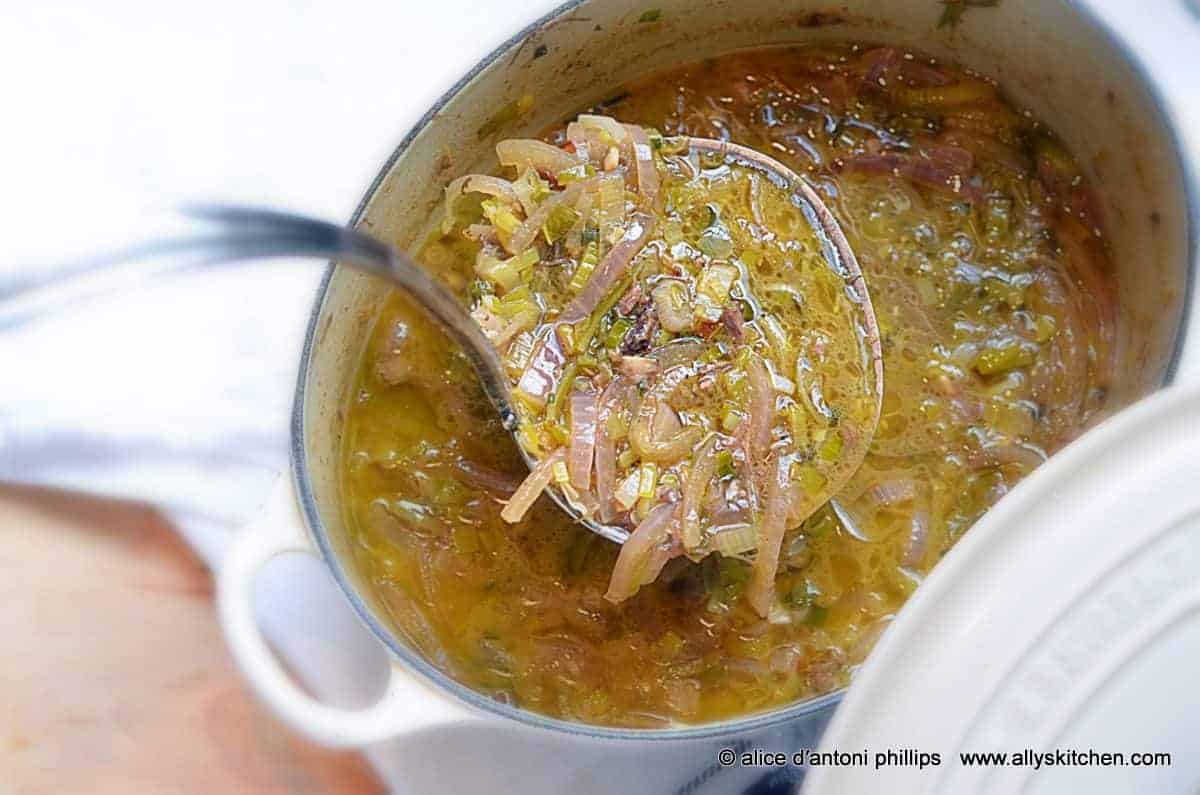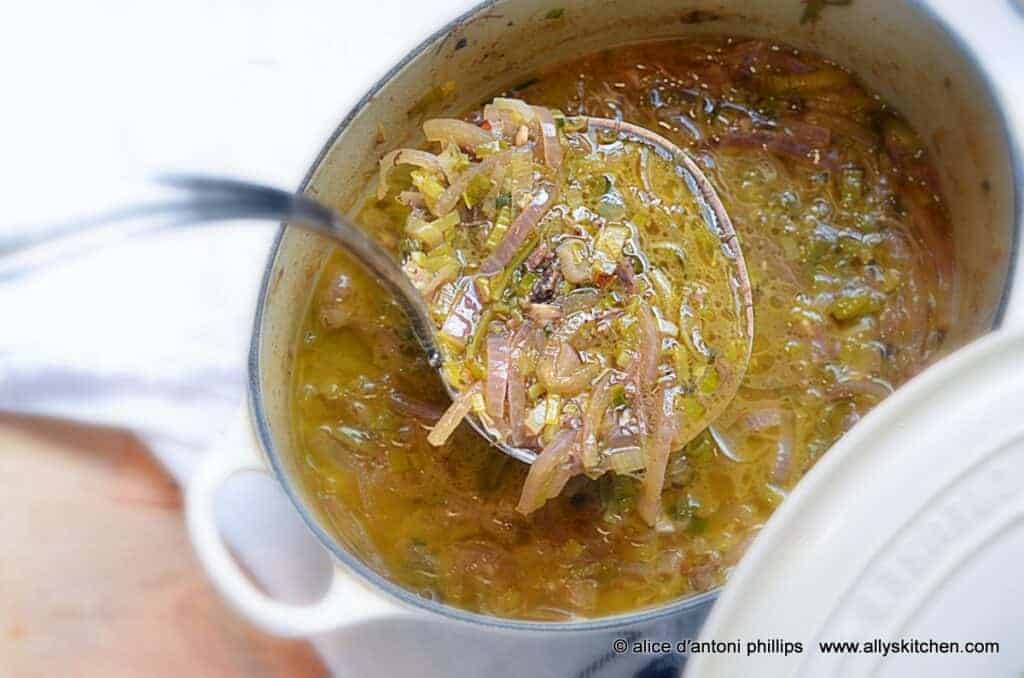 What you do:
In a heavy cast iron pot over medium heat, melt the butter and add the onions.  Saute, toss, turn and let them wilt and caramelize cooking about 7-10 minutes. Add the garlic and cook another minute then add the flour and blend in.  Slowly add the beef broth, Worcestershire, salt, pepper and blend.  Reduce heat to low and let the soup simmer about 45 minutes.
Serving & Plating Suggestion~~Place a chunk of warm bread in the bowl.  Scoop on soup.  Add cheese.  Put under the broiler and melt.  Garnish with sweet chili sauce and microgreens.  Serve and slurp!