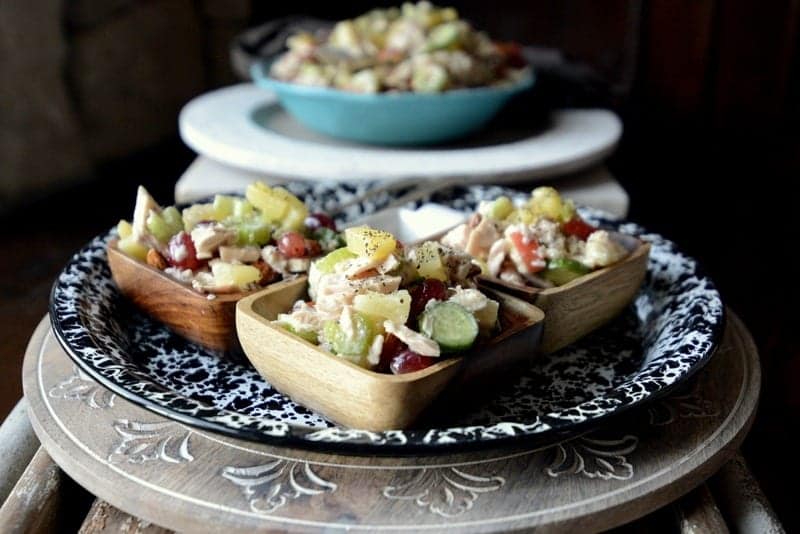 This skinny girl guilt-free (who doesn't like to eat 'guilt-free'!) tuna salad might have a surprise ingredient in it or maybe the ingredient is something that you haven't used often or at all. It's lemongrass! Now what precisely is lemongrass?
Lemongrass is a stalk and on its own, way too tough to eat. So, it has to be very finely crushed or chopped. Used in Asian cuisine, especially Thai foods, it's great in stir fries, with noodles, curries and more. Lemongrass tastes like a cross between lemon and lime but you're also gonna get hints of ginger and mint. Yes, very refreshing!
Using it in this skinny girl guilt-free tuna salad just seemed like the perfect way to give the salad a burst of citrus and freshness. So, you'll see it's part of the dressing. You can find lemongrass paste at your grocer. I keep a tube of the Gourmet Garden lemongrass paste as a staple in my refrigerator. But, if you can't find it, don't want to order from Amazon, then there are other substitutes.
You probably know by now if you've been following me that I love cucumbers. And, in this recipe, I'm hoping that you can find and use the small baby cucumbers. They're a mini version of a regular cuke harvested early when the cuke is young. Buying those large cucumbers with the waxy tough skin just doesn't impart the flavor, texture, or 'look' that you want in this salad. You could also use a diced English or Persian cucumber.
Another thing about this recipe is the dressing mixture. You'll see that there's just a small amount of mayonnaise, which usually dominates in tuna salads. Another great thing about this recipe that makes it so different from the typical tuna salad is all the fruit that's in it plus the almonds. I mean that's why I call it skinny girl guilt-free tuna salad. You can eat a second and third helping without feeling like you're overindulging! Using the tuna packed in water shaves a few calories. And, the albacore, while a tad bit more costly, sure does have chunky wonderful white tuna that's beautiful in this recipe.
PS: I'm creating more of the 'Skinny Girl' series of recipes. Skinny isn't taken 'literally' by any means. It's more of eating healthy. Taking food and creating recipes that can be eaten, sometimes with seconds is you want, and not feel guilty nor pack on unnecessary calories. They're basically the good stuff for you, low glycemic, nutritious, low carbs and more!
Check out this Skinny Girl recipe:  Skinny Girl Sheet Pan Creole Chicken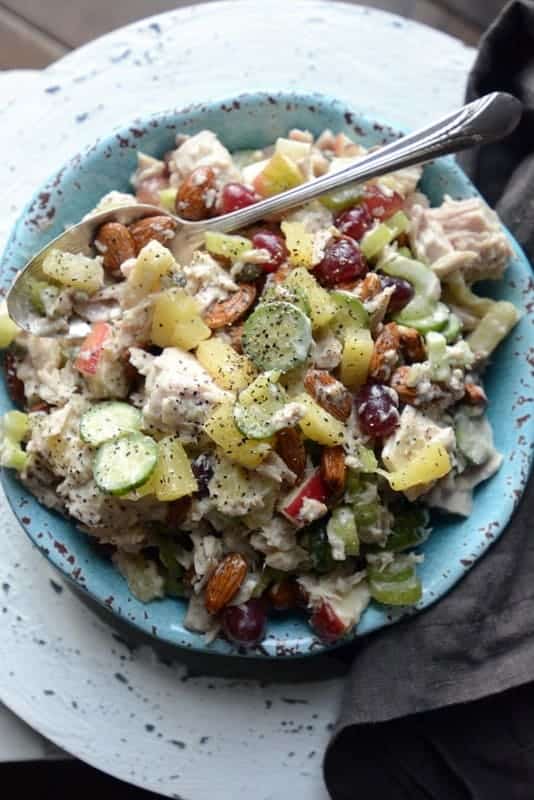 skinny girl guilt-free tuna salad
Ingredients
4 cans tuna, albacore, packed in water, drained,
1 cup celery, sliced
1 cup baby cucumbers, sliced
1 cup seedless red grapes, very small or if larger sliced in half lengthwise
½ cup apple bites, honey crisp, skin on, diced
1 ½ cups pineapple tidbits, divided
½ cup almonds, roughly chopped or whole (your preference)
3 Tbl. Capers, drained
1 tsp. coarse ground pepper
DRESSING
¼ cup olive oil + vinegar dressing, good brand, can substitute balsamic
¼ cup Greek yogurt, plain
3 Tbl. Mayonnaise
1 tsp. sea salt, fine
Instructions
In a large mixing bowl, add the tuna. Take a large fork and break apart the large chunks. You want to keep it in small chunk texture.
Add the celery, cucumbers, grapes, apples, one cup of pineapple tidbits, almonds and capers. Toss gently with your hands or a large fork. In a small bowl, whisk together the dressing, yogur, may, salt and lemongrass paste.
Pour over the tuna salad. Gently toss into the mixture with a large fork. Cover with plastic wrap and refrigerate at least an hour before serving.
When serving, toss on a few extra pineapple tidbits and sprinkle individual servings with coarse ground pepper.
Notes
Can't find Lemongrass Paste, no problem? Try this: Zest one large lemon, finely mince 2 teaspoons of fresh mint, and two teaspoons of lime juice.
Make sure that lemon is washed well and clean before zesting.
To add even more flavor and some interesting texture, here are some ideas:
1. Serve your tuna salad over a bed of fresh baby arugula. Oh, yeah, zesty peppery deeelish!
2. Stuff into grilled tender bell peppers.
3. Scoop out the seeds of a sweet cantaloupe and serve in halves or quarters of the fruit.
Leave me your ideas for serving in the comments below! xoxo
https://allyskitchen.com/skinny-girl-guilt-free-tuna-salad/
©ally's kitchen intellectual property