jamaican jerk whole grilled chicken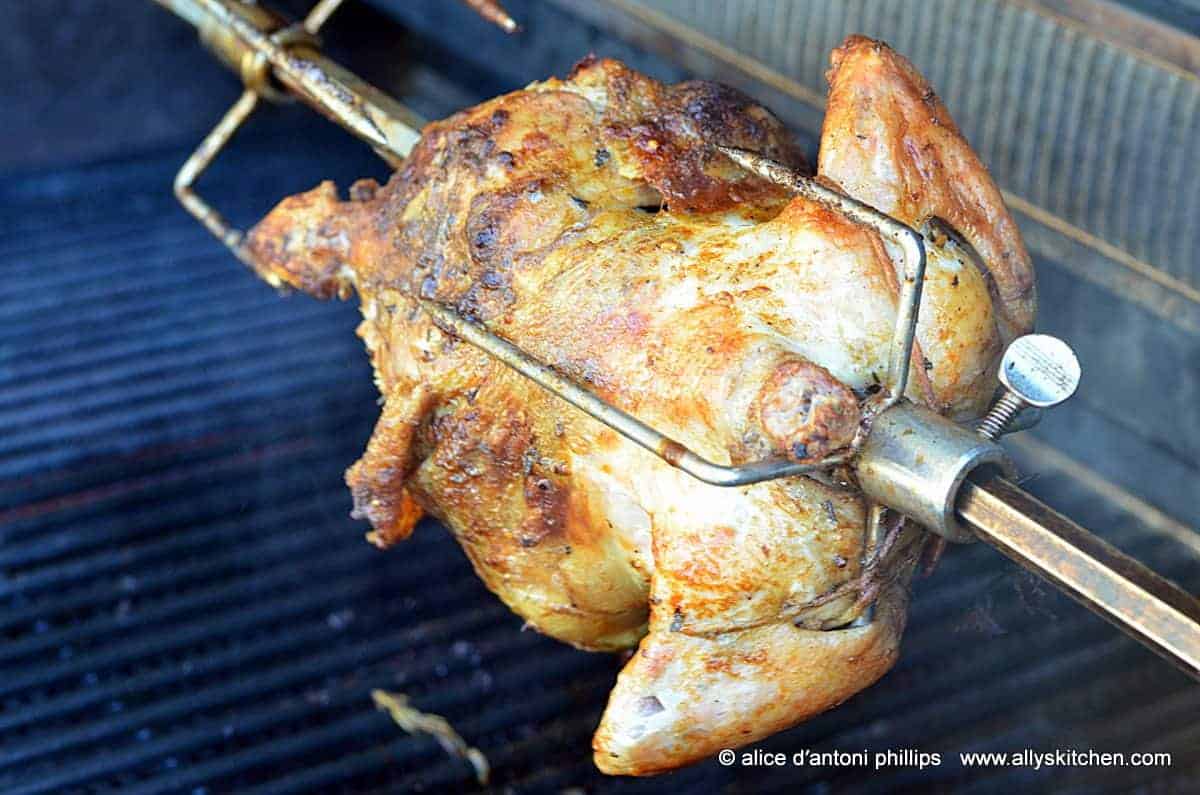 Yeah, this chicken might not be the purrrrdeeeest on the block~~kinda like 'Ugly Betty'~~but, she sure is one of the tastiest!  What makes this bird rock is the charring, some blackening and crispiness of the skin~~yep, folks will be fighting over it!  And, another thing I like about it is, that once it's taken off the rotisserie skewer and put on the serving plate, it can just implode and deconstruct!  Yes, it's all about pulling out pieces that you like, whether it's dark or white meat, crispy and chewy or moist and tender~~and, that inside meat is just that!
Now, I served this with some oven-roasted fresh corn spice with more of the Jamaican Jerk seasoning~~just coat that shucked corn with canola or olive oil cooking spray, the seasoning sprinkle on (don't be stingy) and some sea salt.  Roast in a 400 degree preheated oven about 20 minutes, bring it out, cover it with foil, and there you have it, the meal from the islands!  Oh! One more thing~~if you want a salad, this one works boholiciously with the it! Click here~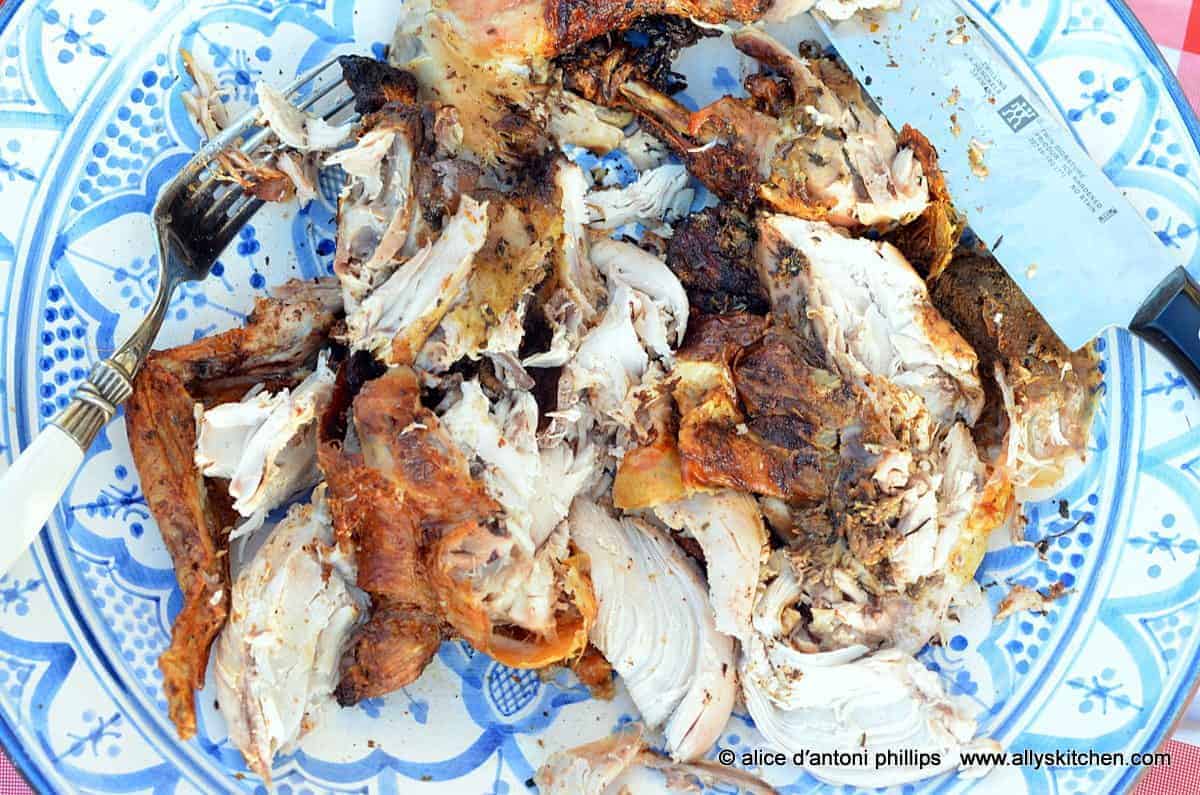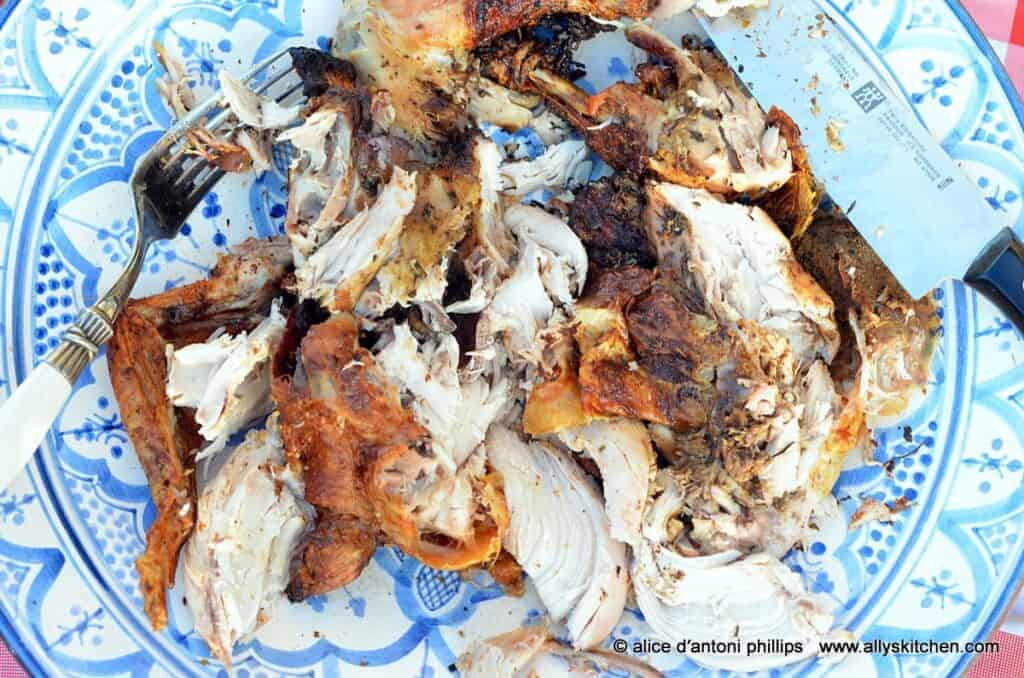 Serves: 4
What you need:
1 3 ½ to 4 lb. whole chicken (gutted)
4 Tbl. Softened butter
¼ cup Jamaican jerk seasoning
1 tsp sea salt
1 Tbl. Harissa (optional)
1 Tbl. Garlic granuales
1 tsp red chili flakes
½ lemon juice
Cooking Spray (olive oil or canola)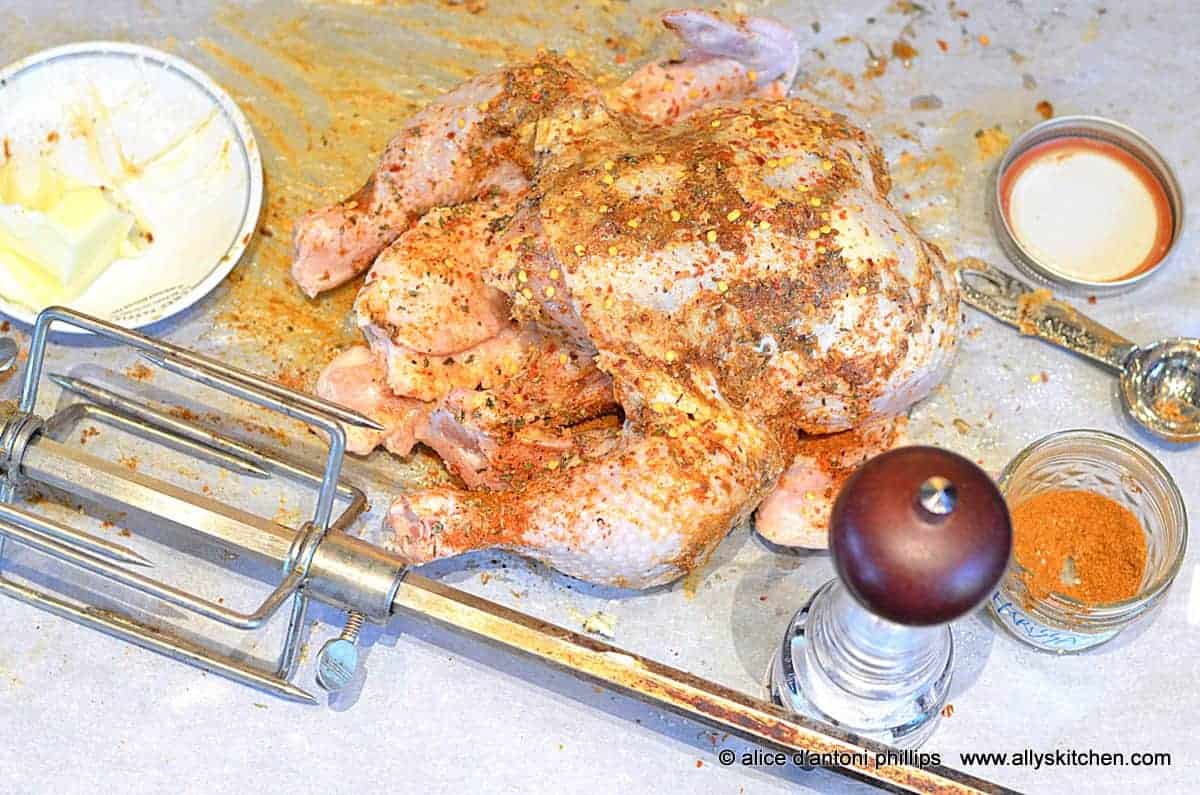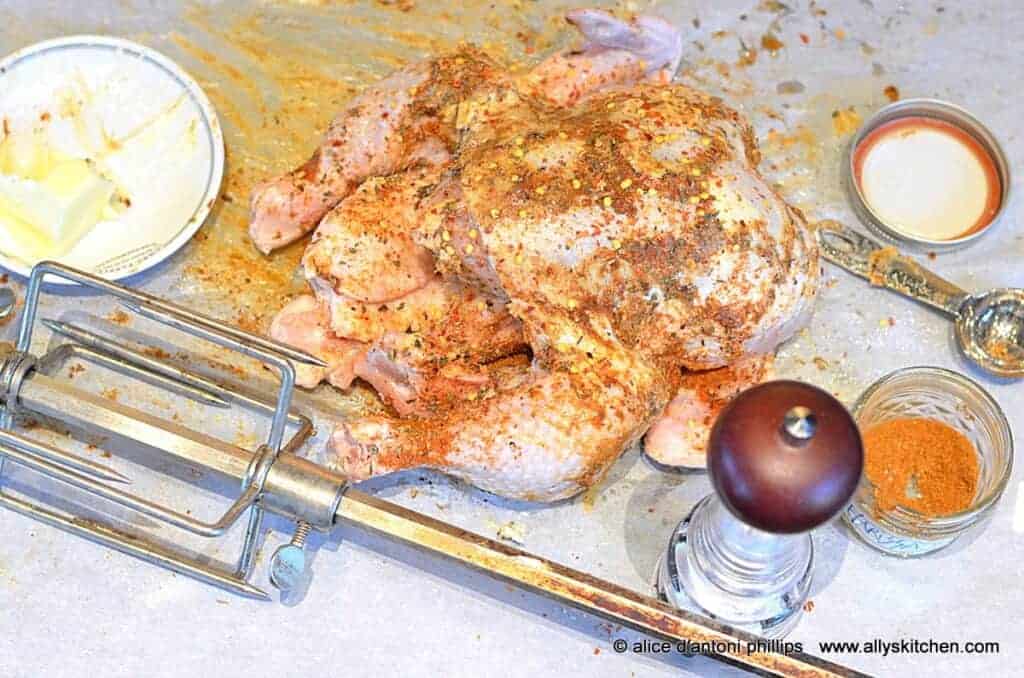 What you do:
Combine the Jamaican Jerk seasoning, salt, garlic, and chili flakes in a small bowl and blend well.
Take your whole chicken and gently pull up the skin. Using clean kitchen scissors snip the tissue that holds the skin to the meat then carefully work your fingers under the skin. Put 2 tablespoons of softened butter under the skin, the put about one-third of the seasoning mixture in and work around covering the meat.
Put 2 tablespoons of butter into the cavity of the chicken along with another 1/3 of the seasoning, lemon juice and work in with your hands.
Coat the entire chicken well with cooking spray and cover the outside of the chicken with the remaining seasoning mixture.
Skewer on to your grill rotisserie rod. Get the grill to a temperature of about 400-450 degrees. Cook the chicken about 20-25 minutes per pound. Turn the grill heat up to 500-550 and cook another about 20-25 minutes letting the chicken skin char, blacken and curl somewhat.
Remove, slide off the grilling rod, cover tightly with foil, and let the chicken rest about 20 minutes. Just pull apart randomly from the bone and serve carcass and all from a large shallow serving plate or bowl!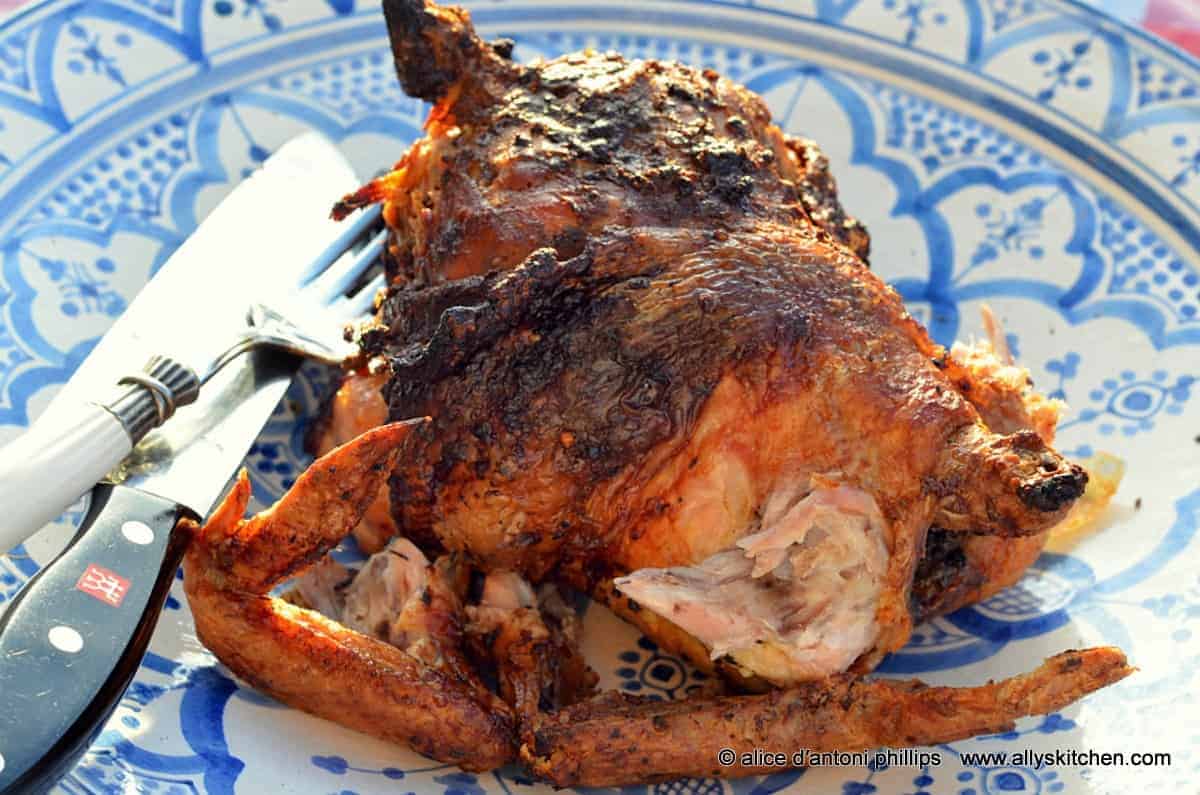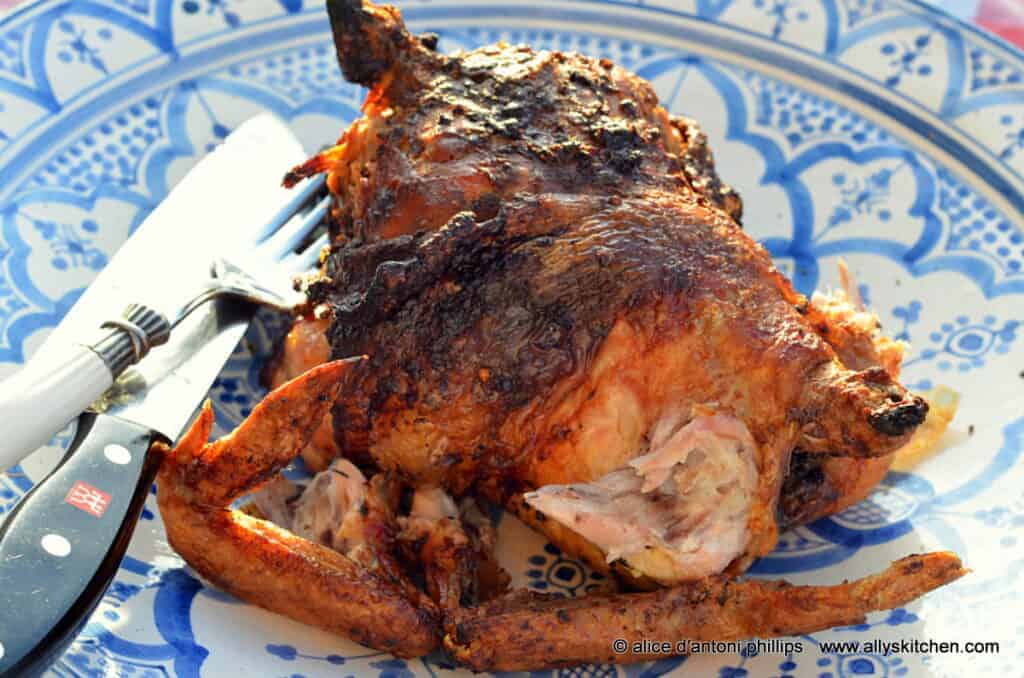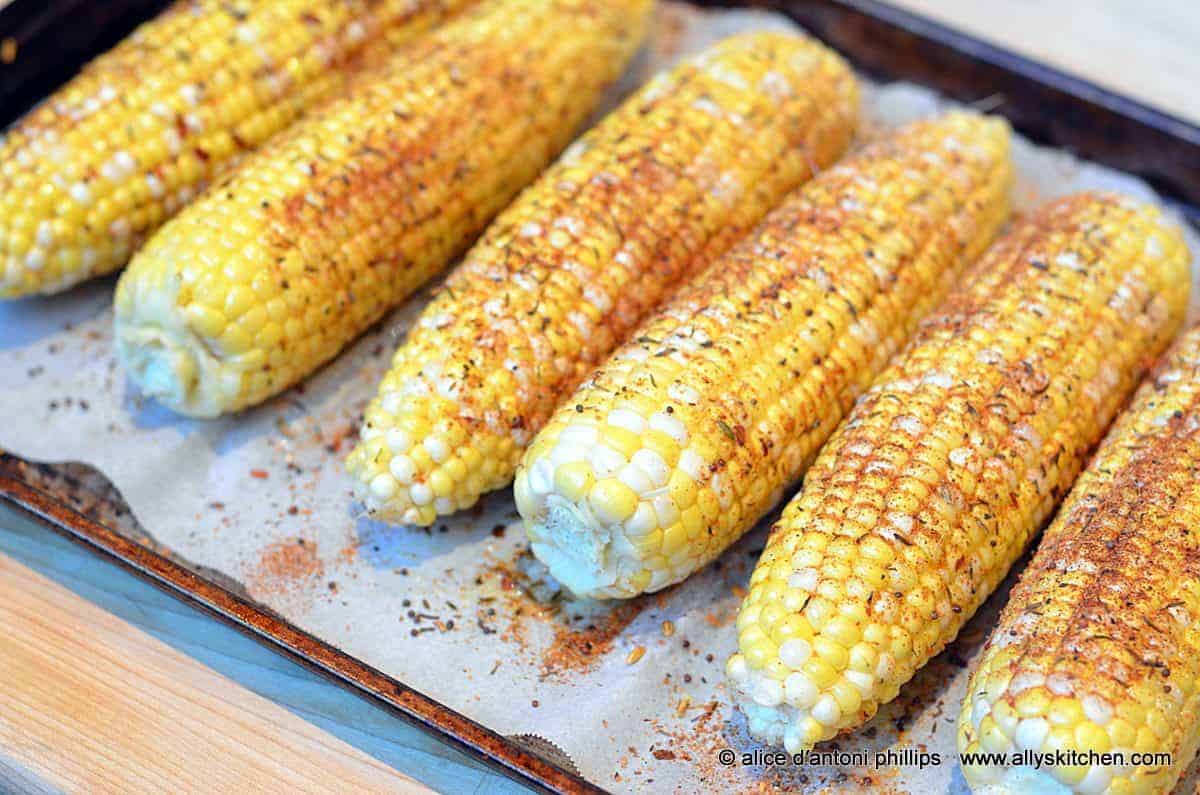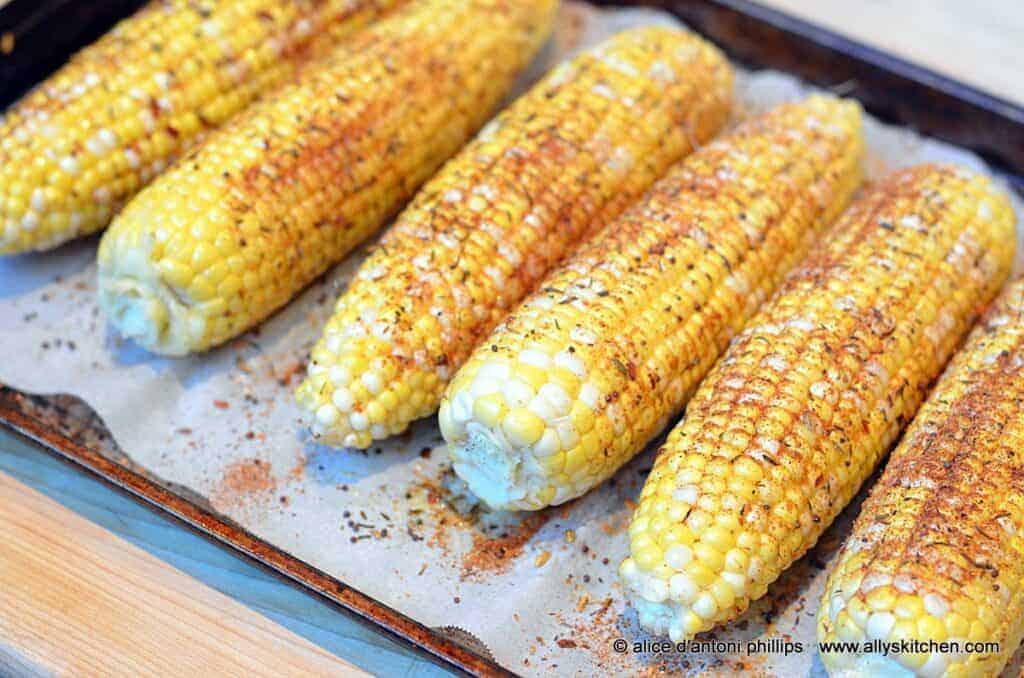 ©alice d'antoni phillips www.allyskitchen.com