One Skillet Easy Creamy Italian Chicken Pasta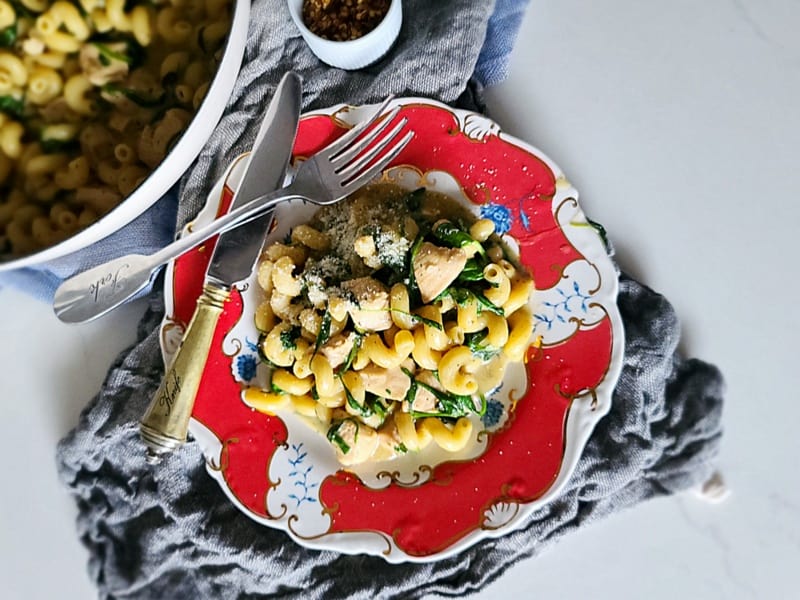 One Skillet Easy Creamy Italian Chicken Pasta comes together in no time at all! It's healthy. It's super tasty. And, it's total comfort food!
Healthy Pasta Recipes
Pasta can be fabulously healthy with a few ingredients and preparation.
And, if you're looking for a similar pasta one skillet meal that's not on the creamy side, then check out the pasta and veggies!
Creamy Tuscan Pasta
This creamy Tuscan pasta has a real 'chicken and dumplings' feeling and taste. It's pure comfort food. And, the noodles are infused with the amazing bone broth.
Keep your pantry stocked. Go to Kettle & Fire! Use my discount code ALLYSKITCHEN for 20% off!
Creamy Chicken Pasta Recipes
Comfort food. Yes, that's what pasta is. And, when you pair it with bone broth and other healthy ingredients like nutritional yeast and spinach, well, it's a homerun!
Pasta Ideas for Dinner
Now I love pasta. I've traveled to Italy on many occasions over the decades. Pasta is the backbone of Italian food.
I love real pasta, too. Fortunately, for me and my family, we don't have to swap substitutes. We thoroughly enjoy old-fashioned pasta!
And, boy do I have ideas for pasta dinners. The key is to not overload on the pasta. And, to eat pasta in moderation. Or if you don't want to do that, then get off the sofa and get moving. A LOT! Burn it off. These carbs are intended to fuel you for movement not for being a couch potato.
Easy Chicken Pasta Recipes
Here are some of my easy chicken pasta recipes!
Easy Creamy Fresh Vegetable Pasta
Healthy Pasta Dishes
Healthy pasta dishes have to have healthy ingredients. There are small things that you can add that will add flavor and nutrition. Have you ever used anchovy paste? OMG, this ingredient is that perfect uumami taste that elevates food. Squeeze a few tablespoons in and enjoy!
Tuscan Pasta Recipes
Rustic Pasta Primavera epitomizes the Tuscan area. Our last visit in October 2021 was punctuated by staying in a large villa in the country (with two other couples). And, the kitchen was large and perfect for cooking. Together the six of us cooked then set the table on the veranda each evening for a family meal like this One Skillet Chicken Pasta.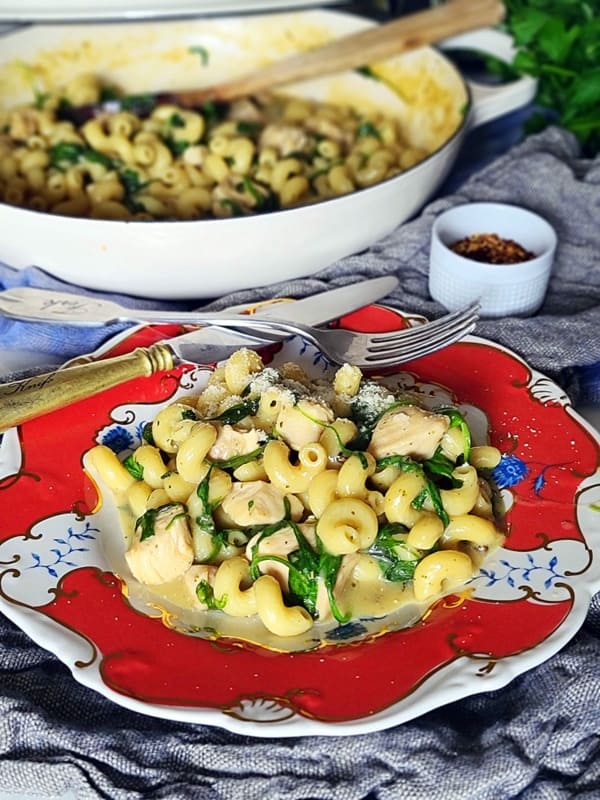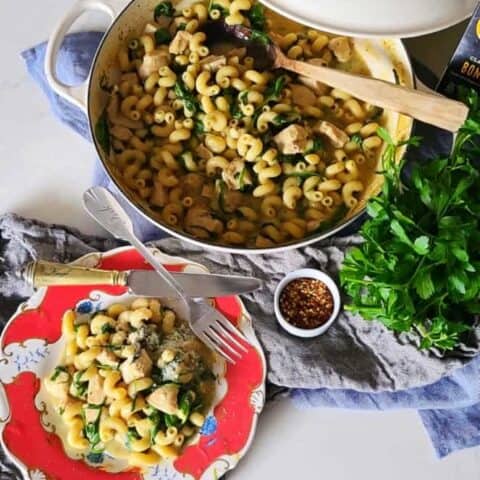 One Skillet Easy Creamy Italian Chicken Pasta
Ingredients
2 boxes (16.9 oz./each) Kettle & Fire Classic Chicken Bone Broth
3 Tbl. Flour, all purpose, can substitute arrowroot or corn starch to thicken
2 Tbl. Nutritional yeast
1 Tbl. Italian seasoning mixture
2 tsp. garlic granules
1 tsp. sea salt
1 tsp. onion powder
1 to 1 ¼ lbs. chicken breast, cut into smaller bite pieces, boneless skinless, can substitute chicken thighs
2 cups pasta, small like penne pasta, cavatappi, small rigatoni, mini penne
½ cup parmesan Reggiano, grated
1/3 cup flat parsley, rough chop
4 oz. box fresh baby spinach
Instructions
In a large braising pan over medium high heat, put the bone broth. Bring to a simmering boil.
In a small bowl, whisk together the flour, nutritional yeast, Italian seasoning, garlic, salt, onion powder. Pour into the simmer boiling broth and whisk well
Reduce heat to medium. Add the cut-up chicken. Cover and cook about 15 to 18 minutes. Add the pasta. Blend well. Reduce heat to medium low.
Cook about 18 to 20 minutes. With a wooden spoon, blend a couple of times. Add the parmesan and blend then add the parsley and spinach and blend.
Turn heat to low. Let the mixture steam and cook about 10 minutes until the pasta is al dente. Ready to serve!
Notes
Baby peas are great in this pasta. Add when you are adding the spinach.

Arrowroot can be substitute for the all-purpose flour as a thickener.