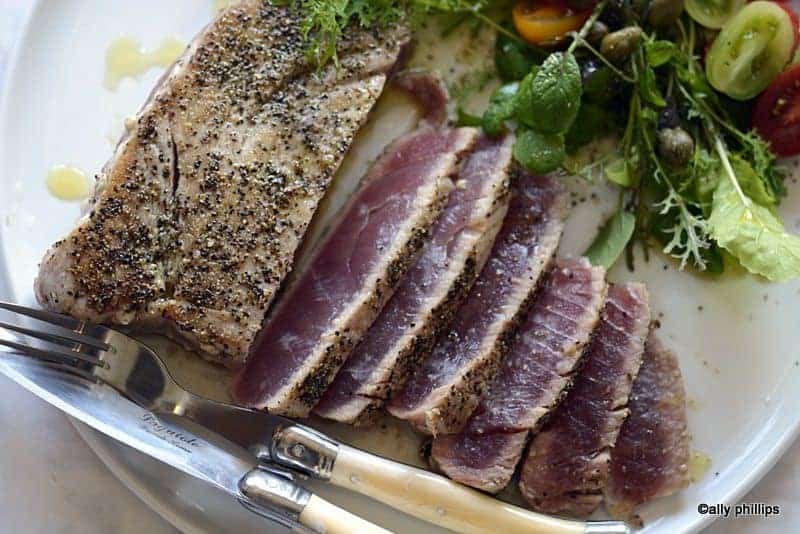 Tuna Steak
Dinner in well under 30 minutes is doable with this pan seared tuna steak recipe! A simple salad or baked potato and you're ready to eat healthy!
Yes, I'll say it again. A healthy dinner in well under 30 minutes sounds almost impossible. But, when you're pan searing tuna steak, it's totally doable. Throw together a simple salad and you've got your meal in not time.
Types of Tuna
The world of tuna can be confusing. But, there are basically four types of the most popular tuna.
Albacore. This tuna is light, almost white, and has a mild flavor. You find it oftentimes in the cans and called 'albacore white'. It's usually a little pricier than light chunk tuna.
Yellowfin tuna is the well-known 'ahi'. It's pretty easy to find at the fish market or at your grocery store, sometimes fresh and oftentimes frozen. It's got more distinct flavor than albacore and it's hue is a deep pink. Yellowfin tuna is great for searing and grilling, and you'll find it in cans, too. This kind of tuna is what you're probably eating in your sushi!
If you're a tuna expert, then bluefin tuna is on your plate. Fattier and more flavorful, bluefin tuna is also more expensive, Some of these fish that are caught can weigh up to 1,000 pounds!
Light chunk tuna is affordable and comes from skipjack tuna, which is popular in Japanese cuisine. With a stronger flavor and high fat content, it's the smallest of the tuna fish. It's name comes from the fact that this tuna jumps and skips on the ocean's surface.
Tuna Steaks Recipes
Tuna steak recipes are typically pretty easy and simple. You want to have a fresh look and smell to your raw tuna steak. When you're cooking it, which doesn't take long, be sure to not get distracted or leave it because it can get dry and chewy when overcooked. To keep it tender and moist, you'll want to have the center still pink. It's fine for eating!
Cooking Tuna Steaks
Cooking tuna steaks is not a daunting task. The key is not to overcook tuna steaks. Whether you like it grilled, baked, or broiled, simplicity is the key for tuna in my book.
You don't need a lot of fru fru when cooking fresh tuna steaks. In fact, all the flavor is there for you. You just have to accentuate it somewhat with some good salt and pepper. And, I always love coarse ground fresh pepper. And, make that kosher or sea salt, large grains rather than fine. Something I think about those larger salt crystals that explode flavor from the tuna!
The key to cooking tuna is a hot cast iron skillet. And, I don't suggest substituting another skillet like a non-stick. That cast iron has to be well-seasoned. And, if you're doing a large tuna steak that's about one and a half to two inches thick, then make that skillet large, ten to twelve inches in diameter. Give that tuna lots of room to 'breathe' as it sears on each side for just about two to two and a half minutes or until you see a golden brown crust forming. I cooked the tuna in this recipe two minutes on each side. That yields a perfectly rare finish. The center is barely warm. You think that butter is melting in your mouth with no effort!
Fresh tuna steak pan seared is nothing short of velvety tender and something that's like butter, it melts in your mouth.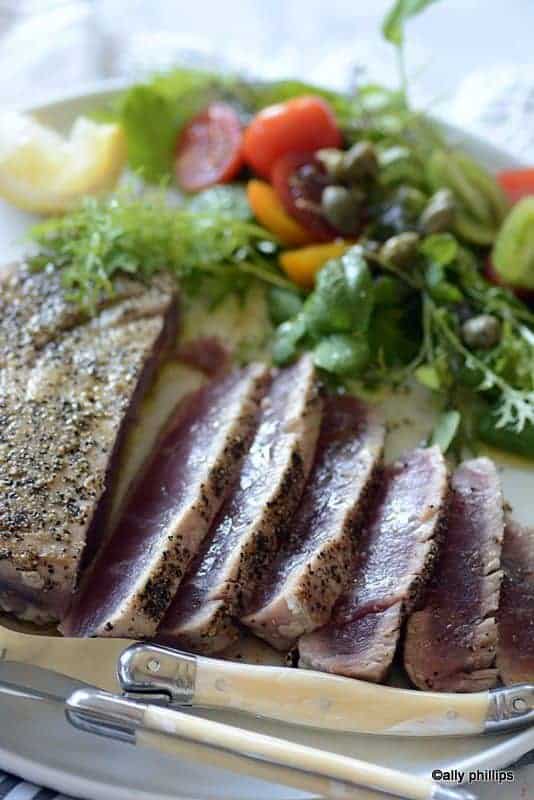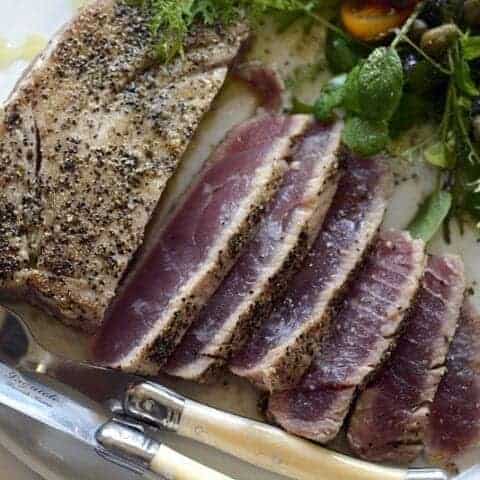 fresh tuna stea
Dinner in well under 30 minutes is doable with this pan seared tuna steak recipe! A simple salad or baked potato and you're ready to eat healthy!
Ingredients
1 fresh tuna steak, 12-14 ounces
2 Tbl. extra virgin olive oil, divided
1 tsp. coarse ground pepper
1 tsp. sea salt
Instructions
Coat each side of the tuna steak with one tablespoon of olive oil. Sprinkle each side with the salt and pepper.
Put a cast iron skillet on the blaze. Turn to high. Let it get very hot.
Cook tuna on each side for 2 to 2 ½ minutes. Turn only once. Remove to a plate. Let it rest for 3-4 minutes. Slice and drizzle with remaining olive oil.
Serve with fresh lemon squeeze on the slices.