chunky fresh salmon scallion olive salad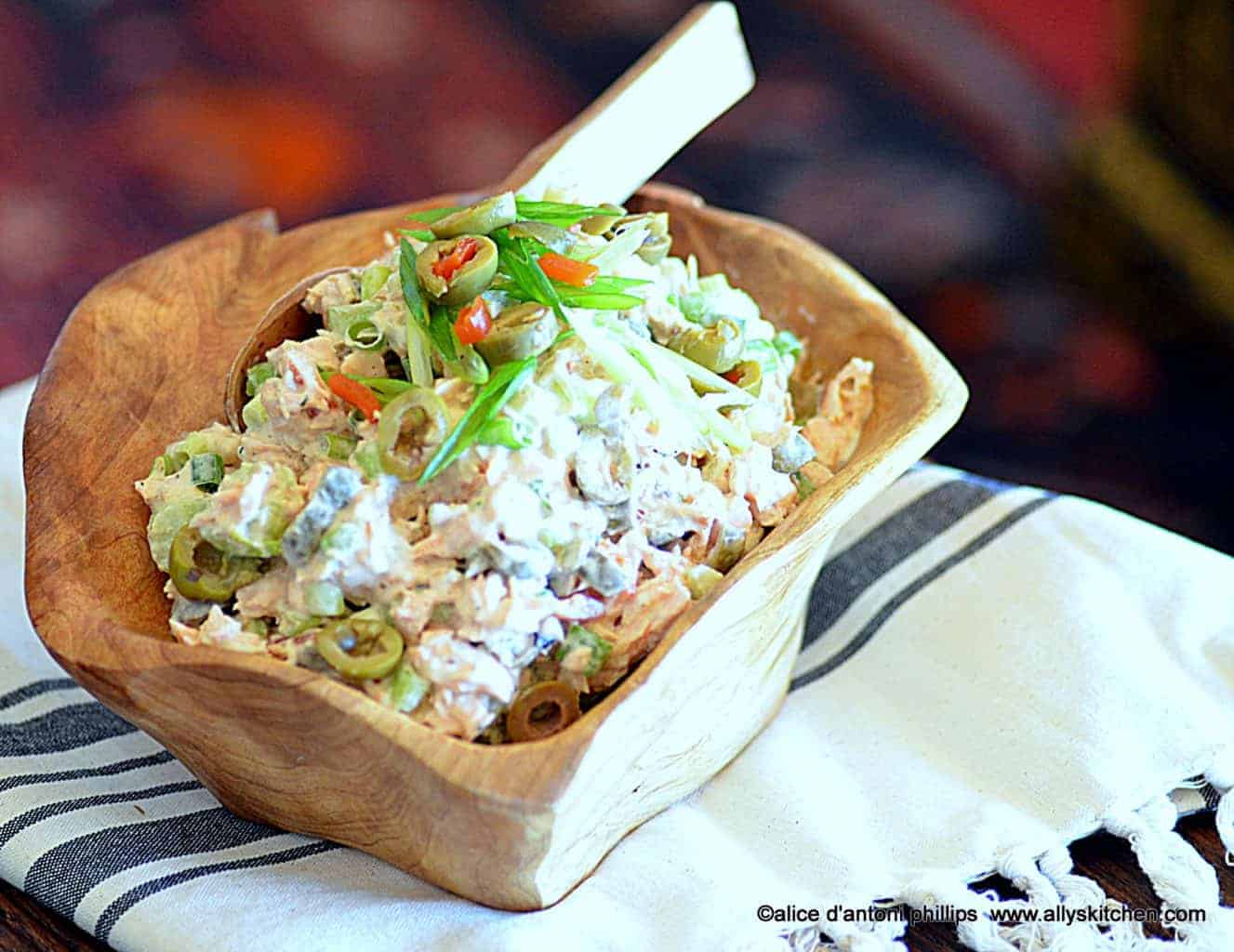 Whenever I buy salmon, I always try to buy an extra couple of pounds because if I'm going to pan sear it for one meal, I can use the leftover salmon the next day for salads, sandwiches and more. That's how this chunky fresh salmon scallion olive salad was born! So, think about that when you're looking at this amazing fish that's born in fresh water and then migrates to salt water the back to salt water to reproduce.
One of my hubby's most favorite trips was to Alaska to go salmon fishing. Well, he and his group caught hundreds of pounds and had them cleaned, filleted, packaged and shipped home. Our freezer was FULL. I mean to the brim. Well, as luck should have it, we were traveling, the electricity went out and when we returned home, the entire freezer of fresh Alaskan salmon was gone~~every stinkin', literally and figuratively speaking, had to be trashed. That was one sad day in our lives. We mourned this event for months afterwards. The good thing about it though is~~we have to make another trip to Alaska to go salmon fishing again!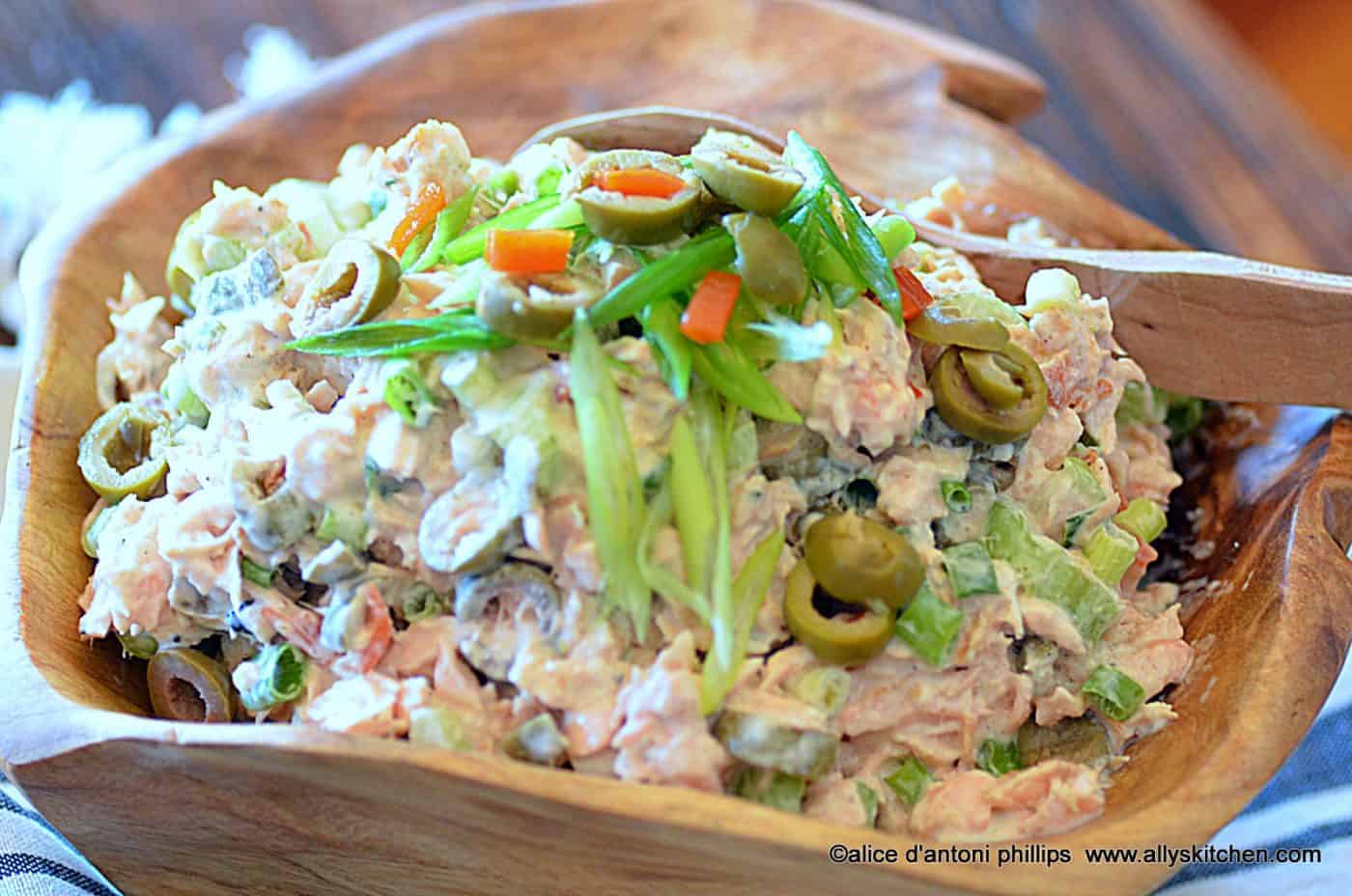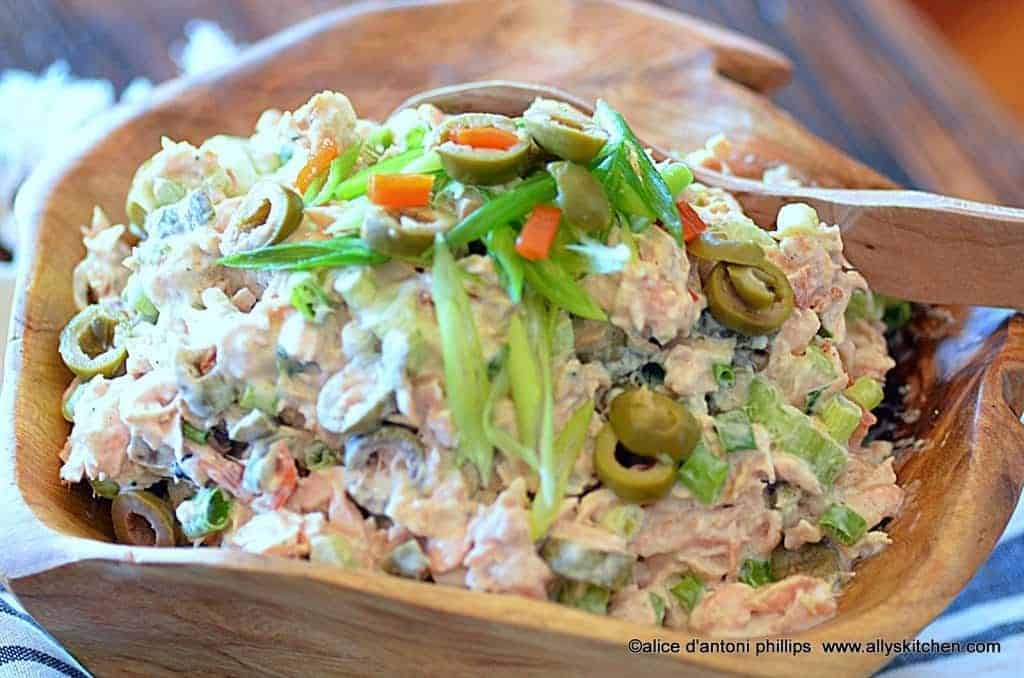 Serves: 4-6
What you need:
1 ½ lbs. pan seared salmon, skin removed and meat broken up into chunks (Here are some ways to pan sear your salmon~~just CLICK!)
3 Tbl. mayonnaise
1/3 cup Greek yogurt, plain
2 Tbl. olive oil
2 Tbl. fresh lemon juice
½ tsp. sea salt
1 tsp. fresh lemon thyme
2 Tbl. fresh basil, chopped finely
½ tsp. red chili flakes
¾ cup celery, sliced
1/3 cup green onions, with tops sliced thinly
1/3 cup sliced green olives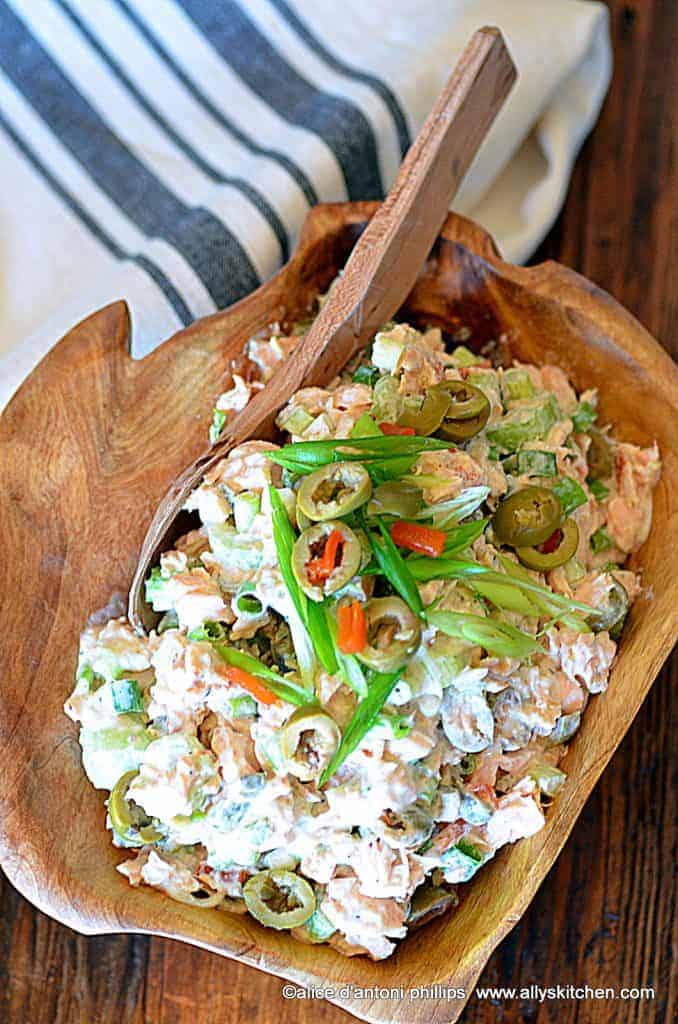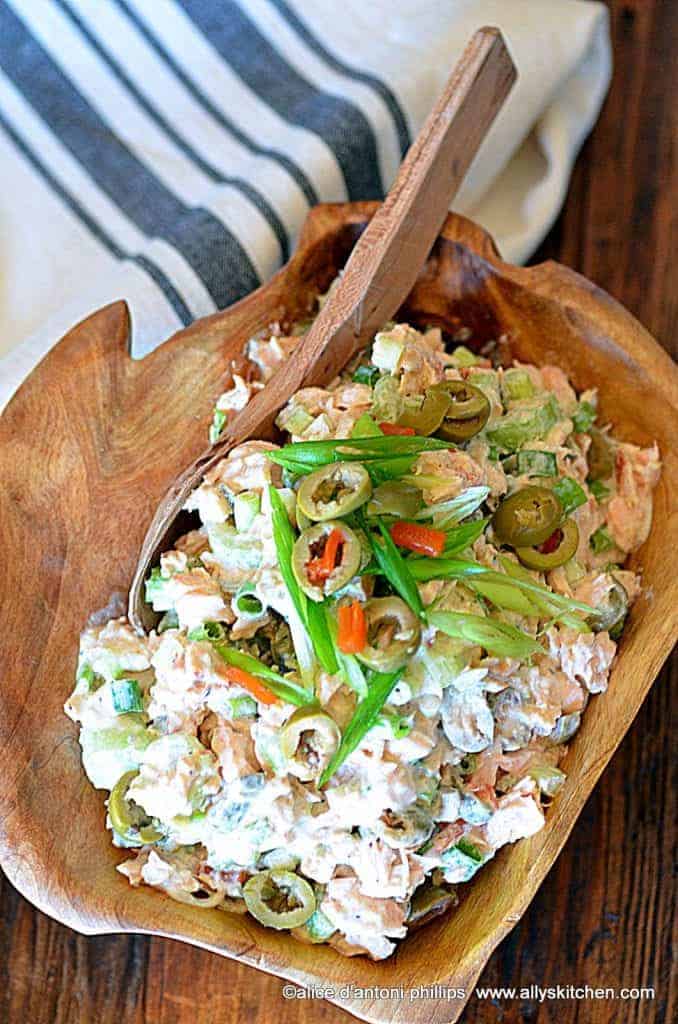 What you do:
Put the salmon pieces in a large mixing bowl. In another bowl, combine the remaining ingredients and blend together well. Pour into the salmon and gently toss and blend into the meat.
Refrigerate about an hour before serving.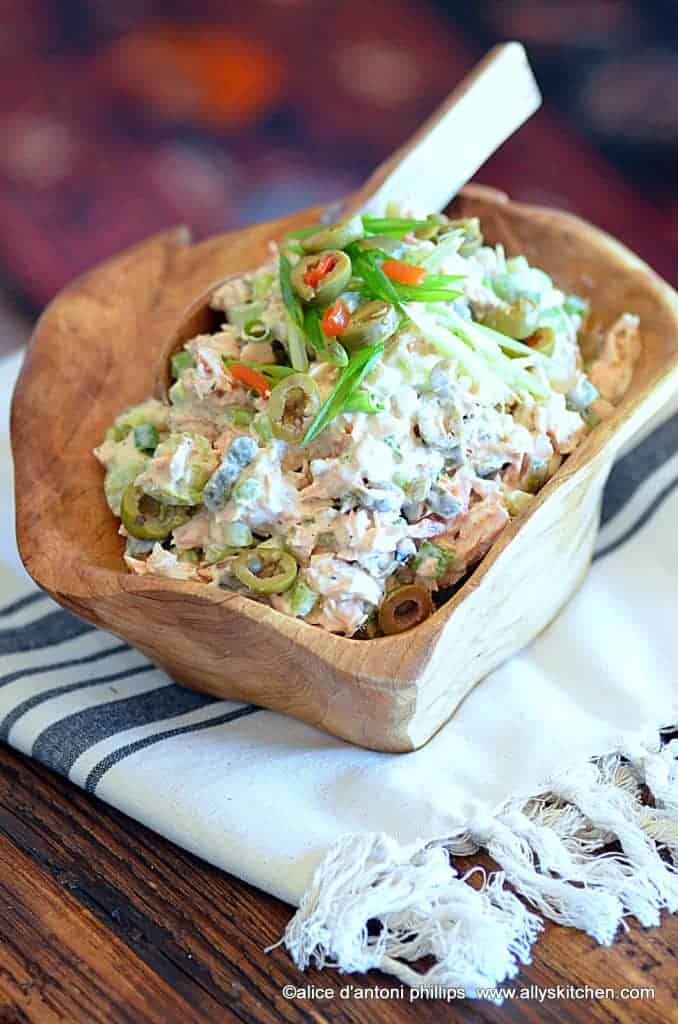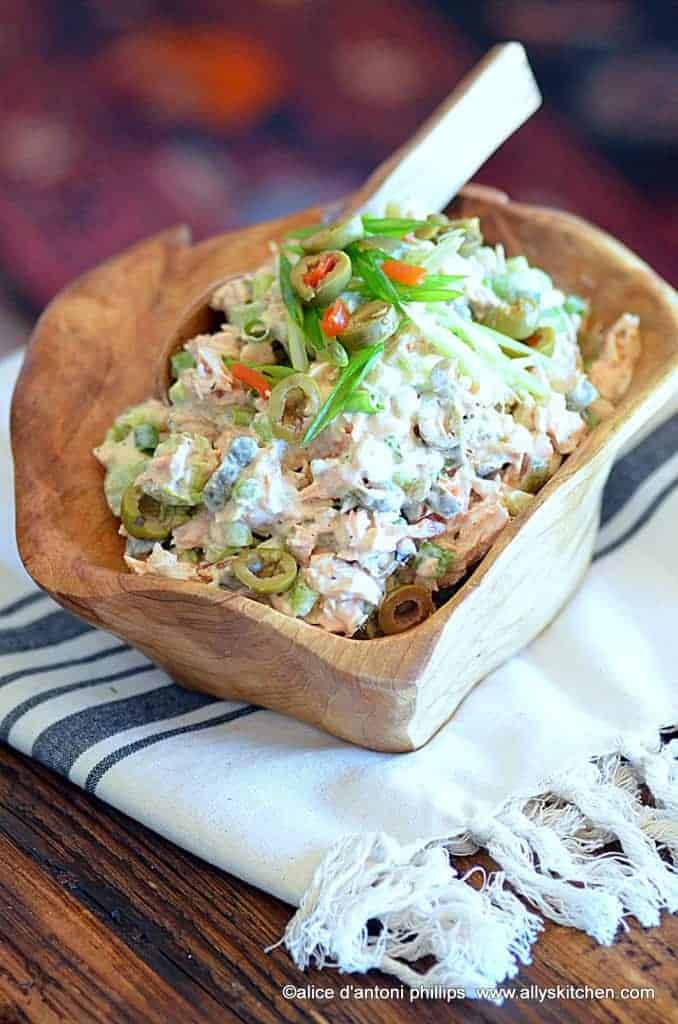 ©alice d'antoni phillips www.allyskitchen.com