healthy fresh herb tuna salad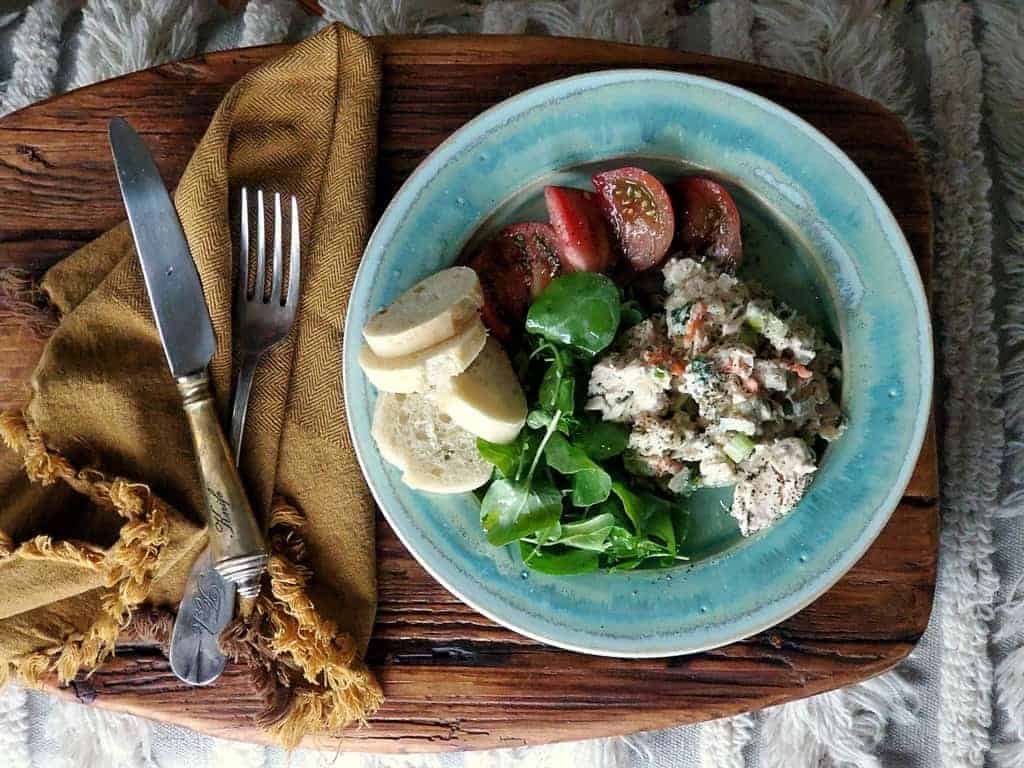 Work in some of the traditional tuna salad ingredients with more of the healthy ingredients and what you have is an awesome healthy tuna salad!
Tuna Salad Recipe
Work in some of the traditional tuna salad ingredients with more of the healthy ingredients and what you have is an awesome healthy tuna salad! Everyone should have a tuna salad recipe in their toolbox. And, today we're looking for how to make tuna salad healthy! And, be sure, to try this avocado oil based mayo! It's healthier for us!
Tuna Salad Recipe Easy
One of Mom's best salads was a tuna salad. She used the cheapest dark tuna packed in oil, a lot of mayo, and heavy on the sweet pickle relish, onions and celery. It was certainly yummy!
But, in this age of trying to elevate to a healthier version of vintage and family recipes, I've tweaked Mom's a little and made it much more healthy, but with all the flavor, textures and taste.
Tuna Fish Salad Recipe
Hope you broaden your horizons and try this no cook dish. I mean I can eat it all myself over the course of several days. Give me a few scoops of it in a bowl, some salty kettle potato chips and I just escape to growing up in them thar West Virginia hills!
Quick Family Meals on a Budget
Funny how we gravitate later in life to things that were so special and really comforting from our childhood. Food was that for me. My Mom was one helluva cook. Croatian and self-taught, she was multi-talented in so many ways.
From flower design, gardening and sewing to designing, art, writing and, yes, cooking. I think I inherited some of her passions for these things as I oftentimes as a kid was her big helper in the kitchen or when fixing up old furniture we might have found discarded in a dump, near the railroad tracks or alongside the road.
How to Spice Up Tuna Salad
We didn't have much, so we had to improvise, be resourceful and creative. I'm so very grateful for this part of my life because it added so much color and 'life' to my life. Plus, it's made me resilient and resourceful, too. I mean these are traits that mean survival.
There're way too many things I loved that Mom created in our postage stamp sized kitchen with about nothing more than a stove and refrigerator. She didn't have many gadgets and gizmos.
Recipes for canned Tuna
Yeah, she had a meat grinder that she attached to the old rickety kitchen table, and she'd grind pork and beef. And, she had a pressure cooker, the old kind, that hissed, screamed and scared the beeegeeebeees outta me when she twisted that nozzle on top and let some of the steam escape.
I swear it scared me almost for life until I got a fancy Cuckoo Multi-Cooker that is almost like silent auto pressure cooker release. Yes, I now use a pressure cooker and have overcome my fears of this kind of cooking!
How to Make Tuna Salad Healthy
So we're all looking for instructions on how to make tuna salad healthy. This recipe sure does infuse some healthier ingredients that will elevate your nutritional value. Three things mainly, fresh herbs, which are full of flavor and healthy.
Then you're going to be adding Greek yogurt rather than lots of mayo. And, lastly, we're putting in some nutritional yeast which packs a punch for flavor plus vitamins.
Here's another of my delicious tuna salad recipes with lots of diced veggies!
Healthiest Canned Tuna to Buy
There are so many brands and kinds of canned tuna. Educating yourself a little on this food is important. I've been buying Wild Planet. If you don't have a Costco nearby, then you can pick up at Amazon.
Tuna Salad Ingredients
While I don't eat tuna on a regular basis, maybe every other month I'll make tuna salad, it does have some great health benefits like lowering cholesterol, reducing blood pressure, boosting the immune system, rich in iron and Vitamin B and helping with weight loss just to name a few. The Breslin gives some information that can help, Top 15 Best Canned Tuna Reviews 2020
PS: A few ideas for serving pieces. You know I'm all into the way your food looks on that plate or in the bowl, and the serving piece is the first piece of 'art' you select!
https://youtu.be/WHhLCSlxzKo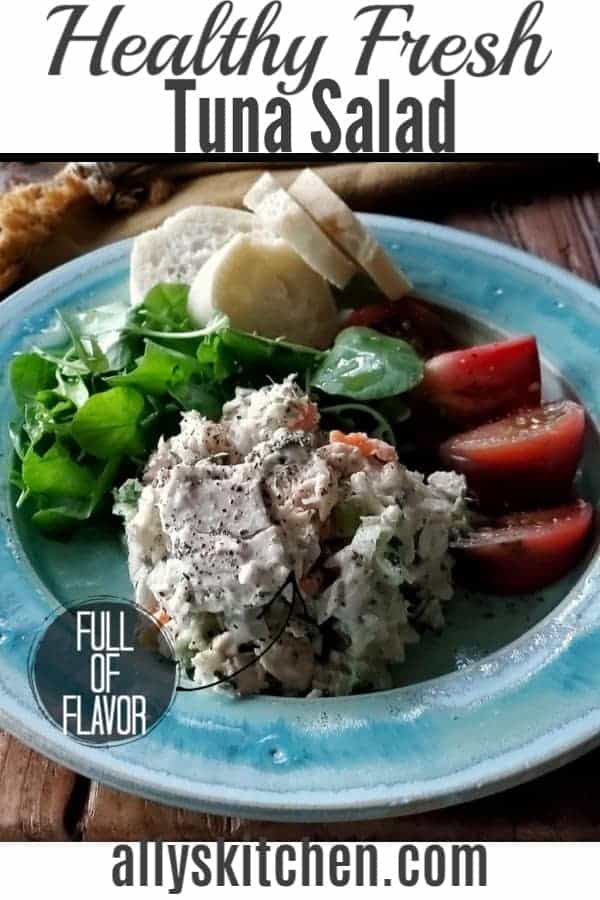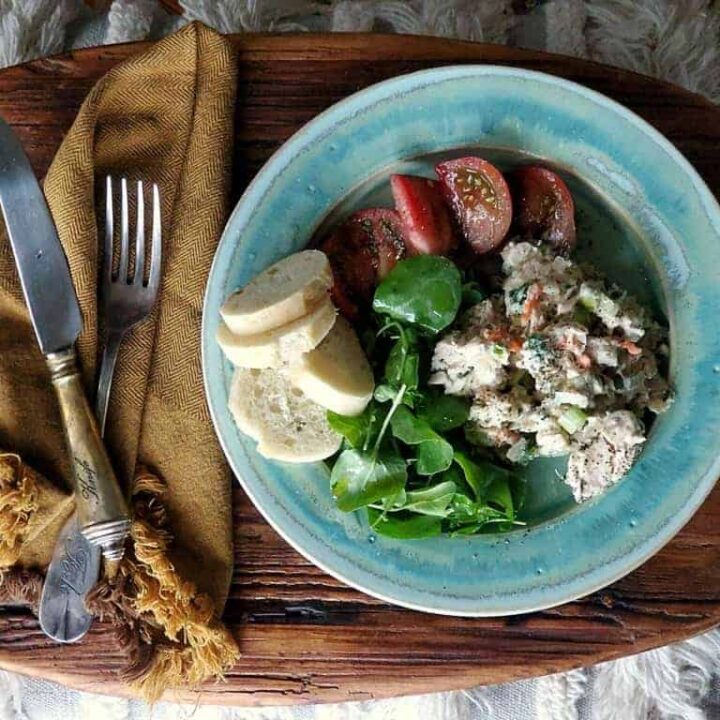 healthy fresh herb tuna salad
Work in some of the traditional tuna salad ingredients with more of the healthy ingredients and what you have is an awesome healthy tuna salad!
Ingredients
4 cans tuna, in water, drained
1 tsp. sea salt
1 tsp. pepper
2 tsp. nutritional yeast
2 tsp. Italian seasoning mixture
1/3 cup avocado oil based mayonnaise
1 cup Greek yogurt, plain
3/4 cup sweet pickle relish
2 cups celery, sliced
3/4 cup sweet onions, diced
1 cup fresh herbs, loose pack, basil, parsley, thyme, chopped medium
1/2 cup carrots, diced or small slice
1/3 cup dried apricots, small dice
Instructions
Put the tuna in a large mixing bowl. Use a fork to roughly break it apart.
Blend well. Put the salt, pepper, yeast and Italian seasoning in a small bowl and blend. Sprinkle on the tuna and work into the meat.
Blend together the mayo and yogurt in a small bowl. Pour on the tuna. Add the pickle relish, celery, onions, herbs, carrots and apricots. Toss and blend all ingredients together.
Refrigerate a couple of hours before serving.
Notes
More options to add health value to your tuna salad: Add nuts (walnuts, almonds, pine nuts, pecans, etc.). Add a sprinkle of chia seeds and/or flax seeds.
Serve on a bed of greens like spinach, watercress, arugula.
Add sliced tomatoes and cucumbers or even a sliced hard boiled egg!