Spicy Garbanzo Bean Salad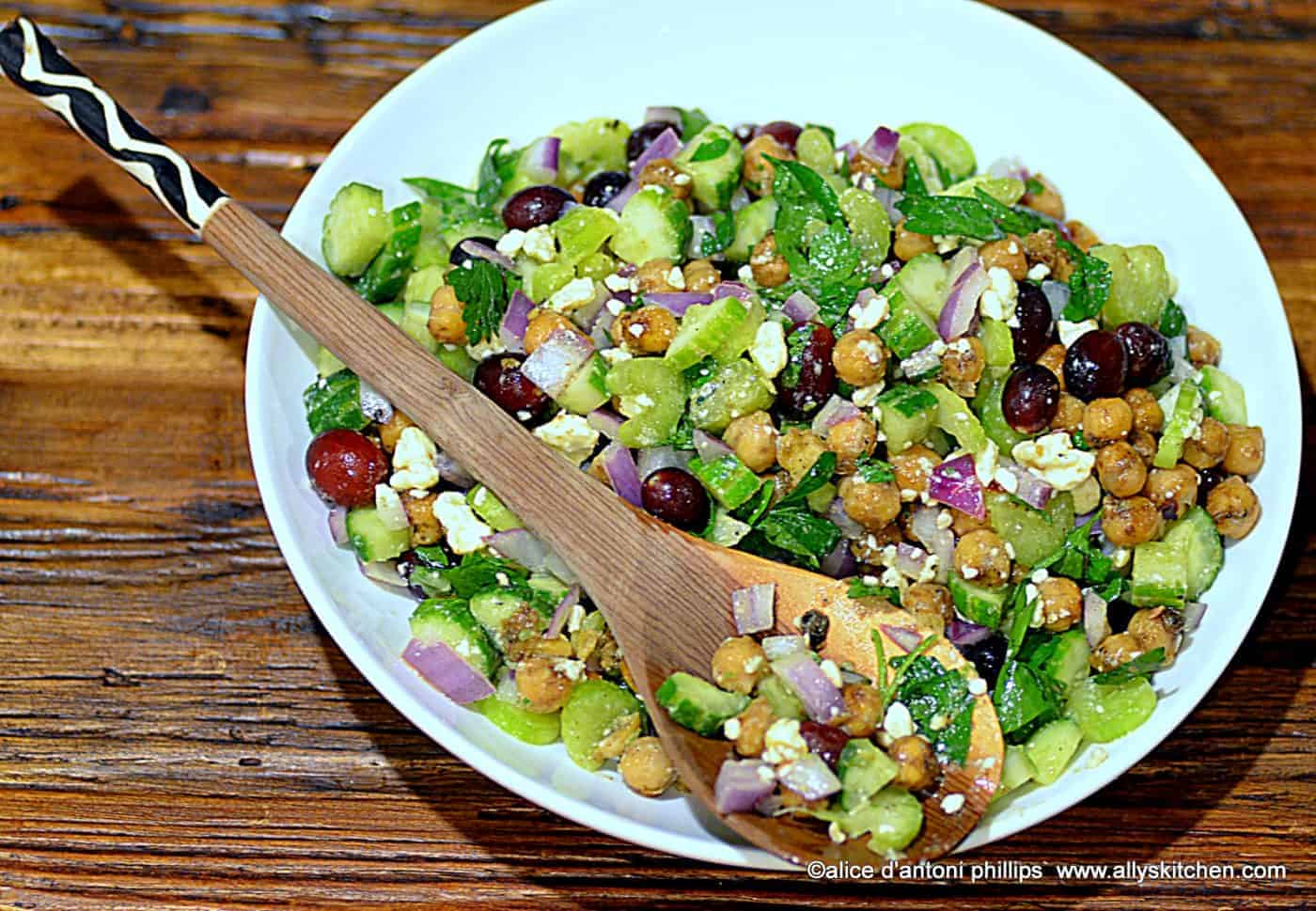 I love a salad that's a meal, too. When you add beans, you've got some seriously wicked protein and more nutrition going on.
Spicy Garbanzo Bean Salad
Salads can get boring unless you open your mind's eye to the possibilities beyond the regulars. You know…tomatoes, lettuce. I love a salad that's a meal, too. When you add beans, you've got some seriously wicked protein and more nutrition going on like with this salad.
Bean Salad Recipe
Delicious and elegant salad! Hearty and at the same time not heavy! Beans can largely replace meat products; they are rich in protein, vitamin E, calcium and fiber, which help to improve the functioning of the digestive tract. Try it!
How to Make Bean Salad?
A delicious salad with beans can be a great addition to lunch or dinner, or it can take its place on the festive table. A huge advantage of the bean salad is the ability to cook it very quickly. A kind of magic salad that is prepared in 15 minutes, when guests are already on the doorstep, or even relax on the sofa.
Healthy Bean Salad Ideas
When healthy food is also tasty, it is already difficult to doubt that salads with beans should take their rightful place on our table. This salad with beans and vegetables can be safely called lean or dietary. As this recipe contains fresh herbs, it is perfect for you if you are exercising weight. At the same time, it is satisfying, which is especially useful when dieting, so the feeling of hunger is much more difficult to control..
Bean Salad Dressing
Salads also should let the ingredients shine and not be overwhelmed by thick layers of dressing, so let those bursts of juicy grapes, crumbles of tangy bleu, spicy beans and more shine with just some simple olive oil and fresh lemon juice!
For great Mothership salad recipes, you have to check out Sumptuous Spoonsful!
Best Bean Salad
This bean salad celebrates all the bold flavors of the hot chili we enjoy during the year's colder months. A hearty and tasty bean salad for a snack or a full dinner can be prepared very quickly and easily!
But, if you still want something more delicious, then try these recipes!
Farm table greek vegetable soup
Campari tomato onion olive salad
Spicy Bean Salad
Old bay green beans
Hearty white bean soup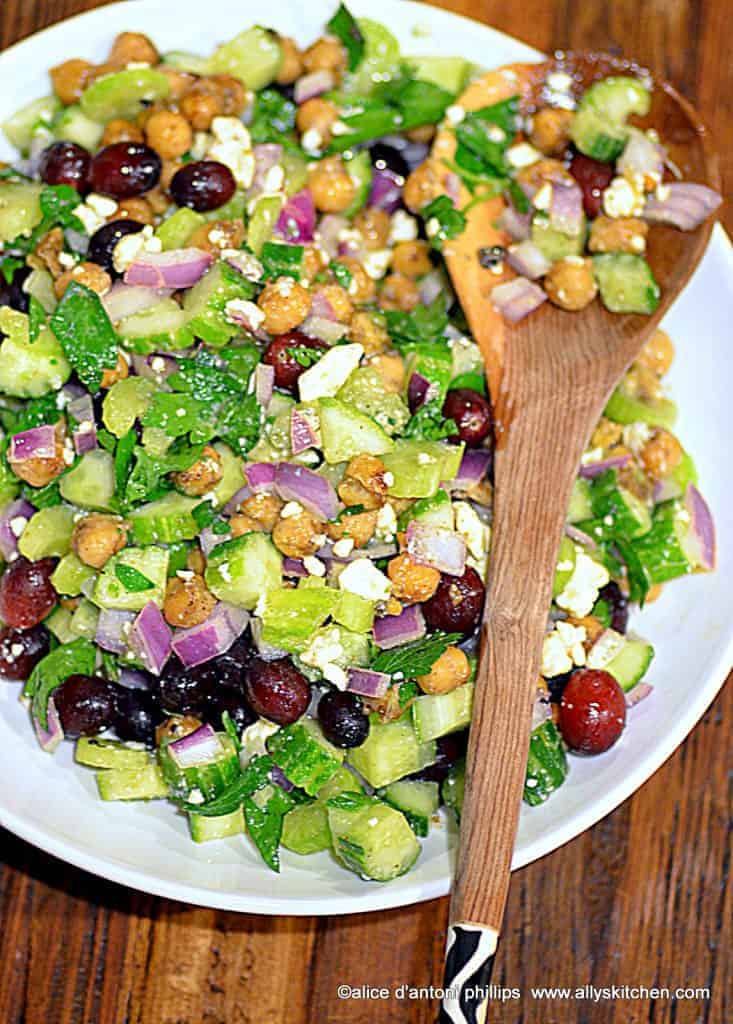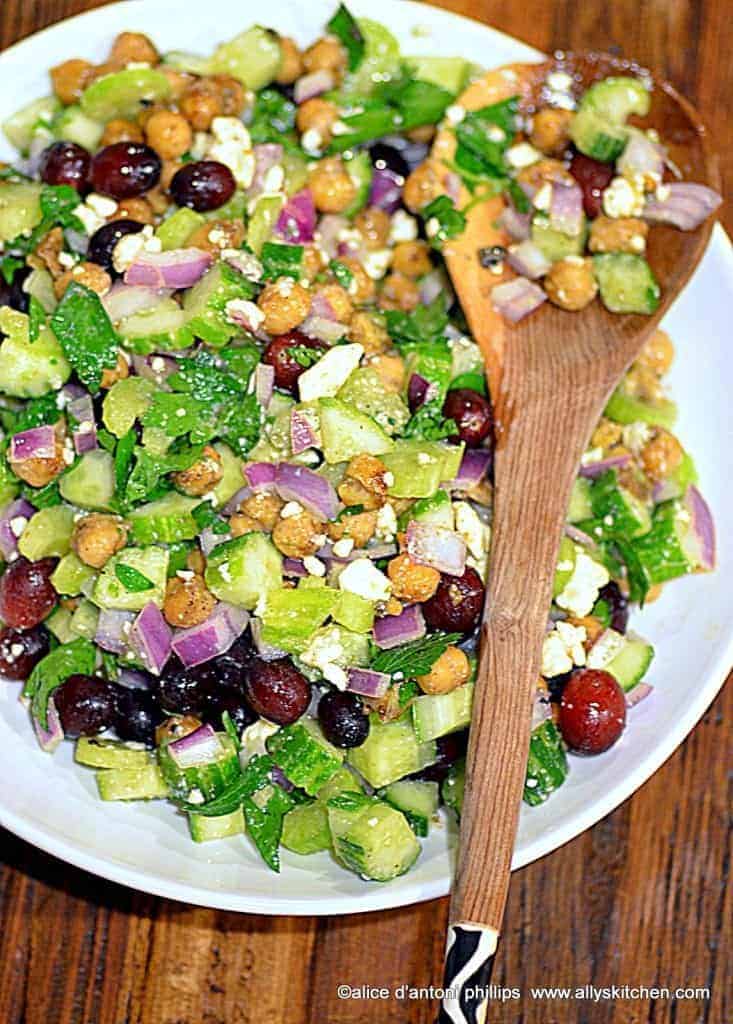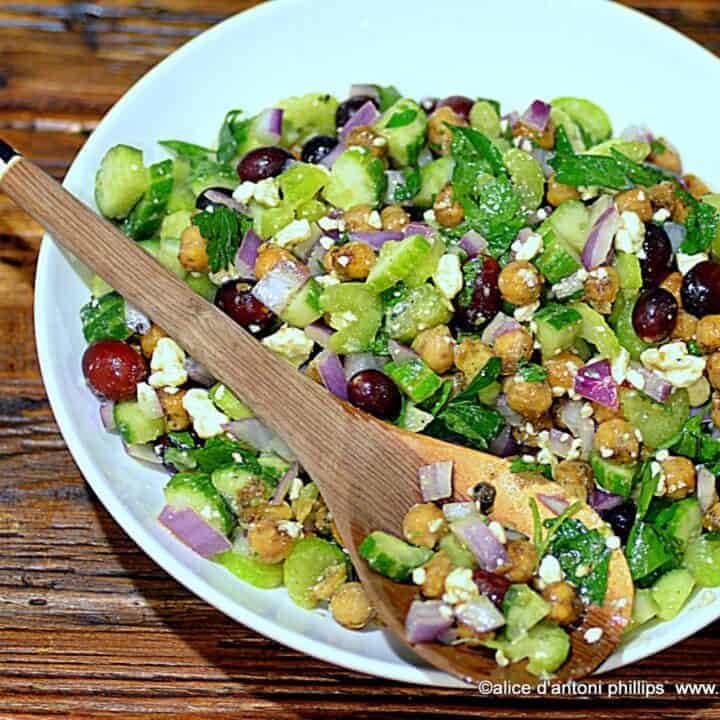 Spicy Garbanzo Beans Cucumbers Red Onions & Grapes
You've never tasted a garbanzo bean salad like this one! And, there's no cooking for this recipe! It's gonna be your fave!
Ingredients
1 (15 oz) can garbanzo beans, drained
1 Tbl. Jamaican Jerk seasoning (can substitute another spicy mixture like Harissa)
½ tsp. red chili flakes (reduce amount if you prefer less spicy)
Cooking Spray
½ cup red onions, diced
1 cup small cucumbers cut into small pieces
1 cup celery, sliced
1 ½ cup individual small red grapes (if grapes are large, slice into halves)
¼ cup Italian parsley, chopped
½ cup bleu cheese crumbles
¼ cup extra virgin olive oil
½ large lemon, juice
1 tsp. sea salt
1 tsp. coarse ground pepper
Instructions
Put the beans in a heavy skillet. Coat well with cooking spray. Sprinkle on the seasoning and red chili flakes and toss and blend.

Turn heat to medium high and sauté about 7 minutes. Turn off heat and remove skillet and let them cool.

Combine the onions, cucumbers, celery, grapes, parsley and bleu cheese in a mixing bowl. Drizzle on the oil, lemon juice, salt and pepper. Add the beans.

Toss everything together well. Refrigerate about 30 minutes before serving.