Salads can get boring unless you open your mind's eye to the possibilities beyond the regulars. You know…tomatoes, lettuce. I love a salad that's a meal, too. When you add beans, you've got some seriously wicked protein and more nutrition going on like with this salad.
Salads also should let the ingredients shine and not be overwhelmed by thick layers of dressing, so let those bursts of juicy grapes, crumbles of tangy bleu, spicy beans and more shine with just some simple olive oil and fresh lemon juice!
For great Mothership salad recipes, you have to check out Sumptuous Spoonsful!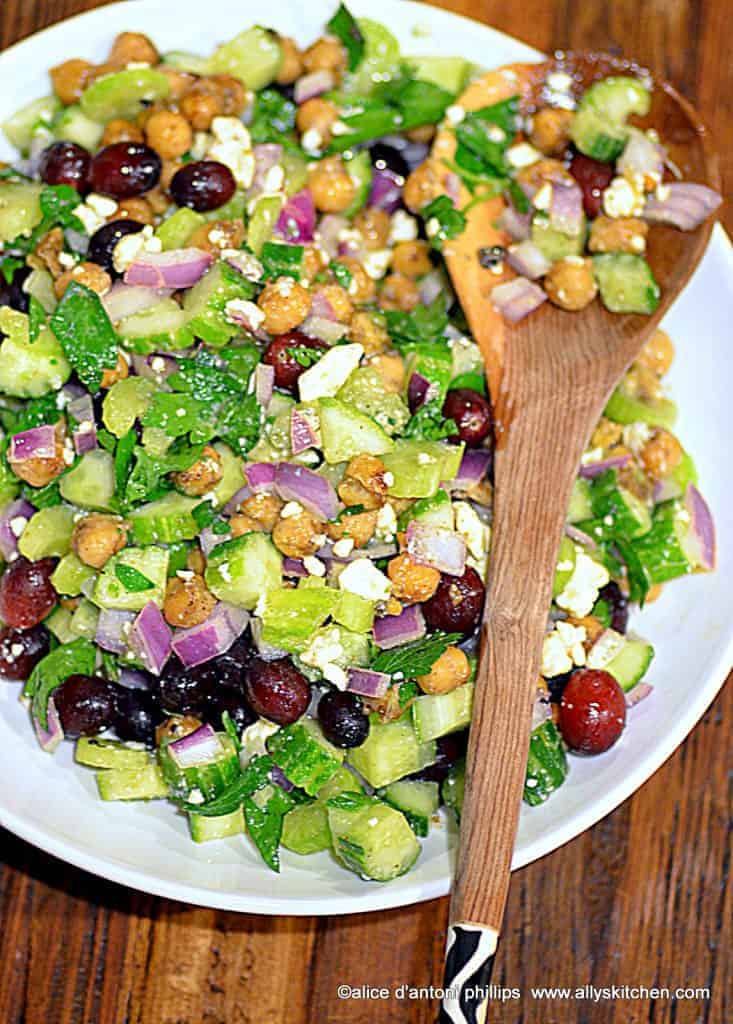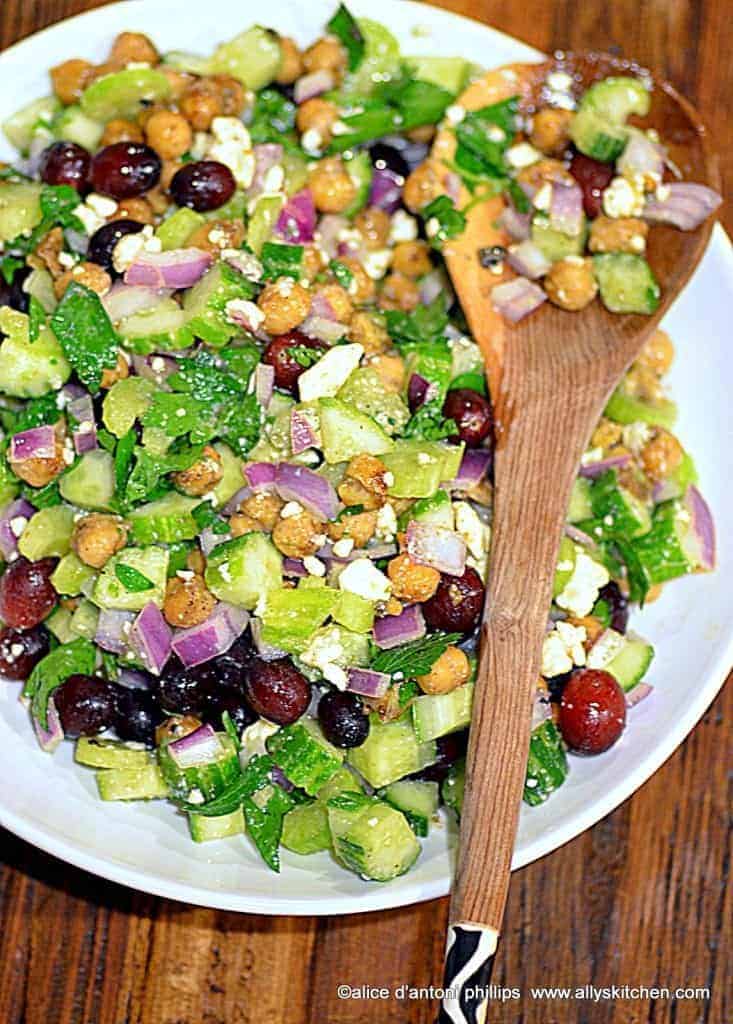 Spicy Garbanzo Beans Cucumbers Red Onions & Grapes
Ingredients
1 (15 oz) can garbanzo beans, drained
1 Tbl. Jamaican Jerk seasoning (can substitute another spicy mixture like Harissa)
½ tsp. red chili flakes (reduce amount if you prefer less spicy)
Cooking Spray
½ cup red onions, diced
1 cup small cucumbers cut into small pieces
1 cup celery, sliced
1 ½ cup individual small red grapes (if grapes are large, slice into halves)
¼ cup Italian parsley, chopped
½ cup bleu cheese crumbles
¼ cup extra virgin olive oil
½ large lemon, juice
1 tsp. sea salt
1 tsp. coarse ground pepper
Instructions
Put the beans in a heavy skillet. Coat well with cooking spray. Sprinkle on the seasoning and red chili flakes and toss and blend.
Turn heat to medium high and sauté about 7 minutes. Turn off heat and remove skillet and let them cool.
Combine the onions, cucumbers, celery, grapes, parsley and bleu cheese in a mixing bowl. Drizzle on the oil, lemon juice, salt and pepper. Add the beans.
Toss everything together well. Refrigerate about 30 minutes before serving.
https://allyskitchen.com/spicy-garbanzo-bean-salad/
©ally's kitchen intellectual property