If you're wondering what these delightful little pink 'balls' are garnishing this healthy Mediterranean tuna salad, well, just scroll down and you can pick up some on Amazon! I use these pink peppercorns on lots of things both as a garnish and as part of the actual recipe. It just adds a bit of sparkle and panache, yes, like a fancy bistro, to your presentation. And, isn't that a big part of what food's all about. The presentation. Your first visual 'wowzeeee' when someone puts your plate or bowl in front of you!
One more thing that I love to serve with tuna or chicken salads. Breadsticks! OMG, they are just so different than your regular cracker. And, as you can see from these pictures, I created a 'tuna salad bar'. Yet another fun way to serve. Put out some of your favorite toppings that folks can add to their salad and build even more layers of flavor and texture.
This tuna salad is certainly not your 'typical' tuna salad with lots of mayo and sweet pickle relish. Not that I don't love that kind of tuna salad sometimes, but his is a healthier less mayo-laden salad. I love leaving some of the albacore chunks medium sized to give more texture to the tuna when it's served. Another thing about this Mediterranean version of tuna salad are the veggies, olives and creamy cannolini beans. Oh, it just adds to the layers of flavors.
Here's another salad that will knock your socks off! I'm quite the adventurous soul when creating salads! And, you don't want to miss these Roasted Olives! Oh, yeah, good stuff! xoxo ~ally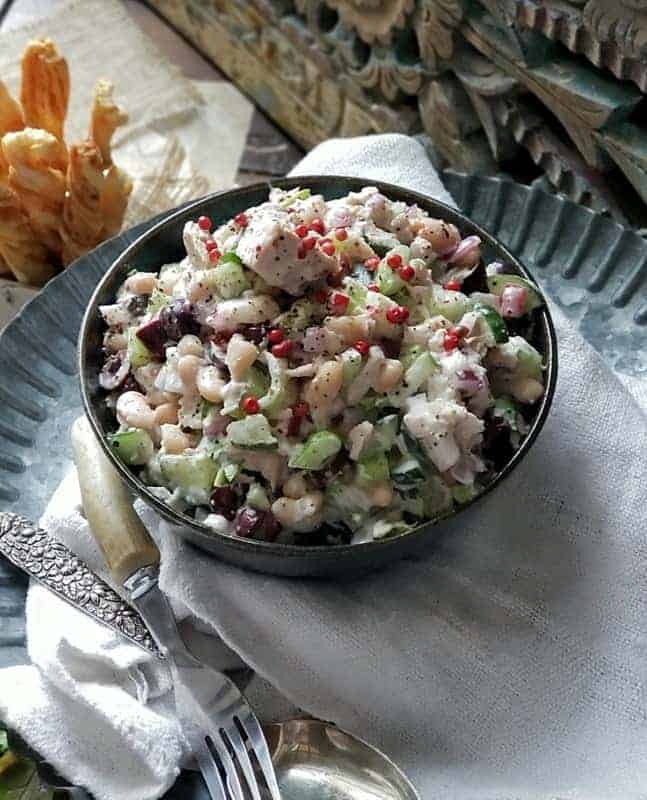 healthy mediterranean tuna salad
Ingredients
3 cans (5 oz.) albacore tuna, in water, drained, use a large fork to somewhat separate and shred chunks
1 can (15 oz.) cannellini beans, drained
1 cup mini cucumber, small dice
1 cup celery, sliced
½ cup red onions, small dice
1 cup baby bokchoy, sliced with some of greens (chopped)
½ cup radishes, matchstick slice
½ cup kalamata olives, roughly chopped
DRESSING:
1/3 cup lite mayonnaise
¼ cup Greek yogurt, plain
¼ cup Greek dressing, store bought, LiteHouse brand
½ tsp. sea salt
1 tsp. pepper
GARNISHES:
Thinly sliced jalapenos or serrano peppers, with most of seeds removed
Walnuts, roughly chopped
Pepperoncini
Olives
Kosher Dill Pickles, sliced
Instructions
In a large mixing bowl combine the tuna, beans, cukes, onions, celery, bokchoy, radishes and olives. Give a toss of all the ingredients.
In a small mixing bowl, whisk together the mayo, yogurt, Greek dressing, salt and pepper.
Drizzle about half on the tuna salad mixture and toss/blend. Please don't over work the tuna salad. Reserve the remaining dressing for serving.
Serve tuna with your choice of add on garnishes.
https://allyskitchen.com/healthy-mediterranean-tuna-salad/
©ally's kitchen intellectual property