Healthy Mediterranean Tuna Salad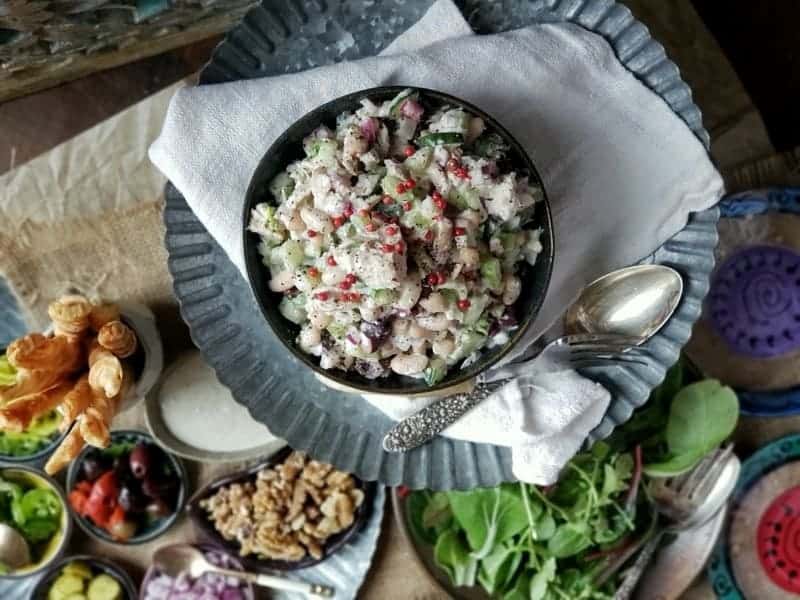 No cooking. Robust full flavors. An amazing presentation. Yep, that's what you'll get with this healthy Mediterranean tuna salad!
Healthy Mediterranean Tuna Salad
If you're wondering what these delightful little pink 'balls' are garnishing this healthy Mediterranean tuna salad, well, just scroll down and you can pick up some on Amazon! I use these pink peppercorns on lots of things both as a garnish and as part of the actual recipe. It just adds a bit of sparkle and panache, yes, like a fancy bistro, to your presentation. And, isn't that a big part of what food's all about. The presentation. Your first visual 'wowzeeee' when someone puts your plate or bowl in front of you!
Healthy Tuna Salads
If you love to fish, be sure to make a tuna salad. This is a very simple and easy tuna salad. You can enjoy such a delicious tuna salad both in winter and in summer, on any day when you want something light and very tasty. The hearty, healthy and easy-to-prepare tuna salad will be loved by everyone!
Tuna Wrap with Lettuce
A good Tuna lettuce wrap is a super delicious and easy lunch to make. It's light, fresh, and easy and definitely beats the plain old tuna sandwich. These tuna wraps with lettuce aren't drowning in mayo, and have so much flavor there's no way your kids will not eat this up!
Is Tuna Salad Healthy?
Tuna is a unique fish, which contains an extensive list of macro and microelements useful for the body, as well as vitamins. Therefore, it is a favorite among adherents of healthy proper nutrition, as well as fans of diets, since it is considered low in calories. On average, it is 96 kcal per 100 g of canned food and 101 kcal for fresh meat.
Healthy Tuna Salad with Mayo
Healthy Tuna Salad with mayo that actually tastes good. It is creamy and delicious. Meal prep, refrigerates for up to 5 days and use for school and work lunches, cold dinner, or easy weekend meal. This recipe is also lightened up by using Greek yogurt instead of mayonnaise; it has fewer calories and less fat but is still so scrumptious.
How to Make Healthy Tuna Salad?
Incredibly delicious, light, but surprisingly filling salad. This will relieve you of hunger pangs for a long time since fish and beans have high nutritional properties, but they do not contain fat. You can eat a salad with tuna and beans even at night and not be afraid to spoil your figure.
Mediterranean Tuna Salad Recipe
This Salad will please both the family environment and guests. It's no secret that tuna meat is a delicacy. A very refreshing and light snack or meal! Mediterranean Tuna Salad – so much scrumptious and so easy to put together! This mayonnaise-free tuna salad is naturally gluten-free.
But, if you still want something more delicious with pomegranate, then try these recipes!
Healthy fresh herb tuna salad
creamy chicken herb oven soup
Tuna salad casserole
Pan seared tuna steak
Mediterranean meatballs with red gravy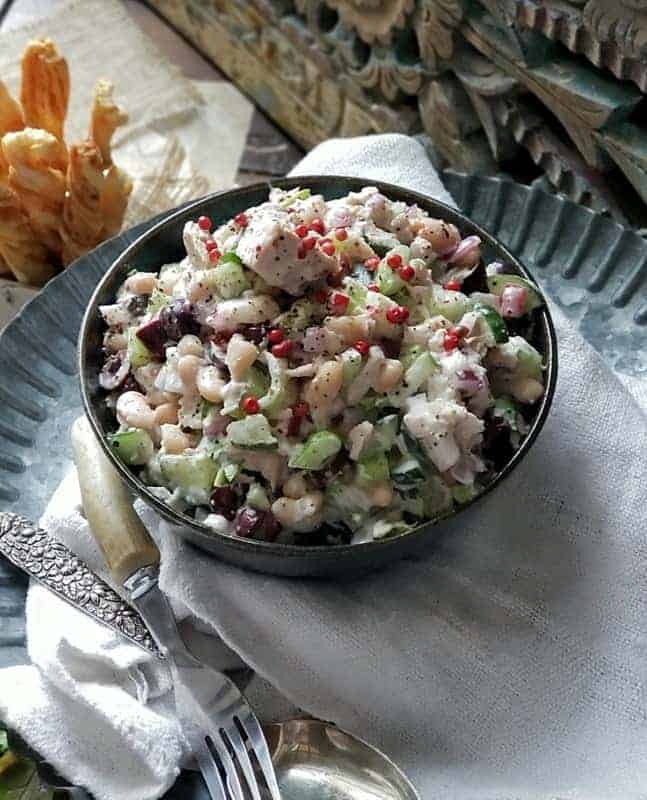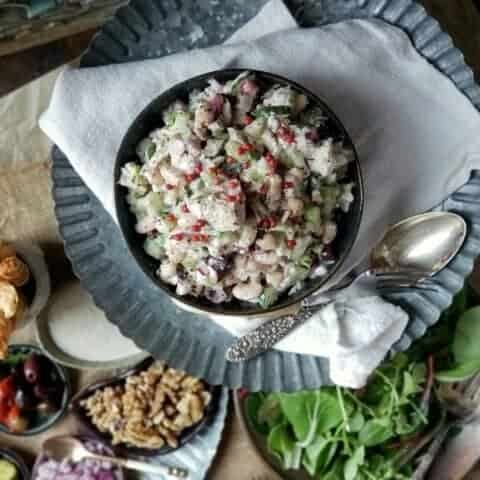 Healthy Mediterranean Tuna Salad
Yield: about 6 healthy eating folks

This Mediterranean version of tuna salad uses veggies, olives and creamy cannolini beans. Oh, the layers of flavors.
Ingredients
3 cans (5 oz.) albacore tuna, in water, drained, use a large fork to somewhat separate and shred chunks
1 can (15 oz.) cannellini beans, drained
1 cup mini cucumber, small dice
1 cup celery, sliced
½ cup red onions, small dice
1 cup baby bokchoy, sliced with some of greens (chopped)
½ cup radishes, matchstick slice
½ cup kalamata olives, roughly chopped
DRESSING:
1/3 cup lite mayonnaise
¼ cup Greek yogurt, plain
¼ cup Greek dressing, store bought, LiteHouse brand
½ tsp. sea salt
1 tsp. pepper
GARNISHES:
Thinly sliced jalapenos or serrano peppers, with most of seeds removed
Walnuts, roughly chopped
Pepperoncini
Olives
Kosher Dill Pickles, sliced
Instructions
In a large mixing bowl combine the tuna, beans, cukes, onions, celery, bokchoy, radishes and olives. Give a toss of all the ingredients.
In a small mixing bowl, whisk together the mayo, yogurt, Greek dressing, salt and pepper.
Drizzle about half on the tuna salad mixture and toss/blend. Please don't over work the tuna salad. Reserve the remaining dressing for serving.
Serve tuna with your choice of add on garnishes.