Thanks to Dole Sunshine for partnering with me for this post for the Asian Grilled Salmon! I am the creator of this recipe and for the description and information that follows. For a full disclosure, click here!
Salmon has so many health benefits for all of us. And, this recipe for Grilled Salmon Asian Style is perfect for a week night because it's just so simple, easy and quick to make! Now I've done it on an outdoor grill, but you can certainly adjust and do it on your stove top. In fact, I absolutely love pan searing salmon in a hot cast iron skillet because it's always perfect! Now what makes this dish stand out is the addition of a sauce made with Dole Sunshine's mandarin orange juice and, of course, the succulent nature-sweet mandarin oranges. It's pretty amazing how much flavor you can derive from these oranges in this dish. Another feature of this dish that's just fabulous is the addition of charred green onions. Oh, yes, it brings an earth and subtle flavor that you just can't get unless you char those green onions! Believe me, you'll love love it!
Alrighty, fire up the grill or head to the kitchen, let's make this recipe! Watch the video below, and you'll see just how easy this recipe is!
Oh, you're gonna love this recipe for Roasted Salmon Pouches!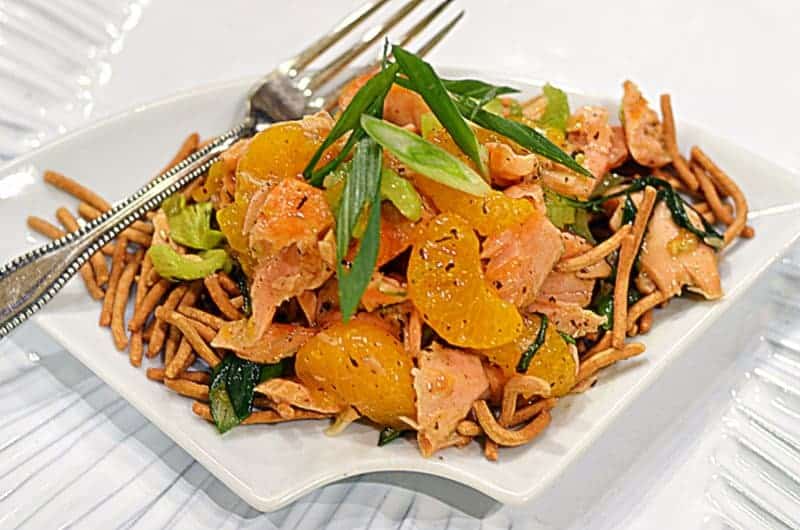 asian inspired salmon & mandarin oranges
Ingredients
1 (15 oz.) can + 2 (4 oz.) Snack Cups Dole Mandarin Oranges, divided
1 lb. thick cut fresh salmon filet
10 large green onions with green stems, divided + 2 extra green onions for garnish
2 tsp. Korean sweet & spicy sauce (or similar Asian-type hot sauce)
5 Tbl. orange marmalade
1/3 cup mayonnaise
2 tsp. sea salt
2 ½ tsp. coarse ground pepper
1 cup chopped celery
5 oz. chow mein noodles
Instructions
Open and drain mandarin oranges reserving the liquid. Place salmon in a shallow glass dish. Prick flesh with a fork. Mix one teaspoon each of salt and pepper with the mandarin juice. Drizzle on the salmon. Set aside for 15 minutes.
MAKING SAUCE: Heat the gas grill to 400 to 450. Coat a skillet with cooking spray and put 1 ½ cups of the mandarin oranges (with juice) in. Place skillet on medium hot grill blaze and sauté 5 minutes. Put 6 green onions on the hot grill, turn and cook until they are charred. Remove, let the onions cool then chop onions into pieces. Put oranges & onions into a food processor and blend. Put mixture in a saucepan and heat on a medium high blaze on grill.
Add to this saucepan the remaining mandarin juice, sweet and spicy sauce, marmalade, salt and pepper. Reduce heat to medium low. Stir occasionally and let this cook about 20-30 minutes to thicken. Remove from heat. Add mayonnaise and blend. Slice the remaining green onions/tops and add to sauce.
GRILLING SALMON: Coat grill with cooking spray. Heat to 400 to 450. Place salmon (skin side up first) on grill and cook on each side about 4-5 minutes.
Remove & let cool slightly. Remove bottom skin. Break salmon into random chunks. Put in a large mixing bowl. Add celery and toss. Drizzle the thickened sauce over salmon/celery and toss.
PLATING and SERVING: Put equal amounts of chow mein noodles on small plates. Top with equal amounts of the salmon mixture and the remaining drained mandarin orange slices. Chiffonade slice the two green onions and use as garnish atop the salmon.
Notes
This recipe can easily be done on the stove top.
To char the green onions, put on a cookie sheet and under the broiler until somewhat charred.
https://allyskitchen.com/asian-inspired-salmon-mandarin-oranges/
©ally's kitchen intellectual property