Just the name of this recipe, apricot and ginger glazed ham, makes my mouth water! And, once you slice this ham and take that first bite, well, you'll be sold! Actually, you probably will chow down on a few pieces as you're slicing the ham for serving. I mean the aromas and flavors! It's just so hard to resist.
Ham is a traditional Easter meat, but why wait until Easter to make this recipe. It's perfect for Sunday dinner or a weeknight dinner. The leftovers are just divine for sandwiches, fritatas, omelettes, beans and more!
I found my applewood smoked ham at Costco. Called the 'Kirkland Signature Master Carved Ham', it's reasonably priced and always just delicious as is. Yes, it is fully cooked, so you can simply slice and eat. But, adding this glaze to the ham and baking it for a short while takes the ham slices over the top. Actually, it's just half of a ham, but it's plenty for a family of six!
Need a great dessert for Easter or a special family dinner, then here's your winner! An easy mandarin pound cake. YUM! xox ~ally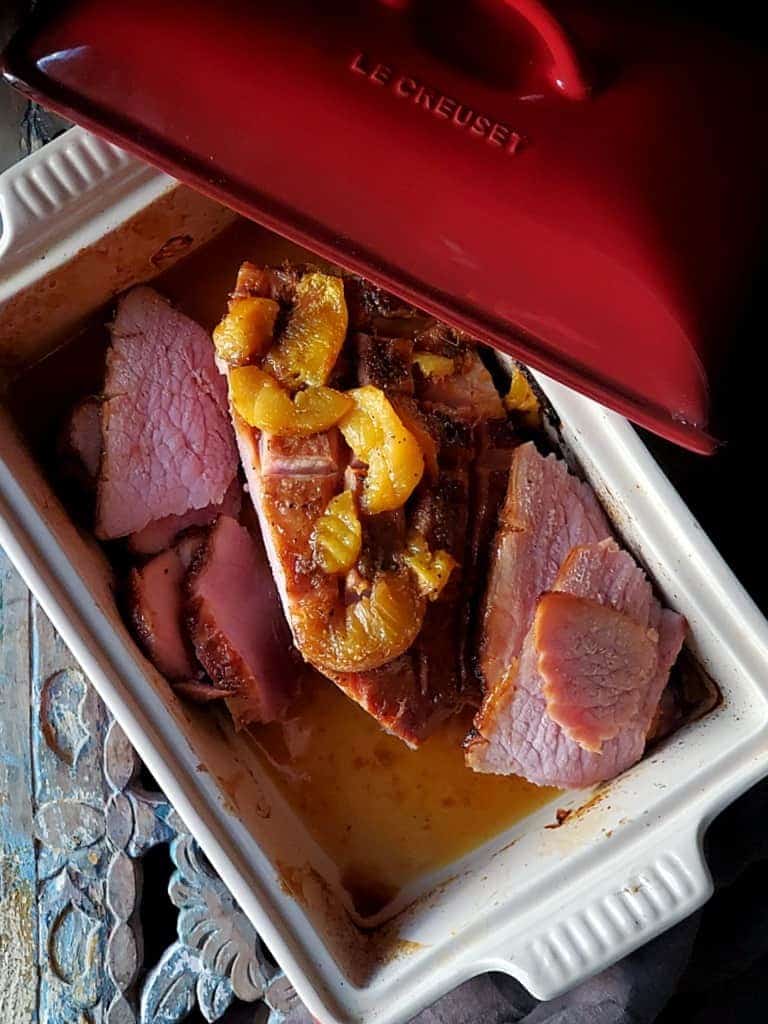 Ingredients
Preheat oven to 400
3 lb. boneless ham
½ cup chicken stock, or broth
2 Tbl. ginger, freshly grated
¼ cup soy sauce, low sodium
½ cup apricot jam, can sub orange marmalade
1 tsp. pepper, coarse ground
1 cup peach slices, packed, previously frozen
Instructions
Put the ham in a large casserole dish (with a lid). Pour the chicken stock in the dish.
Using a sharp knife, score the ham on top (about ¼" into meat) in a criss cross pattern (three to four slices each way).
In a small bowl, whisk together the ginger, soy sauce, jam and pepper. Slather on the top of the scored ham.
Place the peach slices on the ham. Cover the ham.
Bake in a preheated 400 oven for about one hour. Remove and let the ham rest about 10 minutes. Slice and serve!
https://allyskitchen.com/apricot-and-ginger-glazed-ham/
©ally's kitchen intellectual property