Mezze Rigatoni Basil Pesto & Peppers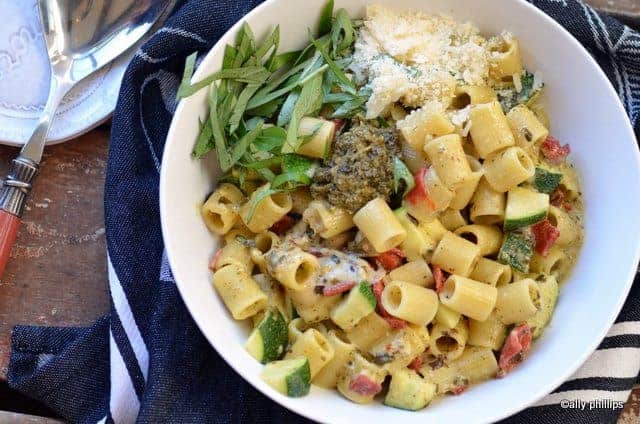 Nothing more luscious than a velvety creamy basil pesto sauce on al dente pasta. And, this mezze rigatoni basil pesto & peppers is a dream bowl of happiness.
Pesto Recipe
Pesto recipe and taste is an all-time favourite, and when it is homemade it is tastier than any store-bought variety, it seems very rich with gourmet but trust me it is so easy to make at home. Just a few ingredients like pine nuts, almonds, walnuts, fresh basil leaves, parmesan cheese and a bit of basic pantry will do the job for you. However, what about adding some pesto to your Aussie lamb bolognese and rigatoni.
Creamy Pesto Rigatoni
To make the very tasty and creamy pesto rigatoni all you need is heavy cream or just extra parmesan cheese, this extra-creation will add more texture to your dish and make sure that you do not heat the cream and cheese very much as it will ruin the taste and when you are using the fresh basil in your pesto sauce, it will give you an amazing fragrance or when you are Creating charcuterie tapas mezze people will be less focused on eating the whole meal and it will facilitate the dialogue.
Healthy Rigatoni Recipe
If you want to make healthy rigatoni with one skillet chicken pasta then this might be your chance to win the hearts of people arriving for snacks at your home. You can add some veggies like broccoli, onions, peppers and more to make it healthy and happy. You can add a twist to your traditional pasta by adding creamy cheese with mozzarella or add a combination of olive oil and garlic in your pasta, and have a guilt-free dish.
Recipes with Pesto
The thirty-minute recipe to make one skillet basil pesto pasta is so easy and finger-licking that it surely will hit your dinner table frequently. However, it is one of the easiest dishes you can ever make. There are so many ways you can use pesto in pasta like for making bolognese sauce or to add as a topping. However, the basic meaning of this recipe is to add pesto as a seasoning to your flavoured pasta.
Pesto Pasta Recipe
Pesto meatballs and marinara sauce can be the perfect dinner for you and your family. All you need to do is just add some crunch by adding some fresh salad and make a creamy vodka marinara sauce. You can purchase the pesto from the store or just make it at your home for a natural taste. However, make sure you have enough ingredients to make your dish fully complete and tasty.
Healthy Pesto
Make the Skillet pasta and vegetables in one pan within 30 minutes. Cook the pasta and set it aside to drain, melt butter in a pan, add garlic and vegetables and heat it in medium flame so that the veggies become crunchy and crispy. Now stir the pasta and cook continuously until heated thoroughly, add some cheese, stir it again and your tasty pasta with vegetables is all ready to be served.
Basil Pesto Pasta Recipe
Many interesting health benefits come along with having basil pesto pasta, it is enriched with various antioxidants and ingredients like basil and garlic, which will help to stay healthy and prevent you from severe diseases. So, to make your pesto pasta easy, all you need is basic fresh veggies along with some basic pantry.
Chicken Basil Pesto Pasta
Chicken is an all-time favourite for non-vegetarians and when added in basil pesto pasta, they can't stop themselves from tossing down a bite. However, make sure that when you are making the chicken pasta you use boneless chicken and mix it with heavy cream, this wholesome dish will blow your mind and you will always want more of it.
Roasted Red Pepper Pesto Pasta Recipe
If you want to try a new taste in your pesto pasta recipe then why not try adding some roasted red peppers that will give you a sizzling taste. It will be great if you use almonds instead of nuts and use parmesan cheese for a better taste. The roasted red pepper pasta will go well with green salads and veggies.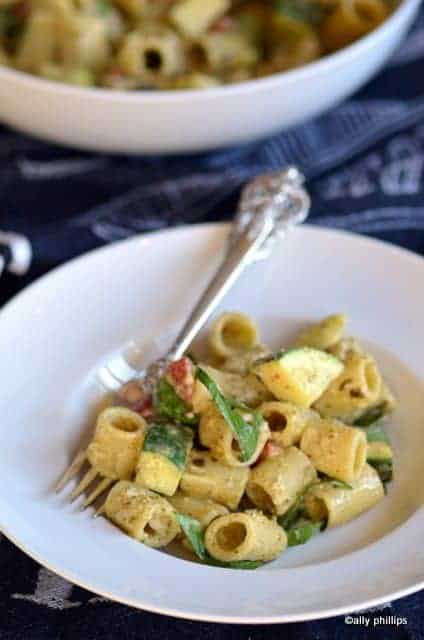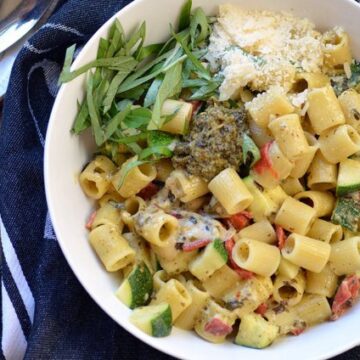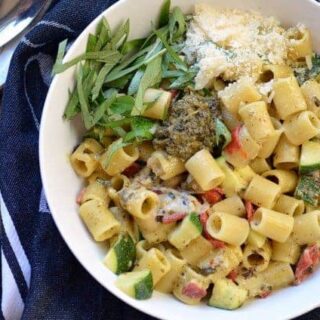 Mezze Rigatoni Basil Pesto & Peppers
Yield: 2 or 1 really hungry person!

Nothing more luscious than a velvety creamy basil pesto sauce on al dente pasta. And, this mezze rigatoni basil pesto & peppers is a dream bowl of happiness.
Ingredients
2 cups mezze rigatoni, cooked al dente, plus, 1 cup of the salty water reserved
¼ cup + 2 Tbl. basil pesto, divided, store bought
1/3 cup heavy cream
1/3 cup salted water (that pasta was cooked in)
¾ parmesan reggiano, grated, divided
1 cup zucchini, cut into bite-size pieces
1 cup roasted peppers, store bought, bite-size pieces
½ tsp. red chili flakes
½ tsp. fresh cracked pepper
1/3 cup fresh basil, sliced
Instructions
After draining the pasta, put it back in the hot pot. Turn heat to simmer. Add ¼ cup of pesto and blend. Add the cream, water and ½ cup of the parmesan reggiano and blend well making a creamy sauce.

Add the zucchini, roasted peppers, chili flakes and pepper and blend. Pour into a serving bowl (or individual bowls) and garnish with the remaining basil pesto, parmesan and the fresh basil.

Serve pronto!
Notes
You're probably wondering about that extra salty water~well, it's for just in case you need to add a tad bit more. Better to be on the safe side and have a little extra!