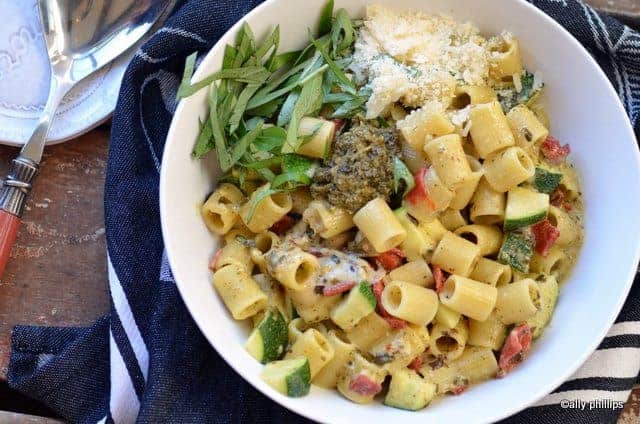 Nothing more luscious than a velvety creamy basil pesto sauce on al dente pasta. And, this mezze rigatoni basil pesto & peppers is just a dream bowl of happiness. Plus, you can use store brands for the basil pesto and roasted red peppers like Mezzetta. I keep an array of these type products in my refrigerator because they're just so convenient and handy for soooooooooo many things!
Now you can choose your own type of pasta for this dish. But I love this mezze rigatoni because of the ridges and shape which seems to attract and hang on to the sauce~yeah, I know that's not a real 'culinary' description, but, you get it.
Another dimension of this simple and quick recipe is the simple and subtle contrast with a 'vinegaree' flavor (that's not culinary either, right!) of the roasted red pepper pieces. It's just perfect paired with the richness and saltiness of the parmesan. The key to this dish is cooking your pasta al dente. You don't want it soft and moooosheee. It's got a delicate 'bite' to it as you chew. oxo ~peace & pasta~ ally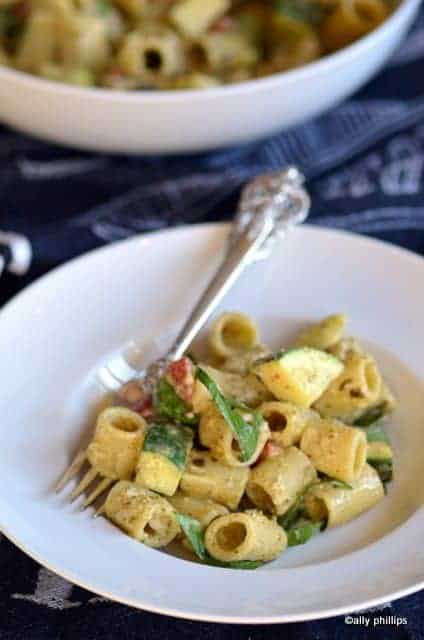 mezze rigatoni basil pesto & peppers

Ingredients
2 cups mezze rigatoni, cooked al dente & 1 cup of the salty water reserved
¼ cup + 2 Tbl. basil pesto, divided (store prepared or homemade)
1/3 cup heavy cream
1/3 cup salted water (that pasta was cooked in)
¾ parmesan reggiano, grated (divided)
1 cup zucchini, bite-size pieces
1 cup roasted peppers, (store bought) bite-size pieces
½ tsp. red chili flakes
½ tsp. fresh cracked pepper
1/3 cup fresh basil, sliced
Instructions
After draining the pasta, put it back in the hot pot. Turn heat to simmer. Add ¼ cup of pesto and blend. Add the cream, water and ½ cup of the parmesan reggiano and blend well making a creamy sauce.

Add the zucchini, roasted peppers, chili flakes and pepper and blend. Pour into a serving bowl (or individual bowls) and garnish with the remaining basil pesto, parmesan and the fresh basil.

Serve pronto!
Notes

You're probably wondering about that extra salty water~well, it's for just in case you need to add a tad bit more. Better to be on the safe side and have a little extra!

https://allyskitchen.com/mezze-rigatoni-basil-pesto-peppers/

©ally's kitchen intellectual property