This is a sponsored post. I partnered with Pearls Olives and was compensated for creating these appetizer ideas. All of the work that you'll see, as well as the opinions in this post are solely my own.
Disclaimer
I love olives. Always have. Always will. Ever since I was a little one, olives have been a passion. When I finally traveled to the Middle East, Israel and Morocco, one of my favorite things to do was meander through the bustling colorful markets, or souks. And, believe me, I was in my olive nirvana! Olives in large tubs/bowls would be stacked sometimes three feet high in conical shapes. How in the world that could be accomplished mesmerized me. I would be tempted to pull out one olive and wonder if it would be like the Jinga game! All would come toppling down. Trust me, it was only a fleeting thought because I respected the work and energy that went into these spectacular olive displays.
Growing up in those West Virginia hills, olives were a 'delicacy' in our home. Probably because Mom had to pinch every penny as a single mom of four. So, only special occasions warranted springing more money for some olives. Crazy how now as an adult, I basically can buy most any kind of olive I want. And, I usually have olives several times a week. If I'm toasting a bagel with cream cheese, I'll top with some chopped olives. Lots of recipes on my website have olives in them.
Pearls Olives
When Pearls Olives approached me about doing a giveaway several months ago on Instagram, I was so happy. I love to connect with brands that exemplify my values and beliefs. And, I only connect and work with brands that have product(s) that's good for me, my family, my friends and for my supporters on social media. So, it was a no-brainer for me to say, YES! Then after this opportunity, we talked about a FB Live. Again, I was honored. Pearls Olives wanted to focus on easy simple tasty and fun holiday entertaining using olives. So that became the genesis of the FB Live and the carryover to this post featuring what I demonstrated on the show.
Since the creations are so simple and easy, after each picture, I'll let you know how to do it. But, honestly, you could almost figure it out by simply looking at the photos. Remember, the amounts of each ingredient you need will be determined by how many of each appetizer you make. I created only six to eight of each idea.
All of the individual creations came together to make the most gloriously beautiful and tasty charcuterie. And, as you can see, it's a show stopper with olive ideas! Enjoy these simple olive eats and bites and just know that you don't have to be having a party or entertaining. There doesn't have to be an occasion or a crowd. It can just be you and your olive loves! xoxo ~ally
PS…Watch my FB Live on your cell phone! That way you can rotate your phone and the video won't be caddywhampus! Despite the wrong orientation (yes, I was sideways), the comments and viewers rolled in. It was an olive love fest!
The Ultimate Charcuterie
All of these following olive appetizers came together to make the most glorious charcuterie! Adding a few extras, fruits, dried and fresh, cheese, more meats, nuts and other yummies rounded out a perfect holiday extravaganza!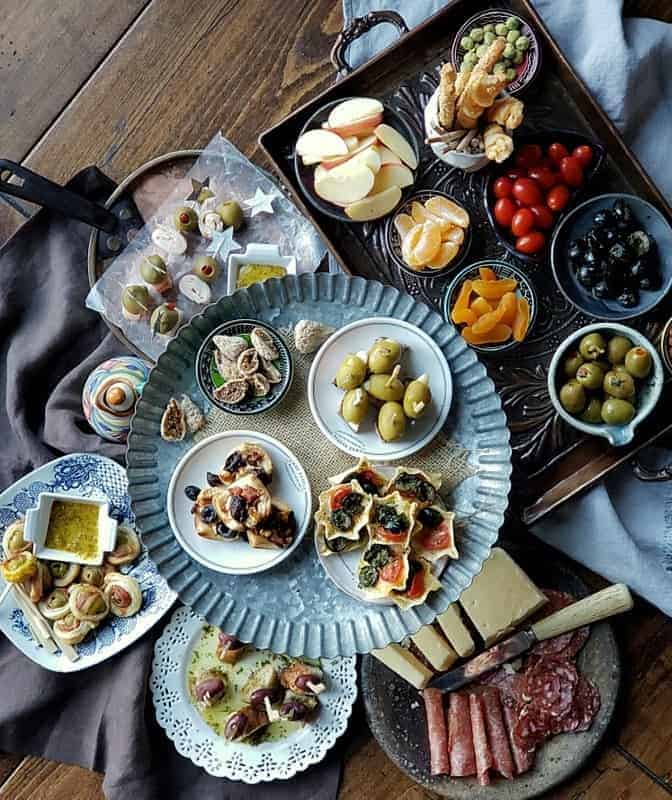 Seasoned Olives
Olives, any variety that's no seasoned
Seasoning Mixture(s), your choice, i.e., harissa, Italian, Greek, Herbs de Provence, Cajun, etc.
Dried Herbs, parsley, mixed herbs or substitute fresh herbs
Extra Virgin Olive Oil
Depending upon the number of olives, whisk together some olive oil (1/4 to 1/2 cup) and a teaspoon or two of the your seasoning mixtures. Toss the olives in the mixture. Refrigerate when not eating. After refrigeration, bring to room temperature to enjoy again.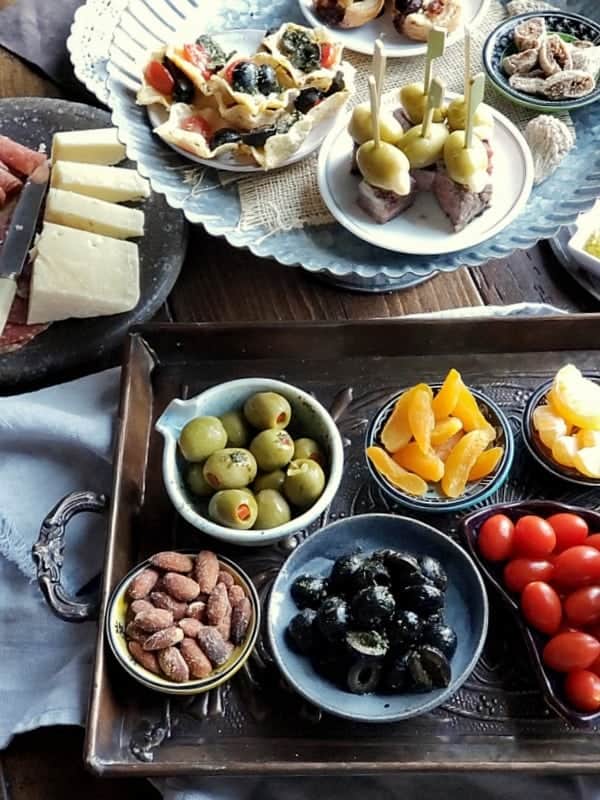 Olive Snuggles
Puff Pastry, room temperature, cut the 3×9″ piece into about 2″x 2″ pieces
Olives, sliced or chopped, your choice of variety
Salami Stick, small dice
Feta Cheese, crumbles
Dates, diced, optional
Preheat oven to 375. Coat your number of mini muffin pan openings with cooking spray. Mold the small pieces of puff pastry in each. Fill each with equal amounts feta cheese crumbles, meat, and olives (or throw in something sweet like diced dates!). Bake for about 18-20 minutes or until the pastry puffs and is golden brown.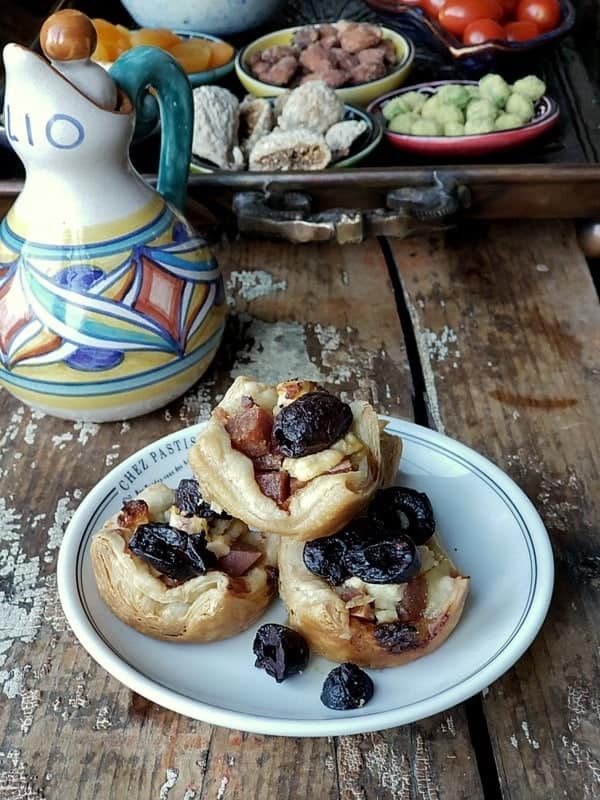 Olive Scoops
Tostito Scoops
Shredded cheese, any variety, i.e., Mexican blend, Italian blend, or one type of cheese
Cherry tomatoes, sliced lengthwise in halves
Olives, sliced or chopped, seasoned or not, your choice of olive
Preheat oven to 350. Fill each scoop with some cheese (press it in gently, don't crack the chip!). Add one or two cherry tomato halves and olives. Put on a cookie sheet. Put in a preheated 350 oven just until the cheese melts, maybe a few minutes. Remove and eat!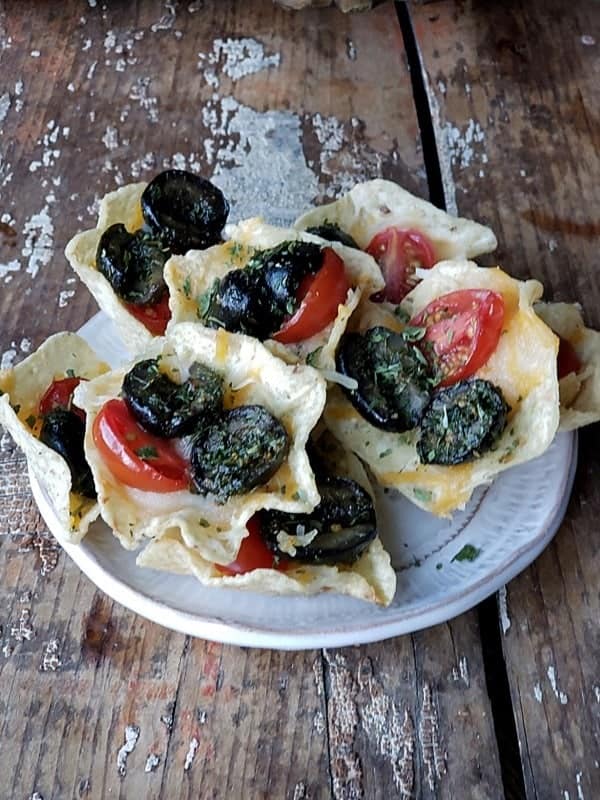 Olive Wraps
Olives, choose large stuffed olives, i.e., garlic, bleu cheese, red pepper
Prosciutto
Puff Pastry
Cut strips (three inch long) from a 3×9″ puff pastry. The strips should be about one-half inch wide. Tear a piece of the prosciutto and wrap around the olive. Wrap the pastry strip around the proscuitto. Place on a parchment paper covered cookie sheet. Bake in a preheated 375 oven about 12-15 minutes or until the pastry puffs and is golden brown. Remove and eat!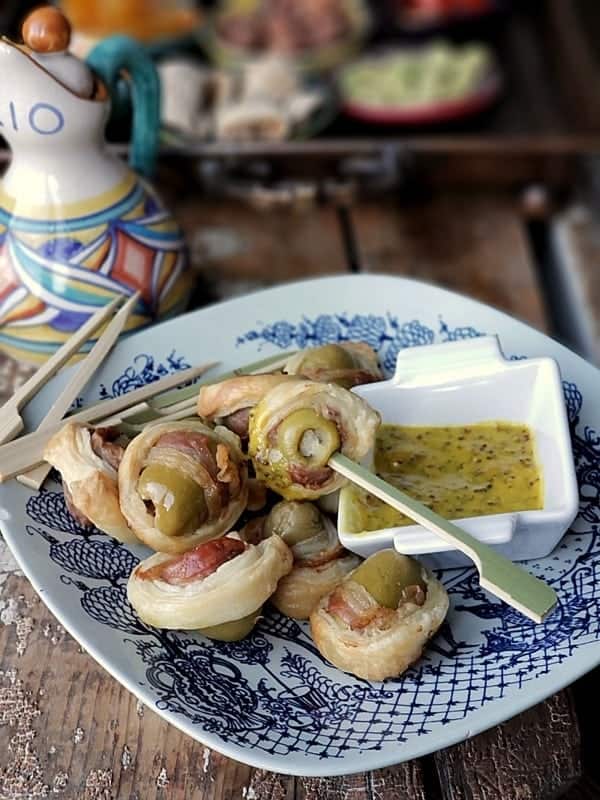 Steak Bites
New York Strip Steak, seasoned with salt/pepper and pan seared (cast iron skillet) in one tablespoon of butter to your desired temperature, about 3 minutes per side for medium rare
Olives, large stuffed bleu cheese or garlic.
Cut the steak into about one and a half inch bites (or chunks). Place an olive on top of the seared side. Secure together with a sturdy toothpick or cocktail stick.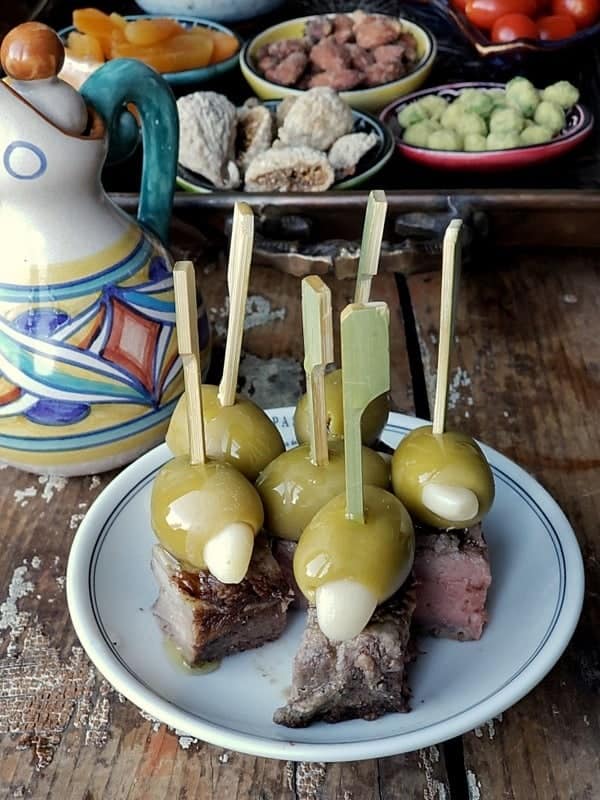 Smoked Mesquite Turkey Bites
Deli smoked mesquite turkey slices, not paper thin, about the thickness of bologna
Olives, your choice
Roll up two to three slices of turkey tightly into a 'cigar' roll. Place the seam side down. Cut into one to two inch pieces. Place an olive on top and secure with a sturdy toothpick.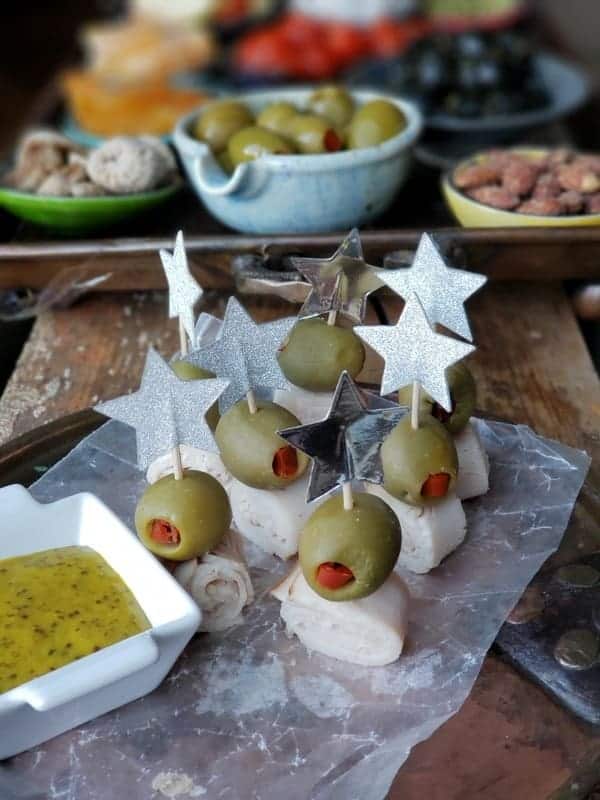 Soaked Artisan Bread Olive Bites
Artisan bread, cut into about one to two inch cubes
Olive Oil
Fresh herbs and dried herbs
Olives, your choice
Skewer an olive on top of each bread cube. Drizzle liberally with extra virgin olive oil and fresh herbs and spice mixtures.