Pearls Olive Appetizers for Parties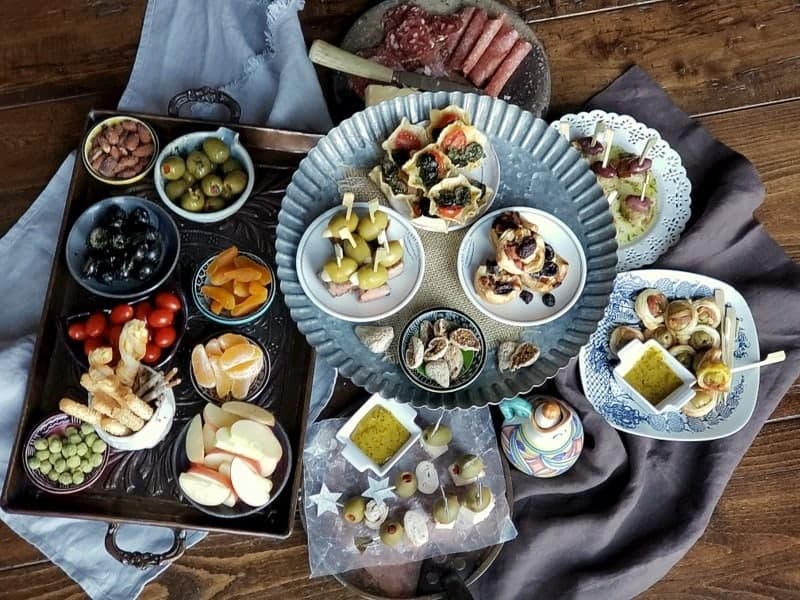 You'll be amazed at the possibilities of olive appeatizers for your next party! Whether it's the holidays or any day, olive appetizers rule!
Olive appetizers
Olives are one of my favorite foods. I've always done it. Will still be the case. Olives have always been a passion of mine since I was a kid. One of my favorite things to do when I eventually moved to the Middle East, Israel, and Morocco, was meander around the busy vibrant markets, or souks. And trust me that 10 quick and easy last-minute appetizers when I say that I was in olive nirvana! Olives will be piled three feet high in conical shapes in big tubs/bowls. I was absolutely enthralled by how it was possible. I'd be tempted to take one olive out to see if it was like the Jinga game! Anything will come crashing down. It was just a passing thought and I admired the time and effort that went into these magnificent olive shows.
Olive dips
Olives were a "delicacy" in our house when I was a kid growing up in the West Virginia hills. Perhaps because, as a single mother of four, Mom had to stretch every dollar. Just special events necessitated wasting more money on olives. It's amazing how, now that I'm an adult, I can buy almost every kind of olive I want. I still eat olives several days a week. If I'm toasting a cream cheese bagel, coal miner pinto navy beans, I'll put some chopped olives on top. Olives appear in many of the recipes on my website.
Appetizer toothpicks
I was ecstatic when Pearls Olives contacted me about doing a giveaway on Instagram a few months back. I enjoy collaborating with companies that share my principles and ideals. And I only associate and collaborate with companies that have products that are right for me, my family, my colleagues, and my social media supporters.
Olive cheeseballs
As a result, saying YES was a no-brainer for me when it comeas to making pearl sugar waffles. After that, we discussed doing a Facebook Live. I was honored once more. Pearls Olives decided to concentrate on simple, delicious, and enjoyable holiday entertaining with olives. As a result, the FB Live and the follow-up post featuring what I showed on the show were born.
Appetizers with olives
All of the different creations worked together to create a stunningly elegant and delicious charcuterie. And, as you can see, olive thoughts are a show-stopper! Enjoy these quick beef potatoes & tomatoes and eats, and note that you don't need to entertain or throw a party to enjoy them. There is no reason for a special event or a huge audience. It doesn't have to be about you and your olive adoration! XXXX genuinely
Olive dip recipe
Since the creations are so simple and straightforward, I'll explain how to do them after each shot along with dark red cherry biscuit scones. However, by just staring at the pictures, you might almost make it out. Remember that the sum of each ingredient you'll need is calculated by the number of appetizers you'll be making. I just made six to eight of each concept.