Casseroles are classic, and this easy ham pineapple casserole will be one of your EPICs in your casserole collection! Honestly, I had no idea that when I posted pictures of this casserole that I would get so much traffic, comments, likes and just sheer giddiness about a recipe!
I love this recipe because…
What is it about this simple ham pineapple casserole that makes it so popular? Well, for starters, I think the fact that it's got delicious pineapple tidbits in it. I mean usually ham casseroles come with noodles or potatoes, but I've gone the somewhat 'sweet' route to offset the savory of this recipe. Another thing about this recipe, well, it's made in a non-traditional 'casserole dish'. Actually, it's not a dish at all but a cast iron skillet. OMG, mention a cast iron skillet and it opens the flood gates for sweet memories of families, cooking, grandmothers, wonderful food, gatherings, dinners and more.
This recipe is perfect for the holidays when you may have cooked a big ham and have leftovers. But, if that's not the case, not to worry. You can have this casserole at anytime of the year because all you have to do is buy a ham steak and you're in business! xoxo ~ally
Here are a few other classic recipes that I think you'll really love: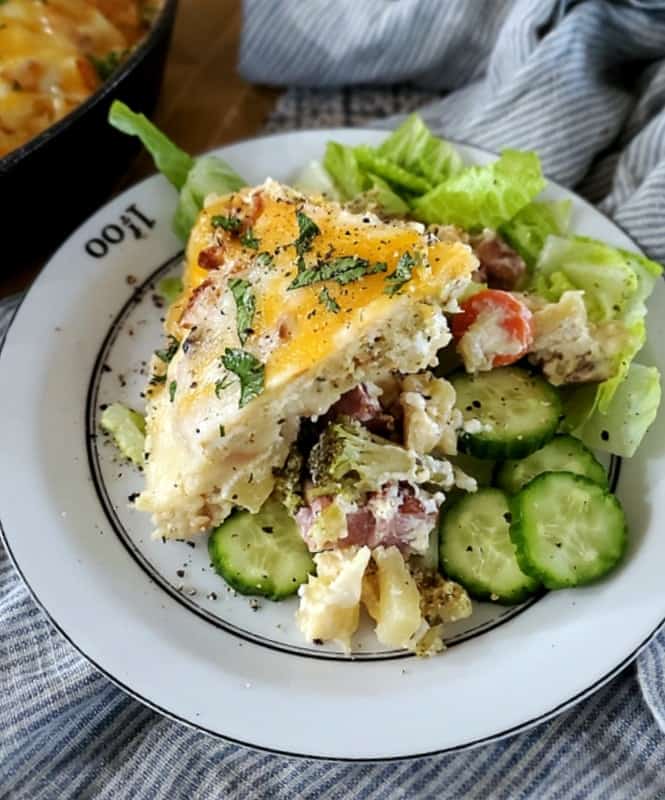 pineapple ham jalapeno casserole
Ingredients
Preheat oven to 400
Serves: 6-8
2 to 2 ½ cups diced ham, leftover, about 1.5" cubes
2 packages (10 oz.) Baby Broccoli Mix, previously frozen, at almost room temperature
1 can (20 oz.) Dole Sunshine Pineapple Tidbits, drained, reserve liquid
1 can (10.5 oz.) Cream of Celery Soup
1 container (7.5 oz.) Soft Cream Cheese Spicy Jalapeno, almost room temperature (Philadelphia Cream Cheese)
2 eggs
1 box (6 oz.) Stove Top Stuffing Mix
2 cups grated cheddar
Instructions
Grease well a 10-12" cast iron skillet (bottom and perimeter).
In a medium mixing bowl, whisk together well one-half cup of pineapple juice, celery soup, cream cheese and eggs. Set aside.
Put the ham cubes in and sprinkle on top one cup of grated cheese and one-half of the stuffing mix. Add one-third of the liquid juice/soup/cream cheese/egg mixture.
Add the previously frozen baby broccoli mixture then one-third of the juice/soup/cream cheese/egg mixture.
Top with the remaining stuffing mixture and the remaining juice/soup/cream cheese/egg mixture.
Cover the skillet with heavy foil. Bake in a preheated 400 oven for 45 minutes.
Remove foil and bake another 20 minutes. Sprinkle on top the remaining grated cheese. Return to oven (uncovered) for about 5 minutes or until cheese is melted and turning slightly golden brown.
Remove and let the casserole rest before serving.
Notes
Be sure to let the casserole 'rest' about 15 minutes before digging into it. And, if the juices run, well, then that's just added bonus for yumminess!
Serve with just fresh greens and cucumbers.
Garnish with fresh parsley or chives.
https://allyskitchen.com/easy-ham-pineapple-casserole/
©ally's kitchen intellectual property