skinny girl stuffed pork chops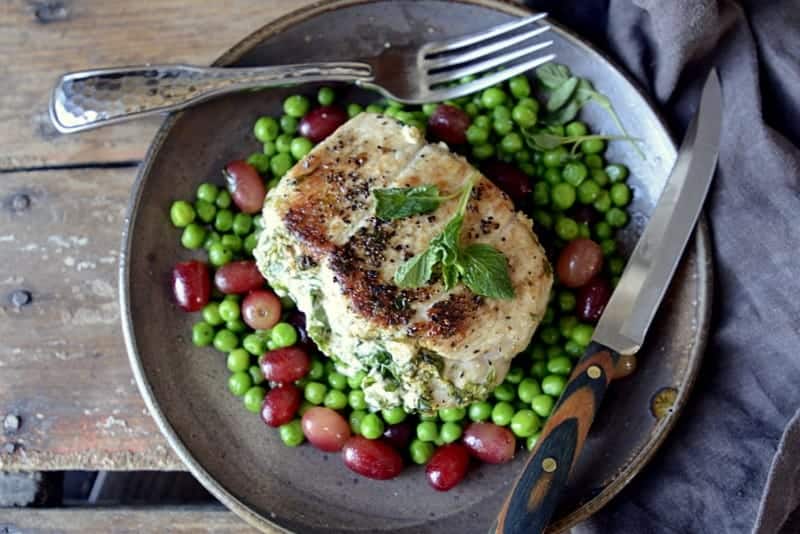 Recipes for Pork Chops
You'll not find recipes for pork chops out there in cyberspace any better than these skinny girl stuffed pork chops. Perfect for a small dinner party or on a weeknight when you want to eat 'gourmet', this recipe for pork chops elevates to five-star.
Rather than focus on recipes for pork chops that are unhealthy, try this stuffed pork chop version, and you'll be a convert, I hope!
And, if you don't want to stuff your chop and you want something both sweet and savory with a punch, then I'm sure you'll not be disappointed with these Maple Mustard Grilled Chops!
Pork Chops Stuffed
Options for pork chops stuffed are also out there. These skinny girl stuffed pork chops, which guys will love, too, are a weeknight gourmet treat.
Think about what you love with pork chops, flavors and textures, and you can create your own stuffed pork chops. Some popular stuffed pork chops come with spinach, mozzarella, sun dried tomatoes. But, don't limit yourself to that. You see I'm using greens and goat cheese to stuff my pork chops.
There's nothing complicated about this low fat pork chop recipes. It's truly very simple to pull together. The most technical aspect of it is creating the pocket opening in the pork chop to add the stuffing. That's why you want nice thick boneless chops. They hold up to the technique best. And, if you've never used cooking twine, then get some next time you're at the store and keep it on hand because you'll see we'll be using it in other recipes!
Here're the other 'skinny girl' recipes! They're pretty awesome and, yes, keep you on that lean side of eating, and a very healthy side!
How to Cook Pork Chops
There're a gazillion ways to cook pork chops. The how to cook pork chops ideas abound. Grill. Brine. Oven cook. Stove top cook. Stuff. Don't stuff. Crock Pot. Slow cooker. Air fryer. Skillet fry. Bake. Coat with crust. Don't coat with crust. There's no end in how to cook pork chops!
The bottom line on cooking pork chops is that the internal temperature should be 145 degrees. If you're cooking them in the oven, you could remove at about 135 to 140 degrees and they'll continue cooking as they rest (cover with a lid or foil).
Keto Diet
If you've looking for low fat pork chop recipes, keto diet friendly, then this 'skinny girl' pork chop recipe is great. And, by skinny girl, I really mean healthy girl. Or boys, guys, men. Not singling y'all out by any means! These skinny girl stuffed pork chops are just so simple to make. Quite different in flavor. They are shockingly easy and impressive to serve. They're low carb. Low glycemic. All those good things that make you feel good about eating! Another thing about this recipe and a keto diet, you could swap out the goat cheese for mozzarella cheese.
Keto Pork Chops
Another amazing thing about these skinny girl stuffed pork chops that, BTW, are keto pork chops? Well, after I made them, they weren't eaten. So, of course, I wrapped and refrigerated them. The next day, my hub, Ben, warmed one in the microwave and had for lunch. He said it was superb!
Then there was one left that we had the next day for breakfast. Here's what I did. Heated a cast iron skillet really hot. Coated with some cooking spray. Then put the chop in, turned the heat to medium low, covered and let it steam for about 10 minutes flipping it once. Then I cut it into about six lengthwise slices, served three to our plates and topped with a steamed sunnyside egg. Girrrrrrrrrrrrllll, talk about good! Just decadent for breakfast!
xoxo ~ally
Skinny Girl Guilt-Free Tuna Salad
Skinny Girl Sheet Pan Creole Chicken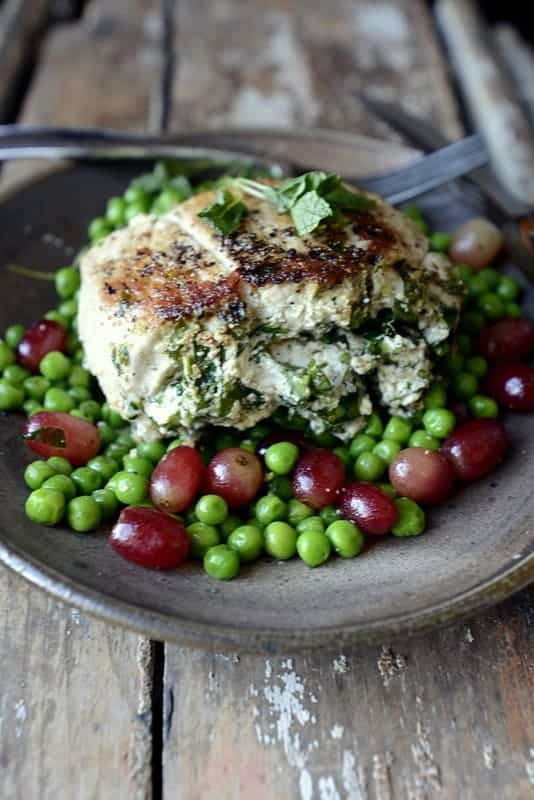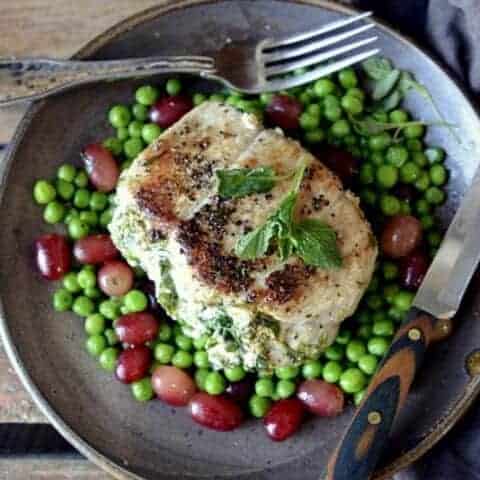 skinny girl stuffed pork chops
Pork chops that are stuffed. Pork chops that are keto friendly. Pork chops that are gourmet. You will not be disappointed. A very simple gourmet treat!
Ingredients
2 thick pork chops, boneless, about 2" thick
1 tsp. sea salt, divided
1 tsp. coarse ground pepper, divided
2 tsp. Mrs. Dash Salt-Free Spicy Jalapeno seasoning blend
6 Tbl. extra virgin olive oil, divided
2 cups fresh mixed greens, arugula, spinach, European greens, etc., chopped
½ cup goat cheese
Instructions
Combine in a small bowl one half teaspoon of salt, pepper and the jalapeno seasoning blend. Mix together and blend. Set aside. In another bowl, combine four tablespoons of olive oil, fresh chopped greens, goat cheese and the blended spice mixture. Blend into a thick 'paste' like mixture. Set aside.
Take the pork chops and using a sharp knife make a slit from about end to end on the center part side of the chop. Slice into the chop making and ,make a 'pocket' opening. Stuff the pork chops with the greens/goat cheese mixture. Be sure to push most of the mixture down into the cavity and pack in. Take a 10-12" piece of cooking twine. Wrap around the middle most part of the chop. Tie into a knot. Sprinkle both sides of the chops with the remaining salt and pepper. Heat a large cast iron skillet (10"+) over medium high heat. When hot add the remaining olive oil.
Place the chops in the hot oil. Sear on the first side about 2 minutes. Carefully turn (using two spatula flippers to turn) and sear on the other side 2 minutes. Reduce heat to medium. Cover with a large lid. Cook another about eight to ten minutes turning once (internal temperature 155-160). If some of the stuffing begins oozing out, just gently push it back into the chop (as best you can!) with a spatula. Remove to a plate. Take clean kitchen shears and snip the cooking twine and remove. Serve immediately.
Notes
I served with steamed peas, fresh mint and red seedless grapes.

These pork chops refrigerate well for a day or two. To reheat, put in a cast iron skillet. Coat with cooking spray. Turn heat to medium low. Cover with a lid. Just let the chop heat, turning once or twice, for about 8-10 minutes.