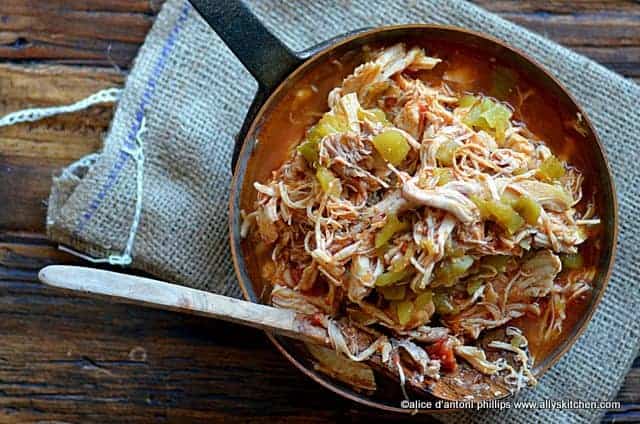 When deciding what to call this dish, which was inspired from a recipe that a dear foodie friend, Mary, from Cooking with Mary and Friends, had made with salsa and pork, I decided to research some Mexican food terms. Up popped tinga, which is a shredded, often spicy, meat. I just knew that was what was simmering in my slow cooker, so the name was born, 'picante chicken tinga'!
This is probably one of the MOST simple and easiest recipes you can ever do; of course, I've simplified it from many other tinga recipes probably found online—basically, the slow cooker does it all. The aromas that begin wafting through the house after about an hour, and believe me I had some service people coming in/out of the house when I was cooking and that's the first thing they commented on—the amazing scent!
This chicken tinga can be used in so many ways—put on a bun like a BBQ, over rice or beans, as a 'soup' maybe throw in some corn, and more—embellish with some toppings—sour cream, chopped cilantro, lime zest and juice—the spicy tomatoeee flavors and the tender chicken is truly melting in your mouth!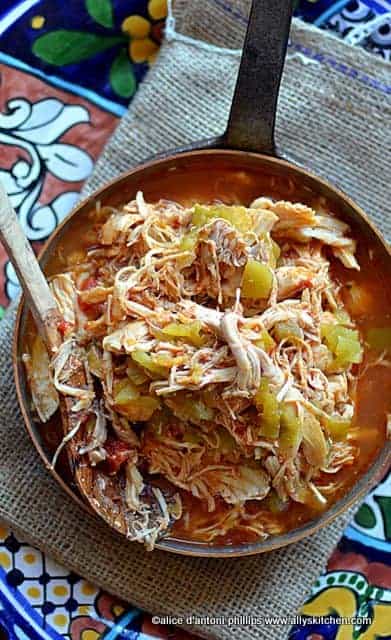 Serves: 6+
What you need:
3 lbs. chicken (I used 2 thighs, bone-in, skin on for flavor & 3 chicken breast filets)
1 jar (16 oz.) Medium spicy salsa
1 cup water
2 tsp. ground cumin
½ tsp. sea salt
1 can (4.5 oz.) green chiles, diced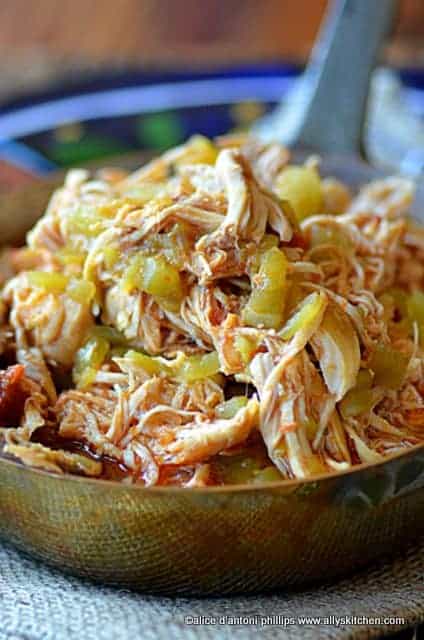 What you do:
Put the chicken, salsa, water, cumin, and salt in a slow cooker. Cook on high for about 3 hours. Check a couple of times just to blend and stir. After about 3 to 3 ½ hours, chicken will be tender and can be shredded with a fork.
Use tongs to remove the chicken skin and bones from the thighs. Add the green chilies and blend. Ready to serve however you wish—over rice, on a bun as a sandwich, with beans—get creative!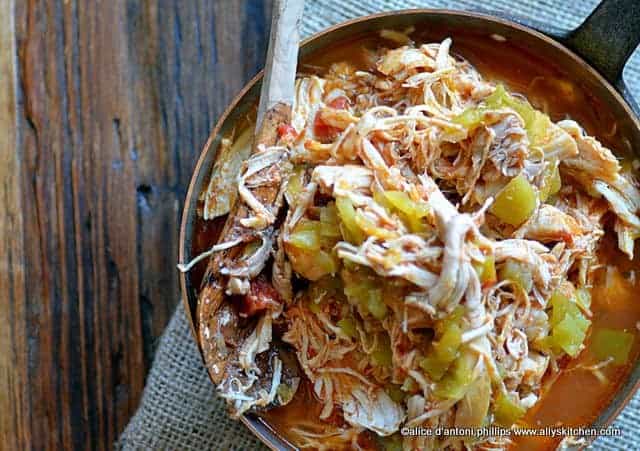 ©alice d'antoni phillips www.allyskitchen.com