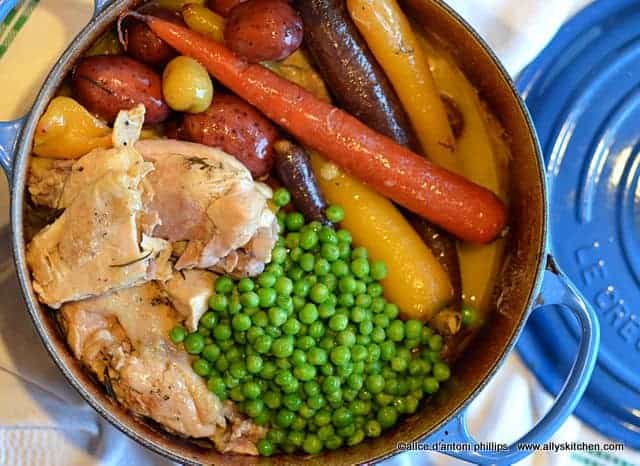 You may wonder why I call this farmers blue pot chicken–well, a few reasons…first, I love using my LeCreuset blue cast iron pot for cooking–it just make everything more beautiful, and #prettyeating counts. And, it's a 'farmers' style because you just put it all in the pot, pop on the lid snugly and then let it roast in the oven. The aromas in your house will be insane and you'll serve straight from the pot, like farmers used to do in the old days! But, probably mostly I call it this because I have sooooooooooo many chicken recipes that I'm running out of ideas for names–so, this one got down to basics…at first it was 'blue pot chicken' then I got fancy and added the 'farmers' as I thinking about life on the farm…don't ask me why, just a random thought!
I have another chicken dish similar to this. We make it in a Dutch oven when we go camping. It's killer good, too…check it out! Dutch Oven Garlic Chicken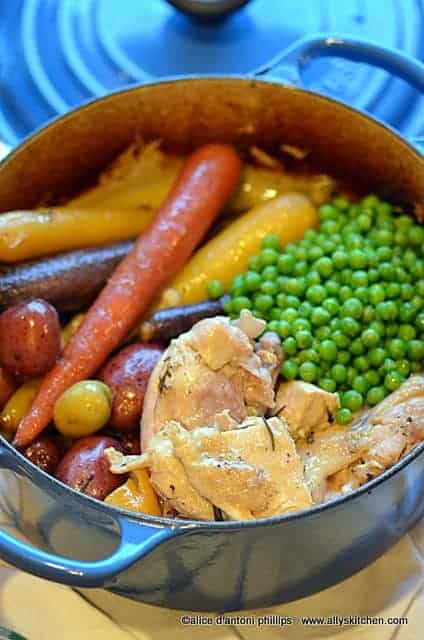 Serves: 4-6
Preheat oven to 375
What you need:
2 ½ lbs. organic chicken pieces (I used one large breast (cut in half), 4 bone-in skin on thighs and 2 drumsticks)
¼ cup extra virgin olive oil
2 cups organic chicken broth
1 cup white wine (I used a chardonnay)—you can substitute 1 cup apple juice
1 ½ tsp. sea salt
1 ½ tsp. white pepper
1 large lemon, cut into quarters (make sure the lemon is well scrubbed and clean)
4 large garlic cloves, smashed
1 herb bouquet bundle (I used parsley, oregano, rosemary and thyme.)
Veggies:
4-5 whole carrots, washed (I used heirloom carrots for color differentiation.)
2 cups baby red potatoes (can use white)
3 cups thawed (previously frozen) peas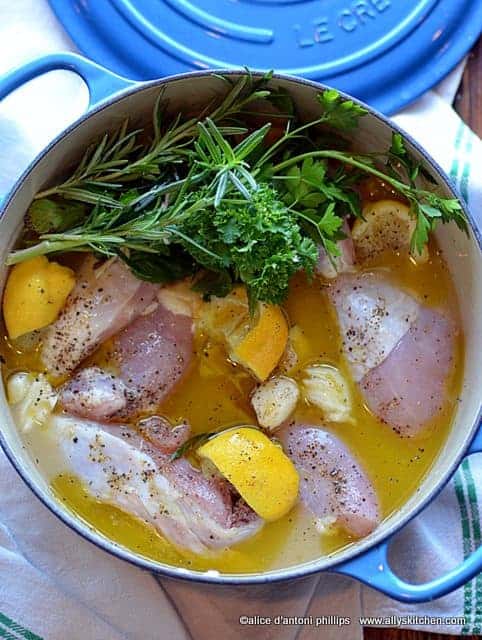 What you do:
In a large heavy cast iron pot (with lid), put the chicken pieces. Drizzle with olive oil. Add the chicken broth, wine, salt and pepper. Squeeze the lemon juice on to the chicken (careful with the seeds). Toss in the lemon rinds, garlic and add the herb bouquet bundle.
Cover and cook in a preheated 375 oven about 75 minutes. Remove and add the carrots and red potatoes (let the potatoes swim in the broth). Cover with the lid and cook another about 30 minutes or until the carrots are al dente.
Remove from the oven. Add the peas to one side of the pot. Cover and let the peas cook in the heat and steam for about 15 minutes. (Note: If not serving immediately, keep the dish warm and add the peas near serving time. This keeps them nice and bright green.)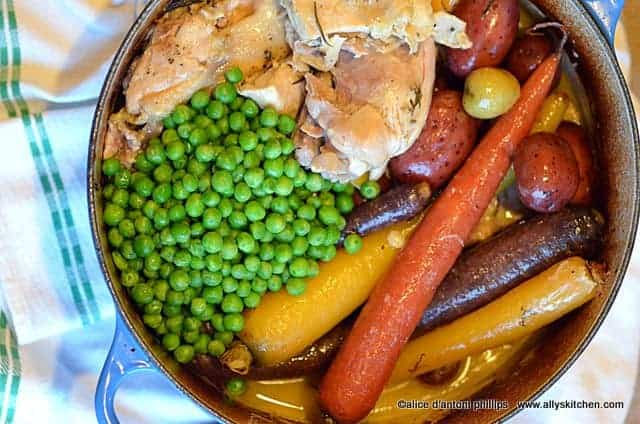 ©alice d'antoni phillips www.allyskitchen.com