spicy smoky chicken with roasted veggies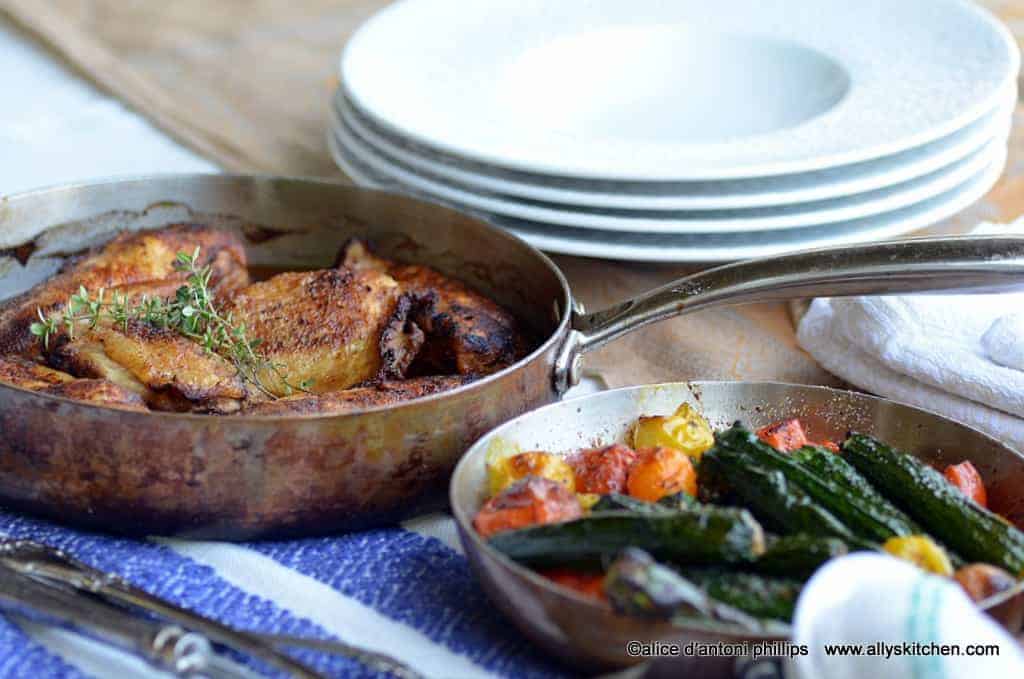 This is a magic carpet spicy smoky chicken with roasted veggies that whisks me to Morocco! At least in my imagination! That's what food does for me…as I'm creating recipes, tasting the spices, flavors, juices, sauces and more, I have these eruptions of where I might be, what I might be doing. In this case, I imagined myself at the souk, an openair marketplace, in Morocco, shopping for fresh ingredients.
That's the mystique of food~you can whisk yourself to faraway places and experience history and living without leaving home. Just by serving this recipe in a tagine you're somewhere other than home. It's fun, I think, to do things like this with food…it adds to the joy and experience of the tastebuds. So, why not close your eyes and imagine yourself there, that place that makes you smile and feel warmth, as you serve this dish to whomever is breaking bread with you! xoxo ~peace and imagination~ ally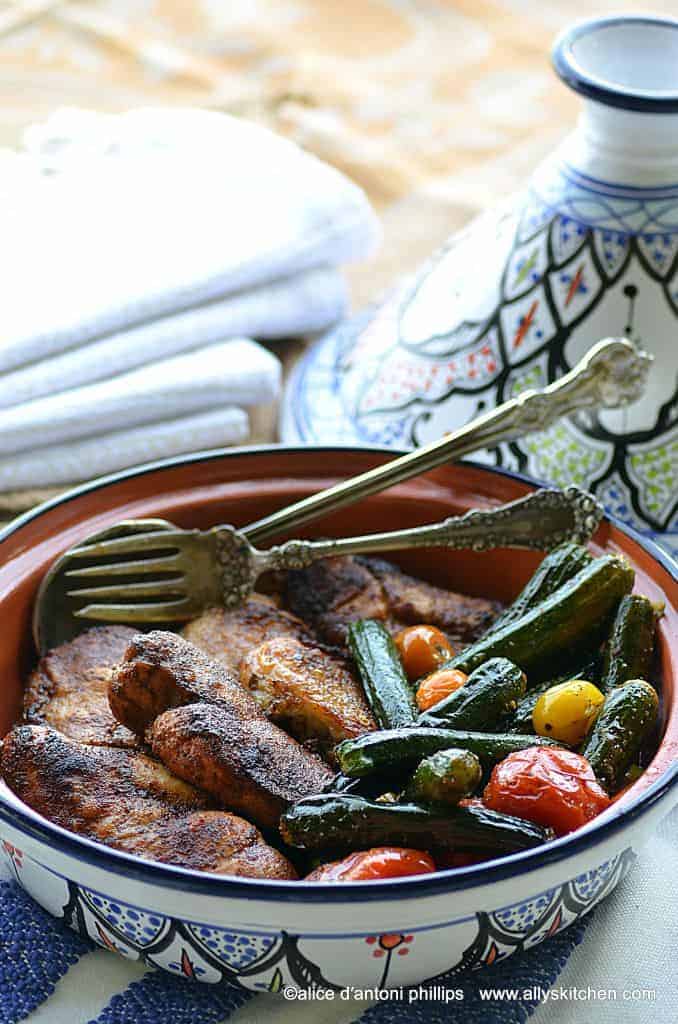 Serves: 4-6
Preheat oven to 400
What you need:
2 to 2 ½ lbs. chicken (I used 4 skinless boneless breasts and 2 skin on, boned thighs, rinsed and patted dry with paper towels)
2 tsp. lemon pepper (divided)
2 tsp. sea salt (divided)
1 tsp. cumin
1 tsp. smoked hot paprika
½ tsp. ancho chili (or similar hot spice)
4 Tbl. Butter, salted
½ cup white wine
¾ cup chicken broth
Veggies:
16-20 cherry tomatoes
8-10 miniature/baby zucchini (or 1 ½ cups cubed zucchini)
Cooking Spray (coconut, canola or olive oil)
2 Tsp. lemon pepper
½ Tsp. sea salt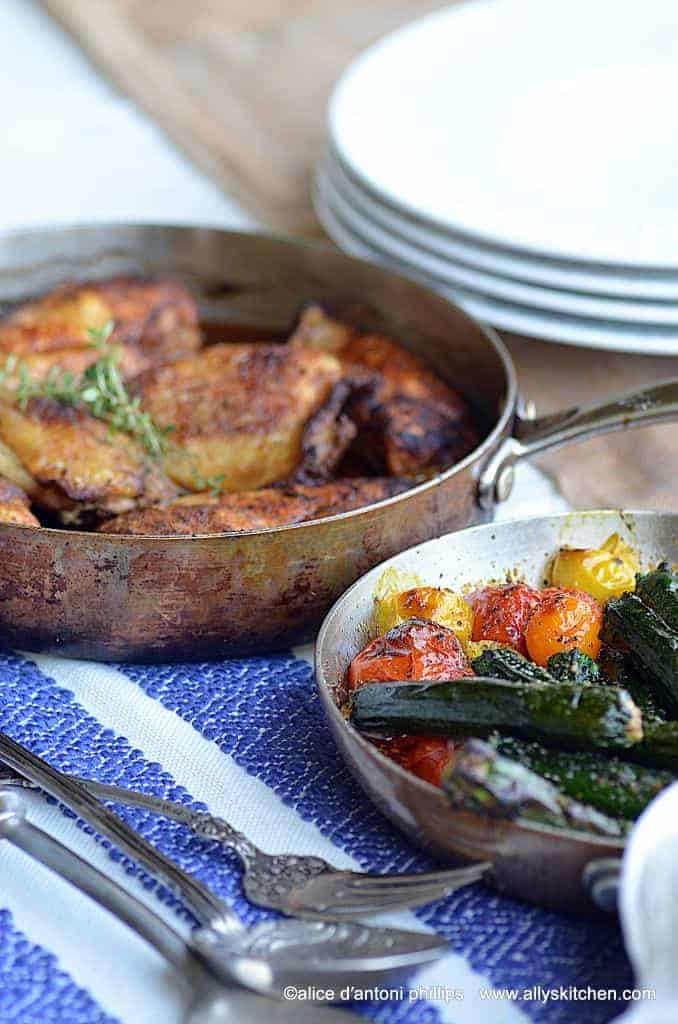 What you do:
In a small bowl, combine the lemon pepper, salt, cumin, paprika and chili; mix together. Put the chicken in a large bowl, coat with the spice mixture. Melt the butter in a large non-stick skillet over medium high heat and sear the chicken on both sides until golden brown.
Add the wine and let it sizzle about 2 minutes, then add the chicken broth. Cover tightly and cook in a 400 preheated oven about 60-70 minutes. Remove and let rest about 10 minutes.
Put the veggies in another skillet, coat well with cooking spray, sprinkle with lemon pepper, salt, toss and blend coating all well. Put in the same 400 degree oven (midway through the chicken cooking) for about 20-25 minutes, remove and serve with chicken.
This recipe can be transferred and served in a warmed tagine for added beauty and allure.
Note: If cooking in the tagine (make sure it is a tagine for cooking), the oven temperature should be reduced to 300, put chicken in the unheated oven for about 2 ½ to 3 hours adding the veggies in the last hour of cooking.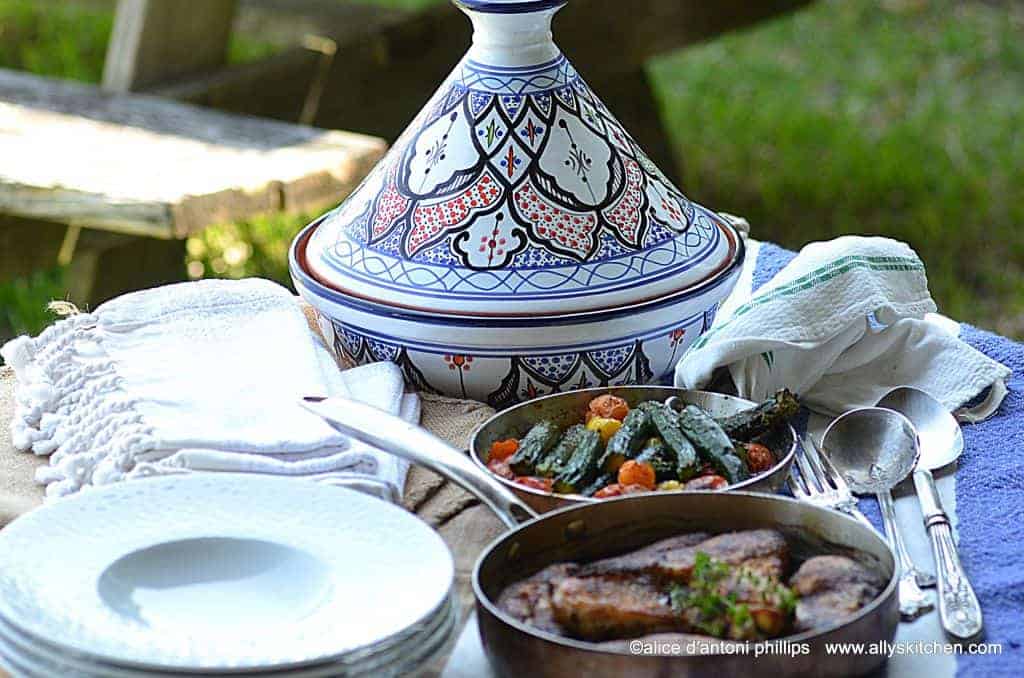 ©alice d'antoni phillips www.allyskitchen.com