Banana Pumpkin Walnut Spice Cake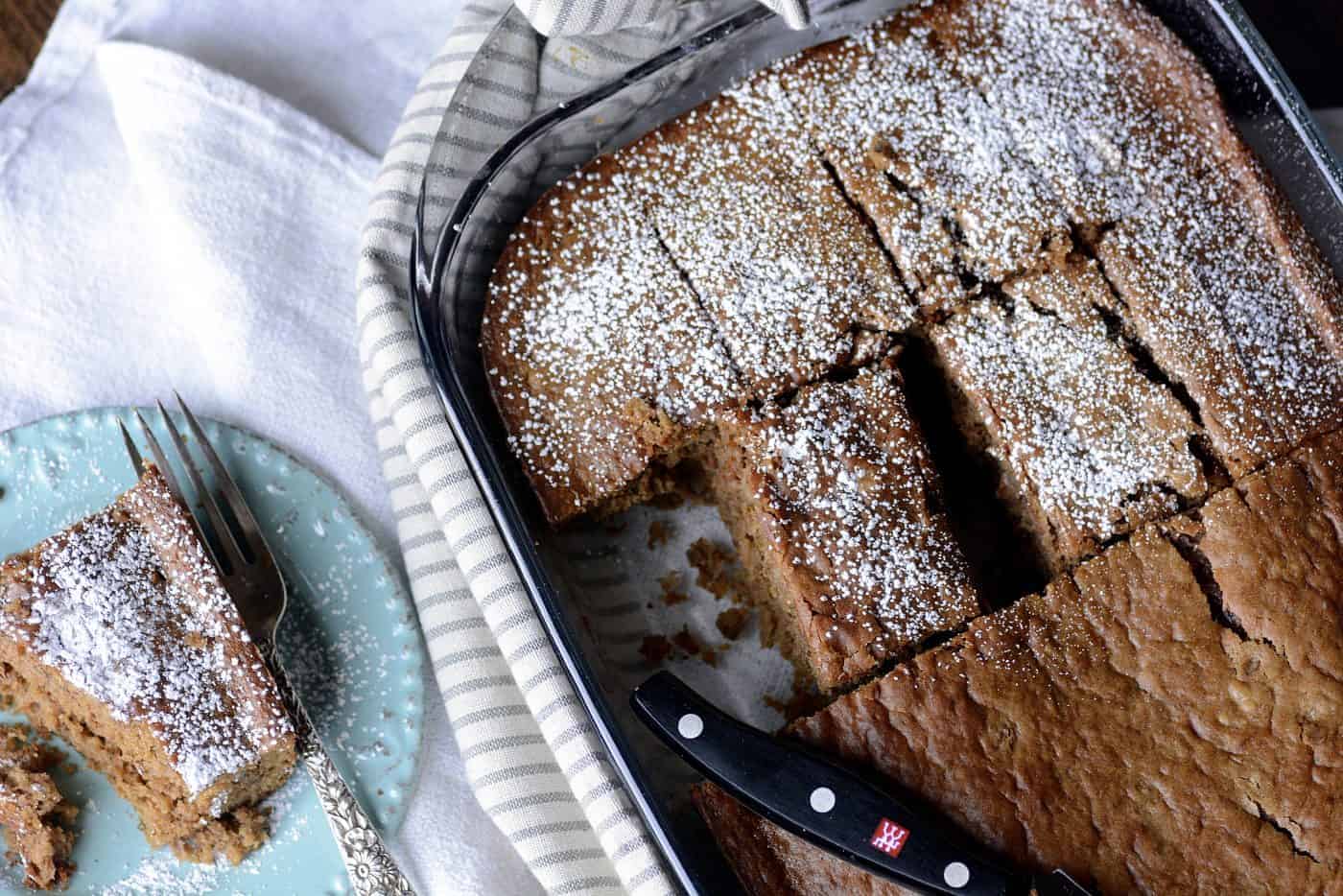 This banana pumpkin walnut spice cake keeps for several days because it's super moist since you're adding bananas and pumpkin puree.
Spice Cake Recipe Easy
Although nothing can beat the decadent chocolate cake, yet many other unexplored cakes are significantly underrated! One of them includes spice cake! Honestly, spice cakes are easy to make, and they aren't layered cakes; they need less work, and you can add in your favorite spices and nuts. These cakes remind us of the spring season, and they are the best everyday cake recipes. If you have kids at home and if you're wondering what to prepare for a healthy evening snack, just go with this cake! They'll love it!
Old Fashioned Spice Cake Recipe
An Old-Fashioned Applesauce Spice Cake recipe includes shredded apple and applesauce to get that nice fluffy and dense texture to your cake. When you mix applesauce and spices together, you get the nostalgic feel of apple pie, but this version is even better; why? Because it has a silky cream frosting that makes it much better than a regular apple pie! Go on! Cut a slice and enjoy it for dessert! Dig in and satiate your sweet tooth!
Spice Cake Mix
Have you ever thought of trying a new fusion recipe? How about a simple pumpkin spice apple cake? It's all the traditional spice cake with a pumpkin spice twist. I must say, this is new but inevitably delicious! A traditional spice cake contains an equal proportion of all spices and doesn't specifically overpower other spices! You can go nuts with your topping, add a dollop of ice cream on top and serve warm! Trust me, you'll love it!
Spice Cake Mix Recipes
Spice cakes are a traditional Jewish holiday classic. We don't always find ourselves having the time to prepare a cake from scratch; that's when a cake mix comes in handy! If you don't have a spice cake mix, you can turn your normal yellow cake mix into a spice cake batter by finally adding all the spices into it. These cakes are very simple to make and require less prepping time. Another famous tea cake that can be prepared in less than an hour is the Pumpkin Walnut Bread, and you can relish your cup of tea with a slice of this bread!
Grandma's Spice Cake Recipe
When you think of your grandma's famous spice cake recipe, what exactly comes into your mind? The dense and rich cake? Or the nutty and moist texture of the cake? Either way, some recipes are scorned in our minds that they always have a special place and are irrevocably irreplaceable! Unless you try your version of your most favorite grandma's spice cake recipe! You can also try a simple pumpkin spice apple cake which is delicious that you would devour it all up, perfect for a fall recipe!
Spice Cake Box Mix Recipes
Do you have that box of spice cake mix you bought a long time ago but never tried? Maybe it's time to get that box out and make a zesty and dense spice cake. If done right, a spice cake doesn't need frosting and can be eaten as such because it is so yummy! But who is stopping you? Go crazy and slather some cream cheese on top of your cake and enjoy! It will be worth every bite that you'll regret not making this lip-smackingly delicious cake earlier!
Spice Cake Recipe with Cake Mix
Have you ever tried a yogurt pumpkin cake? How about a spice cake? Not sure if you'll like it? Maybe you haven't done it right! Nevertheless, you're making it from scratch or a cake mix, and a spice cake is all good on its own! You can have it alongside your cup of coffee for breakfast or in the evening as a snack! It is totally healthy & snackalicious!
Spice Cake Recipe without Applesauce
Running out of applesauce? How about a Spice cake without the applesauce? What? Applesauce gives a nice flavor and texture to your spice cake, but the whole flavor of the spice cake lies in all the spices you add to it. Whip up some cream and add a dollop on top, your spice cake has now turned into a rich and creamy cake, and you'll never notice any lack of flavor in your cake! If you have a couple of ripe bananas at home, try out a Skillet Banana Cake. It will be equally delicious and soft!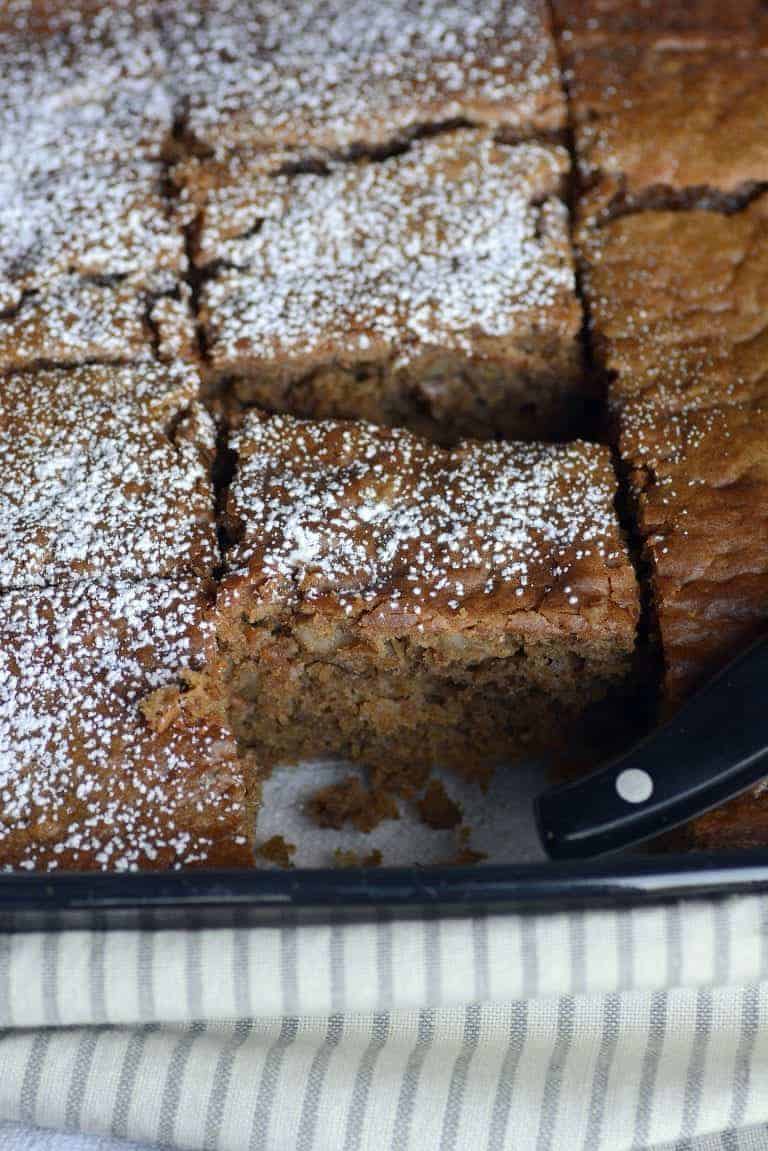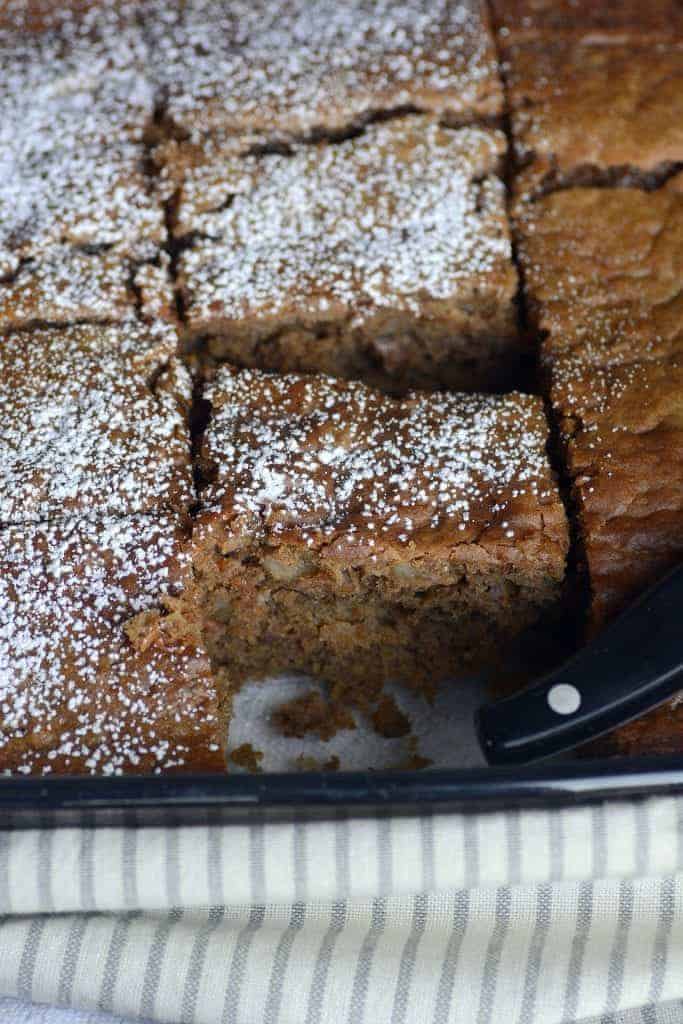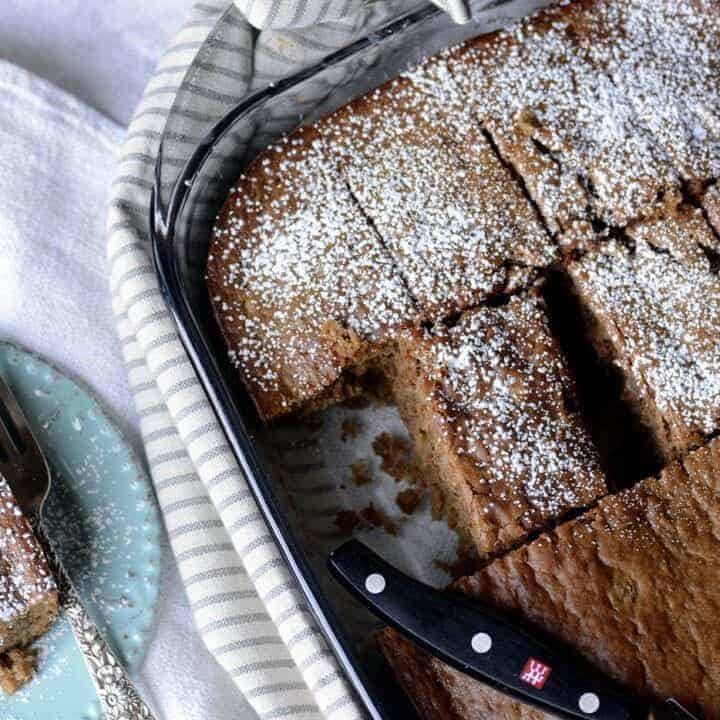 Banana Pumpkin Walnut Spice Cake
Yield: One baking dish 9 x 15"

This banana pumpkin walnut spice cake keeps for several days because it's super moist since you're adding bananas and pumpkin puree.
Ingredients
Preheat oven to 350
2 ripe bananas, mashed
3 eggs
1/3 cup oil
1 tsp. ground cinnamon
½ tsp. ground nutmeg
½ cup organic pumpkin puree
1 (6 oz.) can Dole Sunshine Pineapple Juice
1 (16.5 oz.) Spice Cake Mix
1 ½ cup walnuts, chopped
GARNISH:
Powered Sugar for Dusting
Instructions
In a large mixing bowl, mash the bananas, add the eggs, oil, cinnamon, nutmeg, pumpkin puree and pineapple juice. Blend and mix well.

Add the cake mix. With a hand mixer, blend well working out all the lumps. Fold in the walnuts.

Grease the baking dish well. Pour in the batter. Bake in a preheated 350 oven for 35 to 38 minutes.

Remove to a cooling rack letting the cake rest and cool for an hour or so. Slice and dust with powdered sugar.