gluten free banana buttermilk bundt cake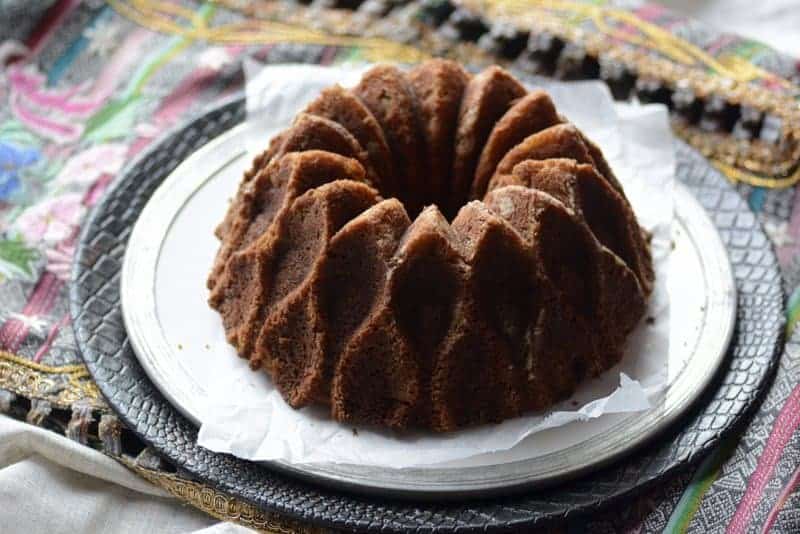 My gluten free banana buttermilk bundt cake is not only a minor work of art, but incredibly delicious! A must make!
Old Fashioned Banana Cake with Buttermilk
There are so many things I love about this gluten free banana buttermilk bundt cake. First thing. The bundt pan. Yes, it's a beauty. Now the key to making this baked cake release perfectly is greasing it liberally.
Banana Cake Recipe
Yes, it's non-stick, but, nonetheless, I wouldn't even think about that because I wouldn't want to take that chance of ruining a cake! This Nordic Ware 70th Anniversary Crown Bundt® surely puts on a show when you serve it.
Gluten Free Banana Bundt Cake
Another thing to love about this cake. Yes, it's gluten free, and I tried the it with the brown rice flour and was pleasantly surprised at the texture and outcome of the cake.
We ate on the cake for about three days, and it stayed perfectly moist and tender when covered securely.
Gluten Free Banana Cake
Last thing I like about this cake is that you probably can't mess it up. I mean there're two bowls. One with wet ingredients. One with dry ingredients.
Mix and blend. Pour into the well-greased bundt pan. Bake. Cool. Release.
Banana Bread Bundt Pan
This batter is versatile and can be used to bake muffins and bread, too. I might even try it as pancake batter.
Since I love the aroma of cinnamon, it's got its share of that warm spice in it, too.
Moist Banana Bundt Cake Recipe
You know, sometimes it's kinda hard writing an intro to a recipe.
I think if you like something, you just want to 'jump' to the recipe and get it rather than reading about the creation of it.
Healthy Banana Bundt Cake
Unless, of course, it's some spine tingling interesting story. This wasn't, so no problem if you jumped to the recipe.
Hey, let me know in the comments below. I may just shorten some of these recipe intros even more! xoxo ~ally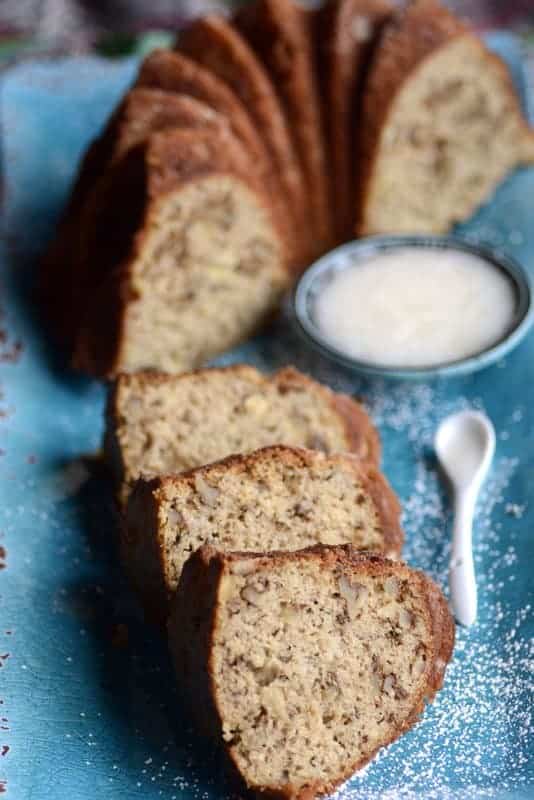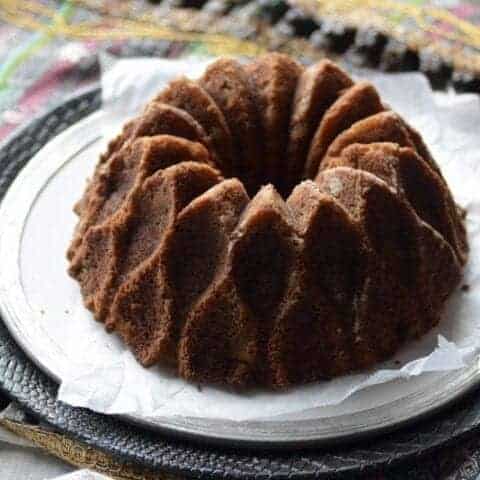 banana buttermilk bundt cake GF
Ingredients
Preheat oven to 350
4 bananas, mashed
1 Tbl. vanilla
3 eggs, beaten
6 Tbl. butter, melted
½ cup buttermilk
½ cup brown sugar
1 cup brown rice flour
1 Tbl. baking powder
1 tsp. baking soda
3 tsp. cinnamon
1/8 tsp salt
1 ½ cups walnuts
Powdered sugar for dusting (optional)
Instructions
In a large mixing bowl, combine the bananas, vanilla, eggs, butter, buttermilk and blend well.
Combine in another mixing bowl the brown sugar, rice flour, baking powder baking soda, cinnamon and salt. Blend well working out any little lumps.
Pour the dry mixture into the wet and blend well into a thick batter. Fold in the walnuts.
Grease and dust with flour a bundt pan. Pour in the batter. Put the pan on a cookie sheet. Bake in a preheated 350 oven 45-50 minutes or until a toothpick or thin skewer comes out clean.
Remove to a cooling rack. Release cake from pan after cooling about 15-20 minutes. Dust with powdered sugar if desired.
Notes
Making a lemon glaze is easy. Take one lemon, both juice and zest. You should have a few tablespoons of juice. Add one-half or more powdered sugar and whisk well working out the little lumps.

Drizzle the lemon glaze on sliced pieces of cake.