the bridesmaid's peach cake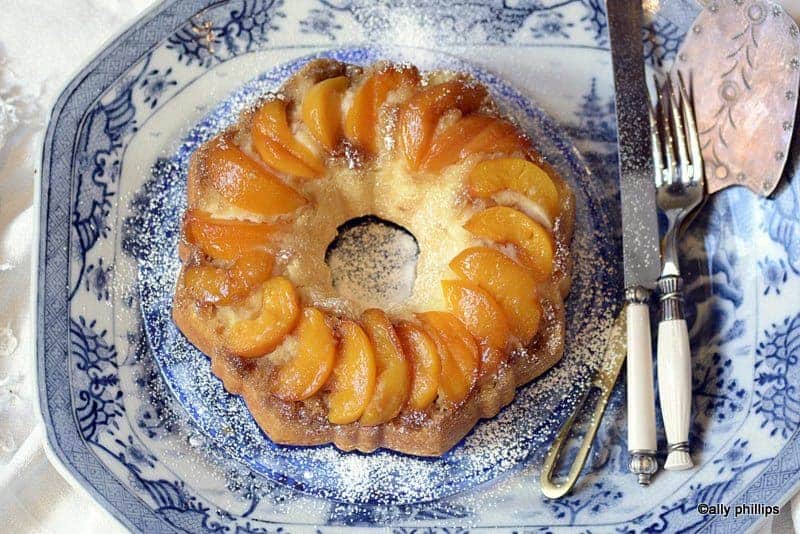 Peach Upside Down Cake
Have a taste of the Old South, a feel of Lowcountry living and a vision of heavenly happiness with the bridesmaid's peach cake. We don't want to outshine or overshadow the bride, but it could be mighty hard with this beauty!
Just in case you want another totally awesome easy dessert that will WOW! Mandarin Vintage No Bake Pie!
As I said, the bridesmaid's peach cake is just about as spectacular as the bride! But we know on a gal's wedding day, no one upstages the bride. This upside down peach cake will be a hit year round. So simple and easy!
Peach Cobbler
Peach cobbler is an American icon. When peaches are in season, there's no doubt that some baking of peach cobbler is happening in kitchens across America. Nothing's more delicious than a fresh South Carolina or Georgia peach. And, if you haven't tried Colorado peaches, well, then they're just about the most divine on earth.
And, if peaches are out of season, then definitely use frozen peach slices. They're fabulous, especially Doles! This recipe for paleo GF peach dump cake proves it. Made it alongside Bobby of FlavCity, and it's deeelish. Best to eat right out of the oven, hot and with a scoop of yummy yogurt and honey!
Dump Cake
Now dump cakes are quite popular because all you do is dump everything into a casserole baking dish. While this isn't a dump cake or a peach cobbler, it is kinda like both of them. But still retains its unique individuality. That's what baking and cooking is all about. Taking things like peach cobbler recipes and dump cake recipes and reinventing into a peach upside down cake. Move over pineapple upside down cake, here's the bridesmaid's peach cake!
Peach Cake Recipe
I have no idea what possessed me to name this cake as such, but I do think it had something to do with being a Southerner, knowing that peaches are part of our heritage, and realizing that Southern weddings can be a sight to behold. And, I didn't want to do yet another peach cobbler or dump cake. But, what about when peaches are no longer in season and you want a peach cake! Well, the thing to do is used gloriously delicious canned (or frozen) peaches. And, I can assure you that Dole Sunshine has the best ones.
Taking a good quality white cake mix and embellishing the preparation with some special ingredients moves this cake from ordinary to extraordinary. The texture and appearance is almost angelic like, and it's the whitest of the white. The caramelized peaches, mimicking another Southern favorite, pineapple upside down cake, atop the baked cake make every bite noteworthy. In fact, I do believe, darlin, next time, I'll caramelize some additional peaches in a skillet just for extra topping when serving. xoxo ~ally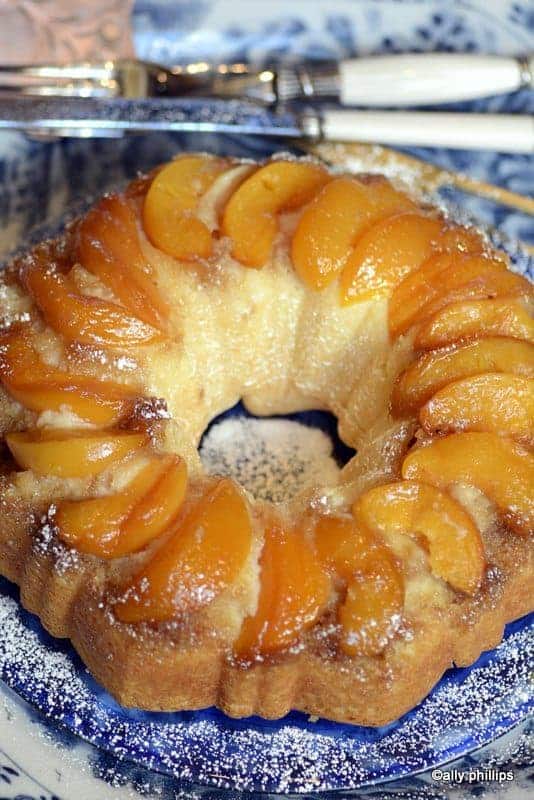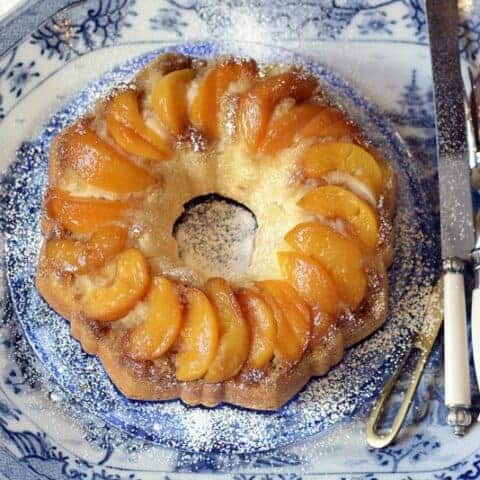 the bridesmaid's peach cake
Yield: Makes One Bundt Cake! Yummmm!

The bridesmaid's peach cake is just about as spectacular as the bride! This upside down peach cake will be a hit yearround. So simple and easy!
Ingredients
Preheat oven to 350
1 24 oz. canned/jarred Dole Sunshine peaches, drain peaches and reserve liquid
1/3 cup brown sugar
4 Tbl. butter melted
1 white cake mix buy the best brand you can afford
4 egg whites
¾ cup sour cream
¾ cup peach juice reserved from draining peaches
¼ cup oil canola, coconut, sunflower, etc.
2 Tbl. powdered sugar for dusting/garnish
Instructions
Drain the peaches and set aside. Reserve the juice. Combine the brown sugar and melted butter in a small bowl and dissolve the sugar.

Coat a non-stick bundt pan with cooking spray (or oil). Drizzle the brown sugar/butter mixture in the bottom. Lay the peach slices in a concentric circle on the bottom of the pan.

In a large mixing bowl, put the cake mix. Use a fork to work out all the lumps and clumps. Add the egg whites, sour cream, peach juice and oil.

Use a mixer (I used a hand mixer) starting on low and gradually increasing the speed. Mix about 2-3 minutes into a thick fluffy consistency.

Pour into the bundt pan. Put the pan on a cookie sheet. Bake in a preheated 350 oven about 50 minutes or until a wooden skewer (about 6" length) comes out clean from the centermost part of the cake.

Remove to a cooling rack for about 20-30 minutes. Gently use a narrow rubber spatula to dislodge around the perimeter of the cake (especially if the bundt pan has a design). Place a cake plate on top and flip the cake out.

IF the peaches 'stick' simply remove from the bottom of the pan and place atop the cake in the indented areas where they baked.

When ready to serve, dust with powdered sugar.

Note: I used a designed bundt pan. My peaches did not dislodge completely. However, there were baking indentations where they were located. I simply put them in these places.
Notes
Not to worry if some of your peaches stick in the bottom of the cake. Simple pull them out and place atop the cake in the 'indented' spaces created by the baking!

This cake keeps well for several days when refrigerated.