Meyer Lemon Pan Grilled Scallops
Finding nice juicy large boholicious scallops is always a treat! Even if they're 'previously frozen', which is the case most all the time when you're living in the mountains of Colorado, I have to have my fix for scallops. It's precisely these times that I miss living on the inlet waters of coastal South Carolina even more~~the abundance of fresh seafood can be taken for granted.
And, that's the good thing about changing up life~~you tend to take things for granted and become complacent with the everyday gifts you have~~spending several months a year in a different place, or even a few days, takes you back to your homeplace, and you probably appreciate much more of what life offers you!
It's akin to camping for a few days~~when I return to 'home' there's nothing better than a hot shower, clean crispy linens enveloping you in a wonderful bed, and drinking a glass of chilled Chardonnay from nice crystal. So, saddle up, deprive yourself, and return to a state of pure appreciation for those little things you're probably taking for granted.
Serves: 2
What you need:
8 large scallops
2 tbl coconut oil
2 tbl butter
1/2 tsp sea salt
1/2 tsp pepper
1/2 tsp Cajun Seasoning
1 Meyer Lemon juice/zest (regular lemon substitute)
2 green onions/tops sliced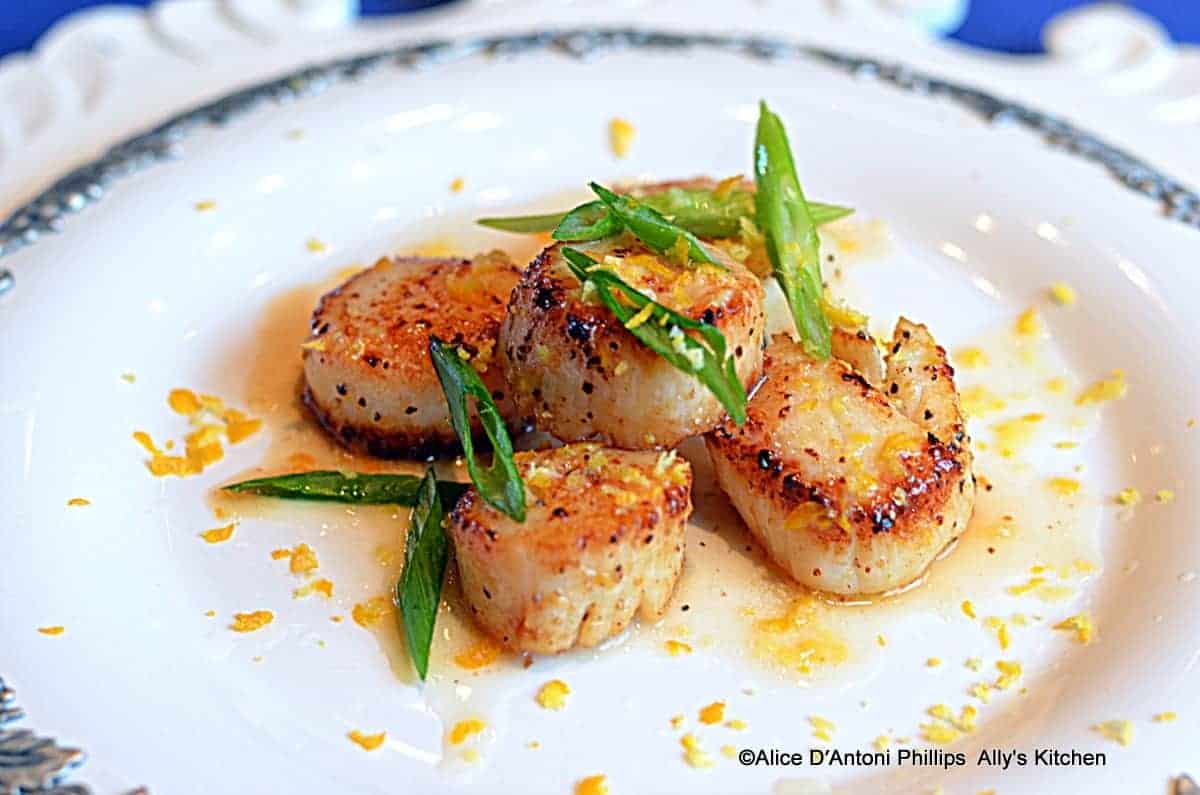 What you do:
Season the scallops with salt, pepper and Cajun seasoning on both sides. Heat oil and butter in a heavy skillet on medium high. Place scallops in and fry about 1 1/2 to 2 minutes per side leaving golden brown searing on each side.
Remove to a plate. Squeeze on the Meyer lemon juice and zest. Top with the thinly sliced onions. Serve with your favorite salsa. I chose a pre-packaged mango/peach salsa (or make your own!).