Easy Roasted Sausage and Vegetables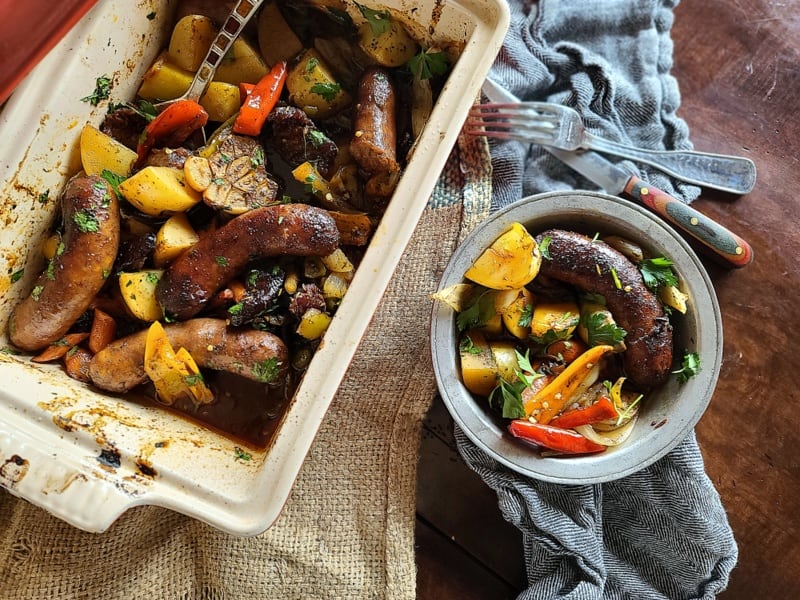 Easy Roasted Sausage and Vegetables is a one pan or one casserole dish meal that will definitely please! A hint of Middle Eastern sweet!
Veggie Sausage Bake
Wait til you taste these hot sausages that have been doused in a delicious mixture of happiness and baked with a medley of fresh vegetables!
Now we're huge fans of sausage. It's just so flavorful and it has many applications in cooking. Here're some of my favorite recipes!
Italian Sausage and Sauerkraut
Southern Grits Andouille Sausage & Shrimp
Andouille Sausage Beans & Kale
One Pan Sausage and Vegetables
Sausage and Veggies
If you don't want to use hot sausages, then by all means, use sweet or Italian sausages. Just use nice robust sausages!
And, the vegetables, well, it's up to you. I always love with a hearty sausage things like onions, potatoes and peppers!
One Pan Sausage and Veggies
One pan meals absolutely rock. And, you can prepare a lot of this in advance. Put it in the casserole baking dish. Then bake that day or the next day. Letting it refrigerate overnight only will make those flavors bloom even more!
Sausage Recipes Healthy
Healthy sausage recipes start with great sausage and fresh vegetables. If you can't find fresh, then look for nice chunky frozen vegetables like carrots, broccoli, cauliflower, peas and more.
Roasted Sausage and Vegetables
What makes this roasted sausage and vegetables even more vibrant is the sauce mixture you're going to use!
A combination of maple syrup, coconut sugar, apple cider vinegar and spices including one that you might not really know a lot about. Sumac!
Ground Sumac
Sumac is a dried red spice that's used traditionally in Middle Eastern cooking.
What makes it so intriguing is that it's got this bright, lightly astringent, tart subtle flavor that just makes food pop!
Check my Amazon Storefront for sumac. It's not expensive and it's totally worth having in your spice cabinet. It can be sprinkled on everything from roasted vegetables to baked potatoes and more!
Healthy Sausage
Nothing's more hearty and filling than healthy sausage. And, fixing it with an array of your favorite vegetables is the easy ticket to a great meal.
Plus, clean up is so quick and easy!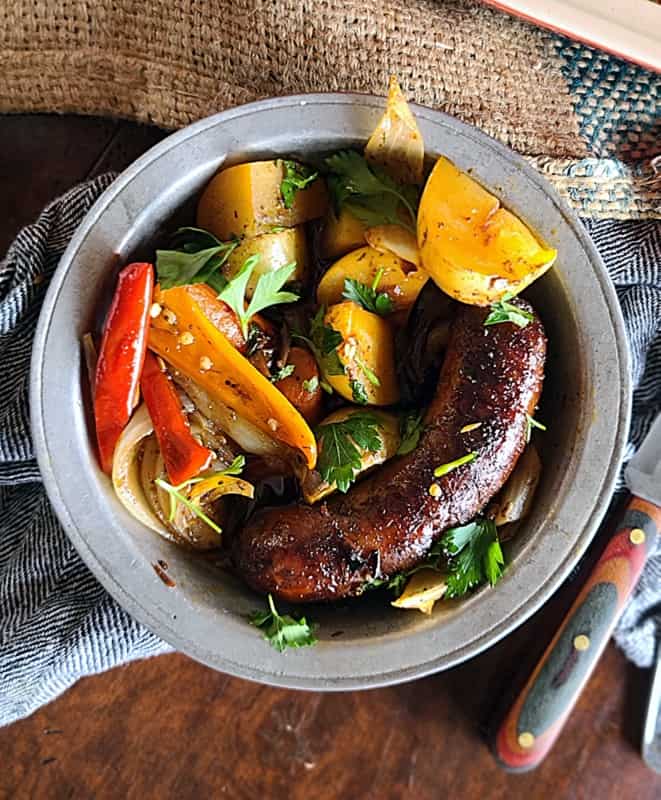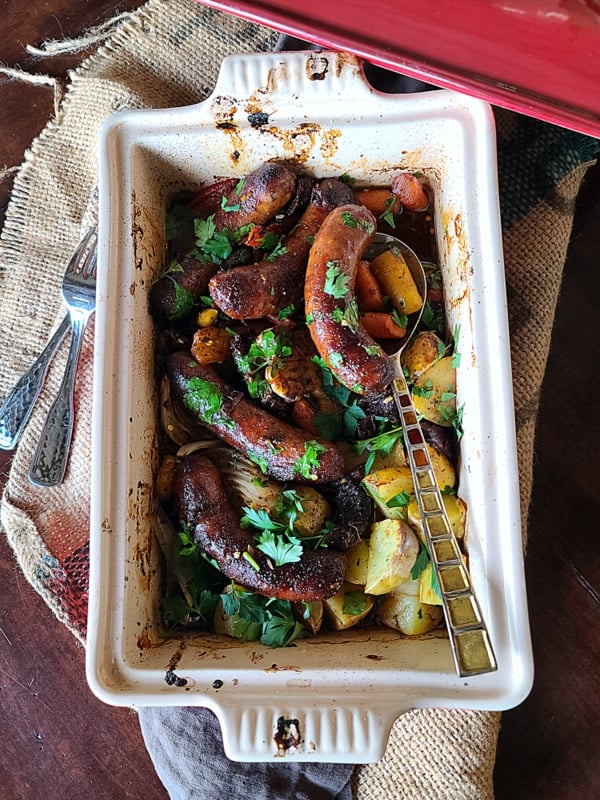 Easy Roasted Sausage and Vegetables
Ingredients
Preheat oven to 400 for 50 minutes then broil for 5-6 minutes
3 Tbl. apple cider vinegar
1/4 cup + 2 Tbl. maple syrup, divided
3 Tbl. coconut sugar
2 tsp. sumac, divided
1 tsp. dried dill, can use fresh and make it 2 teaspoons
1 tsp. fennel seeds
2 tsp. paprika
5 sausage links, 19 oz. package, your choice of mild, hot, Italian, chicken sausage, turkey sausage, etc.
VEGETABLES:
1 large sweet onion, cut into bite size pieces
4 Yukon Potatoes, cut into bite size pieces
1 green bell pepper, cut into slices
4 mini multi-colored peppers, cut into slices
6 dates, pitted, torn in halves
1/2 clove of garlic, sliced crosswise through the middle, use bottom half that stays intact
1/4 cup extra virgin olive oil
Salt/Pepper to taste
1/2 cup fresh flat parsley
Instructions
In a medium bowl, whisk together the vinegar, maple syrup, sugar, one and one-half teaspoons sumac, dill, fennel seeds and paprika. Put the sausage links in the mixture, cover and coat. Set aside.
Prepare the vegetables and place in the casserole dish (9 x 12" with lid). Drizzle with the olive oil. Add salt and pepper to taste.
Place the sausages on top the vegetables. Drizzle the sauce mixture all over the meat/veggies.
Cover with a lid. Roast in a 400 preheated oven for 50 minutes.
Remove the lid. (Dish should be about 14" from broiler.) Turn to broil for 5-8 minutes and let the sausages/veggies crisp/golden brown somewhat.
Garnish with the remaining sumac and fresh parsley.