Coal miners. Hard working. Sacrificing. A job that is thankless. A job that is exceptionally dangerous. Yes, I grew up in West Virginia. The heart of bituminous coal mining. Back in the 1950s and 1960s, I remember well the river in our little town being jet black. Yes, that was because of washing the mined coal in the river. Many of my friends' daddies were coal miners. They'd leave at the crack of dawn with their metal buckets, travel to the mine and start the long dark dank days' work of chipping away at coal. These men would come home dog tired. They'd be totally covered in soot. Black. Everything black. Except the whites of their eyes.
My brother worked in the coal mines for a while. He wanted a car. As a single Mom who'd never graduated from high school, she made barely enough money to put food on the table and keep a roof over our heads. She told him if he wanted a car he'd have to figure out a way to get the money. He went to work in the coal mines. Yes, I remember my brother coming home looking like a whipped puppy. Exhausted. I can't give you a full look at the history of coal mining in this post, but if you're interested, read on. It's worth knowing something about how brave these men were back in the day.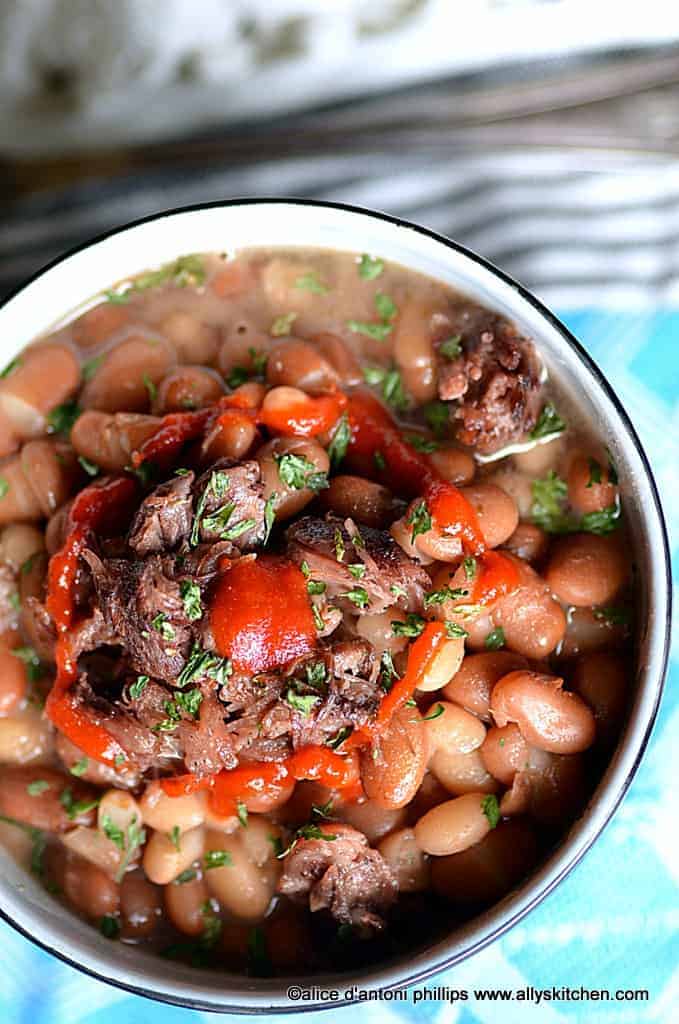 Coal miners didn't make a lot of money. Especially when you think about the dangers of the job on a daily basis and then the aftermath of health problems, including black lung disease, that's one of the ten deadliest occupational hazards. Life in coal mining was simply eeking by. Mesmerizing stories have been told over the years about coal mining. One of the most popular is 'Coal Miners Daughter'.  Loretta Lynn's life in Butcher Holler was made into a movie. Watch it if you can. It's a real eye opener. It's American history at its most revealing as expressed by this 'coal miner's son' in his short essay.
This meal you're seeing here is what I call the 'coal miner's dinner'. The staples are all here. Beans. Cornbread. Fried Potatoes. Cole Slaw. Sometimes just beans and cornbread. Honestly, growing up, this was one of my favorite meals. We ate a lot of beans. We ate a lot of cornbread. And, coleslaw and fried potatoes just rounded out a filling and cheap meal. Yes, cheap because beans, cornmeal, 'taters and cabbage were low on the totem pole of culinary exclusivity. Most all coal miner families had a pot of pintos on their stoves every week. Sometimes several times a week. Even sandwiches were made with pinto beans between two slices of white bread.
My versions of these meals are somewhat a tad bit elevated both in cooking and presentation. It's good eating. It's historical eating. It's food that warms the soul and moves my spirit. I always keep my roots close, and this coal miners dinner helps bring it home after decades of leaving those West Virginia hills.
Simple click on each photo and you'll have the recipes. Let me know how you like your coal miner's dinner. It's a feast in my humble opinion. xoxo ~ally