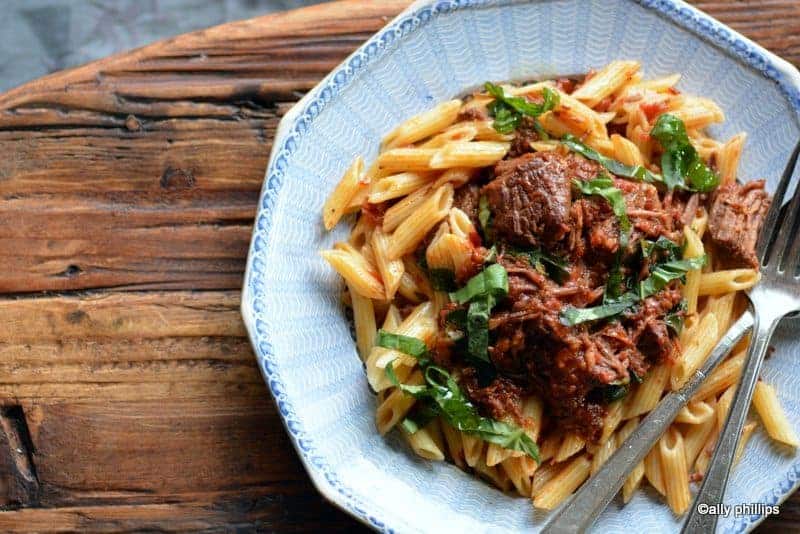 If you're searching for THE BEST pot roast, then my winter lager chuck roast will not disappoint! Full of flavor. Simple one pot. It's a 10!
Easy Chuck Roast Recipe in Oven
Spend some time searching my website using the word or words like, beef roast, pot roast, beef stew, beef soup, roast, and words that relate to this ultimate comfort food, you'll find a few.
Beef Chuck Roast Recipe
That's because I don't think there's anything better than a pot roast with lots of thick soppy gravy and, for good measure, sometimes adding vegetables.
Flavorful Pot Roast
Now this winter lager chuck roast is made with one of my favorite cuts of beef. Yep, chuck roast. It's usually on the less pricey side for beef.
Chuck Roast Recipe Oven
Hoooooray! We can all save a few bucks on nutritious healthy food. However, the trade off comes with cooking. Since it's not a 'premium' cut of beef, you have to cook it a while. **Sad face**
Crockpot Chuck Roast Recipe
Oh, yeah, you can use a pressure cooker, but, to me, that's like 'cheating'.
I, nor anyone who comes in my home, gets the olfactory pleasures with all the aromas wafting through the house as the beef cooks!
Chuck Roast Recipes Dutch Oven
And, by the time it's all said and done, it's worth every minute of the journey.
Besides, you can do laundry, vacuum, read a book, relax, organized your attic and lots of other things while it's cooking. (Ha ha, I know this sounds like a silly joke!)
Best Chuck Roast Recipe
Now this chuck roast was perfect with pasta. But, if you want mashed potatoes or a big tray of steamed or roasted veggies, that would work great, too.
Easy Pot Roast Recipe
And, if you don't want to cook with the beer, then check out this post from Frugal Living on substitutions.
Easy Mississippi Pot Roast
Quite frankly, that beer adds something that nothing else can, I think. Plus, it cooks out completely only making the pot roast even tastier!
How to Make a Pot Roast
Pot roasts were special treats for us kids growing up in Appalachia. It's an affordable cut of meat, and Mom would stretch a four or five pound pot roast into several meals!
Her technique was much like what you see here. Everything in the Dutch oven and into the hot oven.
Now, I have other pot roast recipes. If you're looking for Latin flair, then try my Mexican Inspired Pot Roast and then you'll not be disappointed if you try my Bourbon and Brown Sugar Pot Roast!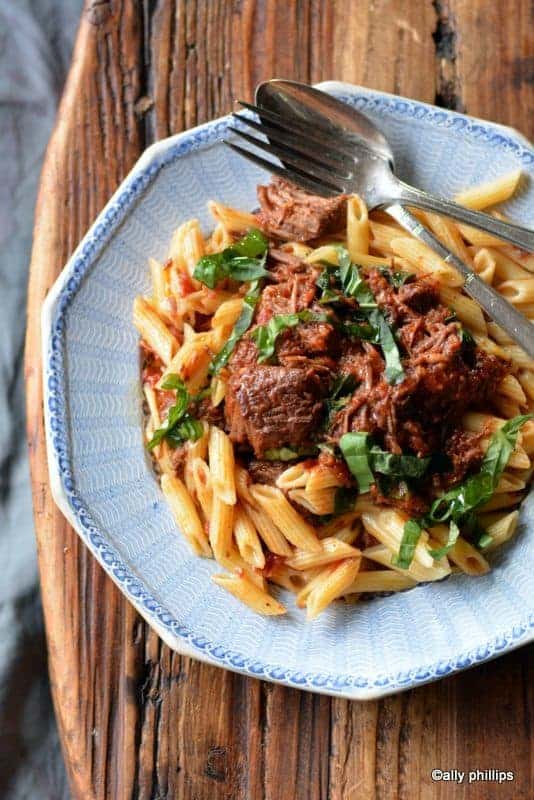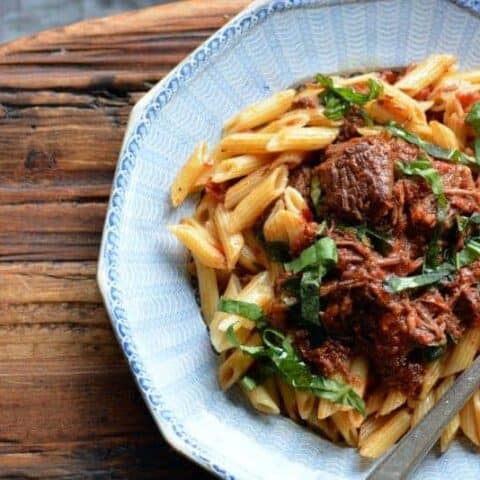 winter lager chuck roast
Ingredients
Preheat oven to 400
¼ cup bacon drippings, or oil
2 ½ to 3 lbs. beef chuck roast, cut into 4-5 large chunks
2 tsp. sea salt
1 tsp. coarse ground pepper
½ tsp. red chili flakes
1 (12 oz.) dark lager beer
4-6 garlic cloves, peeled and sliced
1 ½ cup sweet onions, chopped
1 (28 oz.) can tomatoes, chopped + 1 cup water to rinse can
1 cup cherry tomatoes, sliced
½ cup fresh basil, sliced
Instructions
Put the oil in a heavy large pot over medium high heat. Add the beef pieces and brown on both sides. This will take about 18-20 minutes.
Add the salt, pepper chili flakes and slowly pour in the beer to deglaze the pot.
Turn off heat and add the garlic, onions and tomatoes/water. Cover (make sure it's a good fitting lid; if not, put a doubled layer of foil on the pot, then the lid) and roast in a preheated 400 oven about 2 ½ hours.
Check every 45 minutes to see if you need to add water.
Turn off oven. Shred tender meat, add more water if needed, cover and return to the warm oven for about 30 minutes.
When ready to serve, blend in fresh basil.