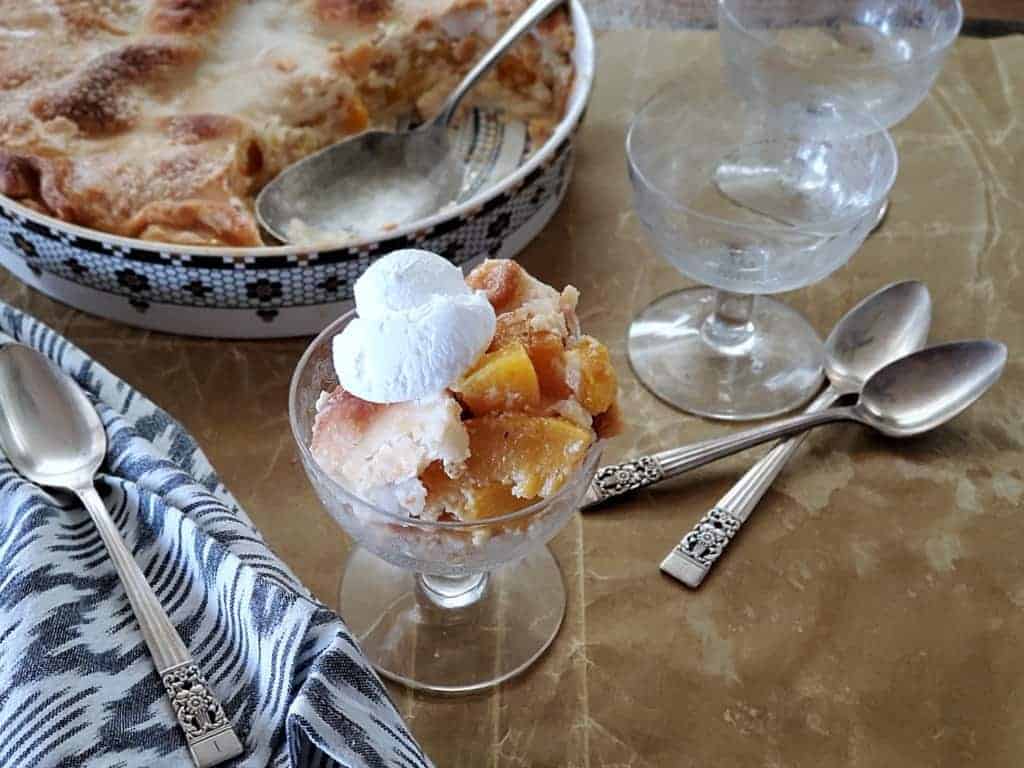 Peach Cobblers
Making peach cobbler doesn't get much easier than this sour cream peach cobbler! A few ingredients and you'll be scooping the ice cream on every serving!
Peach cobblers are about as American as apple pie. And, there's nothing better than a peach cobbler with a crispy crust topping. Serve it warm with a big scoop of vanilla ice cream or pour on some warm heavy cream, and, yes, it's kind of like a palate nirvana.
Pie Crust Recipe
OK, I know I know, making your own pie crust is very noble. But, honestly, y'all there are times, lots of times, that I want a pie or cobbler with a pie crust and I don't have time to make. Or I don't want to have all the mess of a pie crust recipe from scratch. So, what you'll finding me doing, more often than not, is using a refrigerated pie crust. Yes, these pie crusts are pretty dang good, and they make baking much for fun for those of us who just want something from scratch but not total scratch. Pillsbury has great refrigerated pie crusts, the kind your roll out. And, I'm totally in love with Wewalka refrigerated pie crusts! These pie crusts (and other dough products like pizza dough) have the delicacy of an old European bakery.
Sour Cream
Sour cream probably is most popular as a topping for baked potatoes. Who doesn't love a great baked tater loaded with sour cream, butter, chives, bacon bits, cheese and more! Sour cream is also a great mixer for things like guacamole. But, sour cream isn't often a go to ingredient for baking.
I love using sour cream in baking, and I've created some of my best recipes with sour cream. It gives the end result a moister consistency which always helps with cakes, muffins, and more.
Peaches
Sure we all love fresh peaches, but when they're not in season or you can't find some really tasty juicy peaches, what do you do? I mean you want to make this sour cream peach cobbler!
Why wait until peaches are in season to make this sour cream peach cobbler! You can find the most perfect delicious and tasty peach slices from Dole Sunshine right in your grocery store. Whether they're canned, jarred or frozen, they'll work in this recipe.
Desserts
Now, I'm not one to make a lot of super sweet gooeeey ooooeeey dessert recipes. Most of my creations, which I call rustic and organic meaning they might not be that 'pretty and perfect' but, dang, they're good, are super easy and quick. That's because I listen to you when you tell me that you want to bake but you don't want complicated. You want to be in the kitchen, but you don't want to be a slave to the kitchen. And, you want 'homemade' desserts, but you want them with easy simple ingredients and steps.
This sour cream peach cobbler is all of those things wrapped up into one cobbler! And, if you're looking for homemade crazy good and insanely simple ice cream, well, look no further. Churn free. And, guaranteed to please! Orange ginger ice cream! xoo ~ally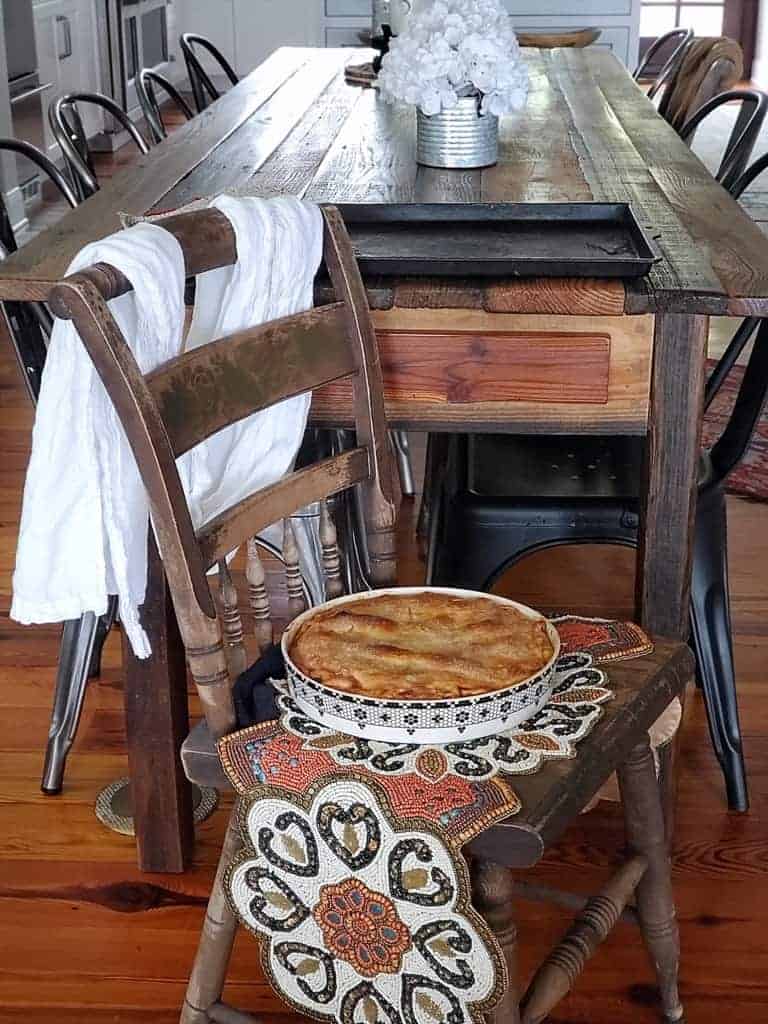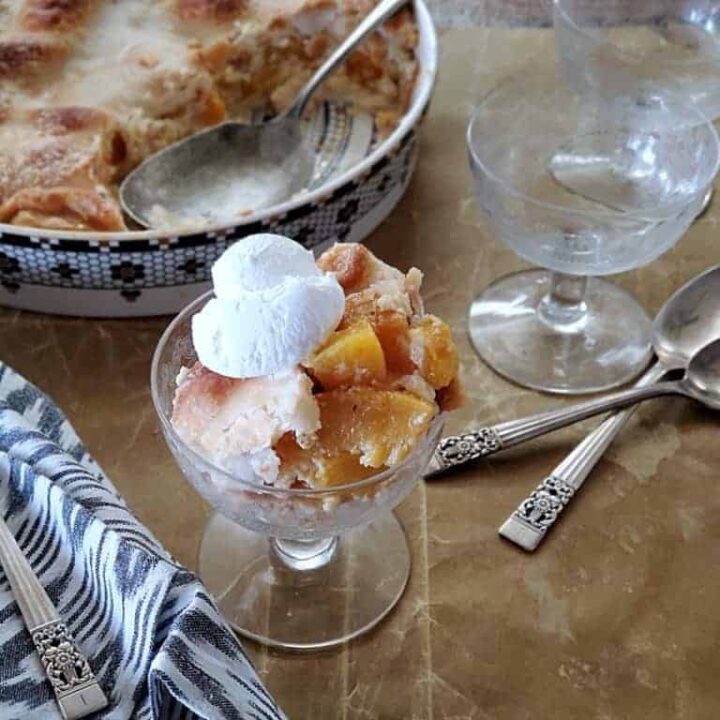 sour cream peach cobbler
Making peach cobbler doesn't get much easier than this sour cream peach cobbler! A few ingredients and you'll be scooping the ice cream on every serving!
Ingredients
Preheat oven to 375
2 refrigerated pie dough roll ups, about room temperature
2 eggs, divided
1 cup sour cream
2 tsp. vanilla
1/8 tsp. salt
6-7 cups canned/jarred peaches, drained well
Freshly zested nutmeg, can use ground nutmeg spice
2 Tbl. sugar
Instructions
Grease a pie dish well. Put one of the pie crusts in the bottom letting the edges flop over the sides.

In a mixing bowl, mix together one egg and one egg yolk (reserve egg white), sour cream, vanilla and salt. Pour into the pie dish.

Arrange the peach slices in this sour cream mixture on top. Dust liberally with zested nutmeg.

Take the second pie crust and put on top. Pinch together all around the pie crusts joining the two.

Make two small slits in the top of the crust. Use a pastry brush and coat with some of the remaining egg white. Sprinkle on top the sugar.

Bake in a preheated 375 for about 50 to 55 minutes or until the top is a beautiful golden brown.

Remove. Let it cool somewhat. Serve immediately.
Notes
OH, vanilla ice cream or whipped cream is a must on this cobbler!

The cobbler can be covered and sit in a cool place overnight. Refrigerate any longer amount of time.