brown sugar almond spiced clusters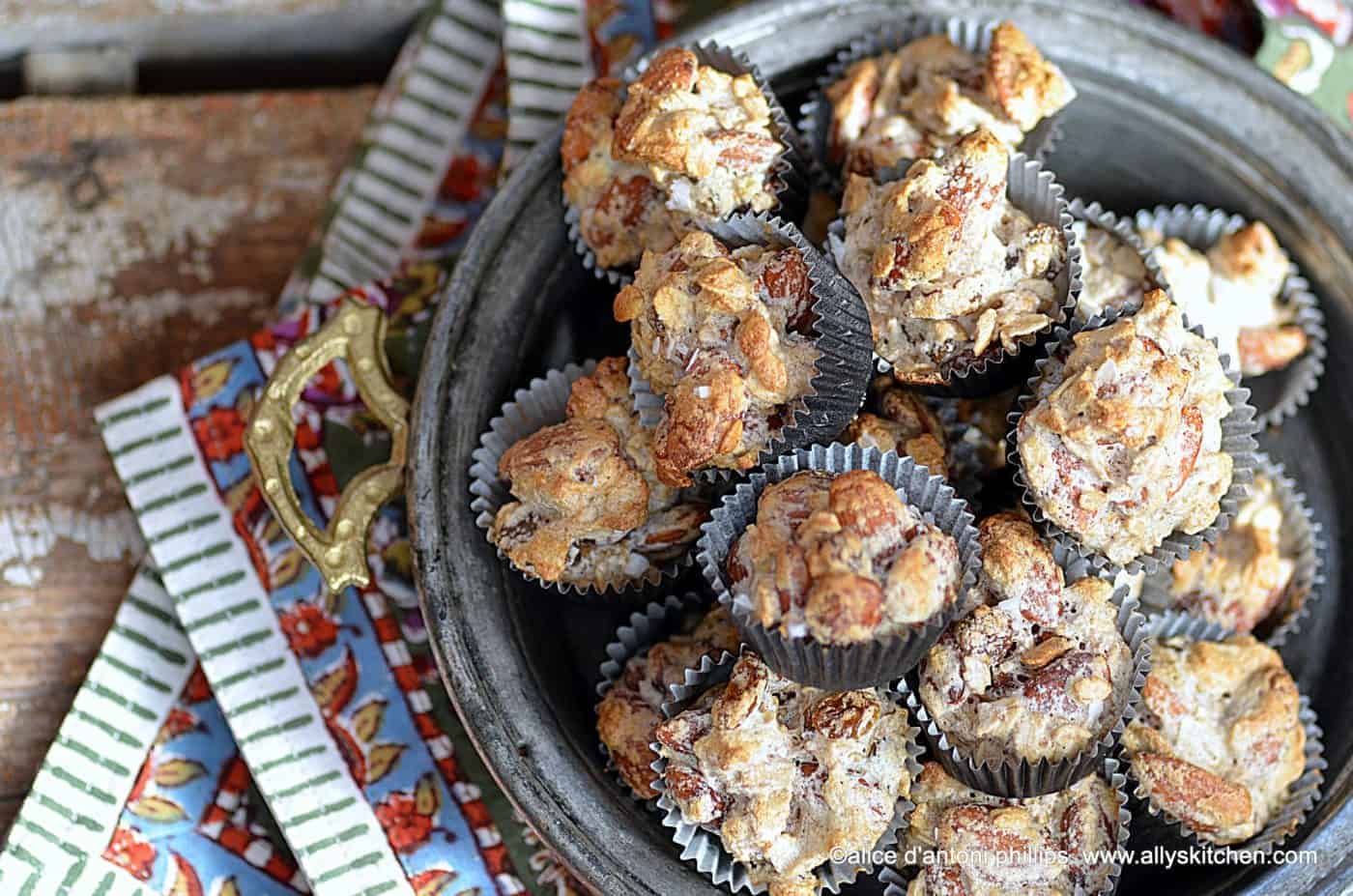 You know those big bags of walnuts and almonds you can get at those 'leading' big box stores~~you know what I'm talking about…the stores where you can push flatbeds that can hold Kate + 8 or oversized carts that're the size of a small play pen, you buy in bulk as if you're planning for the Armageddon, you breathe, squat and heave ho to lift those heavy things into your cart including even a bottle of laundry detergent, you pick up a lot of stuff you don't need but you know someday you'll use, and you enjoy fine dining as you leisurely stroll around the store putting into your cart impulse buys~~then you walk out, with a store receipt that's as long as a yard stick, but not before indulging in the buck fifty dog and drink! Just wanted to make sure you know the size of the nut bags I'm talking about~~yep, lotsa nuts!
And, lucky for me that they're there because a big bag of almonds or walnuts go fast in my house! These brown sugar almond spiced clusters are just one sweet way to even eat more of the healthy nuts that provide so much nutrition and value. In fact, if you're not aware of the power of almonds then just take a gander at the info that comes at the end of the recipe! Thank you Nuts.com for letting me share this information with all my folks!
That's how this recipe was conceived~~I had one monster nut bag on my hands and wanted to use some of them, so I could, what? Yes, feel less guilty on my next trip about buying more nuts~~zany and whacky, huh? I must say, these clusters disappeared quickly, and I'm making more. They're not real sweet. They're perfect for that sweet-tooth craving. They keep well. They have great crunch, sweetness and salty zing that hits on all cylinders of your palate.
Are you sold yet? Oh, yeah, they're EZ PZ!!!
peace, namaste, & here's to pushing a flatbed~ Enjoy the 'power of almonds' ~ally xoxo
Disclosure: I did not receive any compensation for this post from Nuts.com nor did I receive product. I simply shared their poster picture explaining the health benefits of almonds.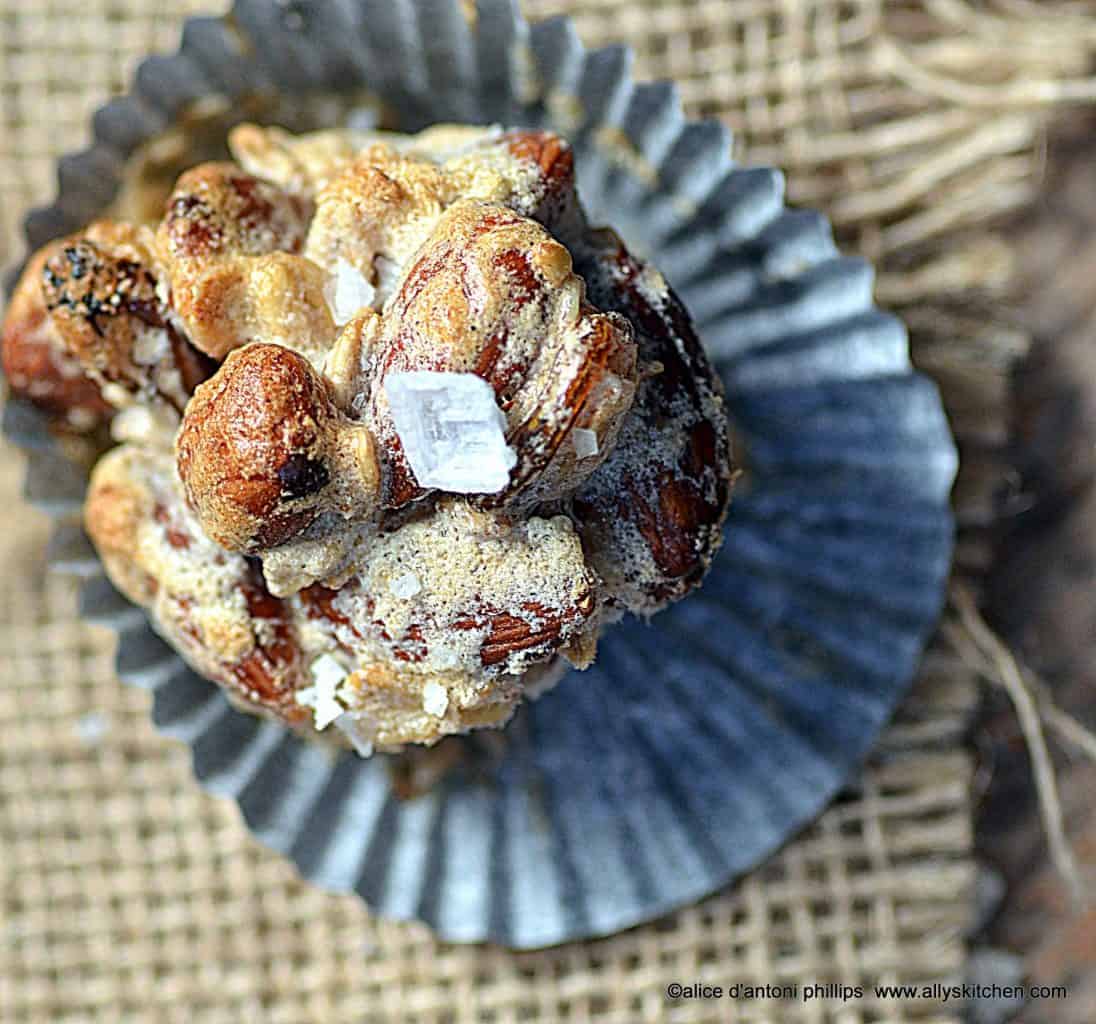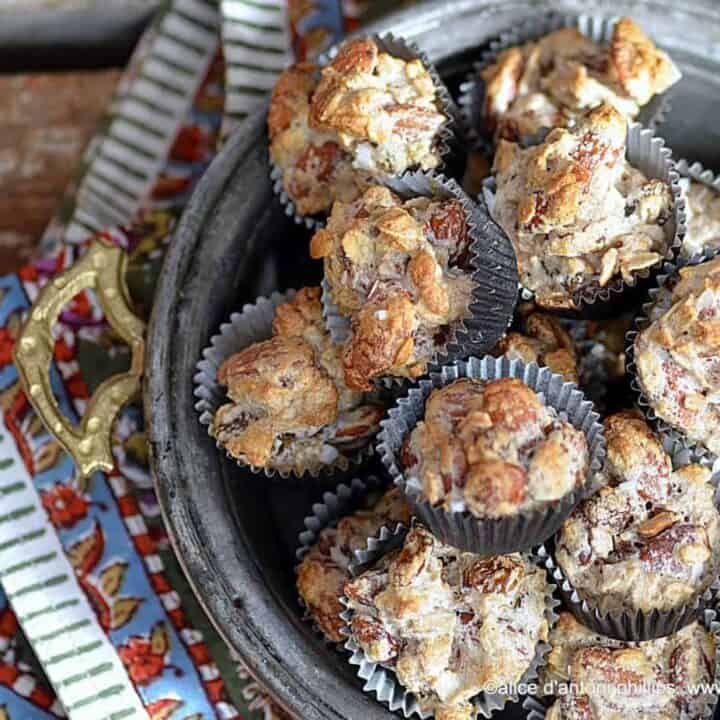 brown sugar almond spiced clusters
Ingredients
Preheat oven to 250 then to 325
¼ cup coconut oil, melted
2 cups whole almonds
½ tsp. allspice
½ tsp. cinnamon
¼ tsp. sea salt
1 cup old-fashioned oats
½ cup golden raisins
1/4 cup sweetened condensed milk
1/4 cup brown sugar
3 egg whites, whipped into meringue
Instructions
In a large mixing bowl, combine the oil, almonds, allspice, cinnamon, salt, oats and toss and blend well. Spread on a parchment paper lined cookie sheet and bake in a preheated 250 oven for about 25 minutes. Remove, toss and blend, and cool.
Return to the mixing bowl and add the raisins and blend. Combine the sweetened condensed milk and brown sugar dissolving the crystals as much as possible then drizzle on the nut mixture. Blend well.
Whip the egg whites, using a mixer, until fluffy and white peaks form. Fold into the nut/oatmeal mixture.
Place mini cupcake holders in a mini-cupcake pan. Lightly coat the inside of each cupcake holder with cooking spray. Fill each with about a tablespoon of the mixture. Bake in a preheated 325 oven about 10-12 minutes. Remove and let cool. Repeat until all the nut/oatmeal mixture is done.