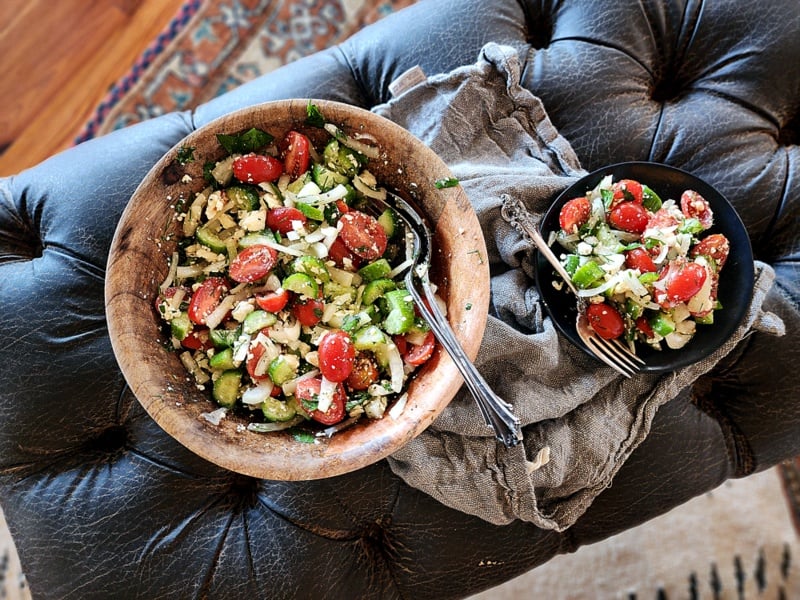 Looking for something fresh, easy, no cooking and totally healthy? Then you must make my Simple Herb Greek Salad! Super healthy!
Easy Greek Salad Recipe
Salads definitely are a specialty of my 'cooking'. Well, if you consider making a salad real cooking.
If you've not looked at some of my salad ideas, many that you'd never really imagine, then click here for feasting your eyes, my luvs!
Easy Greek Salad Dressing
The dressing for this salad is much like the dressing I use with many other recipes.
You just can't beat the freshness of lemons and a really high-quality extra virgin olive oil and salt and pepper. Sometimes I get fancy and substitute balsamic of a vinegar for the fresh lemon and possibly add some smashed garlic and stone ground mustard or maybe maple syrup!
Just clicking this link will show you one of my most popular salads! Hundreds, maybe thousands, of you have made it!
How to Make Easy Greek Salad
Everyone has their spin and take on Greek salad. Mine sticks with the traditional basic ingredients.
Sometimes I even omit the green peppers and olives knowing that you can't go wrong with just the tomatoes, cucumbers and sweet onions.
And, you do have the option to use those beautiful purple onions, too!
Easy Healthy Greek Salad
So many things can go with an easy healthy Greek Salad. A couple of my favorites are grilled chicken and/or grilled shrimp! OMG, talk about a heavenly dish!
It's really the start of a meal. All you need to do is add a protein and maybe some beautiful crusty hot baguette. For me, don't forget the butter!
What Herb in Greek Salad
I love to add herbs to many of the things that I create in the salad department.
And, in this salad, I did just that. You'll get pops of flavor from the fresh dill, parsley and mint. No, I don't suggest you substitute dried herbs for the fresh. There are some things that simply can't be compromised.
Greek Salad Ingredients
A basic Greek salad with sliced cucumbers, tomatoes, green bell pepper, red onion, olives, and feta cheese is, indeed, divine.
However, when you add in black kalamata olives and fresh herbs, you have a whole new dimension of a salad. And, let's not forget that you can add radishes, pepperoncini, anchovies and sardines. Yes, this is your salad, create your masterpiece!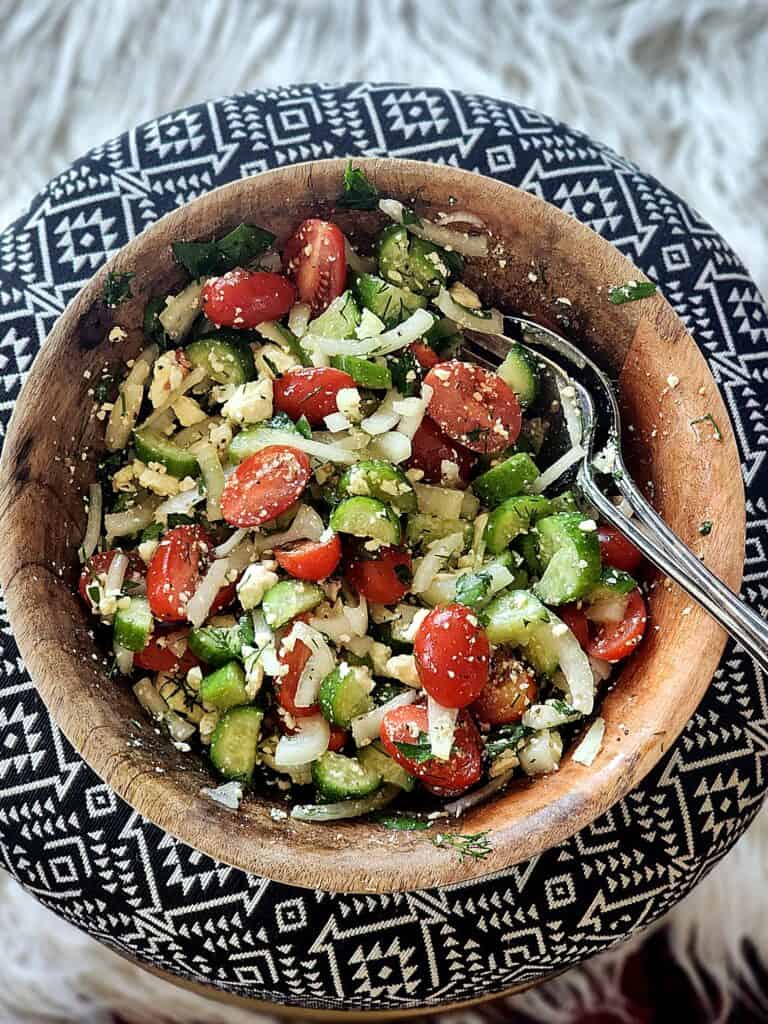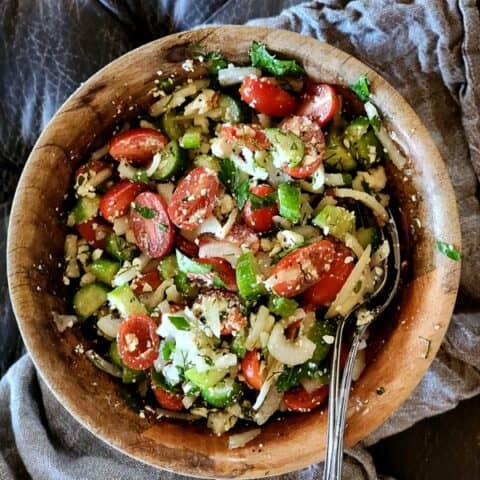 Simple Herb Greek Salad
Ingredients
3 cups cocktail cucumbers, small to medium chop
1 1/2 cups sweet onions, packed, diced or half French cut
3 cups cherry tomatoes, sliced lengthwise in halves
1/4 cup fresh chopped herbs, packed, fresh dill, parsley and mint, add fresh basil if you like
1/2 cup feta, crumbled
1/4 cup extra virgin olive oil
1 large lemon, juice only
Sea salt and coarse ground pepper to taste
Instructions
Put the vegetables and herbs in a large mixing bowl.
Add the crumbled feta.
Drizzle on the olive oil, lemon juice and salt and pepper.
Toss and blend. Refrigerate until ready to serve but let it come to somewhat room temperature before serving.