Friends in the foodie universe are just the coolest! When you're connected by the passion for food, then you have a delicious bond!
So, one of my Google+ dear foodie friends, whom I've never met  other than in cyberspace, but know that we have kindred souls, started calling me 'Lady Jane', I just knew that sometime I'd name a dish in her honor! She's a spicy gal who's taken to getting back in the kitchen and doing some cooking, and she loves to share recipes with her sister, who's a fabulous cook!
The name? Maybe it was the 'lady fingers', maybe it was the whiskey, maybe it was the fact that this dish is just so saucy and special like Mary, my G+ friend, and just maybe it's all of this and more, but my heartstrings are attached to this great person! Thank you, Miss Mary! ~peace from LJ~ ally xox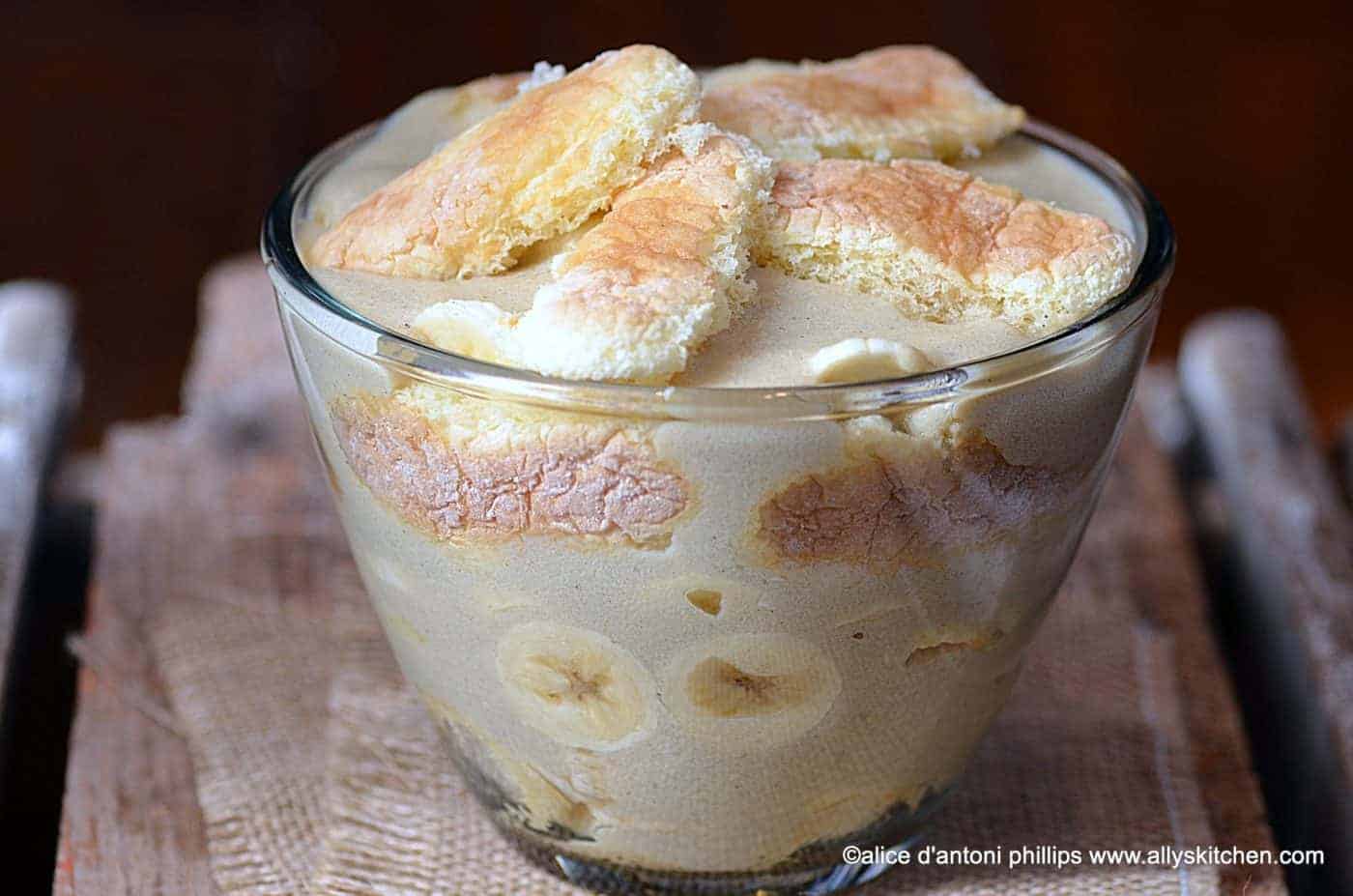 Serves: 6+
What you need:
Pudding:
2 cups whole milk
2 tbl cornstarch
3 Tbl. all-purpose flour + 3 Tbl. milk, blend into slurry
1/2 cup sugar
4 egg yolks, beaten
1/2 tsp. cinnamon
1/4 tsp. allspice
1 tsp vanilla
1 (3 oz.) packaged Lady Fingers
5 medium sized firm bananas
3 Tbl. whiskey
1/3 cup chocolate chip chunks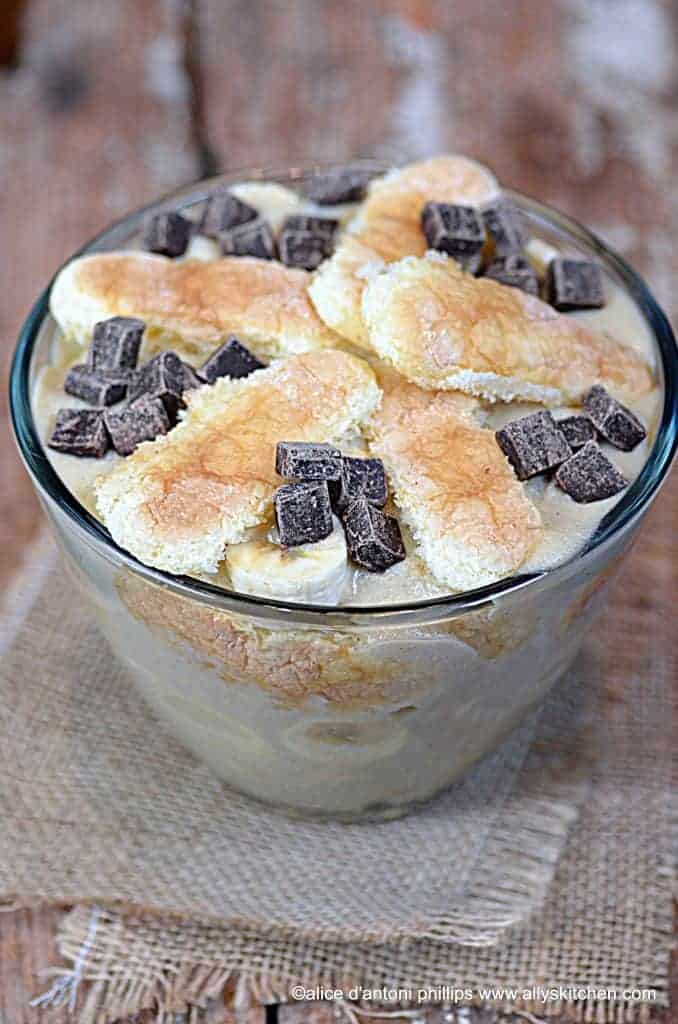 What you do:
Combine in a heavy saucepan the milk, sugar and flour slurrywhisk together well over medium heat. Continue cooking until the edges begin to bubble; the mixture will be thickening. Cook for about 5-7 minutes whisking so as not to burn. Remove from heat. Set aside.
In another medium-sized bowl combine the beaten eggs, vanilla, cinnamon and allspice and blend together. Drizzle in very slowly to the eggs 1/4 cup of the hot milk mixture whisking the entire time. You don't want to scramble the eggs, just temper them. Repeat with another 1/4 cup of the milk mixture. Drizzle slowly the remaining warm milk mixture with the eggs and blend well. Whisk together. Immediately strain the pudding into another mixing bowl; this will remove any small 'lumps'. Set aside and start building the dish.
Remove the lady fingers from the package and separate them. Leave 5 for topping. In about a glass bowl (I used a 6″ diameter glass bowl that was 5″ deep. You could use a small baking dish about 8×8 size.), put 3-4 lady fingers, drizzle on 1 tablespoon of whiskey and slice one banana. Pour about 2/3 cup of pudding on this layer. Repeat building two more layers of lady fingers, bananas, whiskey and pudding. Finish with pudding, 5 lady fingers on top and sprinkle on the chocolate chip chunks.
Cover loosely with plastic wrap and refrigerate at least an hour before serving.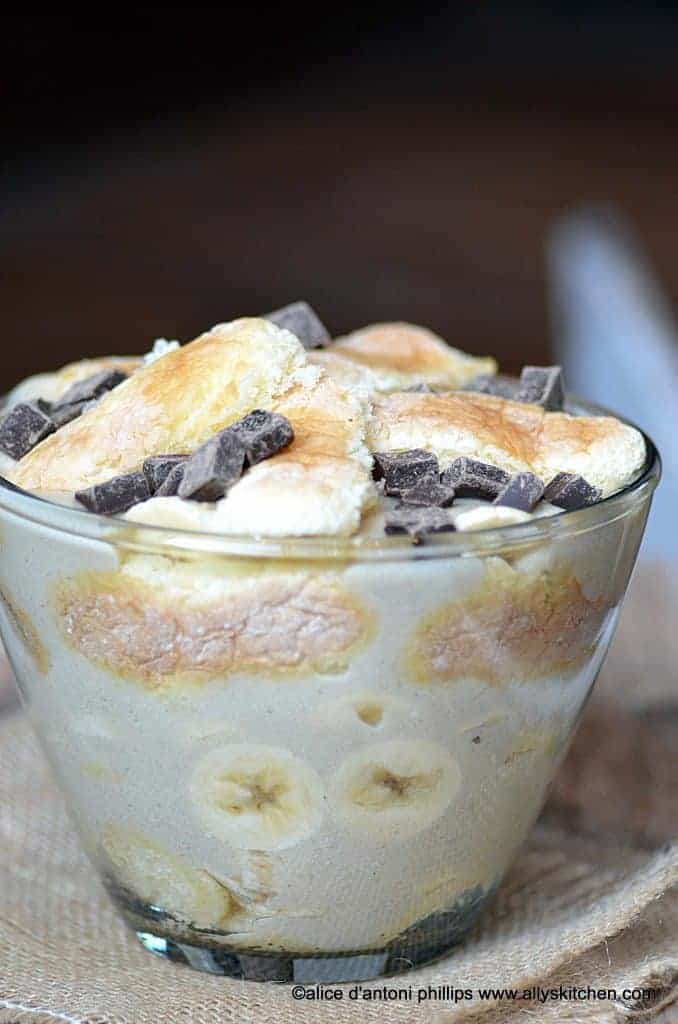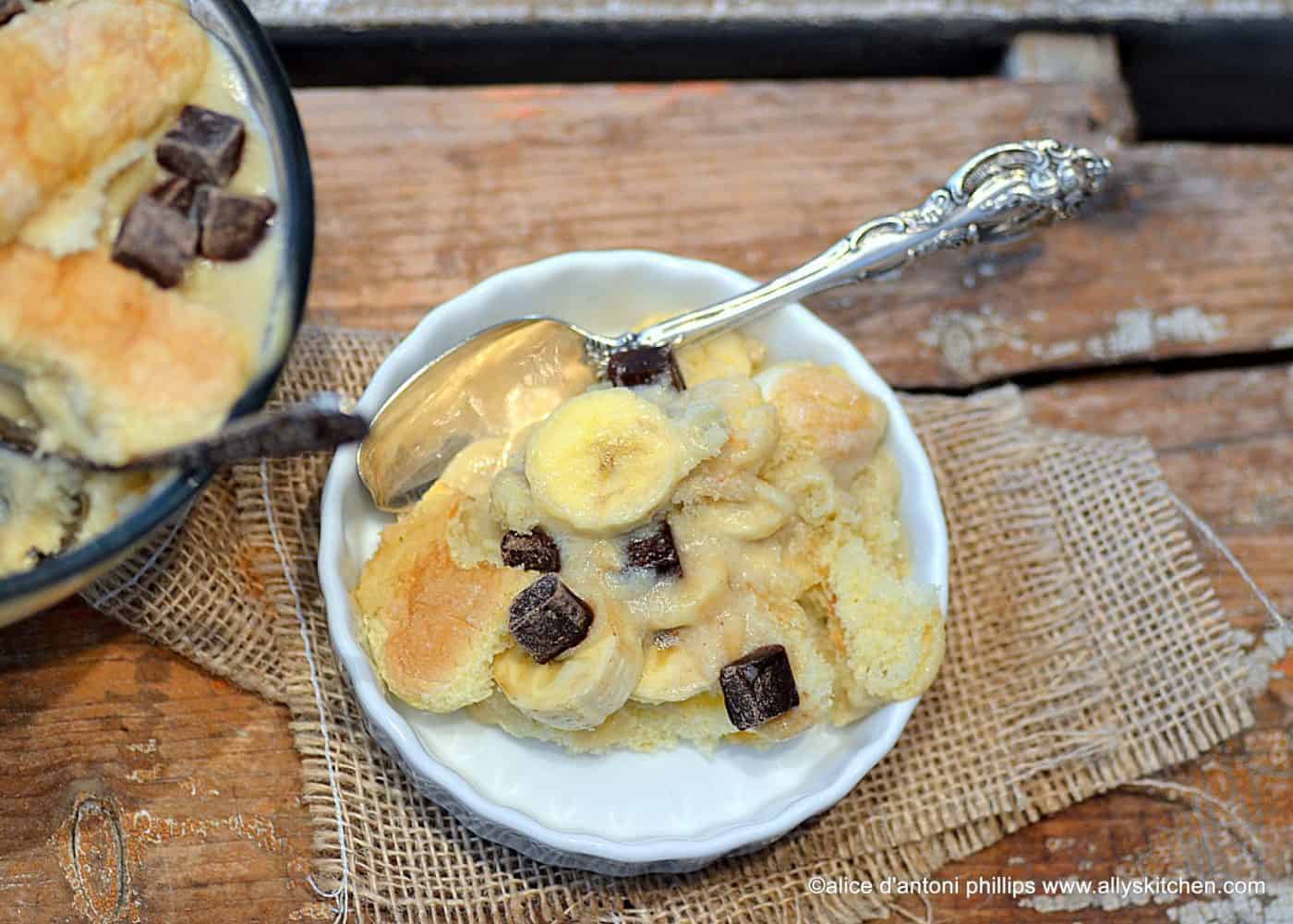 ©alice d'antoni phillips  www.allyskitchen.com