grannysmith apple ginger cake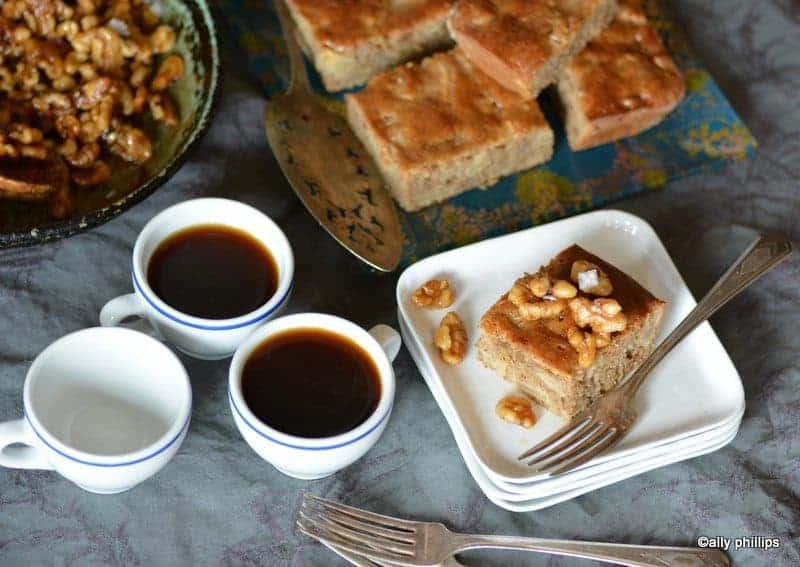 Fresh apples just make me happy! I mean they're just so versatile, available and diverse in the kinds of apples out there. I really like mine crispy. Then I swing between sweet and tart.
So, with this recipe, I wanted a little tartness with this moist cake that's choked full of fresh grannysmith apples. The spices had a 'warmth' to the flavors, then you pile on the honey lemon walnuts, maybe a scoop of ice cream if you're eating it warm, and I assure you, you will be experience your own apple nirvana!
This grannysmith apple ginger cake that also has other healthy ingredients that boost the nutrition (like ground flax) lasts for several days when covered tightly. Plus, it does seem to get better! It's perfect with your morning coffee or tea or if you just want a 'hunger' saver, slice a square!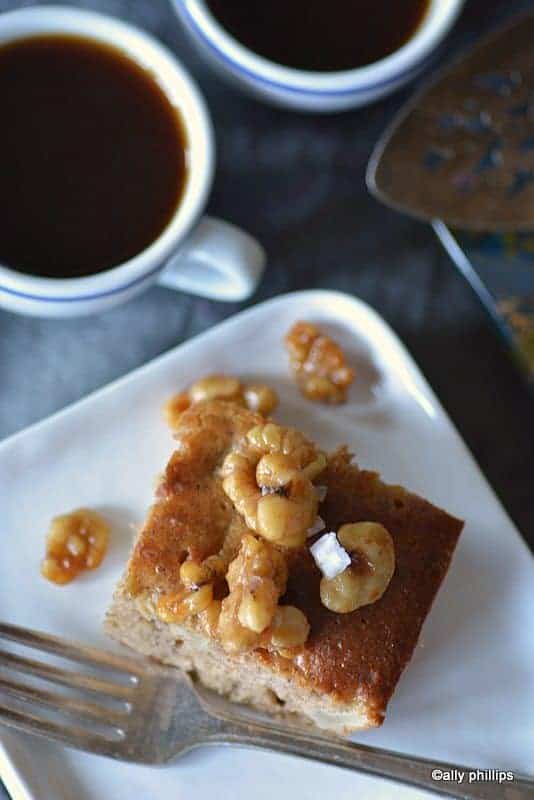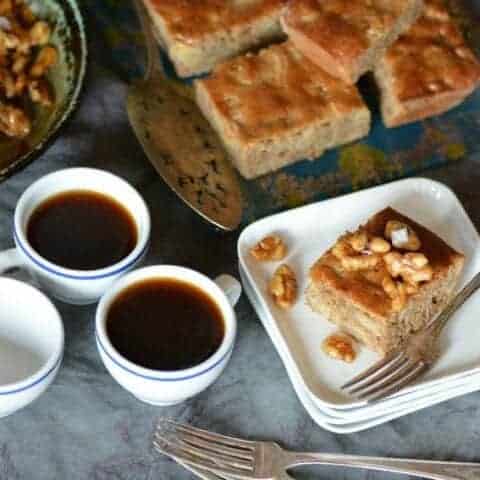 grannysmith apple ginger cake
Yield: One-Half Sheet Pan Cake
Ingredients
Preheat oven to 350
¼ cup lemon juice
4 apples, granny smith, peeled & chopped into small bite-size pieces
3 Tbl. Ginger, freshly grated
½ cup coconut oil
3 eggs, beaten
¾ cup buttermilk
½ cup ground flax
2 cups all-purpose flour, sifted
½ cup brown sugar, packed
½ cup sugar
1 Tbl. Baking powder
1 tsp. baking soda
1 tsp. ground allspice
1 tsp. ground nutmeg
2 tsp. ground cinnamon
Honey Lemon Nuts:
2 Tbl. Butter, salted
1 ½ cups walnuts, chopped
3 Tbl. Honey
1 Tbl. Lemon juice
Instructions
In a large mixing bowl, combine the lemon juice, apples, ginger and toss together. Add in the coconut oil, eggs and buttermilk. Blend well.
In another medium size mixing bowl, combine the flour brown sugar, white sugar, baking powder, baking soda, allspice, nutmeg, and cinnamon. Toss together then mix into the wet ingredients.
Coat a half sheet pan well with grease and dust with flour. Pour in the mixture and gently spread through the pan. Bake in a preheated 350 oven for about 30-33 minutes. Remove and let cool well.
Honey Lemon Nuts: In a small skillet over medium heat, melt the butter. Add the nuts and honey and toss and cook about 3-4 minutes. Turn off heat, add the lemon juice, toss and blend. Serve with slices of the cake.