Get ready to taste something heavenly decadent with every bite of this lemon cheese breakfast pastry puff! Your palate's cloud of happiness!
Lemon Cream Cheese Puff Pastry
There is nothing better than an occasional treat for breakfast. Now, I love to eat healthy. And, I know that breakfast is the most important meal of the day, but sometimes you just have to live on the edge and go with something that is decadent and outrageous.
Recipes with Puff Pastry
And, that's what this lemon cheese breakfast pastry puff is. I mean when you pull this out of the oven, let it cool just a tad, then slice it, you'll see flocks of people come to gobble up their serving!
Breakfast Baking
What makes this lemon cheese breakfast pastry puff so appealing, I mean taste and beauty aside, is how dang easy it is to make! Six ingredients. That's it. And, you get something that you'll think is from a fancy dancy French pastry shop or something that you might find in old world Europe.
Breakfast Pastry Recipes
The secret is puff pastry. Now, I love puff pastry. In fact, there are so many things that you can do with this product that I always have several boxes of it in my freezer.
Puff Pastry Breakfast
Believe me, I'm not getting paid by any company to sing the praises of this dough. I just believe when there's goodliness that you can use in your kitchen, that you can serve to your family, then you gotta share it! And, there's nothing better than a puff pastry breakfast!
Breakfast Pastry Recipes Easy
Hope you'll love this recipe as much as we do. I posted it on Instagram, just a few photos, and it's become one of my hottest images! Now, go out, buy some puff pastry, make the recipe and see what you think!!
Puff Pastry Breakfast Recipes
Some other great breakfast puff pastry recipes!
Croatian Nut Roll Povitica
Super Easy Apple Slab Pie
Crunchy Cherry Hand Pies
Easy Apple Custard Tart
French Almond Cinnamon Pastry Puffs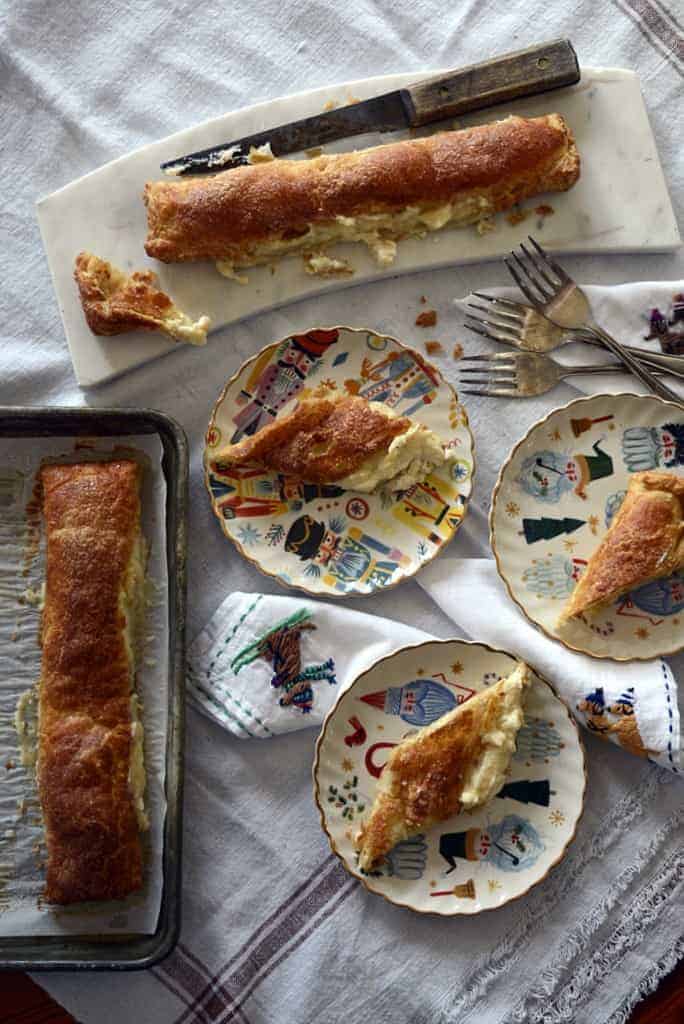 Yield: 6+ servings
Lemon Cheese Breakfast Pastry Puff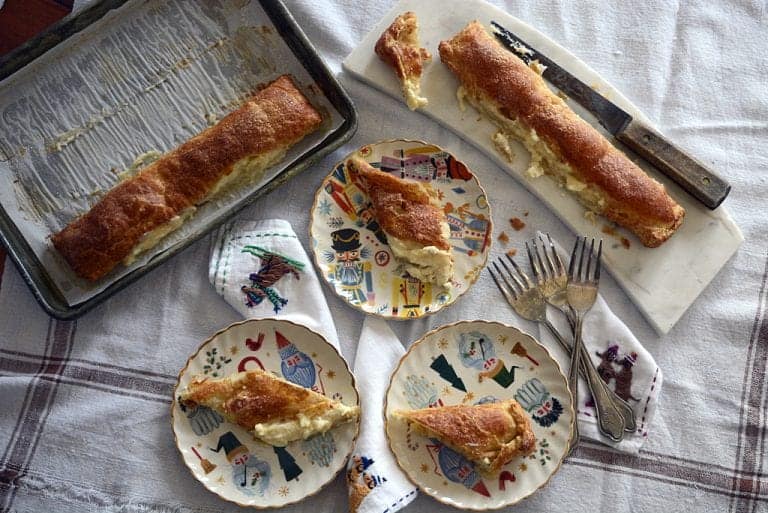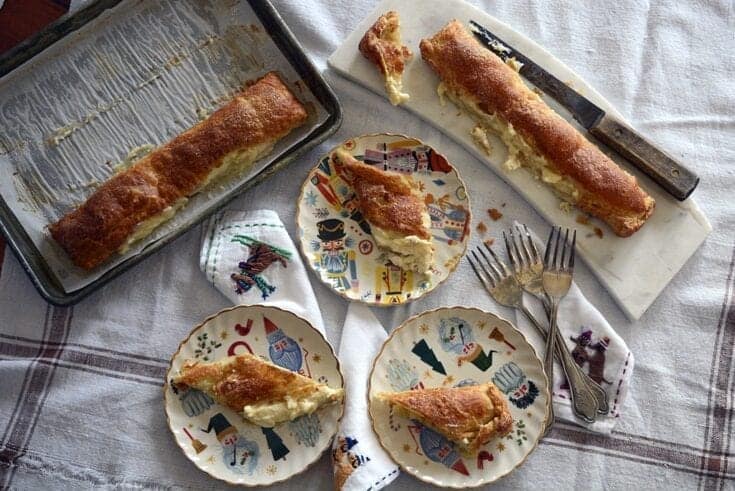 Get ready to taste something heavenly decadent with every bite of this lemon cheese breakfast pastry puff! Your palate's cloud of happiness!
Ingredients
Preheat oven to 350
1 cup whipped cream cheese
1/3 cup powdered sugar
1 lemon, small to medium, zest and juice
3 pieces puff pastry, thawed (if frozen), cut into 3" x 9" each sheets
¼ cup flour
1 egg
1 Tbl. sugar
Instructions
In a medium mixing bowl, combine the cream cheese, sugar and lemon zest/juice. Blend well into a smooth mixture.

Flour a clean surface. Use a rolling pin to enlarge a puff pastry piece to about 6x12". Take about one-third of the lemon filling and 'mound' in the almost in the center and down the length of the long side of the pastry. Leave about an inch (or a little more) of pastry around.

Gently fold over. Tuck, roll, and pinch the pastry making a long filled piece. Take a fork and gently press around three sides (the short ends and the long side closest to you). Repeat with the remaining pieces of puff pastry.

Put on a parchment paper covered baking sheet. Brush the top with egg wash. Sprinkle the tops with sugar.

Bake in a preheated 350 oven for 17-20 minutes. Remove and cool a few minutes. Serve immediately..
Notes
If filling oozes out during baking, no problem. When you remove from the oven, just take a spatula and scrape towards the pastry if has run out of! It's like a sauce!

That number '3' for Instructions...just disregard. Can't get the dang thing to disappear! Gremlins in my Yum Yum!