Best Easy Healthy Tuna Salad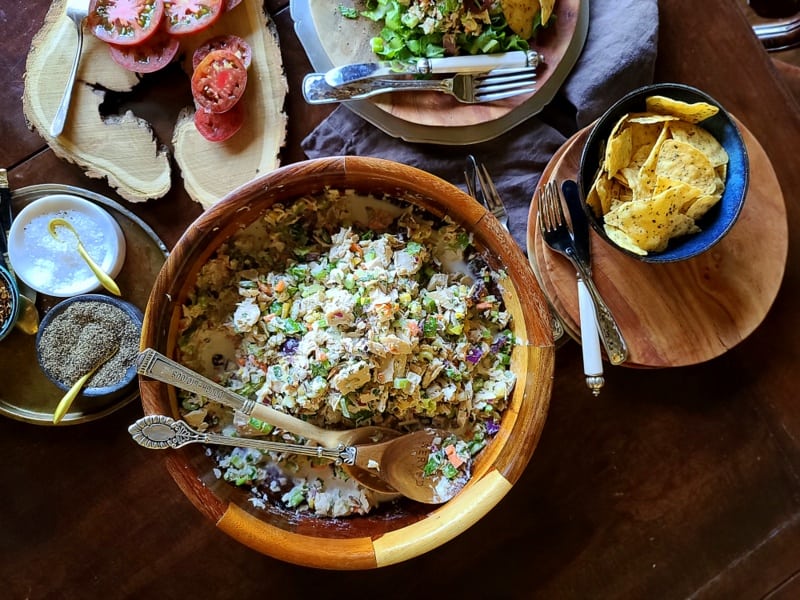 Mama made heavy mayo & pickle relish tuna salad. Not the healthiest. This best easy healthy tuna salad with veggies is healthier!
Healthy Tuna Recipes
Most tuna salad recipes have mayo. But, how do you find the healthiest mayo and other ingredients to create a yummy easy tuna salad?
You start with the best ingredients. And, I've started using this mayo because my dear friend, Bobby, from FlavCity recommends it! You can use this mayo for all your needs. From deviled eggs to tomato sandwiches!
Best Healthy Tuna Salad Recipe
I've made this tuna salad healthier because we're adding lots of vegetables. Diced up and tossed with the white albacore tuna packed in water. That's better than packed in oil. Saves you some calories.
And, consider investing in the best tuna that you can. Makes a difference in your health. Remember, read your labels, and work to discern what's the most healthy for you.
Healthy Dressing for Tuna Salad
The dressing for this tuna salad is very simple. Some plain yogurt, mayo, salt, pepper and lemon juice. This creamy mixture brings all the ingredients together.
Tuna salad is perfect with a boiled egg on top to garnish and maybe some avocado. Or you might choose to chop up the egg into the salad.
Healthy Salad with Tuna
To continue with the healthy tuna salad theme, I wanted to substitute something 'sweet' for the sweet pickle relish.
In order to achieve this, I added pineapple tidbits and small diced dates. Honestly, I never missed the pickle relish!
Healthy Tuna Salad Sandwich
Not only can you stuff pita pockets with this tuna salad, but it's going to be fabulous as an open faced sandwich.
Grill a slice of sourdough bread. Just drizzle on some olive oil, a little salt and pepper and grilling the cast iron skillet or a grill pan.
Top with some greens. Baby arugula or spinach would be perfect.
Add a few slices of fresh tomato.
Mound on some of the tuna salad.
Give another drizzle of olive oil, and, if you're ambitious a sliced boiled egg!
What Vegetables go with Tuna
Just about any veggies go with tuna, I think. I like to use what's in season and what I might find at the farmer's market.
For this recipe, I chose some peppers, carrots and red onions.
Super Healthy Tuna Salad
What makes this tuna salad extra super healthy, I think, is using the carrot tops as an 'herb' in it. Yes, these greens are edible. Just wash well and dry. Then chop up like you would parsley or basil or any other herb.
Adding the parsley and fresh mint also adds a subtle boost of flavor!
Tuna Salad Recipes
Tuna salad recipes have evolved, at least in my kitchen. Here are some of my other recipes. And, remember, use that avocado oil based mayo!
Skinny-Girl Guilt Free Tuna Salad
Healthy Tuna Salad with Greek Yogurt
There's nothing better to add creaminess and flavor than mixing some plain Greek yogurt with your mayo. There's a subtle tang that comes from the yogurt. Not overwhelming at all. And, you're getting some great vitamin D!
Quick Easy Healthy Tuna Salad
There's virtually no cooking with this recipe. Well, unless you count boiling the eggs!
Make some of this best easy healthy tuna salad, and it can be your go to bowl of yummy when you have the hungries!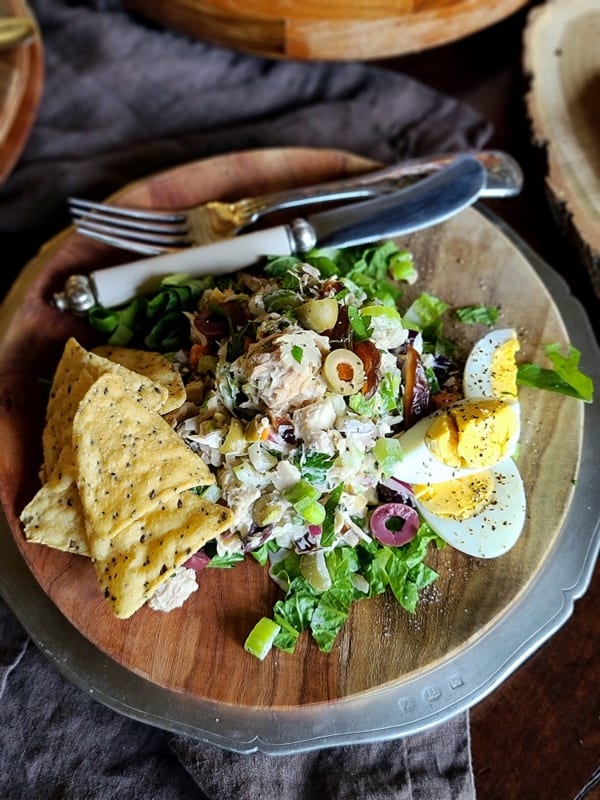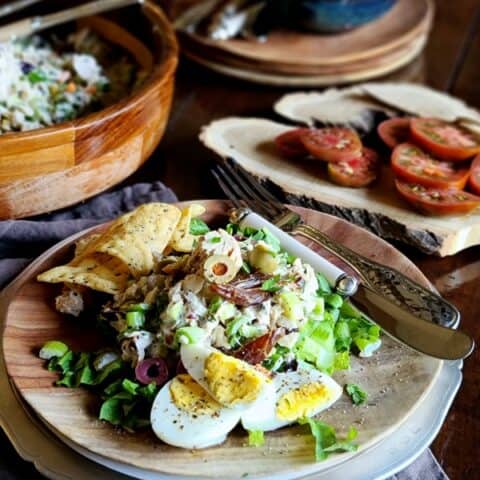 Best Easy Healthy Tuna Salad
Ingredients
4 cans (4.5 oz.) albacore tuna, packed in water, drained
½ cup pineapple tidbits, chopped up finer
½ cup dates, small dice
1 pepper, your choice of color, small dice
1 banana pepper, small dice
½ cup red onion, small dice
1 cup carrots, small dice
½ cup kosher dill pickles, small dice
½ cup olives, kalamata and green, roughly chopped
¼ cup flat parsley, chopped
3 Tbl. fresh mint, chopped
3 Tbl. carrot top greens, chopped, optional
¾ cup avocado oil mayonnaise
½ cup plain yogurt
Salt and pepper to taste
6 hard boiled eggs, peeled and sliced in halves
Instructions
Put the tuna and all ingredients, except the mayo and yogurt in a large bowl.
Blend together the ingredients with a large fork.
Add the mayo, yogurt and salt and pepper. Blend together. Refrigerate or serve immediately.
Serve over greens with a boiled egg slice!