The Best Festive Healthy Cabbage Salad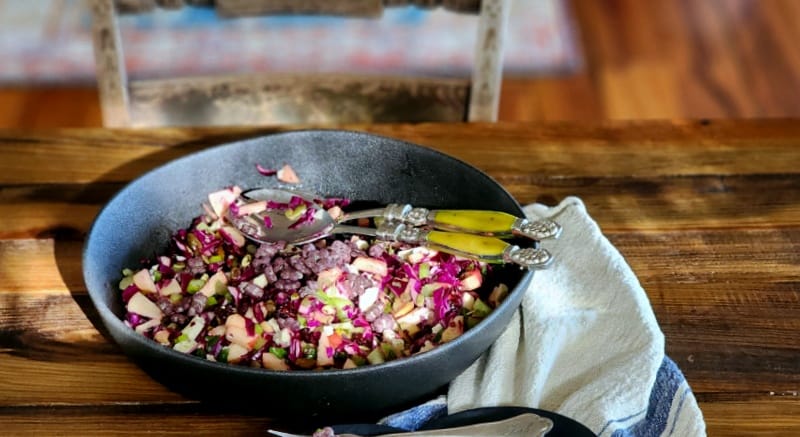 There's so much festivity in this healthy cabbage salad that you'll serve it year-round. It's not just for the holidays! Divine Earth eating!
Best Holiday Salads
It's a fact. I can create some incredible salads, like this picnic cabbage salad!
My style is to pull together colors, textures, flavors that are unlikely.
But, when all come together, it's absolutely divine. And, if you're looking for more holiday salad ideas, then check out this roundup of some of my favorites. No need to stress, just pick a salad and you'll be a star!
Festive Green Salad
While this salad is loaded with green, it mainly the color of purple. Yes, purple cabbage is full of antioxidants and nutrients.
According to Healthline:
Purple cabbage is a great source of antioxidants and other beneficial plant compounds that help protect against cellular damage. Its antioxidants include vitamin C, carotenoids, and flavonoid antioxidants, such as anthocyanins and kaempferol. In fact, it often contains higher amounts of these than green cabbage
Very impressive, huh?
Cabbage Salad Ingredients
This holiday salad contains ingredients that are Fall favorites.
Of course, cabbage. And, then we have apples. I'm using a really juicy crispy crunch apple. Wash well. Leave the beautiful red and green skin on more nutritional value and fiber.
Then we've got pumpkin seeds! Yes, the holidays mean pumpkin everything!
Dressing for Cabbage Salad
When you have fresh ingredients, colorful ingredients, healthy ingredients in a salad, why in the world would you want to overpower and disguise these tastes and textures with a heavy dressing!
That's why I'm using only the best extra virgin olive oil, a fresh lemon and salt and pepper.
That's right. It's a Mediterranean style simple yet powerfully delicious way to pull together a salad.
Now you have the pleasure of tasting every single ingredient without the competing taste of a heavy dressing.
Holiday Salads for Potluck
You're going to love taking this salad to gatherings! Whether it's a potluck dinner or a small get together, this salad will be spectacular.
Another thing about this salad is that it keeps well refrigerated a few days. That's a plus. Most everything in this salad stays pretty darn fresh and delicious.
Christmas Salad Ideas
For my holiday table, I always want to load it up with beautiful salads, a few side dishes and then the centerpiece, turkey and/or ham.
Other salads that you might want to consider for your next holiday table are these: Apple Salad with Swiss Chard, Simple Herb Greek Salad, Cucumber Celery Odyssey Salad,
Holiday Side Salads
When it's time to get your menu planned, be sure to take a peek at lots of my options!
Load up on my holiday side salads and your table's sure to be not only healthy but it's also guaranteed to be sparkling!
And, what's going to make this salad even more crunchilicious is the scattering of the Seven Sundays Real Berry cereal on top. It's the 'crouton' crunch and crisp that is totally decadent and super healthy!
For more information or to purchase, click here and please use code, ALLY, at checkout for 20% off your order!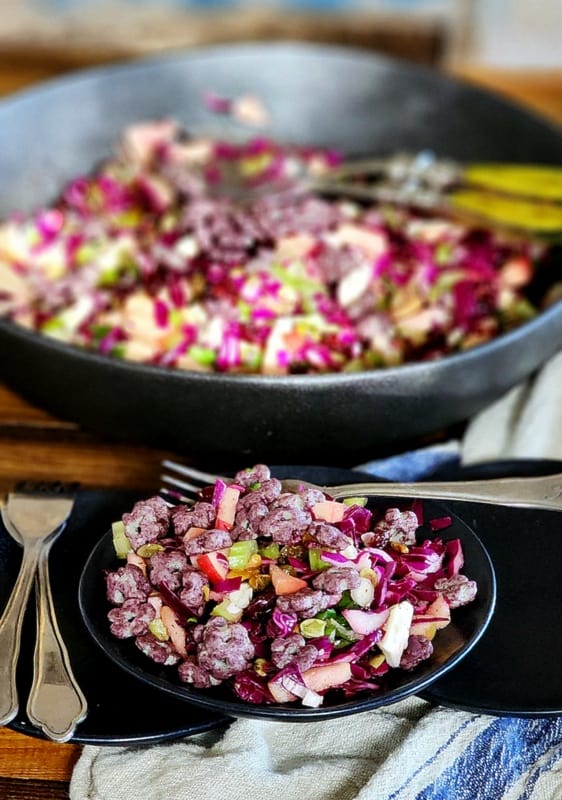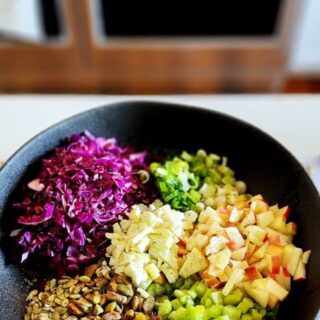 The Best Festive Healthy Cabbage Salad
Ingredients
1/4 cup dried cranberries
1/4 cup golden raisins
1/4 cup salted pistachios
1/4 cup pumpkin seeds
1/2 cup green onions
1/2 cup gorgonzola crumbles
3 cups purple cabbage, chopped
1 cup celery, sliced
1 large apple, skin on, washed, diced, then tossed in the juice of one lemon
1/4 cup extra virgin olive oil
2 lemons, large, juice only, divided
Sea salt and pepper to taste
GARNISH:
Seven Sundays Real Berry Cereal
Instructions
Combine the salad ingredients, cabbage, celery, pistachios, pumpkin seeds, green onions, gorgonzola (optional) and apple pieces (that are tossed in lemon juice from one lemon to keep them from turning brown) in a large mixing bowl.
Drizzle the olive oil and remaining lemon juice on the ingredients. Sea salt and pepper to taste. Toss and blend.
Serve salad with the Seven Sundays Real Berry cereal as 'croutons'.
Notes
To purchase Seven Sundays Real Berry Cereal, please click here. Use code ALLY at checkout for a 20% discount.