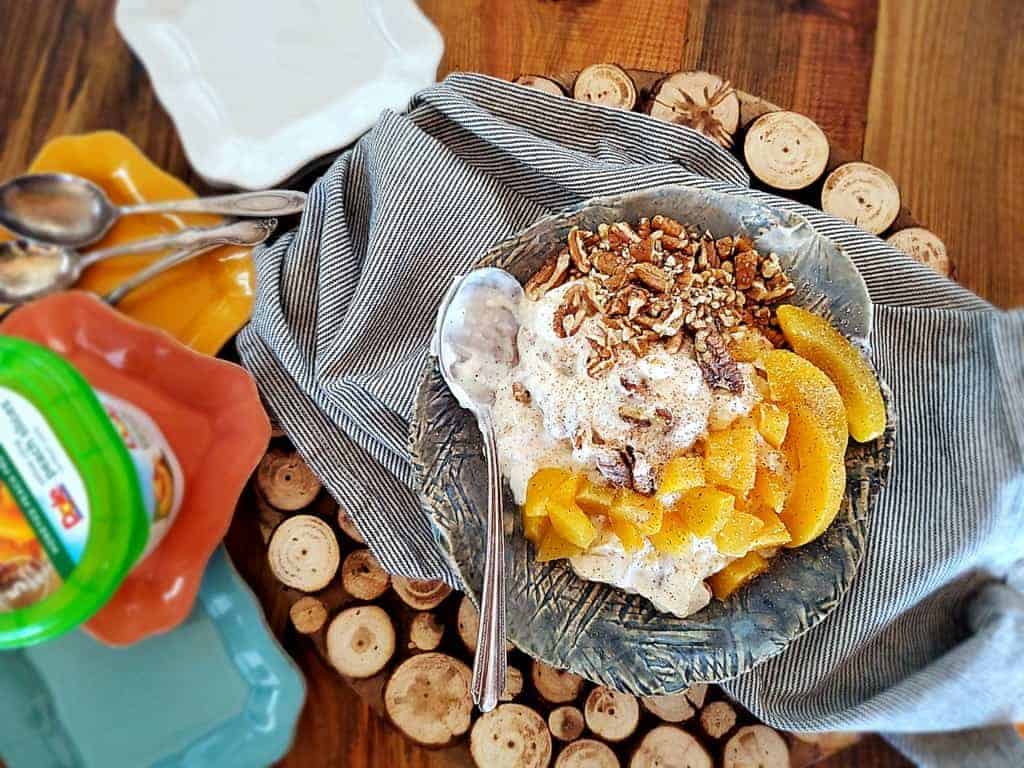 Thanks to Dole Sunshine for partnering with me on this warm peach cream salad! I am the creator of this recipe and for the description and information that follows. For a full disclosure, click here!
OK, I'll readily admit, I'm a peach lover! And, fresh peaches are the best, but when they're not in season, well, then what in the name of Sam Hill do you do? I've got the answer, short and sweet! You buy these Dole Sunshine peaches that come canned or jarred and now they come in this handy dandy Fridge Packs!
Now this Peach Cream Salad is one of those no brainer recipes. One that you can whip up in minutes. And, one that will be absolutely perfect on any occasion from a picnic, cookout to Thanksgiving or another holiday dinner!
Fridge Packs Rock
OK, first of all you're not going to find the Dole Sunshine Fridge Packs in the refrigerated section of your grocery store. Hummmm, sounds confusing, right? But, certainly not so! This product will typically be found right on the shelves where your find the other delicious Dole canned and jarred fruit. Now, the thing about these fridge packs is that they're resealable in these BPA-free packaging, which makes it ultra convenient is you just want a few peach slices.
And, there are lots of times when this happens in my house! Maybe peaches with a scoop of ice cream, peaches on my hot oatmeal, or wait peaches on my granola! Another thing about these fridge packs is that the containers are reusable. Yes! That's just an added bonus because they're good for storing whatever will fit. From small kids' toys for traveling to a toddler's cereal bites. Maybe you want to have some nuts in your car for when you get the hungries. Just pack them in the clean fridge pack container. And, they're also perfect for camping! You see, you're getting more bang for your buck! Not only do you get the tasty healthy fruit but there's the bonus storage container!
Just in case you can't find them at your local grocer's, try Amazon! Dole Sunshine Fridge Packs come in four different fruits!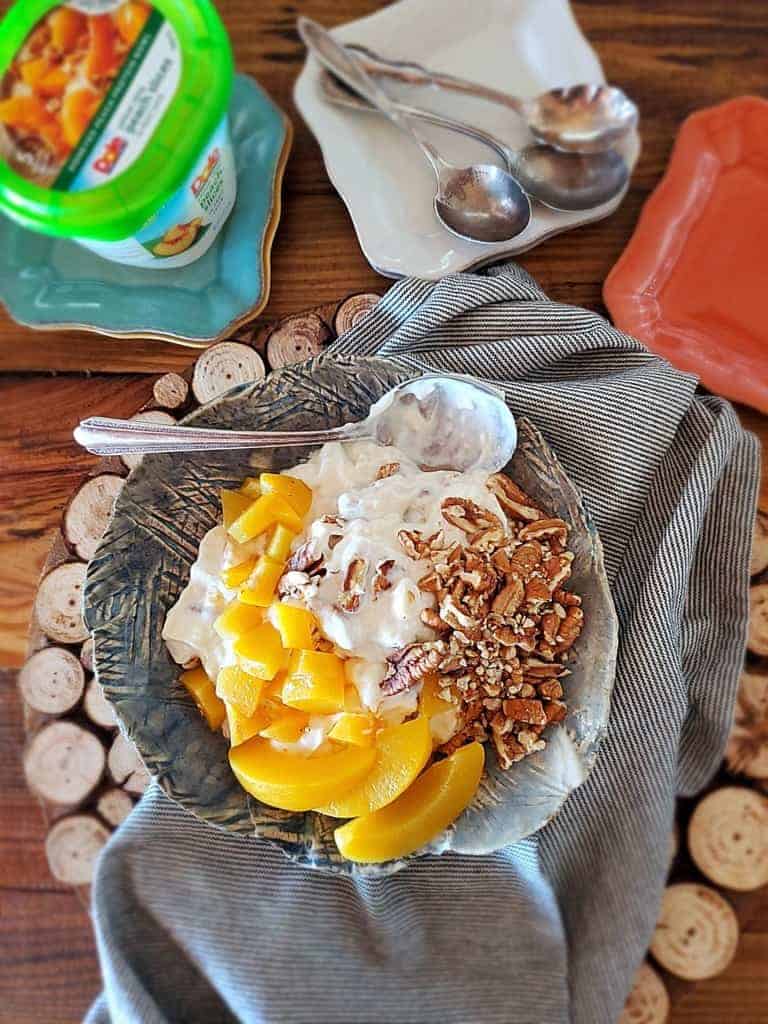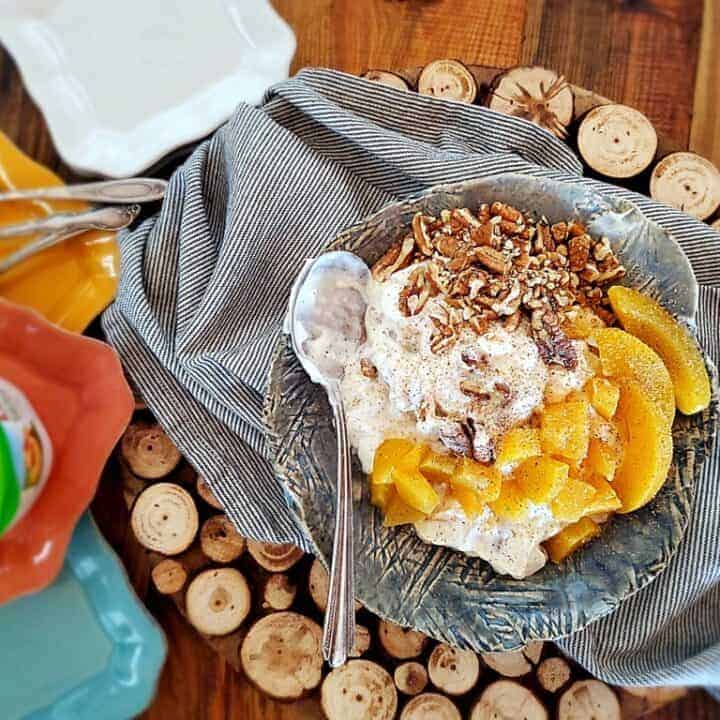 peaches & cream salad
Ingredients
1 ½ cup (3 containers) vanilla pudding, prepared and in small containers
1 cup cool whip
½ cup pecans (chopped) + 6-8 halves, divided
¾ Dole Sunshine Fridge Pack Peaches, about 18 peaches each cut into about 3-4 smaller pieces + ¼ cup juice, divided
GARNISH OPTIONAL: Zested nutmeg or a sprinkle of ground cinnamon when ready to serve.
Instructions
In a medium mixing bowl, blend together pudding and cool whip and one-fourth cup of the peach juice.
Fold in almost all the chopped pecans and peach pieces leaving some of each for top garnish.
Place in a serving bowl. Garnish on top with the remaining pecans and peach pieces. Cover and refrigerate at least an hour before serving.