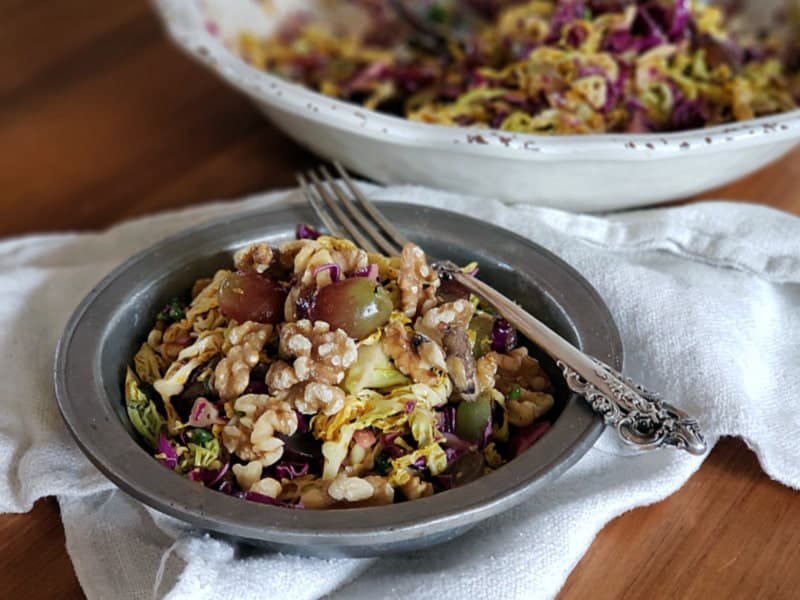 Looking for a new twist and spin on your traditional coleslaw? You know, the coleslaw that's loaded with lots of mayo and calories. Well, this Asian cabbage slaw is sure to be healthier and a smarter choice if you're looking to cut back.
Now, don't get me wrong. Every now and then, I want that traditional mayo-laden coleslaw. It's just right for the palate when I'm craving it. But, if we can find ways to achieve similar results and not feel guilty or keep adding on calories, then why not.
What I love about this cabbage slaw is that it's super healthy. I mean look at those colorful ingredients. If you want to throw in some carrots, go ahead. However, for me the crunch comes with the healthy walnuts that top each serving. You can swap out walnuts for another nut. No, not one of your family! LOL!
Here's something wonderful to serve this Asia cabbage slaw with. Pork Sloppy Joes! xoxo ~ally
PS: There's an Amazon link below for Gochujang if you can't find in your local grocery store! And, believe me, it's worth having in your pantry. So many ways to use!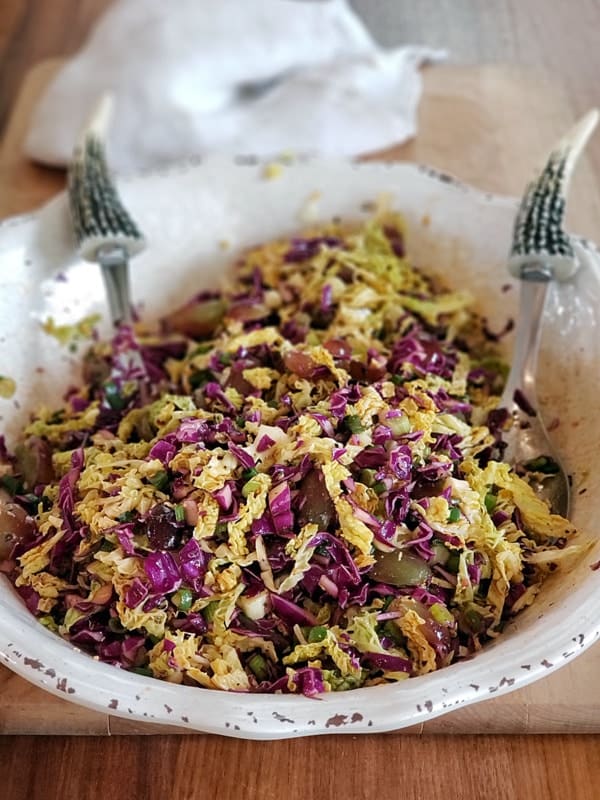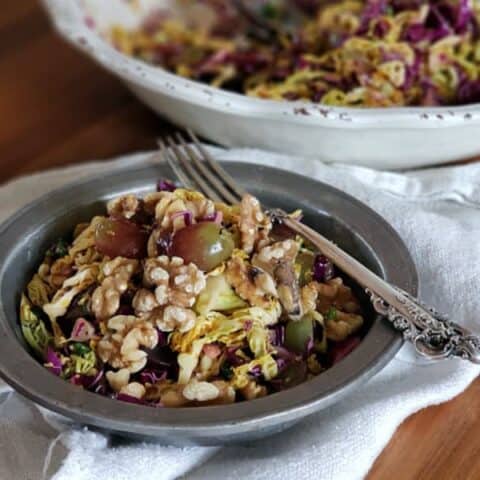 asian cabbage slaw
Ingredients
3 cups savoy cabbage, thinly sliced
2 cups purple cabbage, thinly sliced
4 green onions, thinly sliced with green tops
2 cups seedless grapes, sliced lengthwise in halves
1/3 cup extra virgin olive oil
3 Tbl. fresh lemon juice
1 tsp. Thai Basil, dried
1 tsp. dried mint
1 tsp. dried orange peel
1 tsp. freshly grated ginger
1 tsp. sea salt
1 tsp. pepper
1 Tbl. Gochujang Sauce, Korean Chili Sauce
¼ cup honey
1 cup walnuts, chopped
Instructions
Put the cabbages, onions and grapes in a large bowl and blend well. Refrigerate about 30 minutes to chill (optional).
In a small bowl, whisk together the olive oil, lemon juice, basil, mint, orange peel, ginger, salt, pepper, Gochujang sauce and honey.
Drizzle the dressing over the slaw and toss and blend. Offer the chopped walnuts for topping the servings. Serve immediately.
Notes
This slaw will keep for about a couple of days refrigerated.