Inspiration for this tuna salad casserole recipe comes from my dear foodie peep, Melissa, from ChinDeep. She's always got unique and interesting ways to put new twists on serving food. That's one great way to keep dishes you make 'fresh' and fun. If we continue to do the same things in the same ways, we end up with boredom. And, life's always changing things up for us to keep us on our toes, so why not do that with some of the favorite recipes we love to serve.
So, following Melissa's cue on a 'casserole' salad. I decided to do the same and do a pie dish tuna salad. Instead of dumping everything in a bowl and mixing together, you'll take a few extra minutes to layer the ingredients then refrigerate so they all can merge together.
I must say that this tuna salad even tasted somewhat different when eating. Maybe it's my head playing tricks on me, but I could discern the individual flavors and textures much better. When you scoop out your servings, believe me, there's no cutting involved, yes, everything kind of falls into its place on your plate or in your bowl. Again, this recipe for tuna salad has some unique ingredients and a whimsical twist on presenting. Keep your food seekers guessing when you create food. It certainly makes life more interesting than the 'same ol', same ol"!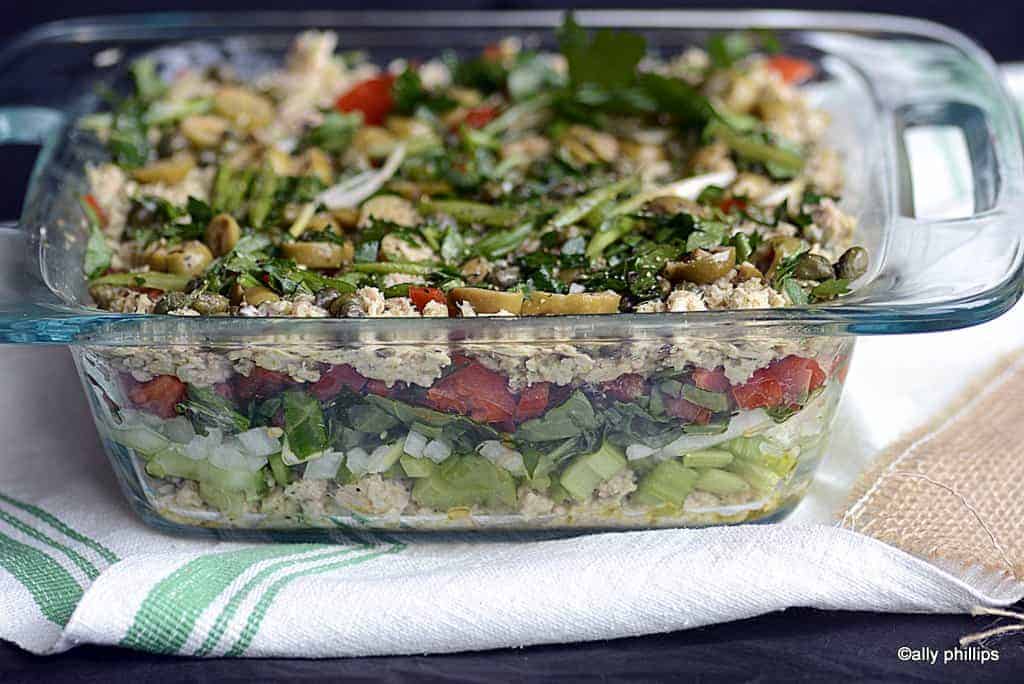 Ingredients
6 (5 oz.) cans of albacore tuna, packed in water & drained
½ tsp. sea salt
½ tsp. coarse ground pepper
3 Tbl. mayonnaise
½ cup basil pesto, store bought
1 ½ cups celery, sliced
½ cup sweet onions, finely chopped
1 cup fresh greens, chopped & firmly packed, options include arugula, European mix, spinach, baby kale, etc.
1 cup red bell pepper, diced
2 Tbl. extra virgin olive oil
¼ cup olives, sliced thinly
1 Tbl. capers, drained
2 Tbl. flat parsley, chopped
2 green onions, sliced
Instructions
In a large mixing bowl, put the tuna. Flake apart with a fork. Add the salt, pepper, mayonnaise and pesto and blend well working it into the meat.
Put half of the of the tuna mixture in the bottom of the casserole dish. Start topping with 'layers' of the celery, onions, fresh greens and bell pepper
Drizzle on the olive oil. Finally, add the rest of the tuna as the next layer.
Scatter on top the olives, capers, parsley and green onions on top. Cover tightly with plastic wrap and refrigerate about 2 hours.
Notes
Scoop the tuna salad out with a big spoon into bowls. Of course, it won't hold as a 'slice'.
Sprinkle on top tuna salad servings roughly crushed kettle potato chips! Big yum!
https://allyskitchen.com/tuna-salad-casserole/
©ally's kitchen intellectual property