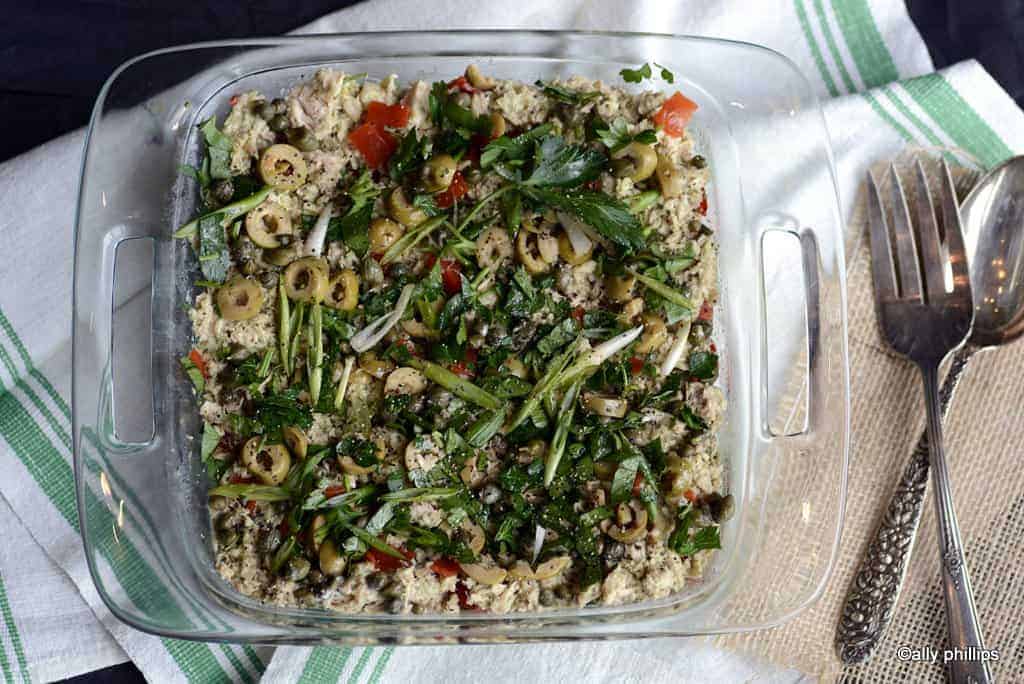 Instead of dumping everything in a bowl and mixing together, take a few extra minutes to layer the ingredients then refrigerate so they all can merge together.
Tuna Salad Casserole
Inspiration for this tuna salad casserole recipe comes from my dear foodie peep, Melissa, from ChinDeep. She's always got unique and interesting ways to put new twists on serving food. That's one great way to keep dishes you make 'fresh' and fun. If we continue to do the same things in the same ways, we end up with boredom. And, life's always changing things up for us to keep us on our toes, so why not do that with some of the favorite recipes we love to serve.
Tuna Salad Casserole Cold
The tuna casserole is a good, uncomplicated dish for fish lovers. You can cook for yourself and your family for dinner, it turns out hearty and tasty. Tuna is not only tasty, but also very healthy fish, since it contains a large amount of substances that have a beneficial effect on the cardiovascular system.
Healthy Tuna Casserole
If you love to fish, be sure to make a tuna salad. This is a very simple and easy tuna salad. You can enjoy such a delicious tuna salad both in winter and in summer, on any day when you want something light and very tasty. Everyone will love the hearty, healthy and easy-to-prepare tuna salad! Here's another recipe that you should give a try is: pan-seared tuna steak.
Tuna Casserole without Soup
Tuna casserole is a classic one-dish meal that offers comfort and convenience. But most recipes include canned cream soup, which not everyone has in their pantry, or prefers to use. This tuna casserole is made without soup and instead features a flavorful homemade sauce of butter, flour milk.
Tuna Salad Keto
This Keto Tuna Salad recipe is a very easy way to throw together a tasty, nutritious meal! It's creamy, packed with delicious flavor, and ready to eat in just 5 minutes.
If you like simple, easy recipes for your main course, then you'll also want to try my favorite and recipes such as healthy fresh herb tuna salad, and skinny girl guilt-free tuna salad. Oh, yeah, good stuff! xoxo ~ally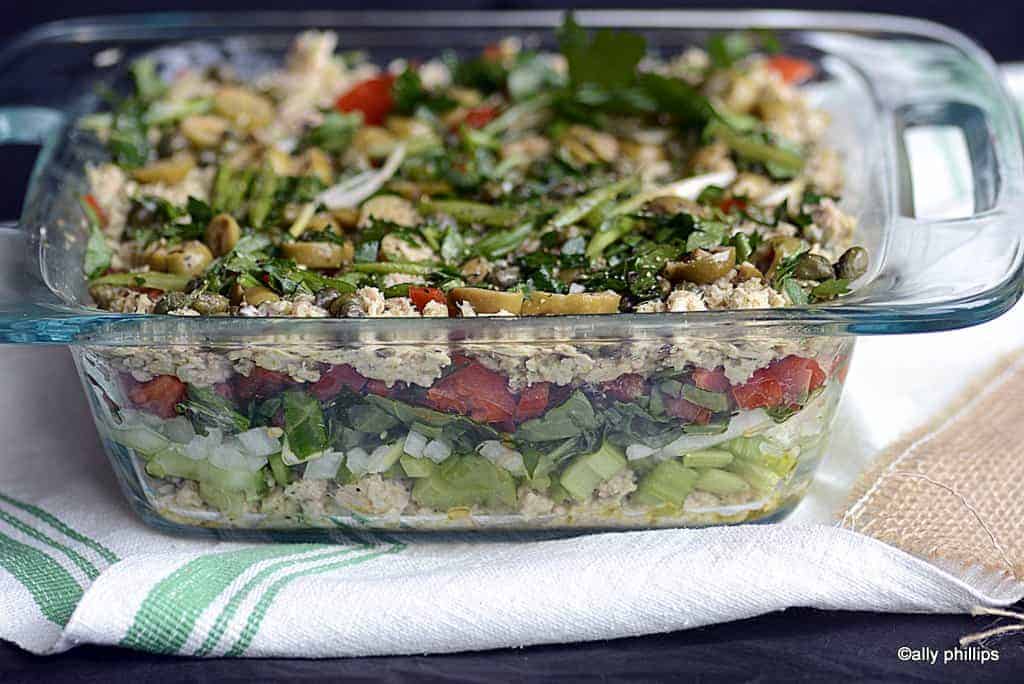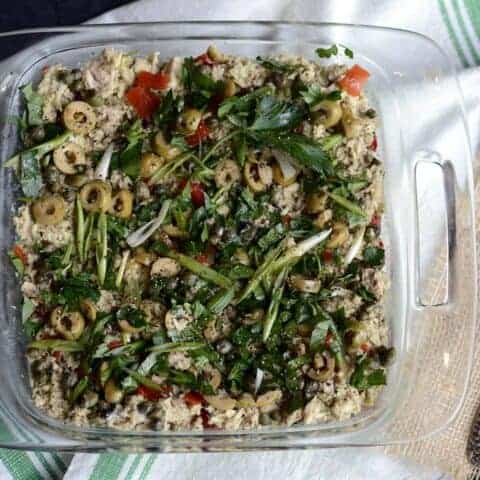 Tuna Salad Casserole
Yield: 8x8 glass baking dish, about 3" deep

Instead of dumping everything in a bowl and mixing together, take a few extra minutes to layer the ingredients then refrigerate so they all can merge together.
Ingredients
6 (5 oz.) cans of albacore tuna, packed in water & drained
½ tsp. sea salt
½ tsp. coarse ground pepper
3 Tbl. mayonnaise
½ cup basil pesto, store bought
1 ½ cups celery, sliced
½ cup sweet onions, finely chopped
1 cup fresh greens, chopped & firmly packed, options include arugula, European mix, spinach, baby kale, etc.
1 cup red bell pepper, diced
2 Tbl. extra virgin olive oil
¼ cup olives, sliced thinly
1 Tbl. capers, drained
2 Tbl. flat parsley, chopped
2 green onions, sliced
Instructions
In a large mixing bowl, put the tuna. Flake apart with a fork. Add the salt, pepper, mayonnaise and pesto and blend well working it into the meat

Put half of the of the tuna mixture in the bottom of the casserole dish. Start topping with 'layers' of the celery, onions, fresh greens and bell pepper

Drizzle on the olive oil. Finally, add the rest of the tuna as the next layer.

Scatter on top the olives, capers, parsley and green onions on top. Cover tightly with plastic wrap and refrigerate about 2 hours.
Notes
Scoop the tuna salad out with a big spoon into bowls. Of course, it won't hold as a 'slice'.

Sprinkle on top tuna salad servings roughly crushed kettle potato chips! Big yum!