beef barley mushroom soup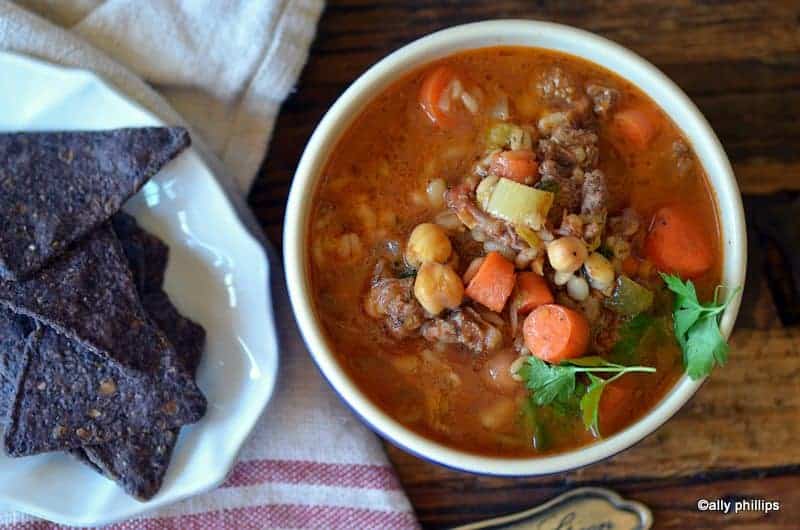 Beef barley mushroom soup just sounds robust and healthy! This soup will win you accolades with your food seekers!
Beef Barley Soup
Some words simply sound healthy. It's the way the word rolls off the tip of your tongue…barrrrrleee. Now think of the word 'candy'. Does that sound healthy? (OK, smile & play along with me!). Believe me, you'll be refilling your bowl with this beef barley mushroom soup, which doesn't take long to make.
Mushroom Beef Barley Soup
Yes, 'barley' sounds healthy to me! It's a cereal grain with a nutty flavor and almost pasta texture. It's a great source of fiber, says it lowers cholesterol and it's high on the list for intestinal protection.
Amish Beef Barley Soup
So it not only sounds healthy, it IS healthy! Barley's popular in Tibetian cuisine and its roots go way back to the Medieval times being one of the first domesticated grains in the Fertile Crescent. **tsk tsk** unlike 'candy'!
Beef Barley Soup with Ground Beef
This oftentimes overlooked grain really doesn't get the attention it needs and deserves. Maybe because it's kinda 'old fashioned', hasn't hit the 'trendy' scene like other ingredients, think couscous or quinoa.
Beef Barley South with Vegetables
But don't be mistaken, this powerful little grain is not just for beer making, it's going to add some intense and diverse flavor to more than just soup. I'm hooked on it, in love, ready to give it it's own hashtag~ #welovebarley!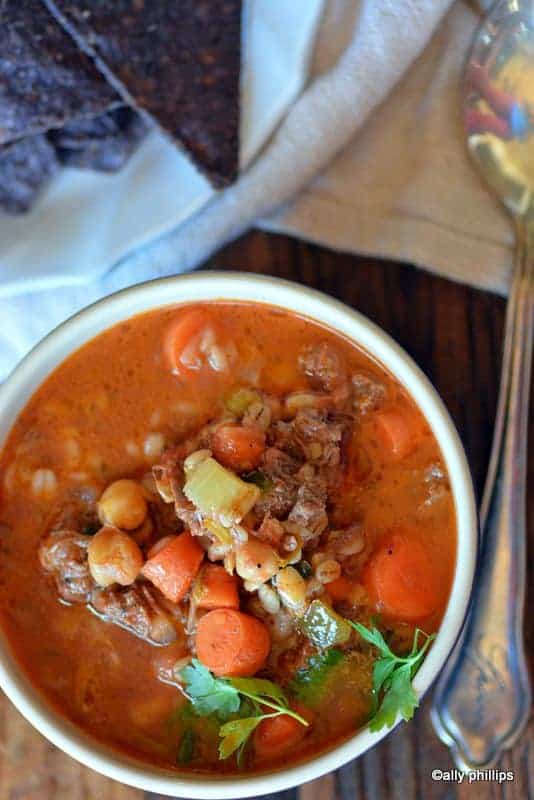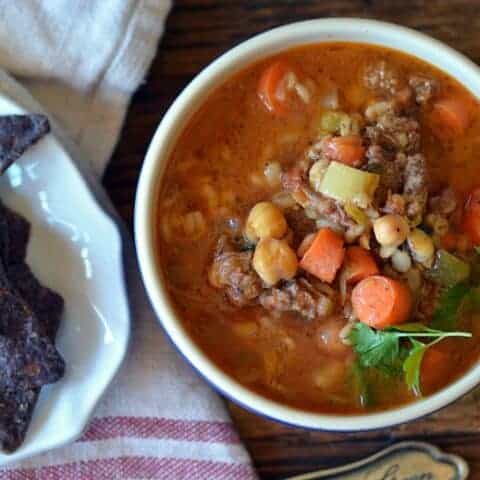 beef barley mushroom soup
Ingredients
3 Tbl. Canola oil
½ cup sweet onions, diced
1 Tbl. Garlic, minced
1 lb. ground beef
1 tsp. sea salt
1 tsp. coarse ground pepper
2 tsp. Greek seasoning mixture
2 bay leaves
3-4 cups water, divided
2 cups (store bought) salsa, mild or medium, your choice
1 ½ cups vegetable juice (I used spicy because I wanted the kick.)
1 cup fresh carrots, sliced
1 cup celery with leaves, sliced
2 cups garbanzo beans
1 cup barley, quick cooking
1 cup mushrooms, sliced
Instructions
In a large heavy pot over medium heat, put the oil and onions and sauté about 3 minutes. Add the garlic and cook another minute or two. Crumbled up the ground beef and brown. Add the salt, pepper, seasoning mixture, bay leaves and blend in. Deglaze the pot with 1 cup of water.
Add the salsa and vegetable juice, blend, cover and cook about 20-30 minutes. Add the remaining water, carrots, celery, beans, barley and mushrooms, reduce heat to medium and cook another 30 minutes stirring occasionally.
Turn heat to simmer and just let soup hang out until ready to serve.
If you want soup more 'soupy' add a bit more water and let it simmer.