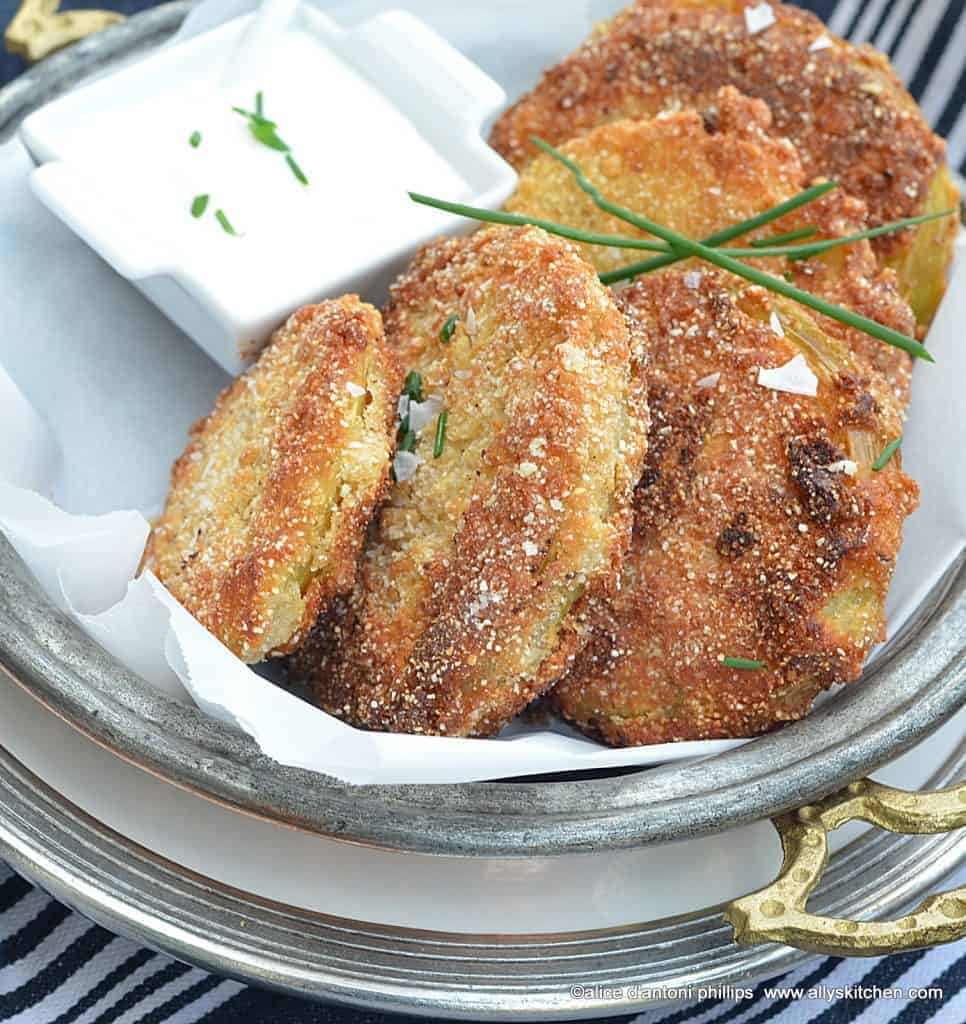 Nothing speaks Southern like fried green tomatoes. Crispy crunchy salty and then that warm green tomato inside. Well, it's just a delicacy!
Fried Green Tomatoes Recipe
If you're Southern you know Fried Green Tomatoes. You grew up on FGTs. You probably like or even love FGTs! If you're not Southern, I am so very very sorry.
Green Tomatoes
Good news! You can become an honorary Southerner by going through a series of eating assignments, so think about it…could be fun. And, just think you'll learn another language!
Another thing about these fried green tomatoes is that there are lots of ways to eat them. I love them topped with something creamy and cool. Maybe a dollop of creme fraiche. Or try a dollop of pimento cheese. A drizzle of balsamic glaze also goes nicely on them.
How to Make Fried Green Tomatoes
Maybe you think FGTs means the 1991 movie. Remember the great performances by Kathy Bates, JessicaTandy, Mary Stuart Masterson, Mary Louise Parker. The Whistle Stop Cafe?
Fried Tomatoes
I love to serve FGTs with moist crispy cornbread slathered with butter, and that's the meal for me!
Fried tomatoes can be done with green tomatoes and with partially ripened tomatoes. The key is to have tomatoes that are super firm. They can't be soft and the consistency of tomatoes you'd use in a salad or on a tomato sandwich.
Fried Green Tomatoes Sauce
Now a great evening would be to rent the movie, make FGTs, snuggle on the sofa, eat at the coffee table, and pretend you're at the Whistle Stop Cafe!
Be sure to make the cool creamy sauce to go on the tomatoes. It's a really nice contrast to the crispy and crunch of the tomatoes.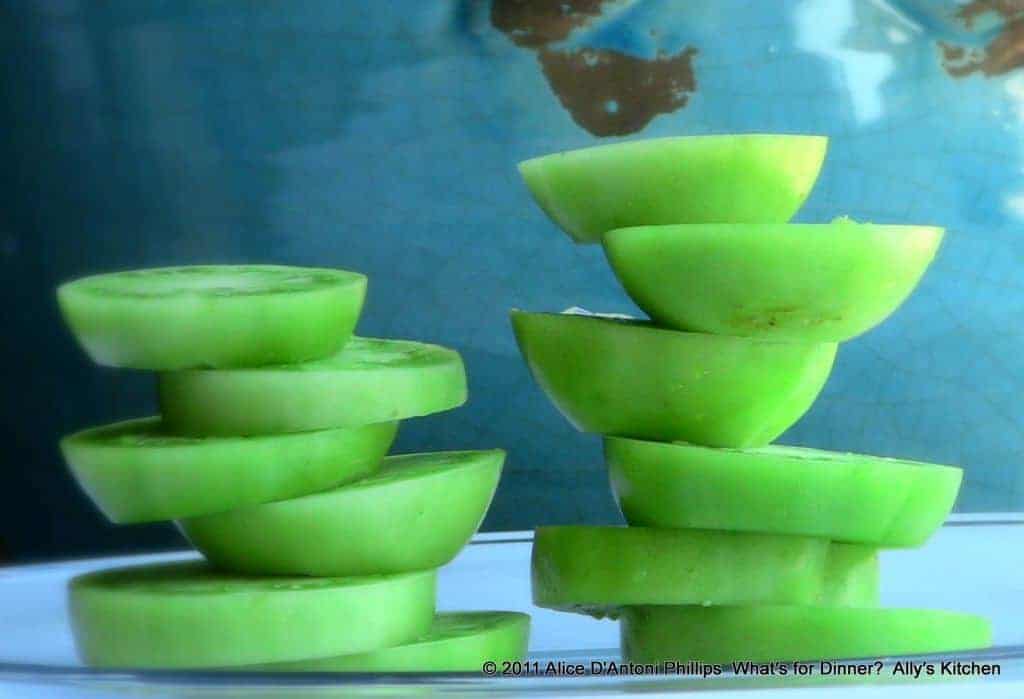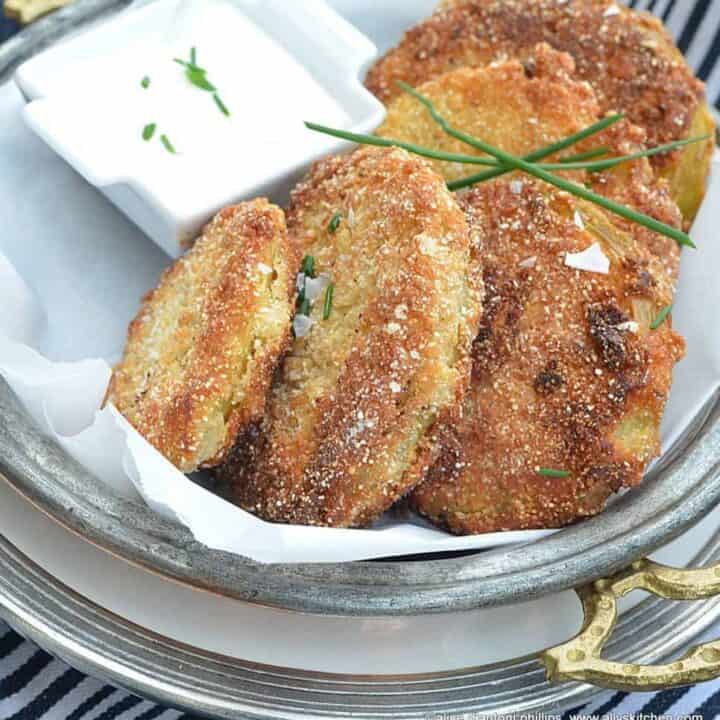 fried green tomatoes
Ingredients
½ to ¾  cup coconut oil or avocado oil
4 medium to large firm green tomatoes/slice each into 3-4 pieces
1 cup buttermilk
¾ cup flour
¾ cup cornmeal
½ tsp. sea salt
¾ tsp. coarse ground pepper
½ tsp. red chili flakes
SOUR CREAM SAUCE
1 1/2 cup sour cream, can use plain Greek yogurt
1/3 cup thinly sliced green onions and tops
1 Tbl. lime zest
2 Tbl. lime juice
1/2 tsp. sea salt
1/2 tsp. coarse ground pepper
Instructions
The cooking of FGTs means getting everything ready then heating up the oil.
In a large cast iron skillet over medium heat, pour ½ cup of oil. As it heats up begin the tomato coating. Make a work station using 3 pie plates for the buttermilk, flour and cornmeal which will have salt/pepper/pepper flakes in it.
Dip a slice of tomato in the buttermilk coating both sides, then in the flour, coating both sides, return to the buttermilk and recoat, then coat in the cornmeal. Place prepared tomato slice on a plate and continue with each tomato this way.
Place a few tomatoes in the hot oil. When the tomato goes in, it should slightly sizzle, but not burn. Do not crowd the tomatoes.
Cook on each side about 2 minutes or until golden crispy brown. Remove and drain on a paper towel. Continue until all tomatoes are fried.
Serve topped with chiffonade green onions/tops and sour cream mixed with some lime juice, zest and sea salt/pepper. Crumbled bacon is also good on FGTs. Serve immediately while hot and crispy.