herb seasoned crispy turkey dressing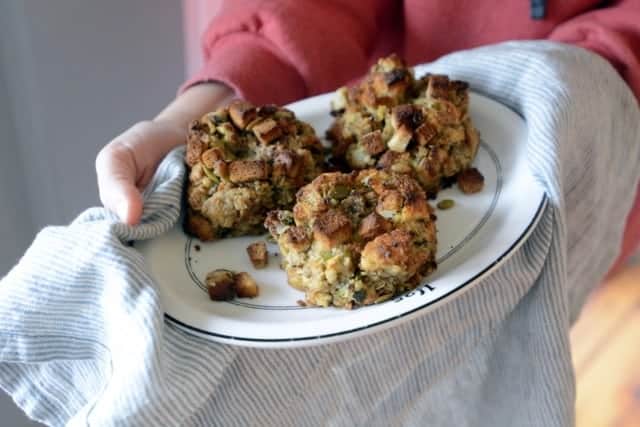 Herb seasoned crispy turkey dressing is all about fluffy and the crunchy. It's not stuffed in the bird. Dressing mounds are individual.
Good Turkey Dressing
I don't know why I've taken so long to post this vintage-inspired recipe of my Mom's, herb seasoned crispy dressing balls. It's an adaptation of her delicious recipe for dressing balls! Growing up in West Virginia, this was truly a Thanksgiving and Christmas treat that all of us looked forward to.
Turkey Dressing Recipe Southern
Making these herb seasoned balls even more tasty was gravy, and Mom's was creamy, thick, turkey infused because of the drippings and full of chopped giblets and livers. We kids would devour the dressing and gravy!
Mom didn't have the Pepperidge Farm products that make this recipe even a little more simple. No, she did it all from stale bread and dried herbs. But, always the broth and stock of the baked turkey and also from the boiling of the gizzards and livers.
Turkey and Dressing
Mom never stuffed the dressing in the turkey. We always had these individual crispy herb crusted and buttery mounds of bread that were just phenomenal. I love so much about the individual serving sizes.
How to Make Turkey Dressing for Thanksgiving
They're golden brown and crispy on the outside. It's like brownie corners or a muffin top, you get the crunchy stuff! And, then the insides are as moist as a dew covered rain forest. I mean you can't even explain how tasty these herb seasoned crispy dressing balls are!
Difference between Dressing and Stuffing
Basically the difference between dressing and stuffing is in how they're cooked. Stuffing means just what it says, 'to stuff' and that's what you do. You stuff the bird with the seasoned mixture. Dressing is another bird. It's cooked outside the turkey!
How to Make the Best Turkey Dressing
Topping them off, of course, is the creamy lusciousness of butter that melts and oozes into the insides of that dressing ball making it almost like a hot baked yeast roll or hot yeast donut. Yep, it's gonna melt in your mouth! Hope you try them!
Food brings back so many memories of growing up, and these herb seasoned crispy dressing balls illuminate some of the best time of my life! xoxo ~ally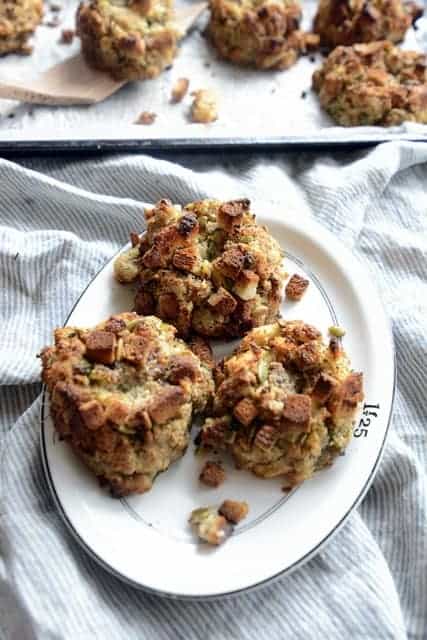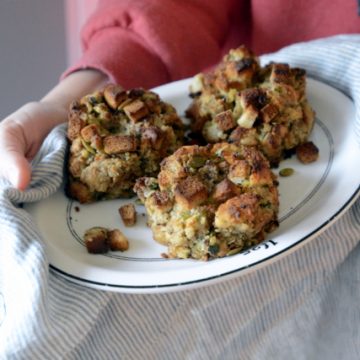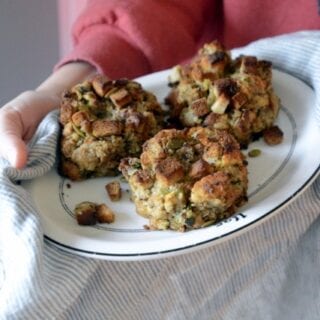 herb seasoned crispy dressing balls
Ingredients
Makes: About one dozen
Preheat oven to 425
8 Tbl. cold butter, cut into cubes, divided (Note: Cut the butter into 8 pieces, then each piece into quarters)
1 cup sweet onions, diced
1 cup celery, sliced
3-4 cups chicken stock and/or stock with turkey drippings. divided
6 cups Pepperidge Farms Herb Seasoned Classic Stuffing
4 cups Herb Seasoned Cubed Stuffing, divided
2 cups day old bread, torn into small pieces
2 tsp. dried oregano
½ tsp. sea salt
½ tsp. coarse ground pepper
½ cup pumpkin seeds
1 cup microgreens
Instructions
In a medium saucepan over medium heat, melt the four tablespoons of butter. Add the onions and celery and sauté. Add two cups of the stock and blend.
In a very large mixing bowl, combine the classic stuffing, three and a half cups of the cubed stuffing, bread, oregano, salt, pepper and pumpkin seeds. Add the sautéed onions/celery and blend. Add the remaining stock, a little at a time, and blend. Add the microgreens and blend well.
You want the mixture to be 'wet' and be able to mold into about baseball size balls. Place each on a parchment paper covered cookie sheet (leave space in between).
Take your finger and make a divot hole in middle of each. Add a piece of the cubed butter. Take the remaining cubes and place four to five on top of each ball. Pat in so they don't fall off.
Bake in a preheated 425 oven about 25-27 minutes. Remove to a cooling rack. Ready to serve!
Notes
You can make the balls the size you like. Just adjust baking time to the size of the balls.