For those of you who know me, well, you KNOW that I'm an olive lover! And, these oven roasted olives just take my beloved salty bites off the charts!
I can't remember when I ate my first olive, but it was most likely in childhood. And, it was probably just a green olive with pimento stuffing. Nothing fancy. Nothing exotic. Just an olive. But, there was simply something about the texture, flavors and taste that immediately made me fall in love with this food. Maybe it's my love of so many things Middle Eastern. And, well, some of my Middle Eastern heritage (yes, I've had the 23 and Me thingeee done).
Now, I can eat olives in so many things. Even on a hot dog. A big old grilled ballpark frank, grilled onions, lots of classic yellow mustard, and OLIVES. And, give me a burger, nice and grilled, topped with lots of chopped olives, onions, dill pickles, greens, tomatoes and classic yellow mustard. I also just adore cooking with olives. If you just put the word 'olives' in my search bar, check out what you'll find! Amazing ideas with olives, like this celery salad, which is one of my most PINNED recipes!
There are so many possibilities for these oven roasted olives. From slathering some creamed cheese on grilled flatbread and adding some of this olive medley to topping your favorite pasta with this olive medley. Just let your imagination run wild. Go ahead. Get crazy with olives! xoxo ~ally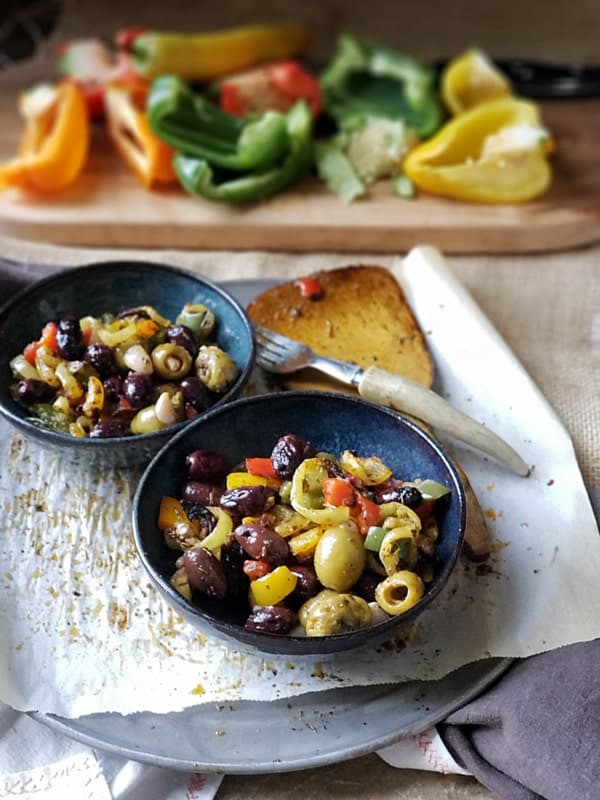 Yield: About 3 cups
roasted olive medley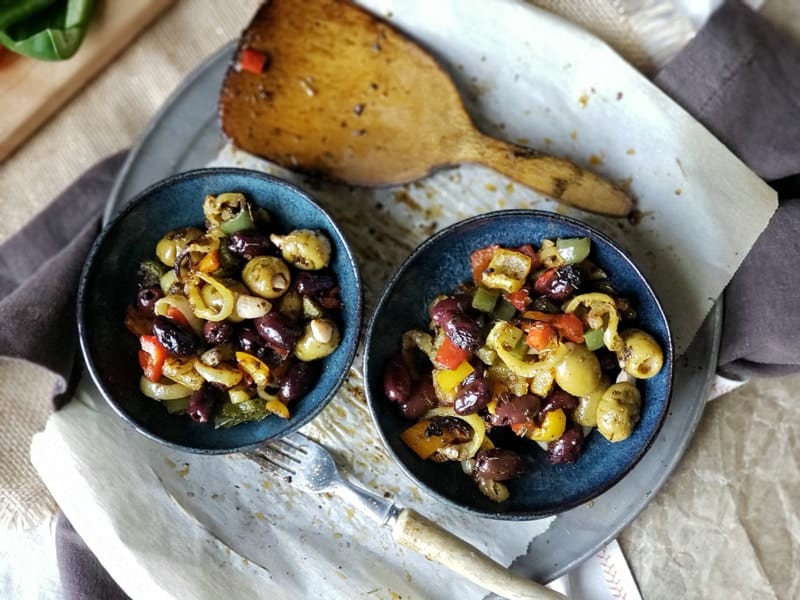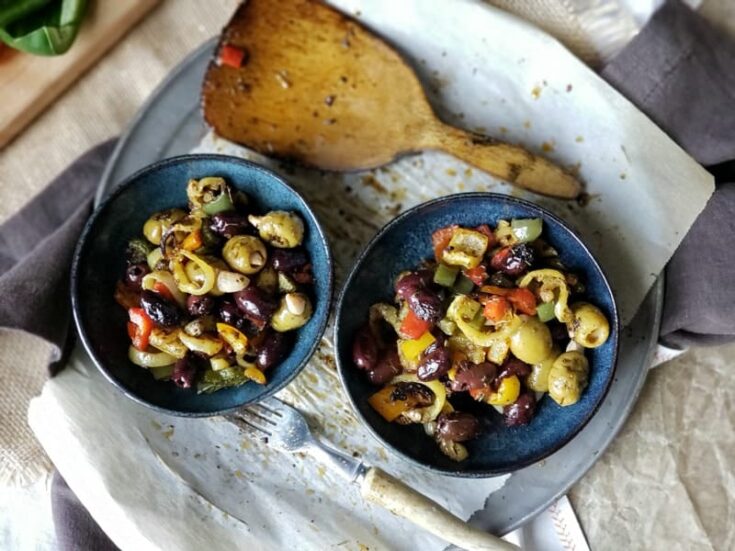 If you've never had oven-roasted olives, then you are in for a lusciously delicious treat! This roasted olive medley has so many possibilities!
Ingredients
Preheat oven to 425
3 cups peppers, variety, diced and sliced (banana peppers, multi-colored peppers)
1/2 cup kalamata olives, pitted
1/2 cup garlic stuffed queen olives
1/4 cup extra virgin olive oil
2 tsp. Italian seasoning
2 tsp. red wine vinegar
1/2 tsp. coarse ground pepper
1/2 tsp. Gochunkang sauce, Korean chili sauce
Instructions
Put the diced and sliced peppers and olives in a medium mixing bowl.

In a small bowl, whisk together the olive oil, seasoning, pepper, red wine vinegar, and chili sauce. Pour over the peppers/olives and toss and blend coating all well.

Put on a parchment paper-covered cookie or pizza pan sheet. Bake in a preheated 425 oven for about 17 to 20 minutes. Remove and cool.

Can be refrigerated after cooled.
Notes
If you don't want a spicy mixture, omit or reduce the Korean chili sauce.