If you work, you'll probably want to make these beans on the weekend. Believe me, they keep in the refrig a few days, and you can freeze them. I'd say put the coal miner's pinto and navy beans in smaller containers, freeze and then use for so many things from refried beans to shakshuka to chili!
Growing up in Southern West Virginia where coal was king back in the day, beans and cornbread could be found on most family tables at least weekly if not more times. Beans are healthy and nutritious (am I repeating myself?). They're super affordable and versatile.
For me, making a big pot of beans is all about the seasoning. So, I say 'be not afraid' of a little fat back, salt-cured, because it goes a long way in the flavor department. Plus, hold off on any salt as the salt-cured has plenty in it. I also used a beef shank. Why? Because I got it for $1.97 and knew it would pack some punch, plus once cooked and tender, I could shred the meat, not much but just enough for 'elegance' and 'luxury', and make those beans even tastier! Hey, a ham shank works well, too. Remember, fat adds flavor, but you want to use it in moderation. Isn't that the operative word for most all great things in life!
Now, if you're from coal minin' country and you're right here now looking at this recipe, please take a minute and leave me one of your best stories about pinto beans and living in Appalachia! Food is inexplicably intertwined with our memories!
Here's something really fine to eat with your beans! Bacon dripping collard greens! YUM!!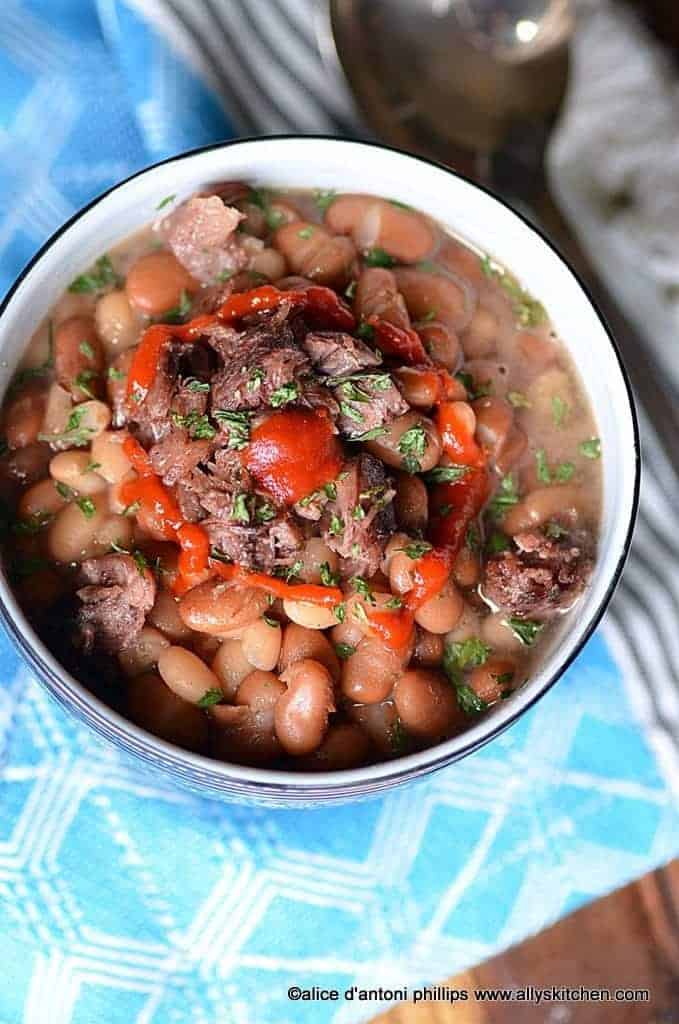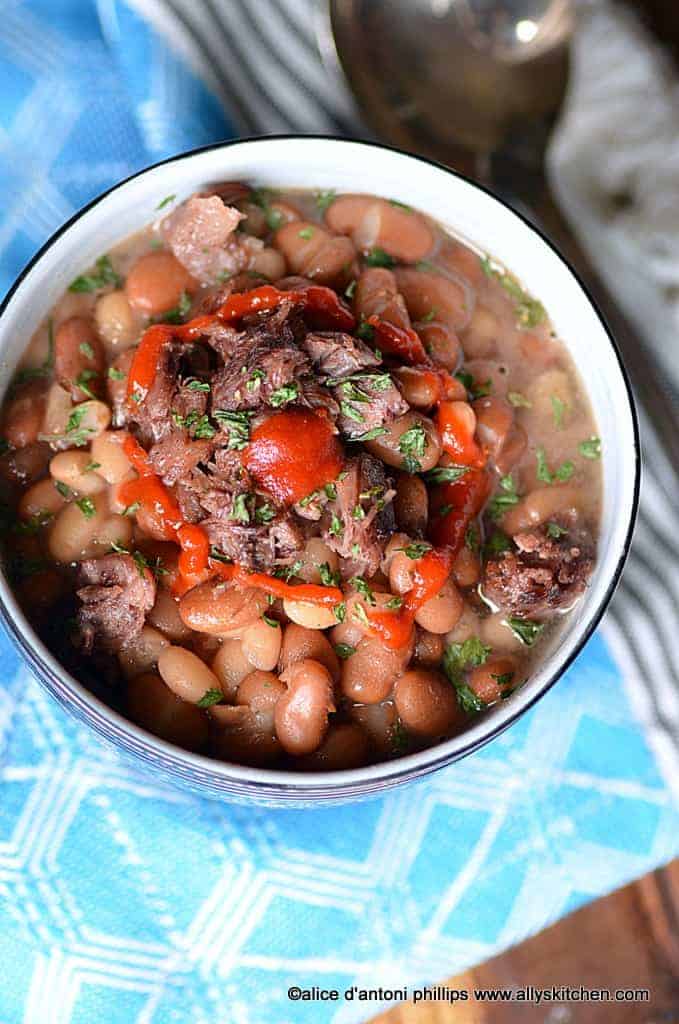 coal miner pinto & navy beans
Ingredients
2 cups dry pinto beans
1 cup navy beans
1 piece fat back (about 2x2")—salted & cured
1 beef shank
Water (Just a lot because you have to keep the beans covered while cooking for several hours.)
Sriracha (optional hot sauce for drizzle)
Salt & Pepper to Taste
Instructions
Rinse and clean the beans. Put in a large stock pot. Cover beans with about 5 inches of water. Add the fat back and beef shank.
Bring to a roaring boil on high. Cover with a lid slightly askew to allow steam to escape. Cook for about an hour adding more water to keep beans covered (about 4-5 inches above beans.)
Reduce heat to medium. Continue to cook beans (covered with lid askew) another 2 hours adding water above beans about 3 inches now.
Broth will begin to thicken slightly. Beef shank will tenderize. Remove and tear meat from bone—you might have about ½ to a full cup of shredded meat. Remove fatty parts of meat.
If bone is clean, add back into the beans because there may be more good marrow that can boil out into the bean broth.
Beans should be tender by now. Remove fat back. Add back in the shredded meat. Turn heat to low. Cover with a lid and let it simmer.
https://allyskitchen.com/coal-miner-pinto-navy-beans/
©ally's kitchen intellectual property