Easy Greek Fingerling Potatoes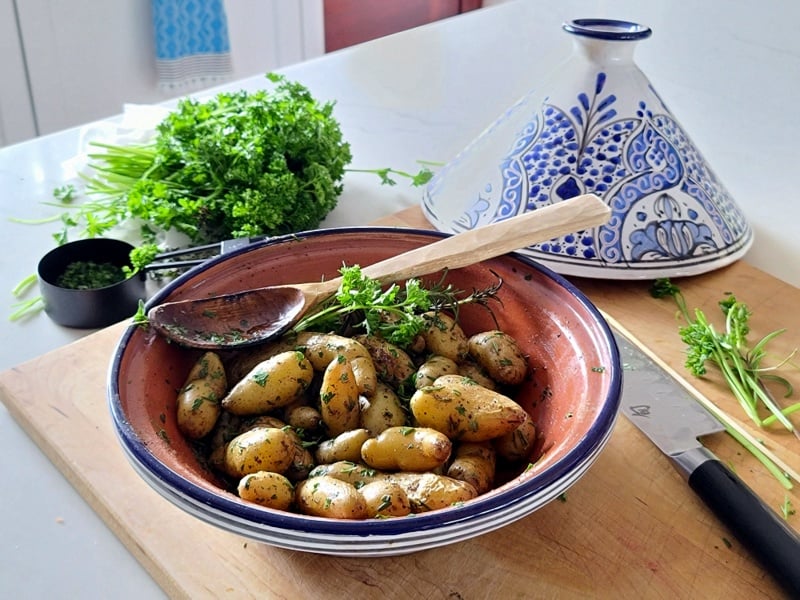 Easy Greek Fingerling Potatoes are the perfect side dish for so many entrees! A touch of spice and tender creamy potatoes. Always a winner!
Greek Style Fingerling Potatoes
So many things I absolutely love about this recipe! First, it uses fresh herbs! And, if you're not familiar with the nutritional and health value of fresh herbs, well, then you must read this post! I mean talk about anti-aging properties!
Greek Roasted Potatoes
Another thing about this recipe, folks. Well, it's totally easy and simple. You're using fresh ingredients. Nothing processed. You can look at the ingredients and know that they're straight from Mother Earth. That's the way we want to eat!
Roasted Fingerling Potatoes
Roasted fingerling potatoes are the perfect side dish for a grilled steak, roasted chicken, baked salmon. Basically any dish you want to serve it with.
They're classic yet chic. They're creamy and delicious with just a hint of spice from the fresh jalapeno.
Another favorite type of potato of mine is the Yukon Gold, and this recipe for Cheesy Cuban Mojo Potatoes is off the charts. I made these potatoes three times in 10 days! They can be breakfast, lunch or dinner!
Healthy Greek Potatoes
Making these healthy Greek potatoes takes no time at all. And, if you have any leftover, they're perfect for your morning breakfast.
So, here's what you do. Warm the potatoes over medium heat in a small skillet. Then crack an egg or two over them. Cover the pan with a lid and let that egg steam to your desired yolk finish (for me, it's sunnyside!). Slide it out of the skillet on to your plate, and you have an immediate feast!
Greek Roasted Fingerling Potatoes
These potatoes are also great at room temperature or cold. And, with leftovers if you want to make a potato salad, you can sure do that.
Simply dice up those potatoes. Add some sliced celery, onions, diced red bell peppers and diced kosher dill pickles (yes, that's right)! A little mayo and Greek plain yogurt, some fresh dill, and then chill it. You're ready to chow down on some real fine Greek potato salad.
Greek Potatoes
These Greek potatoes have endless possibilities. From adding some crumbled feta cheese or smothering with some cheddar cheese to tossing any leftover into your next homemade soup or stew. They keep for several days refrigerated. So if you have some fresh arugula or baby spinach leaves, make a salad.
Yes, slice up the potatoes. Add them to the greens. Drizzle on a simple olive oil and lemon juice vinaigrette or your favorite dressing.
Greek Potato Recipe
You'll not find an easier potato recipe and here are some of the things I've served them with!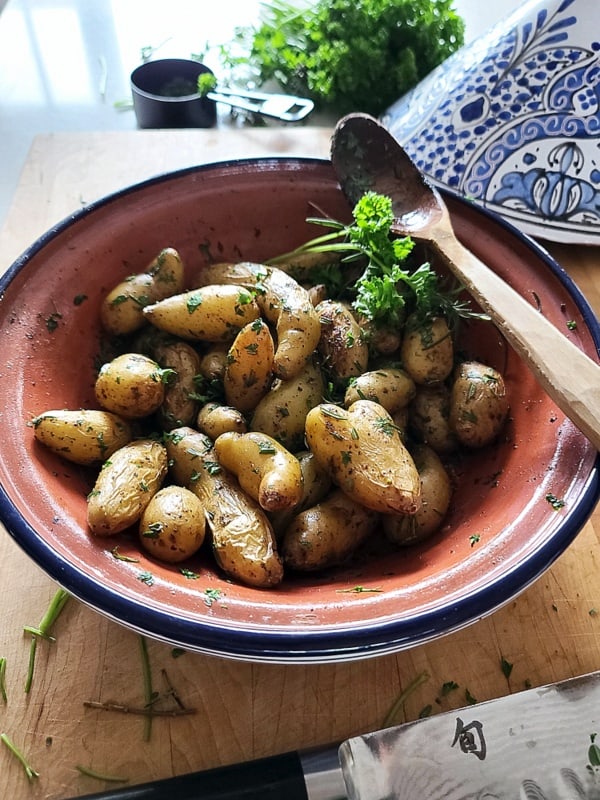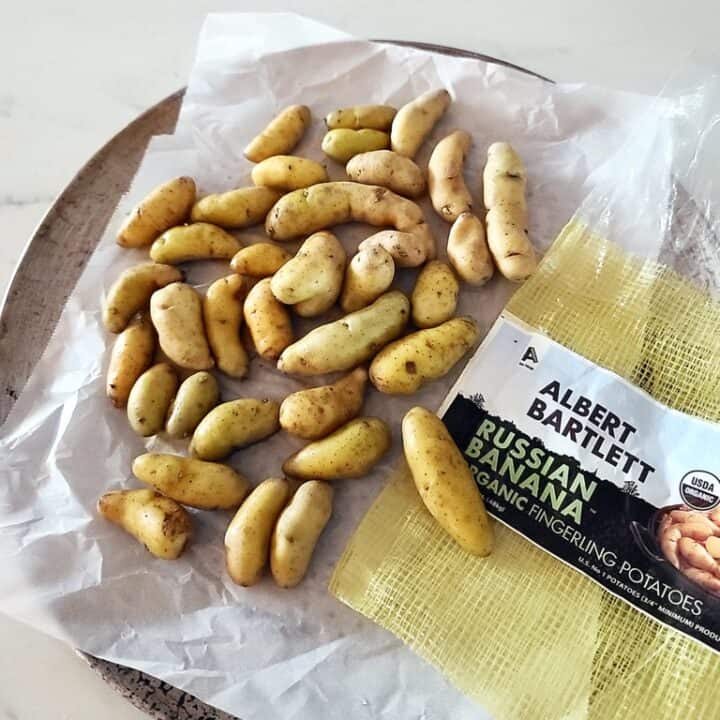 Easy Greek Fingerling Potatoes
Ingredients
Preheat oven to 375
1 large (or 2 small) jalapeno, sliced thinly, remove most of the seeds
1.5 lbs. fingerling potatoes
3 Tbl. extra virgin olive oil
2 Tbl. Greek seasoning mixture
1/2 tsp. sea salt
1 tsp. coarse ground pepper
1/4 cup fresh flat parsley, chopped
2 Tbl. fresh rosemary, finely chopped
2 Tbl. fresh thyme, chopped
Instructions
In a baking dish with a lid, combine the jalapeno slices, potatoes, olive oil, Greek seasoning, salt and pepper. Blend and mix well.
Cover and cook in a preheated 375 oven for about 25 to 30 minutes or until the potatoes are tender.
Remove from oven. Combine the parsley, rosemary and thyme. Sprinkle on the hot potatoes. Toss and blend. Cover the potatoes and let them sit for about 5 minutes to absorb all the essence of the herbs before serving.