holiday walnut bread povitica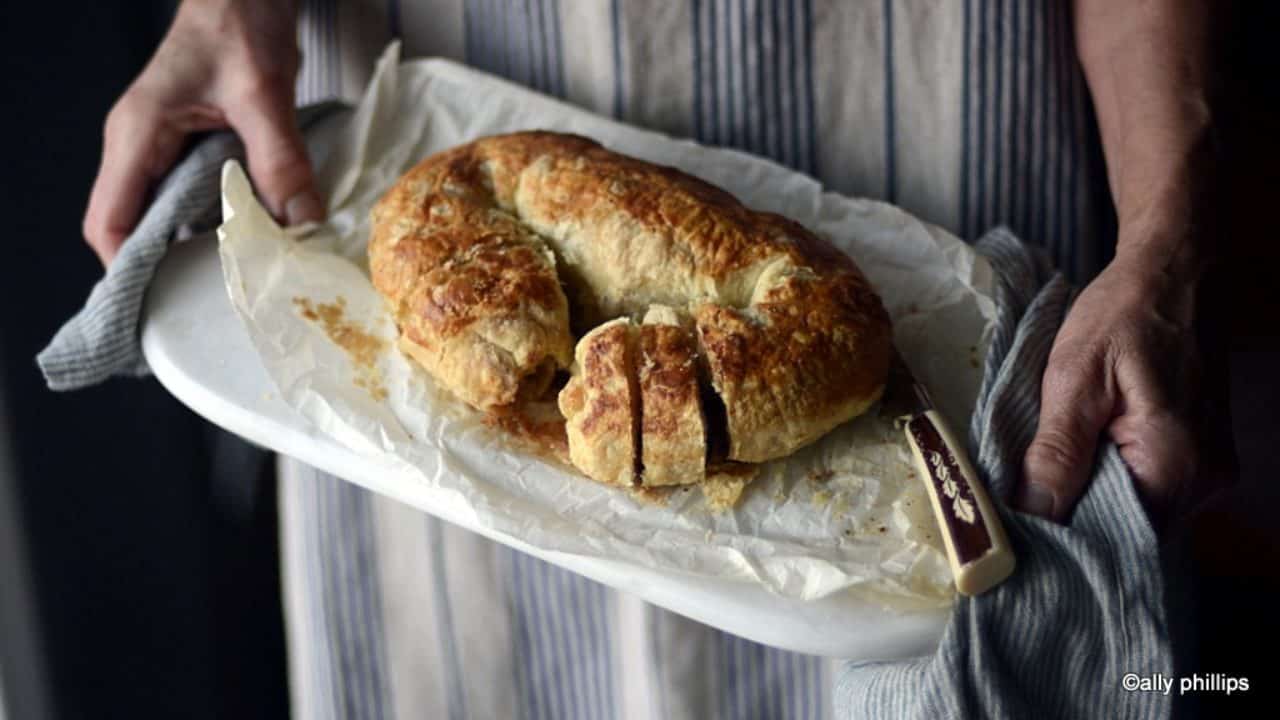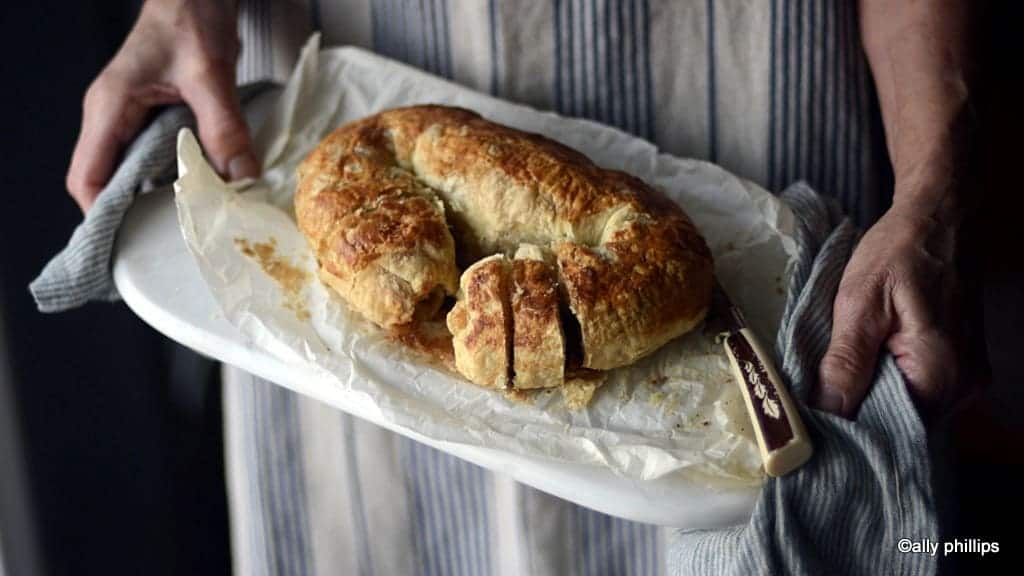 Holiday walnut bread povitica is one of those recipes that you will make every Christmas if you're looking for something easy and delicious!
Croatian Nut Roll
One of my favorite things to look forward to during the holiday season as a kid? My Mom's Croatian nut roll!
How to Pronounce Povitica
You can listen various pronunciations on YouTube. 'PO vuh teet zuh' 'PAW vit tah kuh' But, you can just call it a Croatian Nut Roll or Croatian Nut Bread!
Povitica Bread
Making this delicious traditional holiday bread can take all day. That is, it can take all day if you're doing it the old-fashioned way.
Croatian Bread
But, if you're making this Croatian bread using my short cut, yes, puff pastry, then you can have amazingly delicious loaves of povitica in no time at all. Make ahead of time and freeze!
Povitica Recipes
With any of the povitica recipes, adjust and modify to your tastes. If you want more of the classic cinnamon taste, then simply omit the cocoa and add more cinnamon. If you want to use almonds then you might swap vanilla extract for almond extract. If you want to sprinkle in raisins or dried cranberries (I think I'd chop them up finer.) then that's your choice. And, if shredded coconut is your love, like mine, then make it all about coconut!
Making Povitica
This is the way my Mom made povitica. It was an almost all day process. Oh, gosh, I remember that there was no stand mixer. No fancy equipment to make this recipe other than pure love and Mom's strong hands.
Walnut Povitica Recipe
Walnut povitica is classic. And, I love love this simplicity of just walnuts and maybe some cinnamon. Sometimes I'll trade cinnamon for all spice or even cardamom. If you haven't tried cardamom, used a lot in traditional Swedish pastries, then give it a try. Every loaf of povitica that you make becomes different.
Kolachi Roll
Mom called it kolachi roll. Maybe because she filled it with ground poppy seeds and sometimes fruit.
Kolachi or kolache are Czech pastries. You fill dough usually with fruit and sometimes cheese. It's very Eastern European. And, I've had this original delicacy, that's what I consider it to be, when visiting Croatian and Eastern European countries.
Recipe for Nut Rolls
My goal for this recipe is to make a recipe for nut rolls that's easy. A recipe that won't keep you in the kitchen all day because I know many of you just don't have that kind of time.
Povitica Recipes
Povitica recipes call for making the thinnest of delicate doughs. And, this is the foundation of this recipe. However, it takes a long time to do this. And, I'm not sure we all can devote that much time to creating this dough. I remember Mom having the entire kitchen table top covered with flour and the dough and her constant rolling and stretching of this dough to make it paper thin. Hopefully, my technique will make you want to make this recipe without all the time required.
Puff Pastry Nut Roll Recipe
Puff pastry is a perfect alternative for the homemade dough. It's readily available. It can be gently and delicately rolled to a much thinner version and larger size. And, I know that when baked you have thin layers of the crispy dough. Probably more crispy than making your dough, but, nonetheless the layers of the delicious filling rolled in the dough.
Povitica Bread
Pronounced 'po-vuh-teet-zuh', this Croatian bread or nut roll can be filled with any kind of ground nut and spices. Sometimes I like simply having ground almonds or walnuts, sugar and butter. Simple and delicious.
Croatian Nut Roll Recipe
Having a simple and doable Croatian nut roll recipe makes the holidays all the merrier because in no time at all, you can be slicing and enjoying this tradition in your home. That's what the holidays are all about, having a few traditions that we look forward to. And, I'm so happy to share one of mine with you.
Recipes for Christmas Bread
Preserving vintage recipes like this is important to me. However, I'm keenly aware that not many will spend the time in the kitchen making this dough from scratch. It's very labor intensive and takes time. Rather than 'forget' about it, this holiday walnut bread povitica can be made quickly and easily with a shortcut step. Yes, using puff pastry is the way to have this 'bread', albeit not a big 'loaf' like size, anytime during the year, not just holidays. I bake it on a cookie sheet, but you could, of course, use a loaf pan and create more of the bread shape. Regardless of how you bake it, you'll see that this moist nutty quasi 'sweet' bread is something that angels would rejoice at biting into!
If you decide to make this holiday walnut bread povitica, promise me you'll leave a comment and maybe even share a photo on my Facebook page Ally's Kitchen. Let me know how your friends and family like this recipe and share in some of my childhood memories.
Croatian Bread
Besides this Croatian bread, I've got a few more Croatian inspired recipes that you might want to enjoy. It reminds me of growing up in those coalfields of West Virginia and watching Mom cook marvelous healthy food in our postage stamp sized kitchen.
Eastern European Red Potato Salad
Easy Apple Roll Up Cinnamon Pie
Holiday Quick Bread Recipes
Let's pronounce 'povitica'. It's Po-vuh-teet-zuh. And, it's a Croatian holiday walnut bread. Growing up this was an EXTRAordinary treat. Mom would use the entire kitchen counter or table to roll out the dough, yes, always made from scratch, until it was paper thin.
She'd be almost covered in flour. And, there would be a gorgeous 'mess' in the kitchen. Her fillings could be poppy seeds or walnuts. Sometimes she'd use spices like cinnamon or allspice. Whatever she did with her magical hands, this holiday walnut bread povitica was spectacular!
I think this is what makes holidays so special. These memories of Mom cooking, and creating in the postage stamp size kitchen that was utterly basic but functional, make childhood holidays even more memorable for me, especially as I get older.
xoxox ~peace & namaste~ ally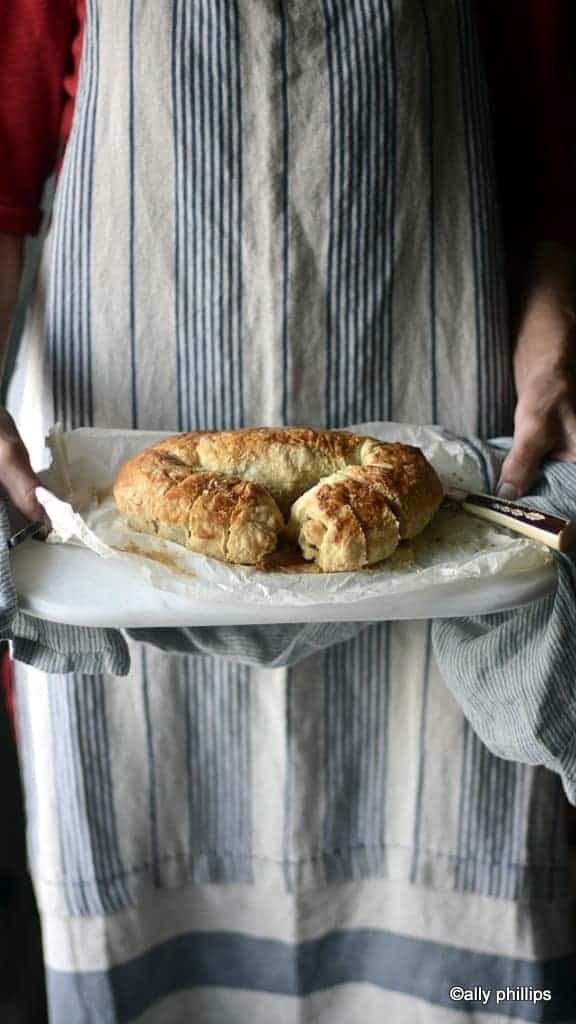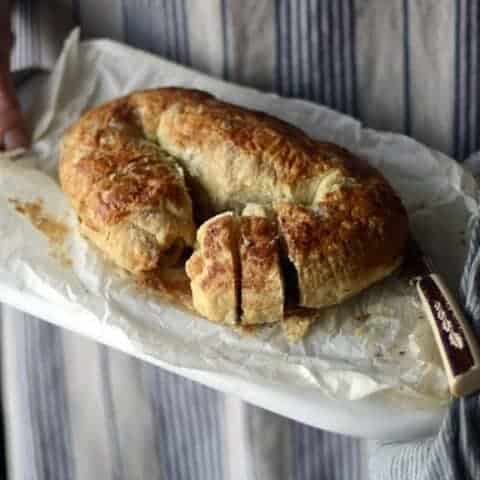 holiday walnut bread povatica
Holiday walnut bread povitica is one of those recipes that you will make every Christmas if you're looking for something easy and delicious!
Ingredients
Preheat oven to 350
1/3 cup flour, all-purpose
3 sheets (3x9" each) puff pastry, thawed, do not separate at perferation, roll out to about 12x15" size
5 Tbl. butter, salted, melted
½ cup sugar
1 cup walnuts, ground
1 egg
Instructions
Sprinkle one-half cup of the flour on a clean surface about 2 x 2'. Put the puff pastry in the center. Sprinkle with remaining flour. Roll out to about a 12 x 15" size with a rolling pin. It won't be perfectly square, but that's ok.

Use a pastry brush and coat the pastry dough. Sprinkle all around with the sugar then the walnuts.

Starting from the long end opposite you, begin rolling into a 'snake' tucking the ends as you go. Brush the top with the egg white. (If you mix in some yolk, no problem.)

Place on parchment paper covered cookie sheet. Turn both ends inward to make a rectangle shape.

Bake in a preheated 350 oven for 33-35 minutes. Remove and cool. Slice and serve.
Notes
Cover tightly and this bread can be good for a couple of days.