First of all, let's pronounce 'povitica'. It's Po-vuh-teet-zuh. And, it's a Croatian holiday walnut bread. Growing up this was an EXTRAordinary treat. Mom would use the entire kitchen counter or table to roll out the dough, yes, always made from scratch, until it was paper thin. She'd be almost covered in flour. And, there would be a gorgeous 'mess' in the kitchen. Her fillings could be poppy seeds or walnuts. Sometimes she'd use spices like cinnamon or allspice. Whatever she did with her magical hands, this holiday walnut bread povitica was spectacular!
I think this is what makes holidays so special. These memories of Mom cooking, and creating in the postage stamp size kitchen that was utterly basic but functional, make childhood holidays even more memorable for me, especially as I get older.
Preserving vintage recipes like this is important to me. However, I'm keenly aware that not many will spend the time in the kitchen making this dough from scratch. It's very labor intensive and takes time. Rather than 'forget' about it, this holiday walnut bread povitica can be made quickly and easily with a shortcut step. Yes, using puff pastry is the way to have this 'bread', albeit not a big 'loaf' like size, anytime during the year, not just holidays. I bake it on a cookie sheet, but you could, of course, use a loaf pan and create more of the bread shape. Regardless of how you bake it, you'll see that this moist nutty quasi 'sweet' bread is something that angels would rejoice at biting into!
If you decide to make this holiday walnut bread povitica, promise me you'll leave a comment and maybe even share a photo on my Facebook page Ally's Kitchen. Let me know how your friends and family like this recipe and share in some of my childhood memories. xoxox ~peace & namaste~   ally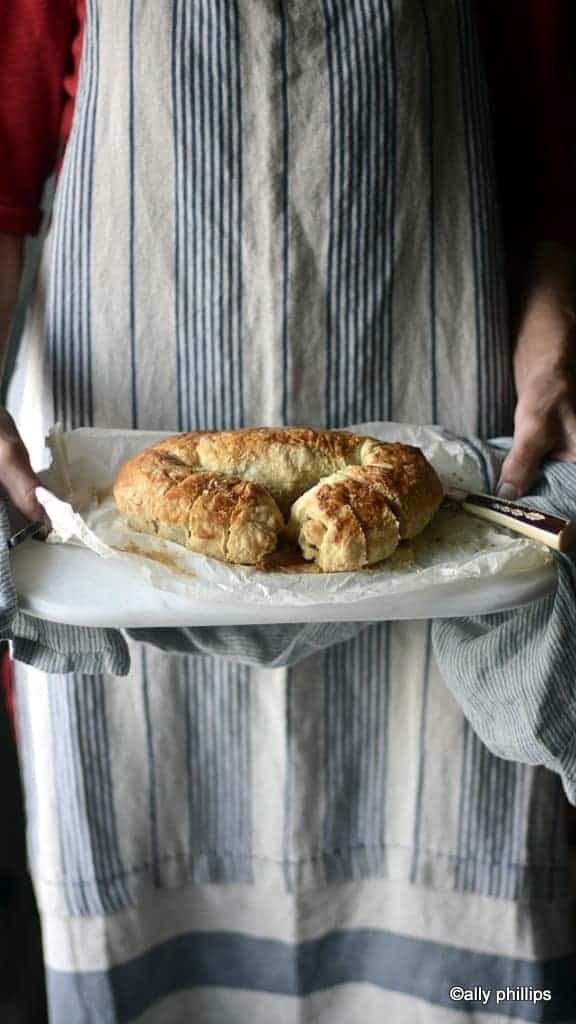 holiday walnut bread povatica
Ingredients
Preheat oven to 350
1/3 cup flour, all-purpose
3 sheets (3x9" each) puff pastry, thawed, do not separate at perferation, roll out to about 12x15" size
5 Tbl. butter, salted, melted
½ cup sugar
1 cup walnuts, ground
1 egg
Instructions
Sprinkle one-half cup of the flour on a clean surface about 2 x 2'. Put the puff pastry in the center. Sprinkle with remaining flour. Roll out to about a 12 x 15" size with a rolling pin. It won't be perfectly square, but that's ok.
Use a pastry brush and coat the pastry dough. Sprinkle all around with the sugar then the walnuts.
Starting from the long end opposite you, begin rolling into a 'snake' tucking the ends as you go. Brush the top with the egg white. (If you mix in some yolk, no problem.)
Place on parchment paper covered cookie sheet. Turn both ends inward to make a rectangle shape.
Bake in a preheated 350 oven for 33-35 minutes. Remove and cool. Slice and serve.
Notes
Cover tightly and this bread can be good for a couple of days.
https://allyskitchen.com/holiday-walnut-bread-povitica/
©ally's kitchen intellectual property