Springroll Blueberry & Rosemary Puffs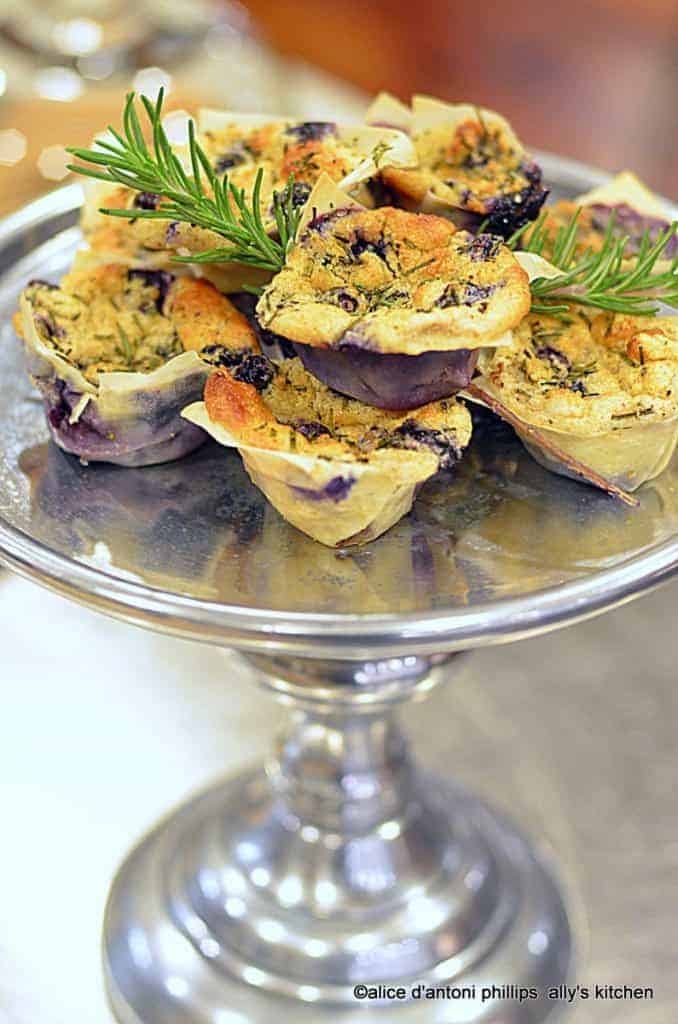 This recipe is brought to you by DOLE Packaged Foods, however, all of the recipe development and creative food artistry, including the photography, is solely the work of Ally in her Kitchen. For more information CLICK~
Blueberries are truly one of my most favorite fruits! If you put the world 'blueberries' in my Google search box here at Ally's Kitchen, you'll see what I mean! I've done everything from cakes, breads, jams, spreads, and sauces to even creating blueberry-infused BBQ wings!
One of the things that's great about this majorly healthy tiny fruit is that you can get really good blueberries in the off season, too, because the frozen ones are almost fresh perfection. If you want to check out the health benefits of blueberries, then head over to the Blueberry Council to see what these 'little blue dynamos' have going for them!
This recipe is one that's simple, easy and bohliciously deeeelish! Give them a try. With each bite, you'll have a burst of blue juice because these 'Springroll Blueberry & Rosemary Puffs' are choked full of the naturally sweet and luscious critters!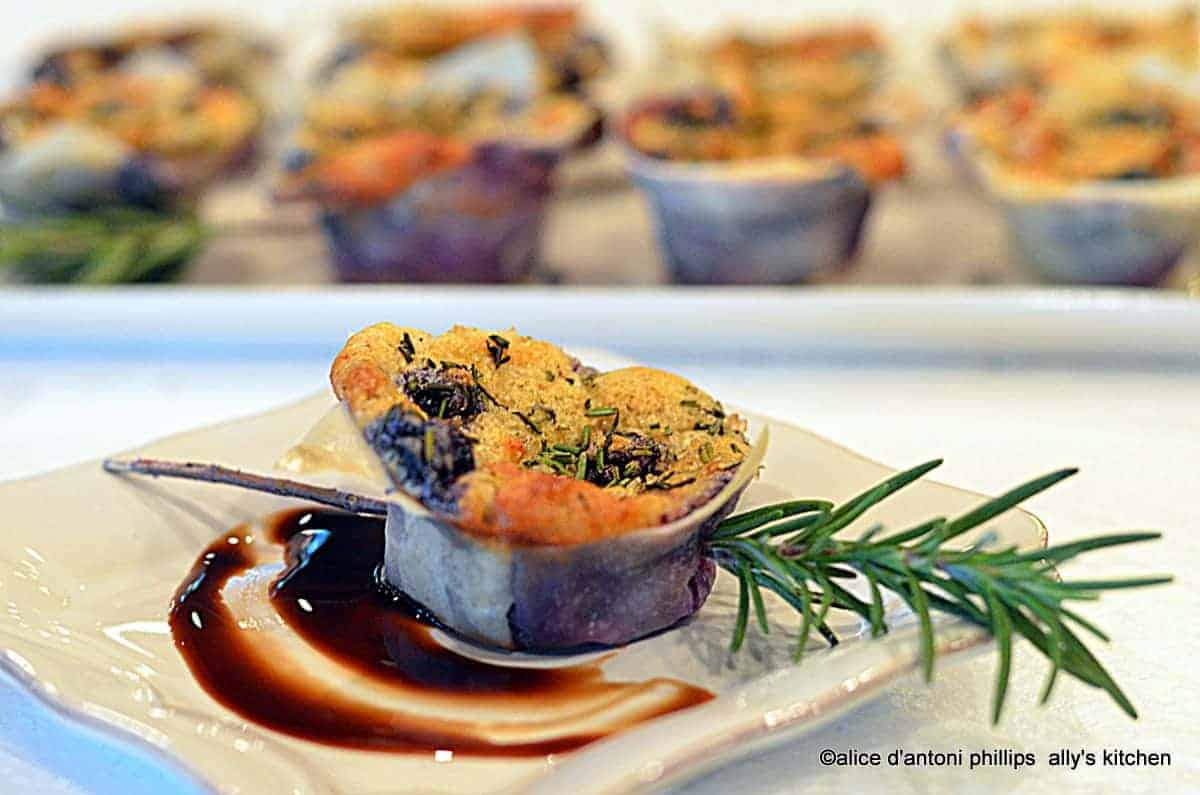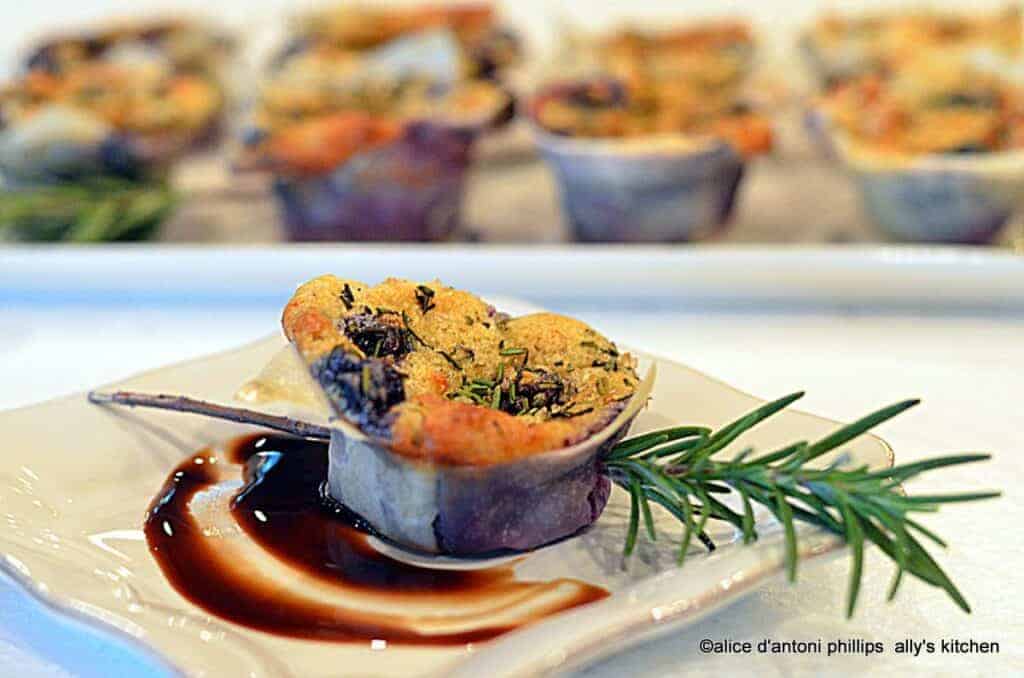 Makes: 12-14
Preheat Oven to 350
What you Need & What you Do:
1/4 cup mascarpone
2 tbl goat cheese
2 heaping tbl sifted powdered sugar
1/4 tsp vanilla paste
1/2 tsp Chinese 5-Spice
1 beaten egg yolk
In a medium size mixing bowl, combine the mascarpone, goat cheese, powdered sugar, vanilla paste, Chinese 5-spice, and beaten egg yolk and blend well combining all ingredients. Set aside.
8 sheets of 8×8″ springroll pastry dough
Cooking spray
Take 2 pieces of springroll pastry dough and cut into 4 smaller squares (4×4″ each). Do this for all the dough. You will have some left over.
Coat 12-14 openings in a mini-muffin pan with cooking spray. Take each piece of the 4×4 (doubled) springroll pastry dough and place in each opening pressing down into the bottom but leaving the sides in 'organic' free form.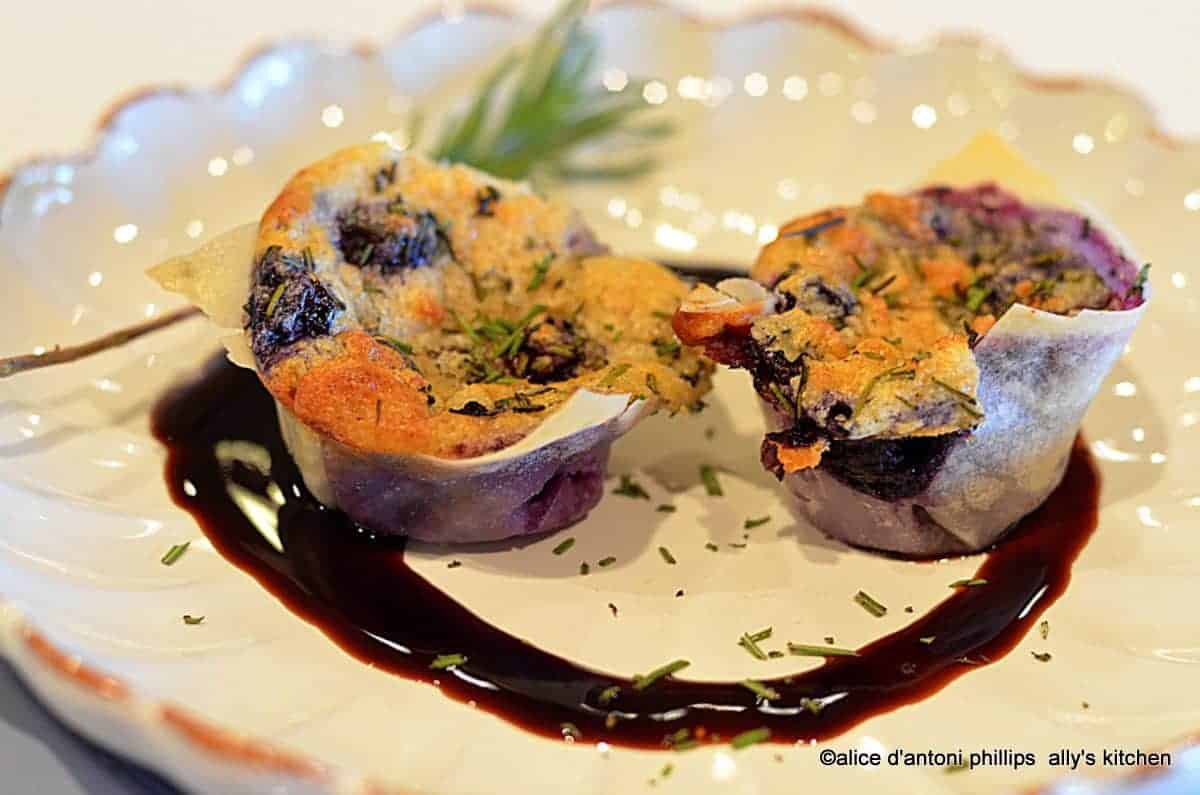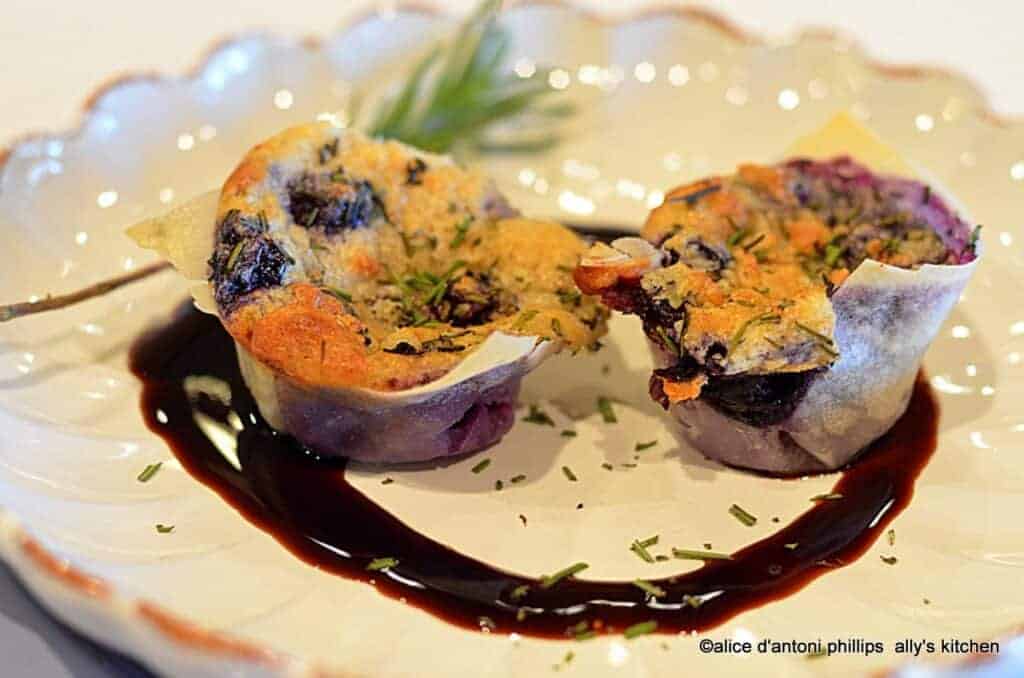 3 egg whites (room temperature)
1/8 tsp sea salt
3 tbl chopped fresh rosemary (divided)
8 ounces fresh blueberries (no problem substituting DOLE frozen blueberries~~like fresh!)
2 tbl raw sugar
Put the egg whites and salt in a medium size mixing bowl. Using a hand mixer on high speed whip the egg whites into a stiff meringue.
Gently fold in 1/3 of the meringue into the mascarpone/goat cheese mixture. Repeat with the remaining meringue. Sprinkle in 2 tbl of the chopped fresh rosemary and the blueberries and fold in.
Scoop equal amounts of this mixture into each of the springroll mini-muffin pan openings~~about 2 heaping tbl in each opening.
Bake in a preheated 350 oven about 17 minutes or until the tops start to get golden grown.
Remove and immediately sprinkle the tops with the remaining chopped rosemary and the raw sugar and cool on a rack. Gently nudge out with a butter knife.
Serve with a swish of blueberry balsamic glaze on a dish. Optional: Skewer a small stalk of rosemary through the cupcake puff.