cherry limeade cheesecake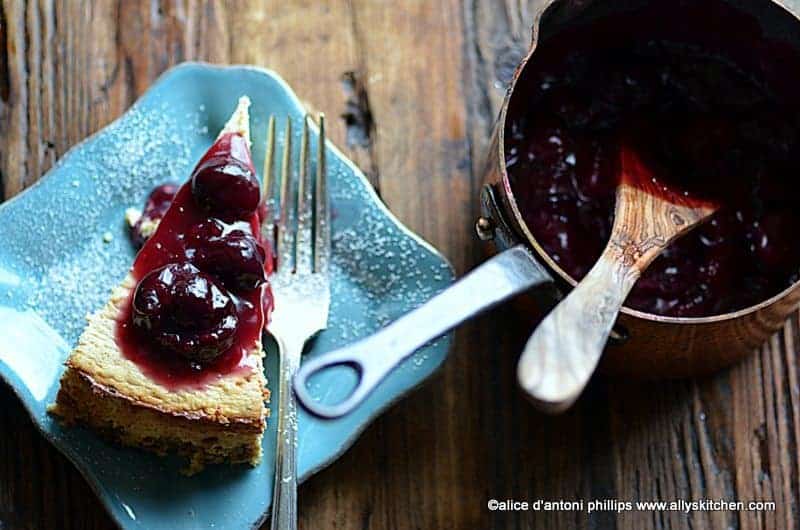 What happens when a foodie turns to romance novel writing? Nothing sweeter and more loving than using the food in the passion! Please Forgive Me Cheesecake, also known as a cherry limeade cheesecake, is the masterpiece of Terra
Romance Author and Food Blogger!
She'd asked me and other foodies to dive into her novel, Catch Me, choose a recipe to make then feature it as part of her book blog tour! It's like a double great whammy~~I get to read a great novel and make one of the recipe in the book. Now if you don't know Terra, then just try this cheesecake, then read the book~~you'll feel the passionate love!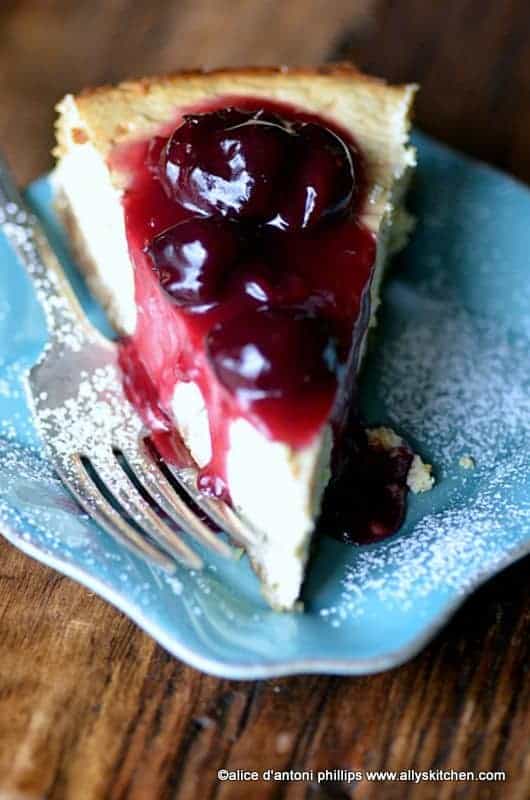 What you need:
For Crust:
3 cups graham cracker crumbs
1/2 cup pecans, diced
3/4 cup (12 Tbsp) salted butter, melted
1/2 cup amaretto
For Filling:
16 oz cream cheese, room temperature
2 cups lime Chobani Greek Yogurt
Zest of 3 limes
5 eggs
Juice of 3 limes (about 1/2 cup)
1 Tbsp vanilla
For Cherries on Top:
1/2 cup Amaretto (Or more!)
16 oz bag frozen sweet cherries
2 Tbsp sugar
2 Tbsp cornstarch (mix with 1 Tbsp of water until smooth)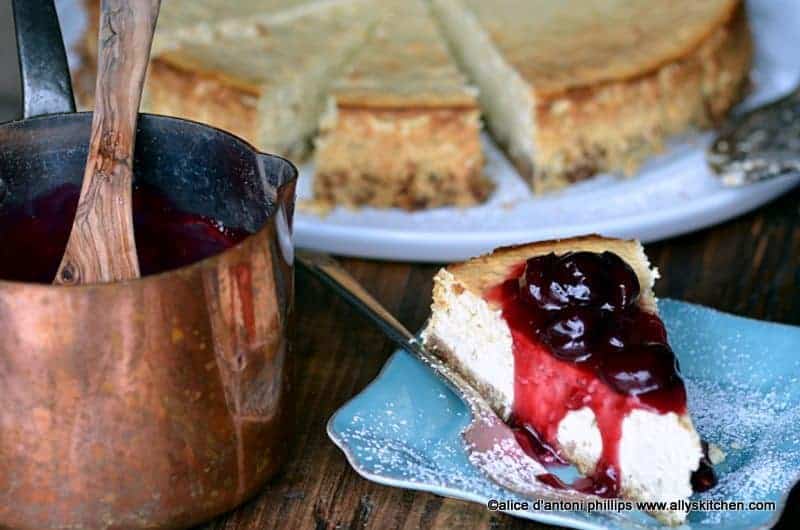 What you do:
Preheat oven to 325 degrees F. Use 10 inch springform pan, spray all sides with cooking spray, and completely cover bottom of pan with aluminum foil, (the foil will help cheesecake batter from leaking out the sides.)
In small sauté pan, melt butter, and let cool.
For crust: In medium bowl, mix together graham cracker crumbs, pecans, melted butter, and amaretto. (The mixture should not be too wet. If too wet, the sides of the crust could fall when pre-baking.) Place in greased springform pan, and press around sides and bottom of pan. Pre-bake crust for five minutes, (if sides of crust fall, just press the crust back around sides.)
For filling: In stand mix, whip cream cheese until smooth, and free of lumps. Add Greek yogurt, lime zest, juice of limes, and vanilla extract, mix together well, until smooth and free of lumps. Next, add one egg at a time and mix well.
Pour filling into springform pan, place on 1 inch deep sheet pan, place in oven, and add water to sheet pan to cook cheesecake evenly. Bake for 1 hour and 30 minutes, depending on oven. Check with knife in center, it should come out clean. Let it completely cool.
In large sauté pan, burner on medium heat, add frozen cherries and cook down for about 2-4 minutes, then with potato masher, mash cherries. Next add amaretto, sugar, and cornstarch mixed with water. (Mixing the cornstarch with small amount of water will prevent lumps in the cherry mixture.) Let cool!
Add cherry mixture to top of cooled lime cheesecake. Enjoy!