king pineapple no bake cheesecake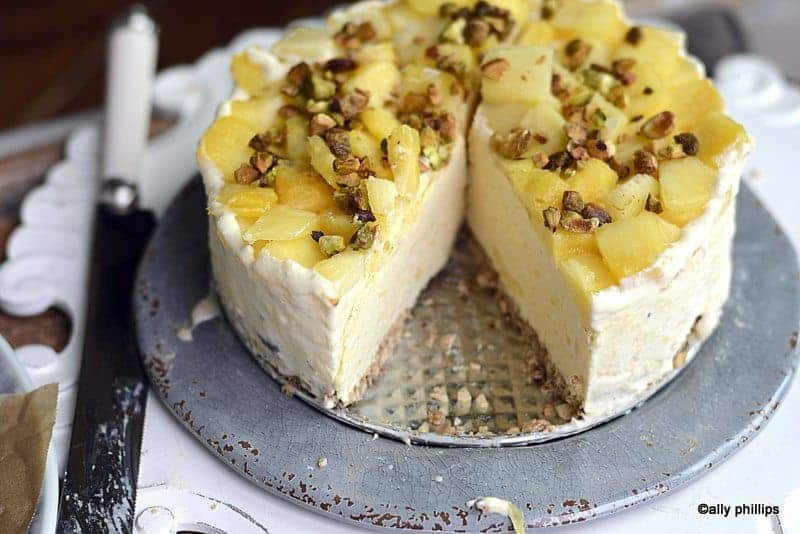 Cheesecake Recipe
Thanks to Dole Sunshine for partnering with me for this post! All the opinions and creativity are solely my own. For a full disclosure, click here!
Everyone needs a great and easy cheesecake recipe. The kind of cheesecake recipe that you bake. Then everyone needs a great no-bake cheesecake recipe. This is that one for your files!
No doubt about it. Dole Sunshine is the 'king of pineapple'. Pineapples whether whole and fresh or in various forms and packaged in different ways means lots of options for cooking. From savory to sweet dishes and recipes, pineapples, a natural tenderizer when cooking meats, and they become a veritable luxury in drinks and desserts. Honestly, not many other ingredients have the scope of application that pineapples do, and it's always interesting and exciting to experiment with them.
No-Bake Cheesecake
You'll especially love doing this no bake cheesecake during the summer months when you don't want to crank up a hot oven. It's a way to get a very refreshing and tasty treat on the table in no time. Well, minus the freezing of the cheesecake, which definitely should be overnight. With a tad bit of pre planning and making space in your freezer, this cheesecake will be a huge hit. Even if it melts, just scoop it into a bowl. I mean it's that divine goodliness that even mesmerizes the palate in a soft 'ice cream' form. You can't go wrong!
No Bake Pineapple Cheesecake
This 'king pineapple no bake cheesecake' is really 'kingly' in presentation as you can see from my photos. The thing about making this no bake pineapple cheesecake recipe is that you don't have to use a springform pan. You can use mostly whatever you want depending upon how you want it to 'look' when it's ready to serve. I can see this no bake cheesecake in a rectangular glass baking dish. You'd be able to slice it probably much easier because the depth would be much less. It could be done in a 'tart' pan (or pans) making it very thin, which, I think, would be a very chic presentation. You might even try cupcake holder 'king pineapple no bake cheesecakes' that would make each person a 'king' (or 'queen') in his or her own right!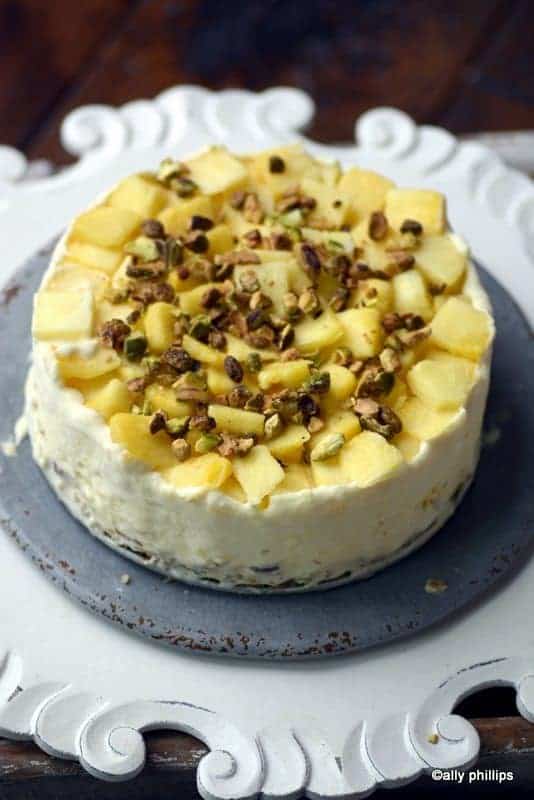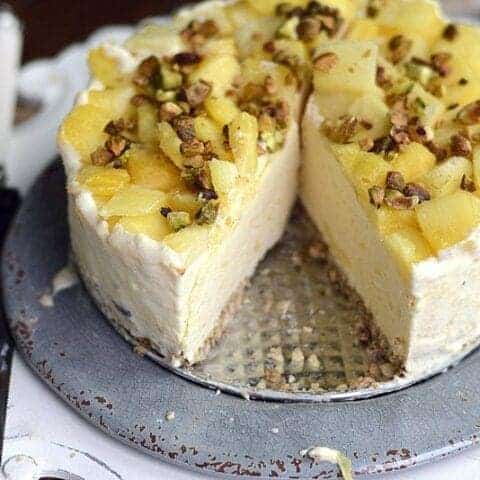 king pineapple no bake cheesecake
Yield: One springform cheesecake (7" or 9"—the only difference will be in the thickness of the cheesecake)

The king of pineapples now is a no bake cheesecake! Impressive and delicious, this is perfect for a special Summer gathering. Get ready to ohhh and ahhhh!
Ingredients
CRUST:
3 cups graham crackers, finely crushed
2 Tbl. sugar
4 Tbl butter, salted, melted
Note: You could also buy pre-made graham cracker crusts (2) and crumble up adding a little more melted butter to bind, then press into your pan. OR just use the pie crust/pan and fill with the filling.
FILLING:
16 oz. Dole Sunshine frozen pineapple chunks, thawed and divided
8 oz. whipped cream cheese, room temperature
1 cup sweetened condensed milk
½ cup heavy cream, whipped into stiff peaks
1/8 tsp. sea salt
TOPPING:
Pineapple chunks, thinly sliced into three parts, from above
1/2 cup salted pistachios, roughly chopped
Instructions
CRUST: In a medium mixing bowl, combine the graham cracker crumbles, sugar and butter. Blend well. Pat firmly into the bottom of your cheesecake pan.

FILLING: Put one half of the thawed pineapple chunks in a food processor and blend well.

Slice the remaining pineapple chunks into thinner pieces for topping the cheesecake. Set aside.

In a large mixing bowl combine the creamed cheese, sweetened condensed milk, pineapple from the food processor. Blend well (about 30-60 seconds) with a hand mixer on medium speed. Fold in the whipped cream. Pour into the pan. Top the cheesecake with the thinly sliced pineapple pieces.

Cover with plastic wrap. Freeze until firm, usually over night.

To remove from springform pan, let the frozen cake sit for about 10 to 15 minutes. You can also use a warm wet cloth to wrap around it to gently loosen. Use a butter knife to gently go around the inside perimeter of the frozen cheesecake.

Gently remove the springform pan. Put the topping pineapple chunks and pistachios on top. Gently press down with a metal spatula to secure (somewhat) in place.

Slice and serve immediatel
Notes
If pistachios are too salty for you, then substitute another nut. Sliced almonds, chopped walnuts, chopped pecans, etc. The little bit of extra crunch is a nice texture contrast.

It helps to chill the bowl (put in the freezer for about 15 minutes) that you're going to whip the heavy cream in.

You can also make this recipe in another kind of pan, like a glass casserole dish and cut slices.

When ready to serve, remove from the freezer to thaw about 30-45 minutes (possibly more) before cutting. Run a butter knife around the inside pan to help the release.

Slicing requires some 'strength' to get through the frozen thick part of the cheesecake. Use a serrated knife and carefully start by making an indentation into the center then working out towards the edge with your knife. The tip of the knife will work like a fulcrum.

With any uneaten cheesecake, cover and return to the freezer immediately. If you put in the refrigerator, it will be like the Wicked Witch in the Wizard of Oz when water was thrown on her. It will melt.

If you're familiar with 'frozen' cakes and cutting them, you know to exercise caution when slicing this cake.

Feel free to make this cheesecake in your choice of pans. I wanted a thick cheesecake, so I used a 7" diameter spring form pan.

Whatever you decide to 'no bake' the cheesecake in, make sure it will fit into your freezer.