cherry ricotta cheesecake jars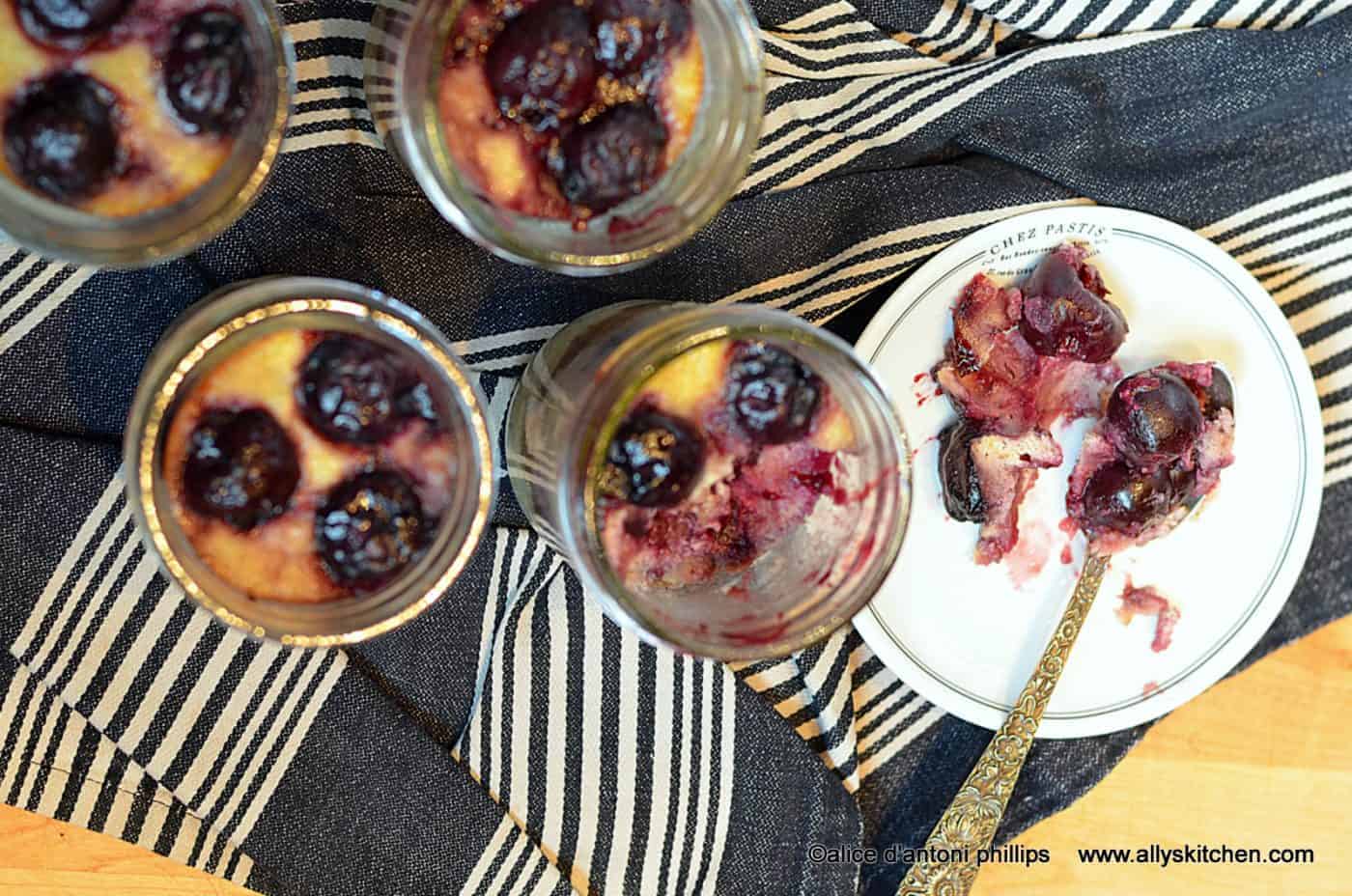 Thanks to Dole Sunshine for partnering with me for this post! I am the creator of this recipe and for the description and information that follows. For a full disclosure, click here!
There are some things that I make that I just want to nuzzle my entire face into. I mean forget the fork or spoon…just dive in face first! This dark red cherry ricotta cheesecake jars is one of those recipes.
I think one thing that just excites me about these jars of what I call anti-aging luv is the aroma of the exotic cardamom that captivates me at first. Then I gaze at the glistening succulent cherries and my mouth starts watering. Finally, when I scoop into the baked ricotta, it's like a baby cheesecake that's all my own!
Now hurry on out and pick up some of these canning jars because I'm rustlin' up more ideas with them besides canning! Oh, and thank you Dole for making it summertime all year long for me with these great frozen cherries.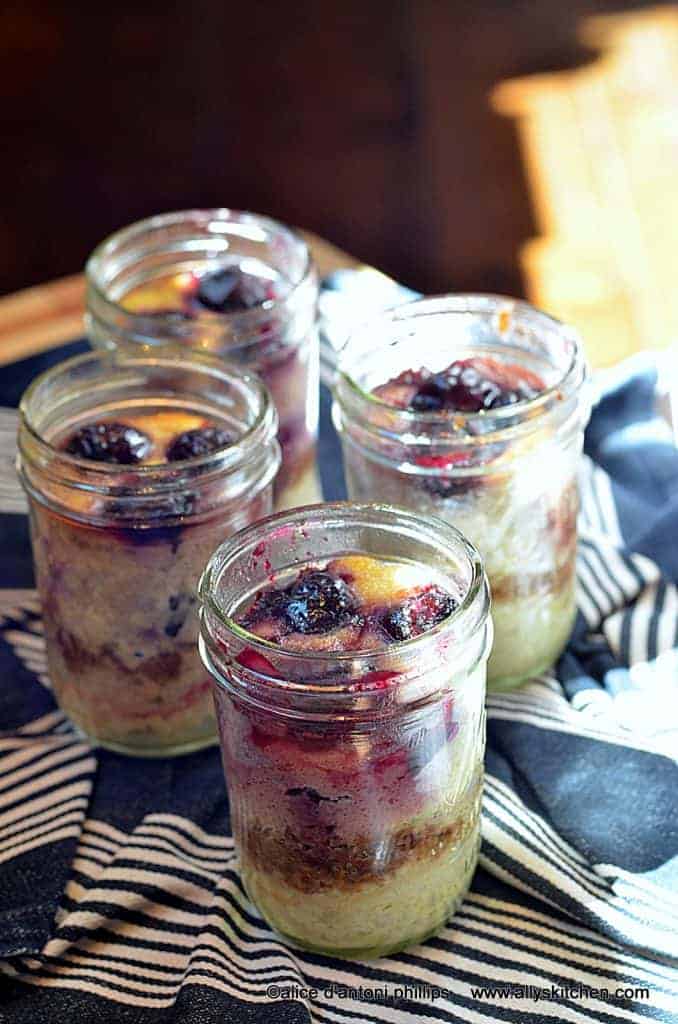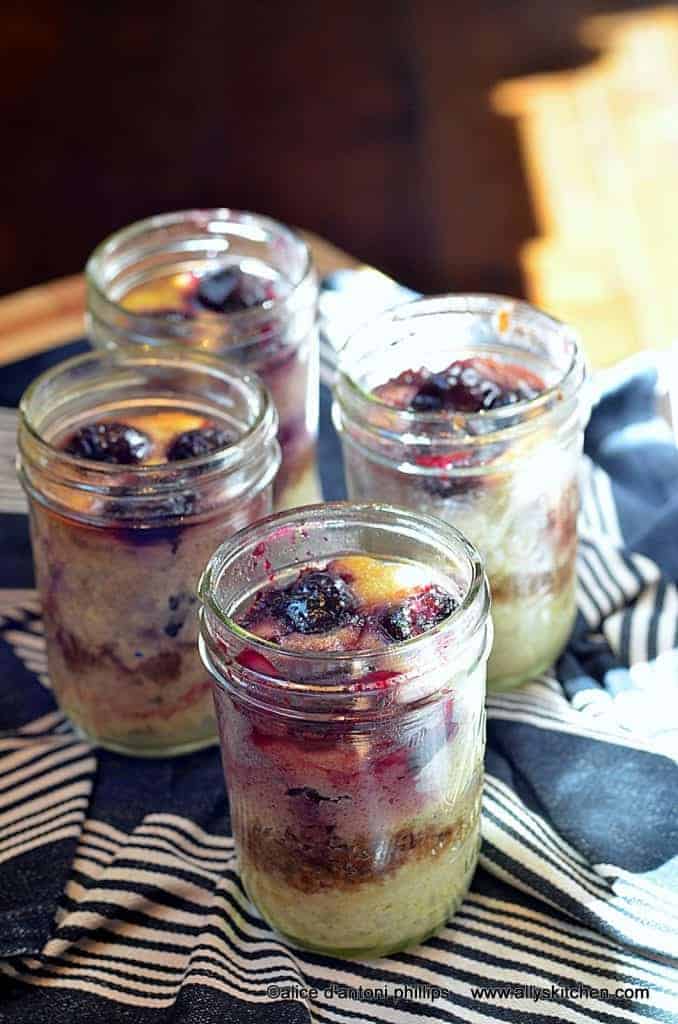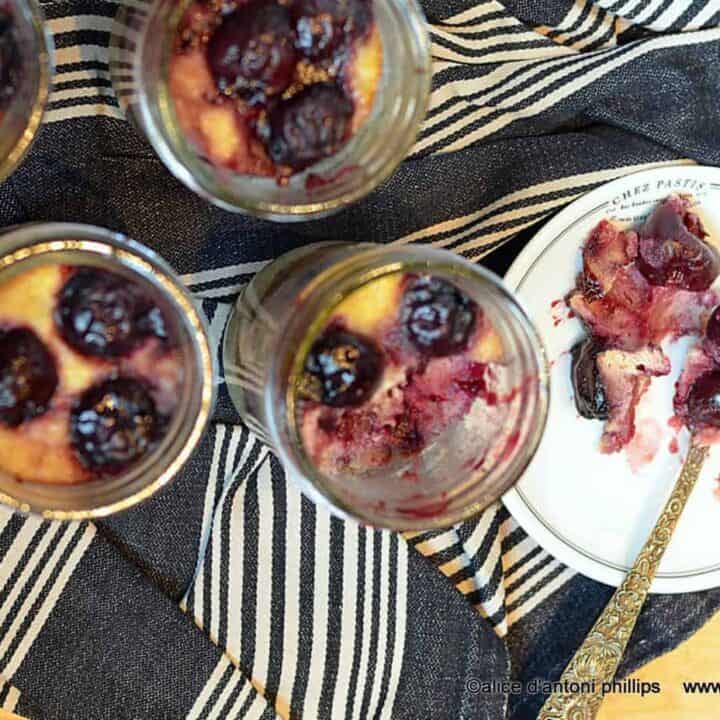 cherry ricotta cheesecake jars
Ingredients
Preheat oven to 350
1 ½ cup ricotta cheese
1 tsp cardamom, ground
¼ cup honey (plus extra for drizzle)
2 eggs, beaten
½ tsp vanilla
2 cups Dole Packaged Foods frozen cherries (36 individual cherries)
2 Tbl. All-purpose flour
1 cup granola (your fave store brand)
Cooking Spray
Instructions
In a medium mixing bowl, mix together the ricotta, cardamom, honey, eggs, and vanilla. Set aside.
Put the flour in another small bowl. Toss in the frozen cherries and shake and toss the cherries around coating each with a light dusting of flour. Set aside.
Assembling your Jars: Use 4 half-pint canning jars. Coat the inside with cooking spray. Put in one-fourth cup of ricotta batter in each, then ¼ cup granola, then 6 frozen cherries, then another 1/4 cup batter, and top each with 3 frozen cherries. Drizzle the top of each jar with a little honey.
Place the jars in a baking dish that's about 3 inches deep. Add water to the dish about halfway.
Put this dish on a cookie sheet. Loosely tent the jars with doubled foil.
Bake in a preheated 350 oven for about 40-45 minutes then remove the foil tent and bake another 10-12 minutes.
Remove the cheesecake jars and let them cool. You can cover with the lids and refrigerate. They will keep several days!