živjeli kata croatian cheesecake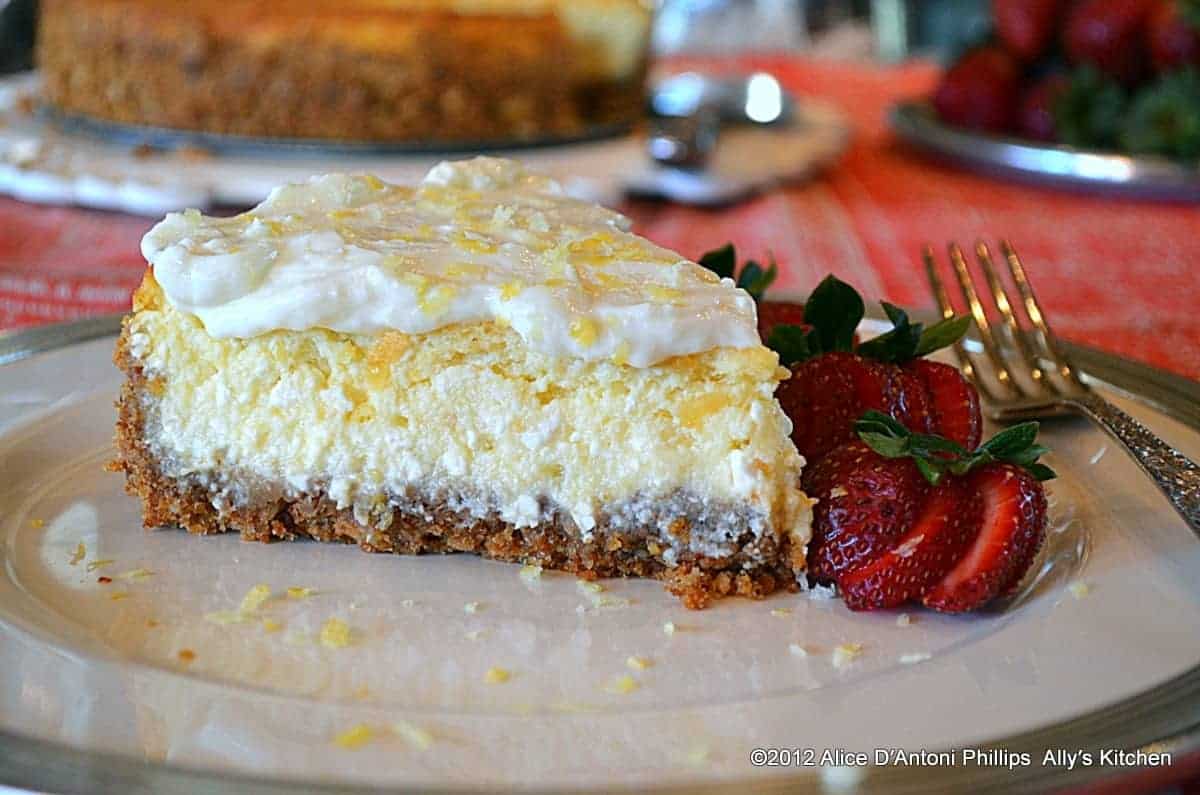 Croatian Foods
Croatian cheesecake is a taste of my heritage that's off the charts delicious! Rustic and peasant like in its looks, Croatian cheesecake is easy to make!
I've had others ask me, 'Why do you call this Croatian cheesecake?' Is it really what's considered Croatian foods. Probably the best reason is that I learned how to make cheesecake, this version, from my Croatian mom who learned it from her Croatian mom, my grandmother.
She came to America in the early 20th century, and like many other immigrants, she was looking for a better life. She wanted the American dream. Probably my grandmother's most proud moment was when she became in her 60s an American citizen, barely educated, probably not beyond the 3rd or 4th grade, she considered this country her own.
Croatian Recipes
Like so many other immigrants, my grandmother brought with her many of her traditions and her Croatian recipes. These are her trademark dishes like cabbage rolls, kolache, and cheesecake. Unlike the refined and sophisticated French cheesecake, živjeli Kata Croatian Cheesecake is rustic, peasant and earthy not only in its taste but also its appearance.
I call it živjeli' because that means 'cheers' and Kata is Croatian for Kathryn, my Mom. So, this recipe has a long tradition, albeit I've 'boho'd' and altered it some, each time I make it, I'm always reminded of my strong and courageous Mom and Grandmom to whom I owe everything. They both live on in my life through food.
Here's what the owner of 'The Jelly Queens & The Spice Kings' Donna Anderson Collins Yamini says about this recipe, 'the best – simply the best!'
Croatian Desserts
Croatian desserts, well, you just have to experience them. When Ben and I traveled to Croatia to find my long-lost relatives, and you have too read those posts because they're like a Hallmark movie, we ate our share of Croatian desserts.
Croatian desserts can be addictive and dangerous because you can't stop eating them. Whether it's a buttery crumbly pie, dainty velvety cookies or creamy and decadent rich cakes, they're full of immense happiness. And, because of Croatia's rich history over hundreds and hundreds of years, you'll see the influence of other cuisines and cultures, French, Middle Eastern, Italian and more. Croatian cooking and cuisine and Croatian desserts have benefited from this patchwork of influence over the years.
Recipes for Cheesecake
Now some may be a little intimidated by the idea of making a cheesecake. Yes, there are thousands of recipes for cheesecake on the internet. But, this cheesecake recipe is one of the easiest you'll ever make. Now it's not fancy and perfect looking like a French or New York cheesecake. It's more rustic and earthy. Maybe this recipe for cheesecake is the one if you're visiting a village in Croatia or you want one that's heavy on an ingredient you wouldn't expect in recipes for cheesecake. Cottage cheese!
Cottage Cheese
Cottage cheese is a good source of some vitamins and minerals, but it only contains small amounts of others.
Healthline touts the value of cottage cheese, "Cottage cheese is a curd cheese with a mild flavor and smooth texture. It's high in many nutrients, including protein, B vitamins, and minerals like calcium, selenium, and phosphorus. If you're looking to lose weight or build muscle, cottage cheese is among the most beneficial foods you can eat."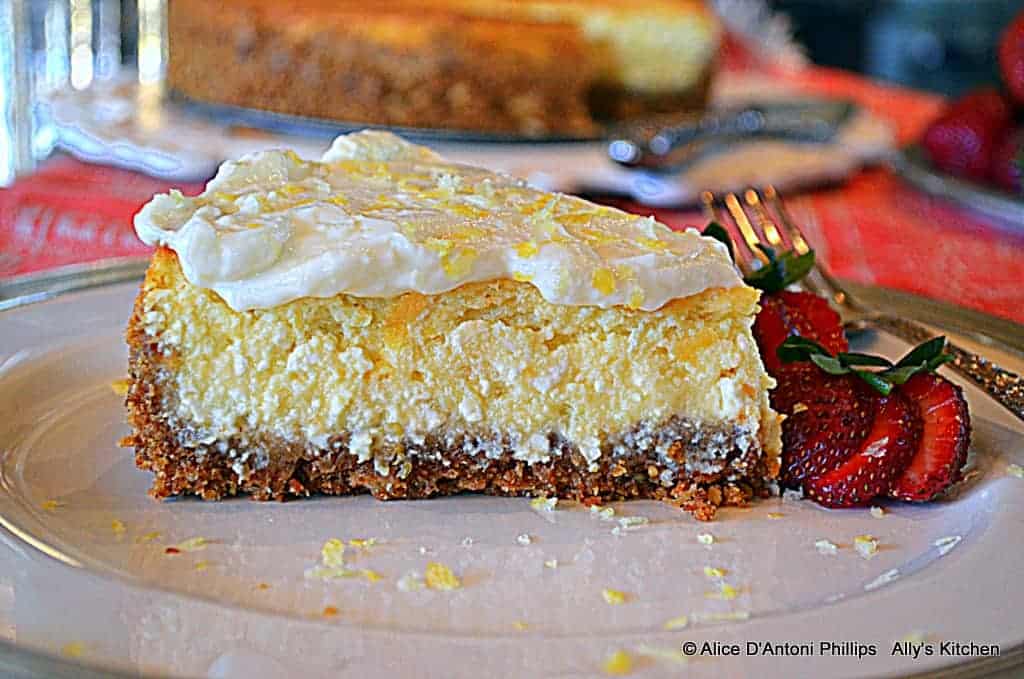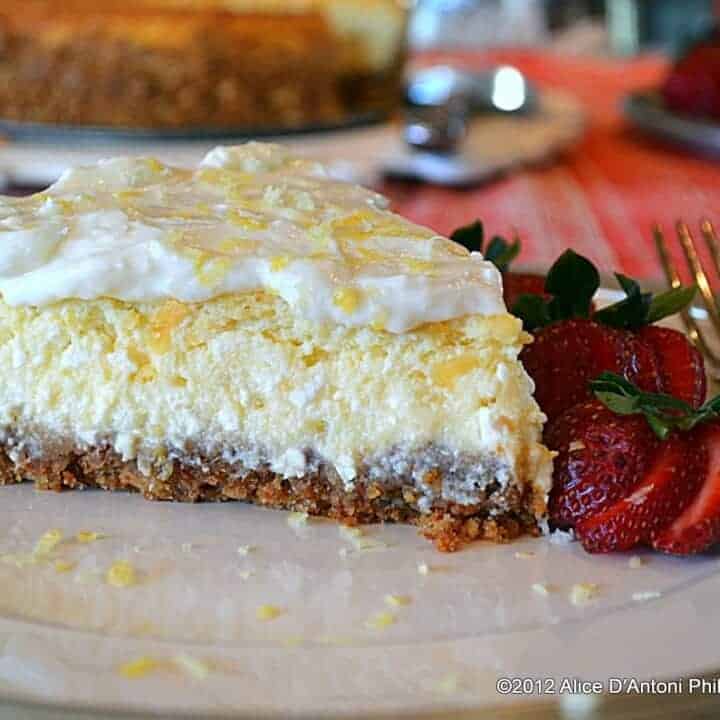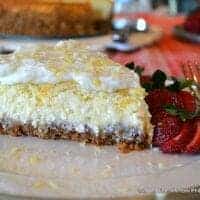 živjeli kata croatian cheesecake
Croatian cheesecake is a taste of my heritage that's off the charts delicious! Rustic and peasant like in its looks, Croatian cheesecake is easy to make!
Ingredients
Preheat Oven 325
CRUST:
1 ½ cups grape nuts (or generic brand) cereal
2 cups crushed graham crackers
2 Tbl. sugar
8 Tbl. melted butter
BATTER:
2 cups small curd (4%) cottage cheese
1 cup whipped cream cheese
1 cup mascarpone
1/3 cup fresh lemon juice
1/3 cup + 2 Tbl. fresh lemon zest, divided
5 beaten eggs
1/4 cup sifted rice flour (or all-purpose flour)
TOPPING:
2 (6oz) Greek lemon yogurt (plus 2 Tbl. lemon zest)
Fresh Berries
Instructions
CRUST: In a medium size mixing bowl combine the grape nuts, graham crackers and sugar and blend. Drizzle melted butter on mixture and using your hands blend together well.

Coat a 8-9" springform pan with cooking spray. Put crust mixture in the pan and press firmly allowing some to go up the sides. (I cover a measuring cup with plastic wrap and use this to press and firm the crust into the bottom of the pan.) It will not be uniform and perfect. That's o.k. It's all about being rustic. Cover the bottom/sides of the pan with foil. The cheesecake will be placed in a larger skillet with water that will come up about 1/3 on the pan.

BATTER: In a large mixing bowl, combine the cottage cheese, cream cheese, mascarpone, one-third cup sugar, lemon juice, one-third cup lemon zest. Blend and beat about 3 minutes with a whisk. You do not want to beat out the cottage cheese lumps entirely. You are blending in the cream cheese and other ingredients.

Add the beaten eggs and whisk about 30 seconds until all is well incorporated. Sift the flour on top of the batter then blend in. Pour into the springform pan with the crust.

Bake in preheated 325 oven for about 45 minutes. Then cover the cheesecake with a lid or loose foil. This will keep the top from getting too brown. Cook for about another 60 minutes. The center will jiggle slightly, but a toothpick will basically come out clean.

Remove from oven and allow to cool in the pan about an hour. Run a butter knife around the perimeter to ensure a clean release. Remove from springform pan and let cool another 30-45 minutes. Refrigerate for about 4 hours before serving.

When serving pieces dollop a scoop of the Greek lemon yogurt on top (or spread like icing) and serve with fresh berries.

This cheesecake will be good for several days, almost up to a week (if it lasts that long!), when refrigerated.
Notes
If I want to cook this cheesecake faster then I'd put the crust and batter and a half sheet cake pan! You'd have thin cheesecake!