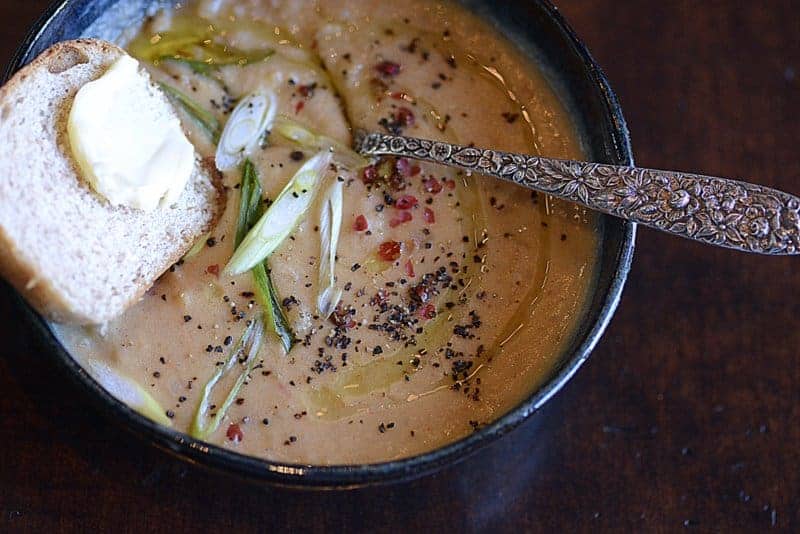 Fill your belly with this beef chorizo potato soup, and look for the nearest sofa. Time for a snooze! It's pure comfort food!
Soups with Chorizo
There is nothing more comforting on a chilly Fall or Winter day than soup. And, this beef chorizo potato soup fills that bill gloriously!
What makes this potato soup different, even the slight reddish pink hue, is the addition of beef chorizo. It's an amazing flavor booster, plus it adds just the right amount of kick to the soup.
Chorizo Soup
I use the beef chorizo 'just because'. Well, because it's beef and not pork, and sometimes I want to cut back some of the fat. And also just because it was on sale at the grocery story.
If you want to use pork chorizo, there's no problem.
Chorizo Potato Soup
This soup will be stellar indeed. During the chilly season of the year, I love a stick-to-the-ribs kind of soup that let's you know after you've finished your serving that your belly's full.
Yep, a full, but not stuffed, belly is a good thing. It gives you energy and steam to do what you need to do in a day's work.
Potato Soup with Chorizo
Another thing I love about this soup is the thickness and creaminess of it.
If you want to cut back on the heavy cream, then use milk or half and half (half cream and half milk). If you want to leave it out altogether, then do it. You're soup will still have a great flavor, but maybe not as much creaminess.
Creamy Chorizo Soup
And, adjust the thickness to your liking. Sometimes we love soups that are so thick and creamy that they're almost like melting ice cream.
Mexican Chorizo Soup
They nestle in your big soup spoon without any threat of spilling over. It's your choice. Just add a little more chicken stock to thin that soup if you want it 'soupier'.
Chorizo Potato Soup Recipe
Like life, everything's basically a personal preference. Same with food. We all might start with the same basic recipe, but we adjust and modify to our tastebuds, our liking of textures (leave the potatoes bigger and lumpier if you like that), spice and kick, saltiness, temperature and more.
All I'm doing here is giving you a general guide for a super delicious comfort food! Hope you enjoy like all my taste testers did! xoxo ~ally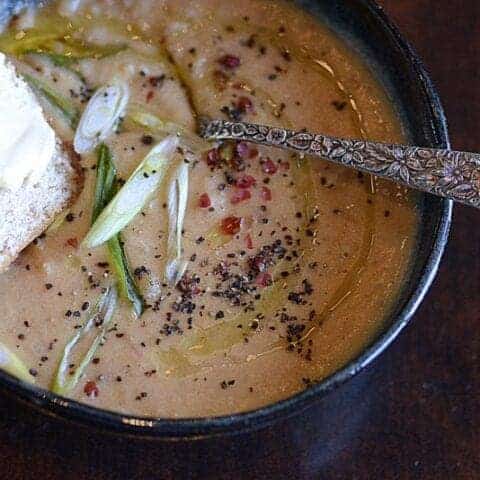 beef chorizo potato soup
Ingredients
¼ cup bacon drippings (you can substitute oil but I like the flavoring of the drippings)
1 ½ cups sweet onions, diced
1 Tbl. garlic, minced
4.5 oz. beef chorizo, crumbled, I used Cacique Beef Chorizo
8 cups potato chunks, probably 3-4 large baking potatoes, peeled and cubed
5 cups chicken stock + 3 cups of water
2 tsp. sea salt
2 tsp. coarse ground pepper
½ tsp. red chili flakes
1 cup heavy cream
GARNISH:
Crushed whole peppercorns
Green onion slices, with greens
Drizzle of olive oil
Instructions
In a large stock pot over medium high heat, put the oil, onions and garlic. Sauté about 5 minutes stirring so as not to burn.
Add the chorizo and work into the onion/garlic mixture. Add the potatoes, four cups of chicken stock, water, salt, pepper and chili flakes. Cover. Reduce heat to medium. Cook the potatoes about 30 minutes or until tender. Check occasionally and stir.
When the potatoes are tender, use a potato masher and 'smoosh' the potatoes. Add the remaining chicken stock and cream and blend. Turn heat to low, cover and let the soup simmer about an hour stirring occasionally.
Serve with a sprinkle of crushed peppercorns, drizzle of olive oil and some green onion slices.
Notes
I usually keep bacon drippings in a jar on my stove or in the refrigerator. If you want to fry bacon, use the drippings for the soup, then by all means, crumble the bacon and garnish on the soup when serving. Would be a decadent touch!