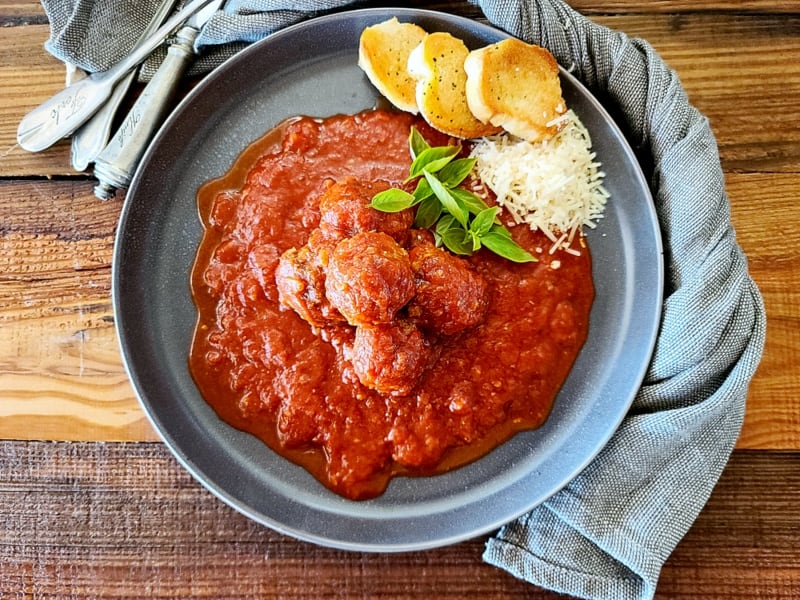 The Best Pizza Meatballs are THE BEST! Luscious flavors create a pizza on your palate! Easy to make. Hard to stop eating!
Pizza Meatballs Recipe
Pizza meatballs make a pizza fabulous! But, if you're not in the mood for a full-blown pizza then why not just the best pizza meatballs to munch on with some crusty hot French or Italian bread!
Pepperoni Meatballs
Pepperoni meatballs can be used on your pizza OR they can be eaten just as meatballs and sauce. Of course, you can always add pasta and make it even more robust.
Now, I'm a big meatball fan. And, I've created quite a few recipes each with a different twist like these Easy Taco Meatballs! If you're in the mood for a Middle Eastern meatball, then try my Moroccan Meatballs. And, there's also the French flair lamb meatball! For more ideas, simple put the word 'meatballs' in the Search Box!
Baked Pizza Meatballs
Best way to basically cook until almost done is baking. These meatballs are small. They cook pretty quickly at the high heat. Then they'll continue to cook as they simmer in the marinara sauce. The sauce will also add more moistness to them.
Pepperoni Pizza Meatballs
You can make your meatballs a larger size. It's totally up to you. Regardless of the size, these meatballs can be sliced in halves and piled on a toasted hoagie bun.
Now, I'd add healthy handfuls of baby spinach and maybe some pepperoncini. You can always top with melted mozzarella, too.
Baking Meatballs
When you bake the meatballs, you'll get a lot of great oils and flavors that will stick somewhat to the parchment paper.
Don't toss that out. Use a rubber spatula or straight edge wooden utensil to scrape it all off and put into the skillet with the marinara sauce.
This is immense flavoring!
Meatballs Sauce
There are some absolutely fabulous jarred sauces out there. And, why not have a step that adds convenience the time-saving to this recipe.
Shop my Amazon Storefront for some of my favorite sauces. And, don't be afraid to stock up. A few extra jars in the pantry means more fun making so many things!
Best Meatball Recipes
No doubt this is one of the best meatball recipes you'll find. It's simple. The ingredients are healthy. And, the execution is simple. You can't mess up. If you have kids, let them roll the meatballs!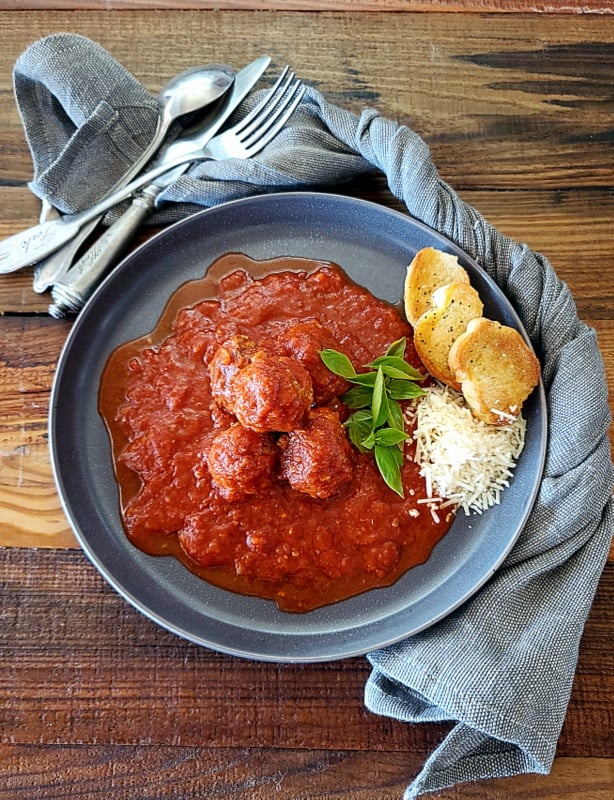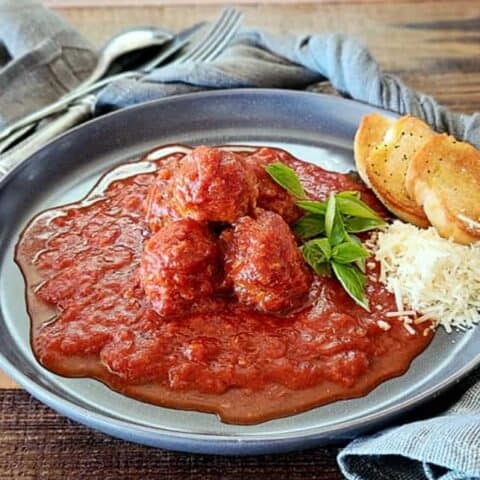 The Best Pizza Meatballs
Yield:
About 28-36 small meatballs
Ingredients
Preheat oven to 400
2 lbs. ground pork
2 eggs
2 Tbl. Nutritional Yeast
1 Tbl. Italian seasoning
1 1/2 tsp. sea salt
½ tsp. red chili flakes
½ cup parmesan, shredded
½ cup pepperoni, diced, small
¾ cup bread crumbs, or crushed saltine crackers
1 scoop (1/4 cup) bone broth protein powder, optional
½ cup ricotta cheese
1/4 cup extra virgin olive oil
1 (28 oz.+) jar marinara sauce
Instructions
In a large bowl, add the ground pork and eggs. Blend together with your hands.
Add the nutritional yeast, Italian seasoning, salt and red chili flakes. Work into the meat.
Separately add the parmesan, peperoni, bread crumbs, protein powder and ricotta cheese. After adding each blend well.
Roll into small meatballs. Place on a parchment paper lined cookie sheet. Drizzle meatballs with olive oil.
Bake in a preheated 400 oven about 16 to 19 minutes. If you want to brown the meatballs, turn to broil for about 5 minutes. Meatballs should be about 12-18" from the broiler. This is totally optional.
Remove the meatballs and place in the warm marinara sauce on the stovetop.
Turn heat to medium low and let the meatballs simmer in the sauce for about 30 minutes. Ready to serve.